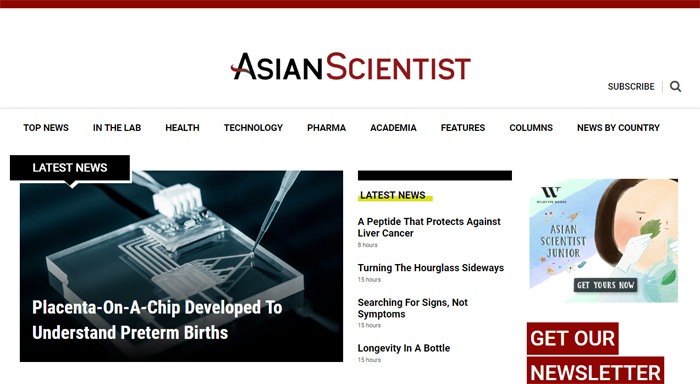 This website is not only on the lookout for writers, but is currently also hiring editors. But can you really make money writing for AsianScientist.com?
I found this website while looking for alternative ways to earn money online. I have been doing quite a bit of freelance writing lately, and have been on the lookout for new sites that would allow me to expand that side-hustle and make some extra cash.
Writing is most-definitely a marketable skill nowadays. It is one of the few things that can't be synthesized by machines (at least, not yet), and it is growing in demand as the internet plays a bigger and more important role in our day to day life.
Basically, websites need well-written content to be viable—and in order to fill this need, they need writers.
But at the same time, don't leap out of your seat and expect to earn unfathomable amounts of money just by changing your job title to 'freelance writer.' The market is actually really competitive, and you are going to need every edge you can get to find your way to the top.
Making Money Writing For AsianScientist.com
So, in this post, we are going to discuss two things. We are going to talk about whether or not AsianScientist.com might be a good website to try to write for, and we are going to talk about how to be a more successful freelance writer in-general.
Let's get started.
The Basics: What Is AsianScientist.com?
When I first came across this website, I was not sure what to think. In fact, I almost thought that it might be a satire website based on the name!
But I quickly realized that it is actually a very well-respected technology and science magazine. It is based out of Singapore, is a magazine that prints both online and offline, and is maintained by a team of professional journalists from the science and medical fields.
It also boasts several active contributors from academia and industry circles. It is technically published by the Wildtype Media Group Pte Ltd, which is a digital-focused STEM Media business.
Ok, so now that we got that mouthful out of the way, what does this mean for you? Let's talk about that.
AsianScientist.com In A Nutshell
They are basically a science and tech blog that also publishes print magazines… and they are always on the lookout for freelance writers. But most of their content is based on relevant science and technology-related topics, so if you plan on trying to pitch to them, it is important to keep that in mind.
I read through some of their content, and it was very good. They publish articles on a broad spectrum of different topics, including Top News, In The Lab, Health, Technology, Pharma, Academia, Features, News By Country, etc., and I must admit that the content they publish is quite technical.
I am definitely not a scientist, but I do enjoy reading scientific things. I have done a lot of reading (and writing) about health and wellness topics, and really enjoy cutting-edge science.
But I am afraid that writing for a site this technical would probably not be possible for me. I think that I would have to research and double-check even my wording to such an extreme degree that it would almost not be feasible for me to publish something on this website.
That's the thing about technical content. In theory, anyone could write it—but it is also really important to understand that it is a lot more difficult to write technical/scientific content if you do not have a working knowledge of what you are writing about.
Granted, anyone can research and learn—but learning for fun and becoming an authoritative voice on a topic are two different things.
And this is a publication that, I feel, would demand an authoritative voice.
With that being said, I did feel that it was time to take a look at their contributor page, just to see what kinds of opportunities were available to writers who did feel that they had something to offer.
Writing For AsianScientist.com
As you can see, there are a number of options for people who visit the 'Join Us' page on AsianScientist.com.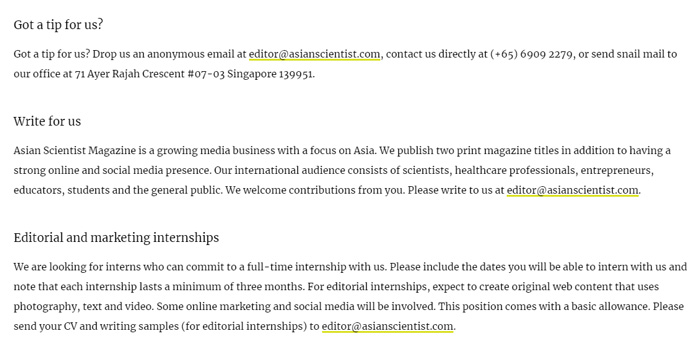 First of all, they take anonymous tips via email if you have one for them. They also take these tips via phone, or even via snail-mail, which is pretty awesome. Their address is based in Singapore, so if you don't live in that area, you may end up paying a lot for shipping!
Next, we came to the 'Write For Us' section. They say that their magazine is a growing media business that focuses on Asia. They publish two different print magazines, though they also maintain a strong online and social-media presence. They also boast an international audience of entrepreneurs, educators, students, scientists, healthcare professionals, and more.
As such, they invite you to write to their editor if you are interested in contributing to their publication. There aren't really any special guidelines here—but then again, I get the feeling that this is a professional-enough publication that they kind of expect for you to be able to figure out what they are looking for, and then pitch the query all on your own.
In other words, I think that they are probably more accustomed to working with professional writers on this site.
If you are not what you would call a 'professional writer' though, don't let this discourage you! Websites like this are always on the lookout for awesome articles by writers with a fresh perspective… so even if you do not 'feel' like a professional, don't let that keep you from pitching to the websites that you would like to write for!
The next thing we see on this page is that the company is looking for interns. Their internships must be in-person, for a period of at least 3 months, and an allowance is paid if they accept you.
They also have some full-time editorial and marketing positions open, though I also believe that these need to be taken in-person. They ask for applicants to send writing samples and resumes to their editor.
At this point, I felt like I had gotten a pretty good feel for what type of site this was. Here are my thoughts on it and what it could possibly have to offer freelance writers.
My Personal Feelings About Trying To Write For AsianScientist.com
First of all, I think it is important to understand that AsianScientist.com is a more prestigious type of publication than I usually talk about on this site, and for good reason. Since I generally write about freelance writing as a side-hustle, I tend to do more research into websites that are easier to get published on.
I have never written for AsianScientist.com, and I have never pitched to them. But I can tell you right now that this is not going to be an easy site to get into—simply because the quality of the work is exceptionally high.
They probably also pay a lot for the work that they do publish, but if you do pitch this site (and I encourage you to pitch to it if you feel that you have a good topic in-mind), I would encourage you to take your time and to put together the very best pitch you can possibly create.
Really put your best foot forward if you plan to pitch to this website. This should be true of any website that you plan to pitch to, but it is especially true of publications like this one—that have some more prestigious names in their background (if you check their list of past interns, you will find some pretty impressive names and backgrounds) and some quality content in their blog.
In the end, remember that freelance writing as a side hustle can be very profitable, but remember that you are going to need to spend time pitching, crafting query letters, and finding jobs.
Unfortunately, writers nowadays who freelance have no choice but to spend quite a bit of time job-hunting to stay busy, as the market is pretty competitive, and because there is sometimes less of a demand for steady, consistent writers.
I am not saying that you can't find steady, consistent work, because it is out there. I am just saying that you need to diversify, especially at first, if you want any hope of actually making some decent side-hustle money in this business.
Writing for AsianScientist.com, or really any website for that matter, will probably not make you rich. But it can help you to build some street cred and some decent side-hustle money—and in the end, that is what it is all about.
If you do have interest in the type of content that AsianScientist.com produces, there are other sites that you may be able to write for. The New Scientist is one that's worth checking out. You might also take a look at Asian Correspondent, although this site focuses more strongly on news-based content.
Our Final Opinion About AsianScientist.com
Should you pitch to them and try to make some money as a freelance writer?
There are a lot of ways to make money online. Some are good, some not, but ALL of them are still just trading hours for dollars.
Starting your own affiliate website really is the best way to build passive income and "make money while you sleep". Affiliate websites earn income in every timezone, and can be instantly accessed by billions of smartphones across the globe!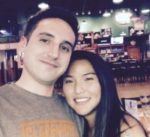 Nathaniell
What's up ladies and dudes! Great to finally meet you, and I hope you enjoyed this post. My name is Nathaniell and I'm the owner of One More Cup of Coffee. I started my first online business in 2010 promoting computer software and now I help newbies start their own businesses. Sign up for my #1 recommended training course and learn how to start your business for FREE!