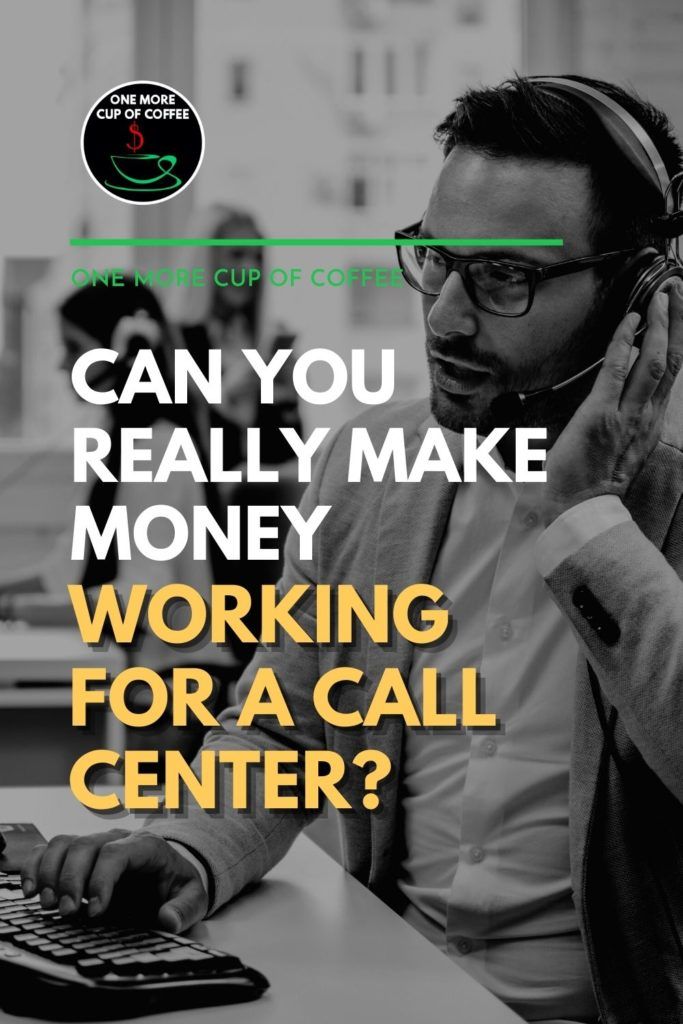 Can You Money Working For a Call Center?
Recently I stumbled onto the topic of making money at a call center, a job I thought wouldn't apply to those who wanted to work online from home. Turns out I was wrong about that.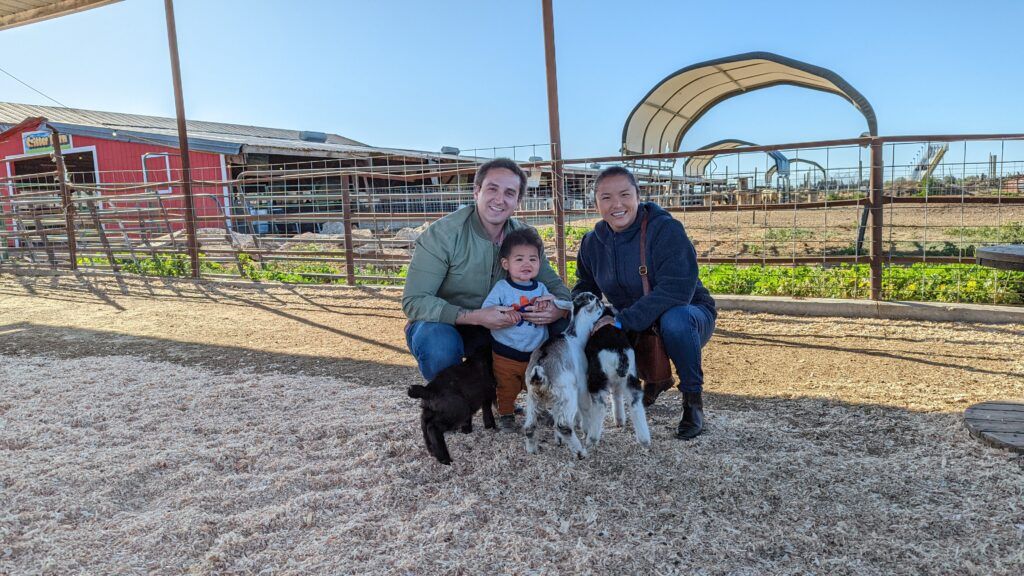 Are You Ready To Work Your Ass Off to Earn Your Lifestyle?
Are you tired of the daily grind? With a laptop and an internet connection I built a small website to generate income, and my life completely changed. Let me show you exactly how I've been doing it for more than 13 years.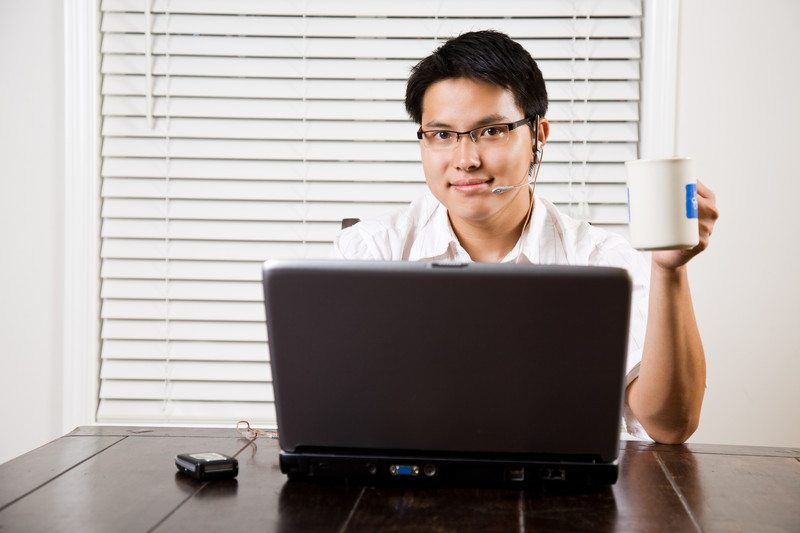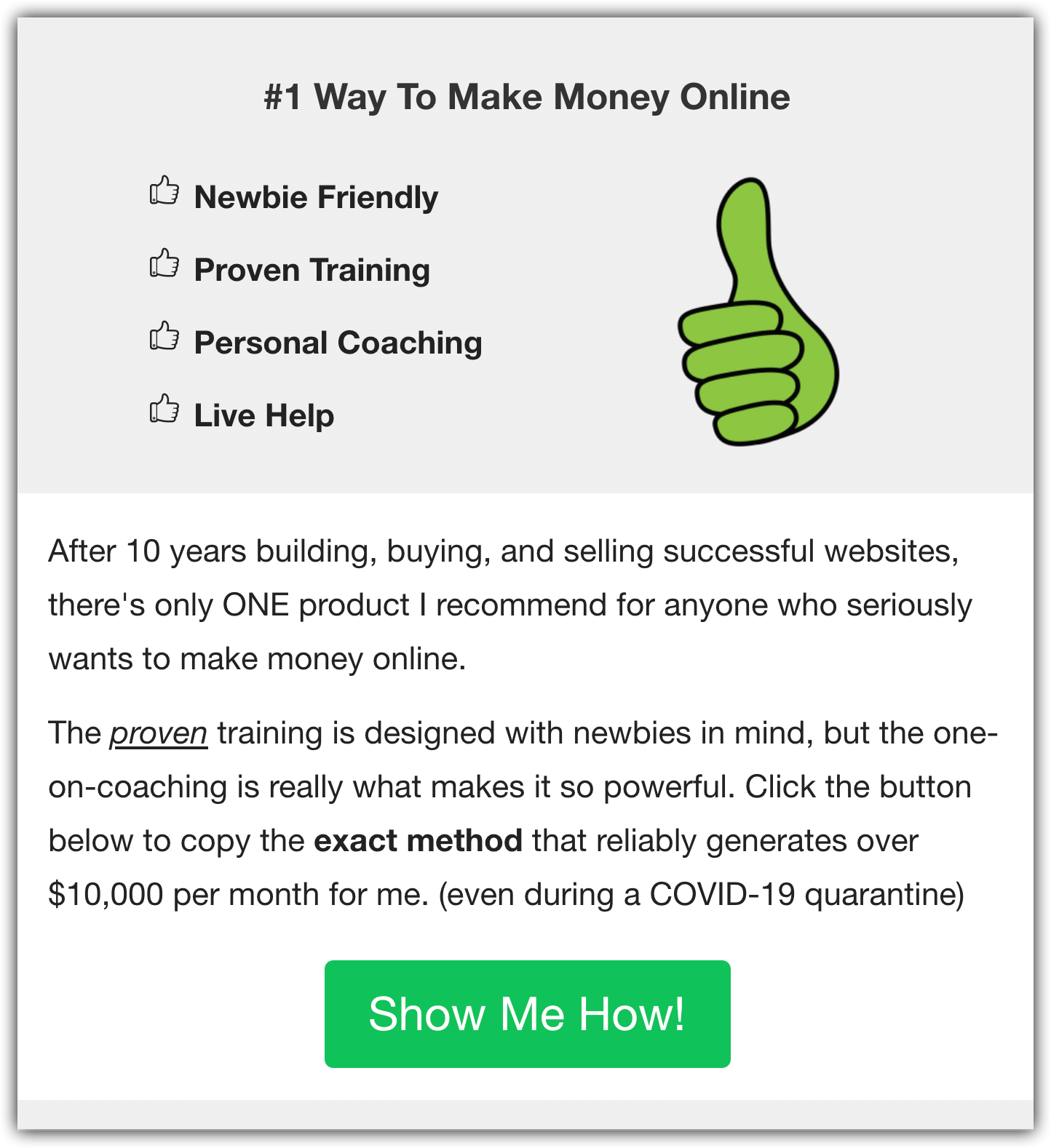 What's the Deal with Call Centers?
If you are like me then you probably thought of call centers being like what Hollywood shows us in the movie, The Boiler Room.
You know, a bunch of shady salesmen rapid-fire-calling anyone and everyone they can to try to make a sale on whatever it is they are trying to sell.
Well, I guess we were wrong. Apparently there's a difference between telemarketers and call center agents. It seems that most call center agents who work from home field
inbound calls only
.
Companies that have a high demand for people to man their phones are hiring remote workers more and more these days.
Instead of filling an office with employees, companies like Hilton, The Home Shopping Network and many others prefer to hire people to work remotely (from home).
Can You Really Make Money at a Call Center?
Hiring people to work from home saves the company money on taxes, overhead costs and insurance, just to name a few things.
It also allows them to hire from a bigger pool of potential employees, because now they can hire people from all over the country or the world, instead of being limited to their specific location.
Companies can find higher quality workers, cut costs and distance themselves from the many issues that come with having an office full of people.

A quick search online reveals a seemingly endless number of listings from companies looking to hire call center agents.
The pay tends to ranges anywhere from $8 per hour to $18 per hour.
So not only is it possible to make money at a call center working remotely, but companies actually prefer to hire this way.
Requirements?
As a work from home call center agent, you will field calls related to support questions, complaints and even sales.
Just about every company — big or small, online or offline — needs remote call center agents. However, most of them prefer to outsource the hiring process.
So, in most cases, you can't apply to the company directly. If you want to be hired, you will have to find one of the hiring agencies.
The two most popular agencies I found for this type of work are: Live Ops and West at Home.
The requirements are pretty standard:
Self-motivated
Attention to detail
Excellent phone voice
Politeness
Proficient with mapping tools such as Google or Bing maps
Ability to multi-task
Basic computer skills
Own a computer
Home phone (landline)
Beyond these basic requirements, there are a few other things you should think about.
More Things to Consider
Although you may be able to work from home, you still won't be working online. There's a big difference between the two.
I'm sure that just having the opportunity to work from home sounds great. But if you are working for another company you are missing out on most of the advantages that come with working from home.
Let me give you a few examples…
The "Hourly Wage"
Working for a company like any of the ones mentioned before might be great — probably better than a normal 9 to 5 gig, but you are still working for someone else. You still have a boss and yes, you still have to punch a time clock.
Just look at the hours required for some of these call center jobs.

That is a lot of hours. I'm sure you are allowed breaks, and for some companies, you are probably even allowed to set your own hours to an extent (I'm just guessing though).
The problem with that is that call centers don't pay you by the hour.
What I mean is, just because you are sitting at your desk with your headset on, waiting for a call, doesn't mean you will be getting paid for that time.
In fact, you are only paid .25cents per minute of talk time — the time you are actually on the phone with a customer.

That is what they base your "hourly wage" off of. So when you see things like, "Make $20 an hour as a call center agent" understand that that means per hour of 'talk time'.
But of all the little nuances that come with working a regular job (even if it is from home) there is one that bothers me more than any other: the slow-moving pace of all things corporate.
The "Process"
Working for companies like these requires a great deal of patience. Now, I wouldn't say I'm a patient guy but I understand the need for it, especially when it comes to making money.
The problem I have is with things like the hiring process, the week hold back on paychecks, background checks, and other screening processes.
It seems that despite all the technology we have today, corporations just can't keep up.
Take a look at the image and I will explain why I circled each thing.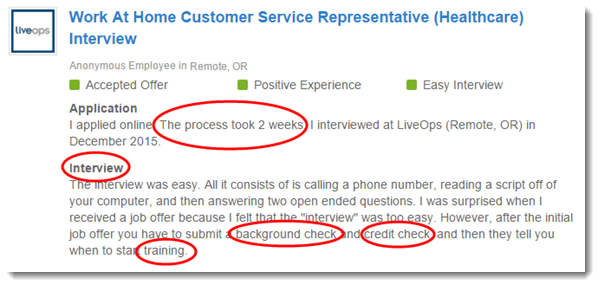 To be clear, this is a positive review left by someone who applied for the job, and got it. So this person isn't saying anything bad about the company, I just wanted to highlight everything she had to go through to get the job.
First, she applied online. That alone took two weeks.
Second, she had an interview where she had to answer a couple of questions that she says were "too easy".
I'm sure the questions are meant too weed-out any undesirables or those who just don't know how to handle themselves on the phone. Okay fine. I guess companies have to do that. But to me, this is just unnecessary red tape.
Then, she had to submit a background check and a credit check.
The background check I get…kind of. I mean, you are working in your own home so I'm not sure why it's required. The credit check is beyond me though.
Finally, after you jump through all those hoops — then and only then — can you move onto the training process.
All of this seems ridiculous, going through this intense process for a mediocre job paying just over minimum wage.
Working from home for a call center is not a bad option, but it's important to understand that it's just a regular job that you can do from home, and has good and bad points do it. It's not truly working for yourself, and especially not working towards significantly improving your financial status.
Final Verdict?
I know the goal for many people is to be able to work from home. Yes, working for a call center is an option for someone that just needs a job and wouldn't mind working from home.
But it's pretty common that the same folks that want to work from home are the ones that want the freedom that comes with it. the reality is that answering phones for a company not going to give you the freedom you are looking for.
True freedom comes from starting your own online business in my opinion. This is what I do. I started my first business in 2010, and have never looked back.
I'll never return to the regular work world because I know the incredible possibilities of working online, and I've barely even tapped into ONE method (there are many)
What makes starting an online business so great?
Well, first off, you could start a regular brick and mortar business offline — have an office or a warehouse or a retail location. However, you need permits, insurance, real estate, probably a loan from the bank, startup cash for inventory, and the list goes on and on. Put simply, you will have huge upfront costs.
And after all that you still won't have a passive income.
But in the online world, it costs less than $20/year to run a business (the cost of a domain name). The software to run the website is free, and as long as you write the articles for your website, that's free too! Plus, you can do it today — right now, in less than ten minutes.
Beyond that, an online business is a great way to create true passive income. Remember that a brick and mortar business is open from 8AM until the evening some time. An online business runs 24/7, so can generate income even while you sleep!
Make Money Working For a Call Center
There are thousands of different side hustles you could do to earn some extra money on the side, and which one "clicks" for you depends on your personality and goals. However, there's one side hustle that makes an insane amount of money and works for anyone.
Starting an affiliate website is an incredible way to earn extra money because you can do it from your home on a laptop, and work on your business in the evenings and on weekends. The income potential is huge, and it's easy to scale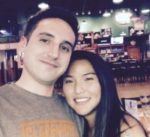 Nathaniell
What's up ladies and dudes! Great to finally meet you, and I hope you enjoyed this post. My name is Nathaniell and I'm the owner of One More Cup of Coffee. I started my first online business in 2010 promoting computer software and now I help newbies start their own businesses. Sign up for my #1 recommended training course and learn how to start your business for FREE!