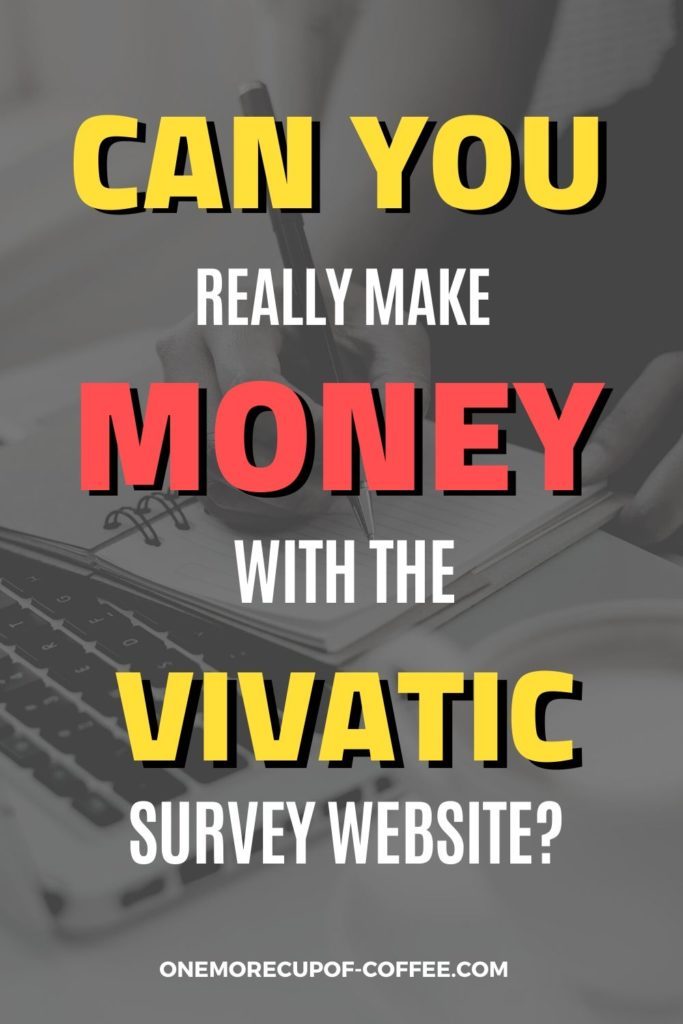 I found this website while researching different ways to earn side-hustle cash. But can you really make money with the Vivatic Survey Website?
You can find this website at Vivatic.com, and at first glance, it looks a lot like a regular survey website. You can sign up by supplying your name and some basic information, and even get $1 just for signing up.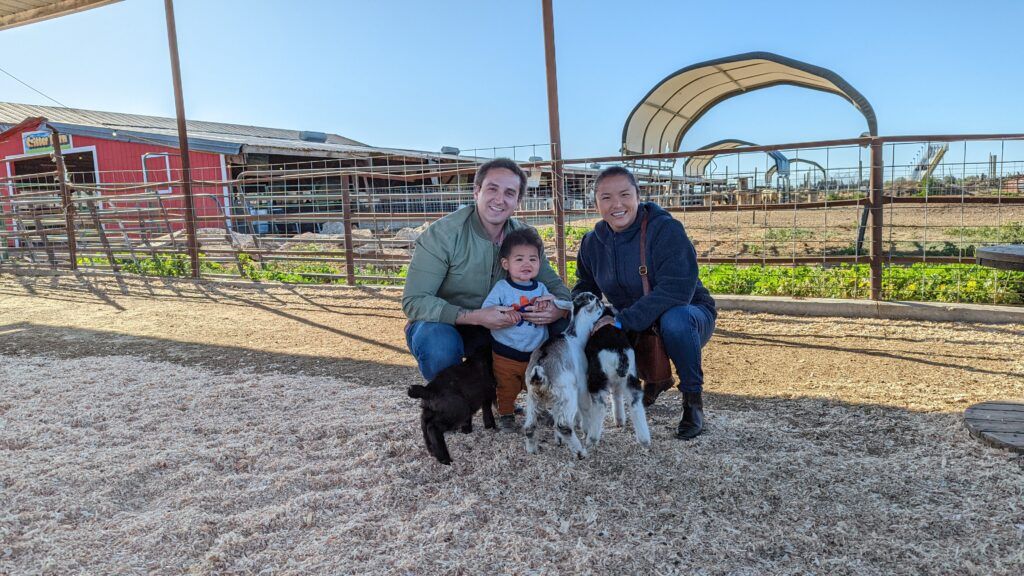 Are You Ready To Work Your Ass Off to Earn Your Lifestyle?
Are you tired of the daily grind? With a laptop and an internet connection I built a small website to generate income, and my life completely changed. Let me show you exactly how I've been doing it for more than 13 years.
The site promises to give you the ability to earn real money in your spare time. Plus, it pays out in PayPal, and is 100% free to use.
It even says that, to-date, members have earned over $3,000,000 using the site.
But is it really as good as it claims to be? That's what I was determined to find out.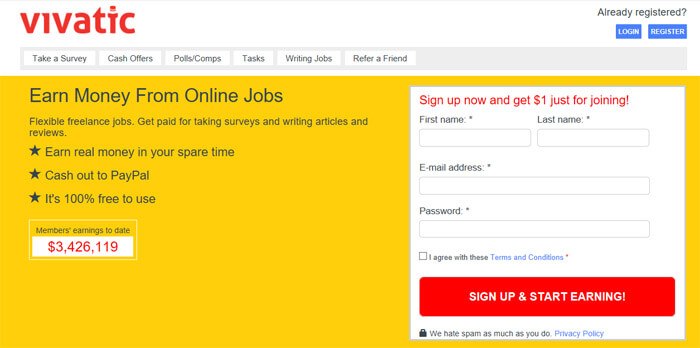 Make Money With The Vivatic Survey Website
Before we talk about Vivatic itself, I want to highlight why the idea is so important.
I'm all about finding quality side-hustles. In fact, as of this New Year, that has pretty much become my number-one goal.
And I love the idea of survey websites for this, because they have the potential to offer a lot of value. The biggest upside to sites like this is that they allow you to work on your own schedule, whenever you have the time.
That's hard to find in the side-hustle world, so that's a big deal.
But they also generally come with a downside. A lot of survey sites don't pay out enough to make them worth the time. I wasn't sure about this one yet, so here is what I found when I got into it and started looking around.
Getting Started: Taking A Closer Look At Vivatic
If you scroll down just a little bit on the main home screen, you can find a pretty good overview of how the site works.
On the aesthetic side of things, I will say that this site was ok. It wasn't beautiful, but it didn't look 'trashy' either. It was about average where looks were concerned.
I did like how straight-forward it was. It seemed to be one of those sites that made what to do next rather obvious, and I liked that about it.
So here is what you had to do to get started.
First, you sign up. Second, you complete a wide variety of different types of jobs. These might include (but are not necessarily limited to)…
Taking surveys
Writing articles
Writing blog posts
Researching product information
Data entry
Proofreading
Transcribing videos
Classifying products
Watching videos, and more.
And third, you get paid for your work.
There is also a FAQ section that seems to be useful for answering questions about the website. There wasn't a ton of information here, but enough to make it worth a look.
Here are a few bits of information that I learned from viewing this part of the site.
First of all, I found out that users can earn as much as they want, as long as they are willing to spend more time on Vivatic. Rewards for jobs are said to range from a few pence to $15, and can take anywhere from a few seconds to a few hours to complete.
I also learned that you can join this site regardless of what country you are from. You just have to be able to enter a valid zip code. As long as you can do that, you are good to go.
I signed up, and was immediately taken to what appeared to be the main hub. Here is what it looked like.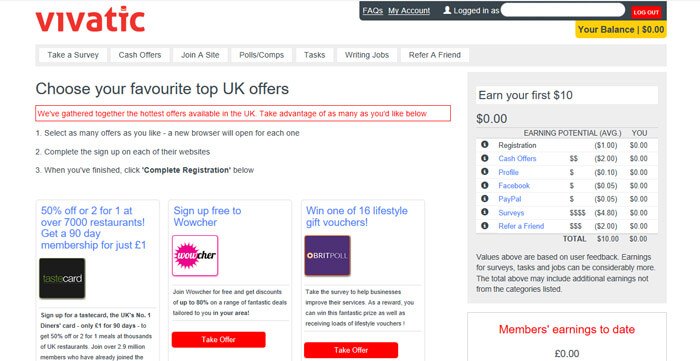 Now, it was time to see how much money I could make.
Looking At Offers On Vivatic.com
Next, I wanted to see how much money I could feasibly make using Vivatic. As you can see, based on this screenshot, I could earn up to $10 for completing my profile.
This consisted of several steps, including registering, taking part in available cash offers, filling out my profile, linking my Facebook, adding my PayPal, taking surveys, and referring a friend.
Sites where you can earn in many different ways like this aren't unusual. I've seen many similar options, like InstaGC, Toluna and Qmee.
So, right here, I saw that I could make $10 with what seemed to be relative ease, though some of these steps might have been a bit more 'time consuming' for the amount of money they were paying than I would have liked.
There were also a number of offers located toward the bottom of the main hub screen. But these looked more like advertisements than offers. Some of them were even offering entry into sweepstakes, which I am obviously not really crazy about.
I'm here to earn cash… not to participate in games that may or may not add up to anything.
So I decided to click on the 'Surveys' section in the Earnings Potential section, and see what that gave me.
Taking Surveys On Vivatic.com
The site started by asking me some questions about myself. It also advertised a Toluna Survey that I could take. It said that the survey would take about 15 minutes, and would pay me $0.65.
That is not very much money for a 15-minute survey. If I were getting paid that to answer one question, well, maybe it would be worth it.
But as it is, this adds up to just over $2 an hour if you do it consistently, which is 'average' for survey sites… but not enough to make them worth the time, in my opinion, unless you just really enjoy taking surveys.
But anyway, back to the task at hand. I was going to take this survey and see how long it took to earn the money it was going to pay me, so that's what I did next.
I took a tiny survey in which I just gave them some information about me. This paid nothing, actually.
I am not sure why, as on the right side of the main hub, it told me that I could earn $4.80 this way. I still had the option to take that Toluna survey, but I just wasn't interested in making so little for that kind of work.
So I did a bit more looking around, and clicked on the Cash Offers tab. This took me to a page where I could complete offers for rewards, for companies like Peanut Labs, etc.
I have used a lot of sites that did things this way. And to be super honest, this was starting to look more and more like an 'offer' website, not really a 'survey' website… and these types of sites just do not tend to pay out enough to make them worth the time.
And over and over again, this site was proving to be similar.
I clicked on the Polls/Comps tab, and was taken to a page that said 'Daily poll and comps.' Here is what it looked like…

So yeah, this didn't do anything to boost my morale. Not only were no polls available, but you only get paid 10 cents for every 10 polls you take!
At this point, I felt like I had seen enough to tell me what kind of value that this site was going to offer me.
How Did Vivatic Perform Technically?
From a technical standpoint, the site did well. Even the little survey I took seemed to behave without a problem. I didn't experience any glitches or anything like that.
So far, so good on that front. I was not very impressed with the amount of money that I could make with it, but as far as the actual design and usability of the website was concerned, it looked good.
Will I Be Using Vivatic In The Future?
At this point, my answer is certainly a no, for one simple reason… I can't make enough money on this website to justify the time that it would take to earn it.
Now, with that being said, I can imagine that some people might like it. Some people really do enjoy taking surveys in their spare time, and websites like this are really designed to cater to survey-takers like this.
If you just really enjoy taking surveys, enjoy experiencing new offers, and like to perform tasks online that will pay you a little bit, either to kill boredom or just to fill up your time gaps, then this site is not a bad one at all.
But… if what you want is to make some serious cash while growing a side hustle that will not just put a dent in your bills, but also help you to grow your financial means to a better level… then I am afraid that Vivatic.com is not going to be the website for you.
This website does surveys and offers quite well… but the types of offers and surveys offered here are just not profitable enough to justify the time it takes to complete them.
So no, I will not be using this site… though I can certainly see that there are probably people out there who would want to. I just need to know that I have the option to make more money than this.
Our Final Thoughts About The Vivatic Survey Website
Should you join and try to make some extra money with it?
The Vivatic Survey Website Review
To be completely honest, doing online surveys will never earn more than minimum wage. In fact, most people rarely earn more than $1-$3 per hour, if they are lucky enough to get a payout.
If you want to legit make money online you need to invest time into building a website. Earn passive income through affiliate links & advertising revenue. Rather than spend an hour trying to answer boring questions, build a real web property that you can earn monthly income from.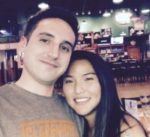 Nathaniell
What's up ladies and dudes! Great to finally meet you, and I hope you enjoyed this post. My name is Nathaniell and I'm the owner of One More Cup of Coffee. I started my first online business in 2010 promoting computer software and now I help newbies start their own businesses. Sign up for my #1 recommended training course and learn how to start your business for FREE!