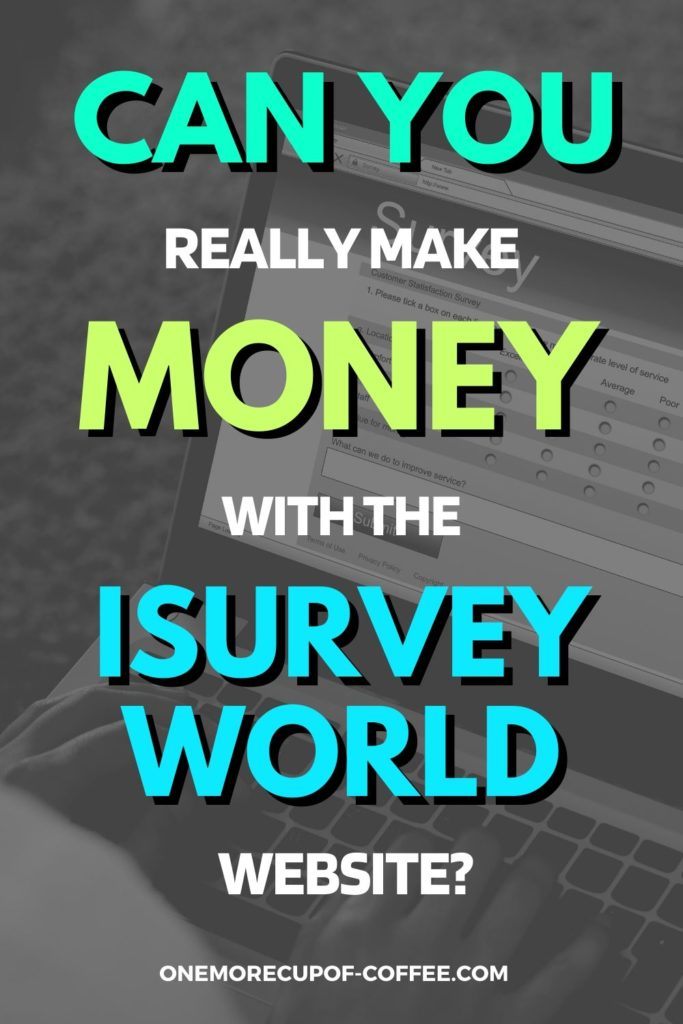 I found this site in a list of sites that are supposed to help you earn some money on the side.
In fact, this company even tells you that you can earn $5 just for signing up! But can you really make money with the iSurveyWorld website?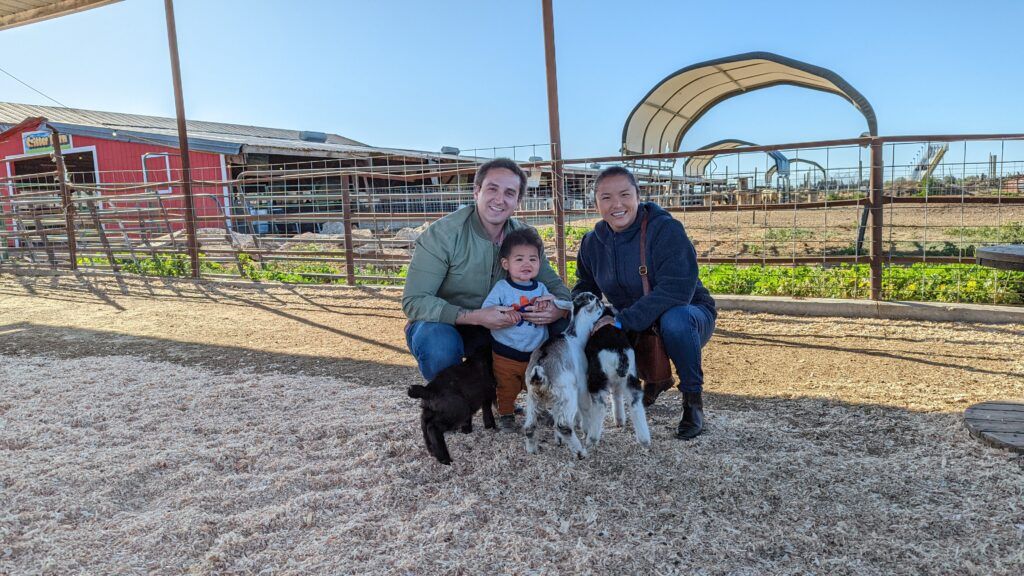 Are You Ready To Work Your Ass Off to Earn Your Lifestyle?
Are you tired of the daily grind? With a laptop and an internet connection I built a small website to generate income, and my life completely changed. Let me show you exactly how I've been doing it for more than 13 years.
Survey websites are getting more and more common nowadays, for a few different reasons. For one, they make market research a lot more affordable. And two, they give more different companies the option to take part in that industry.
So, as a result, we now have a ton of paid survey sites at our disposal that we could potentially use to make some extra cash online.
The only problem is that not all of them are equal. And, there are definitely some that are better than others.
Please keep in mind that I am not just looking for a way to make a bit of extra money. I am actually looking for a legitimate side hustle that will help me to make a decent chunk of extra change on the side.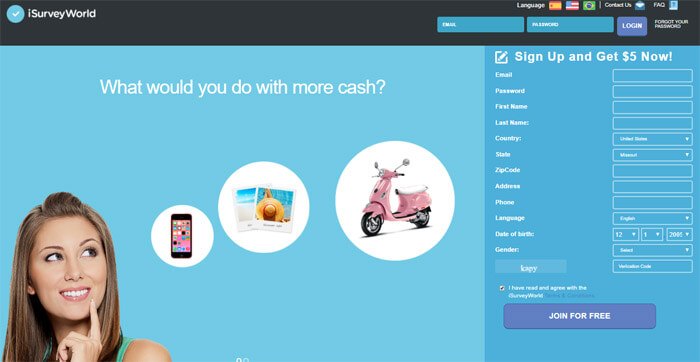 I don't want to make a few dollars… I want to make enough, consistently, to build toward my goals and to make earning it worth the extra time.
And therein lies the problem with a lot of survey websites that pay you for market research. They do pay, but many of them pay so little that they don't even make the payout worth the trouble.
So that is the main hurdle that I wanted to try to overcome with this site. Would iSurveyWorld.com end up overcoming this common pitfall?
Here is what I learned.
Making Money With The iSurveyWorld Website
To begin with, let's take a look at the iSurveyWorld website itself.
My First Impression Of The iSurveyWorld Website
My first impression of this website was actually pretty good. I liked how the landing page was laid out. It was colorful, but also modern and professional. There were some cool graphics that slid across the screen, and the sign up form was very visible and easy to understand.
Scrolling down, it was pretty easy to find information about the site. Here are the main points of what I learned.
They pay out cash for each survey you complete
You must join the community to take part in the surveys and earn rewards
You can earn money anytime, from anywhere
They send out payments in PayPal
There was also a FAQ page provided, which did a pretty good job of answering a few other questions I had about the site.
For one, I learned that you need to confirm your email address before you start… so it goes without saying that you need a real, functional email address to use this site.
They also say that customer support requests are usually answered in 3 to 4 days. This isn't super-fast, but it isn't really super slow either… so I was fine with this.
When you fill out your profile, it gives you the best chance of being matched with relevant surveys… so filling this out seems to be a very good use of time that you should spend a few minutes on if you plan on using the site.
I also learned that the average survey generally takes anywhere from 15-20 minutes. So, these are medium-length surveys. I will say that I was interested in finding out how much you earn for them, though.
This is usually where things start to 'fall apart' for survey sites like this. When they only pay 1 or 2 dollars for surveys of this length, it can very quickly turn into a waste of time.
I scanned the rest of the FAQ for information regarding payments and amounts… but was unable to find anything.
I figured I was going to have to actually join the site to learn more about this. And that's what I did next.
Signing Up For ISurveyWorld
Signing up for ISurveyWorld was, initially, quite easy. But as soon as I got all of my vital information filled out, I was asked if I wanted to sign up for any additional offers.
I didn't want to be, so I clicked 'no' on all of them. After that, I was taken to this page… which was pretty much a page that was asking me the same thing in a different way.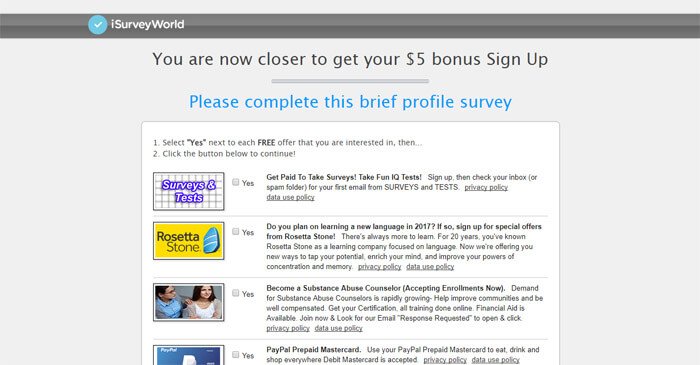 But after passing by that page, I was taken to this page.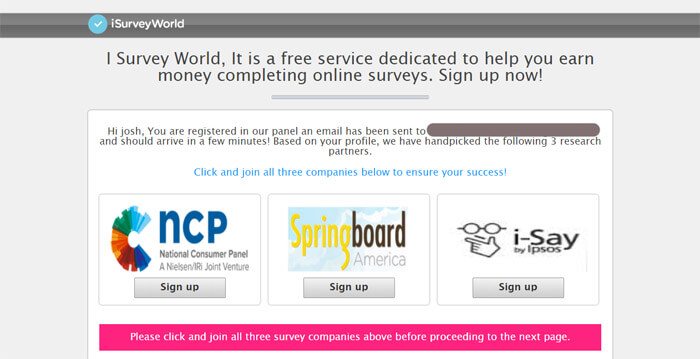 This was a bit different. This one said that I had already been sent my confirmation email, but asked if I would 'please click and join all three survey companies above before proceeding to the next page.'
Please, or what? Did this mean that I wouldn't be able to use the site if I didn't sign up for these? Was this some kind of a gimmick that ISurveyWorld was using to earn affiliate rewards for sending people to these sites?
Or is ISurveyWorld nothing more than a portal to other survey sites? A middle-man, so to speak, for the sites that actually pay out?
I was just not super stoked about this development. I felt like I wasn't being given enough information here, and the verbiage almost seemed 'tricky' to me.
I tried clicking on one of the sites, and found that I was literally sent to it. They literally wanted me to go through the sign-up process for every single one of these websites… which was pretty crazy to me.
Plus, when I clicked on the NCP link, I was actually taken to the Vindale Research site… so yeah. There seemed to be very little rhyme or reason thus far in regard to what was actually going on.
I was very uninterested in signing up for these other sites, so I tried to just continue forward (I've actually reviewed I-Say and Springboard America before anyway).
I did, and came to another page that pretty much wanted me to sign up for three more sites. Once again, they almost tried to make it sound like I was required to do this before I could move on. Though, once I clicked to just move on, it let me.
This seemed really gimmicky and misleading to me. I mean I guess, in the grand scheme of things, as long as you know that you don't really have to bother with it, it's fine. I just get irked at sites that almost try to 'trick' you into doing extra things.
How can a site like this really claim to care about your time? And if they don't care about your time, are they really the kind of survey site that you want to bother with?
Anyway, getting past this page brought me to what appeared to be the 'main hub' of the website. Here is what it looked like.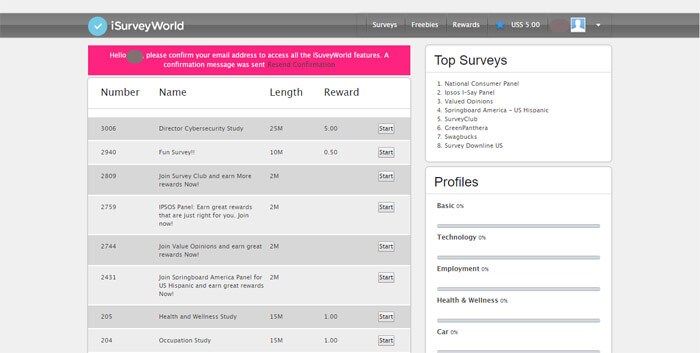 Let's talk about it.
The Main Hub Of The ISurveyWorld Website
First of all, I realized that I had, indeed, earned $5 for signing up. I also learned that I could take a few different surveys already, despite the fact that I had not really filled out my profile. But the majority of these surveys only paid out $1, despite being listed as 15-minute surveys.
When you add in all of the extra work that you need to take care of to actually get to most surveys (loading pages, signing in, finishing surveys, filling out forms, etc.), you will probably only be able to do 3 or 4 of these per hour, at most… which will leave you earning 3 to 4 dollars an hour.
This is obviously not a very good wage for a side hustle.
At this point, the decision became a pretty easy one. Was I going to be using this website to further my business/entrepreneurial-related goals? Here is my answer.
Will I Personally Be Using ISurveyWorld In The Future?
The answer to this question is most definitely a 'no.'
This is not a bad site. If you enjoy taking surveys and earning a bit of extra money at the same time, then ISurveyWorld is certainly not the worst survey site out there.
It is actually above average, because it does provide quite a few surveys, and because once you get past the sign-up process, it seems pretty clear-cut and well-defined.
I just had two main problems with it.
First of all, it seemed a bit gimmicky. I don't like it when a company wastes my time trying to get me to sign up for things that I don't need or want.
And secondly, I do not feel like this site pays enough to qualify it as a legitimate side-hustle.
It does pay out more than average, actually, making it better than most if you want to recreationally take surveys and make a bit of extra spending cash.
But if what you want is to spend time on a side hustle that will help you to add to your personal wealth or business goals, then I am afraid that iSurveyWorld may just not be the option for you.
Our Final Thoughts About ISurveyWorld
Should you sign up for it and try to make some extra money?
The iSurveyWorld Website Review
To be completely honest, doing online surveys will never earn more than minimum wage. In fact, most people rarely earn more than $1-$3 per hour, if they are lucky enough to get a payout.
If you want to legit make money online you need to invest time into building a website. Earn passive income through affiliate links & advertising revenue. Rather than spend an hour trying to answer boring questions, build a real web property that you can earn monthly income from.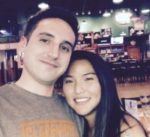 Nathaniell
What's up ladies and dudes! Great to finally meet you, and I hope you enjoyed this post. My name is Nathaniell and I'm the owner of One More Cup of Coffee. I started my first online business in 2010 promoting computer software and now I help newbies start their own businesses. Sign up for my #1 recommended training course and learn how to start your business for FREE!