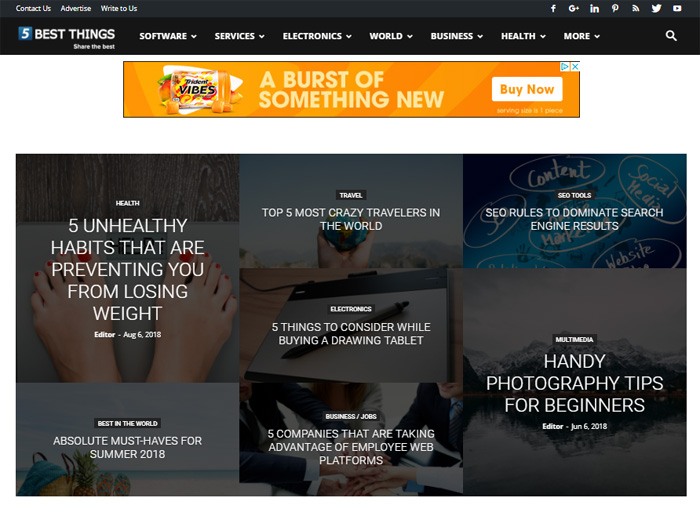 This website claims to pay freelance writers for list articles and other types of blog posts. But can you really make money writing for 5BestThings.com?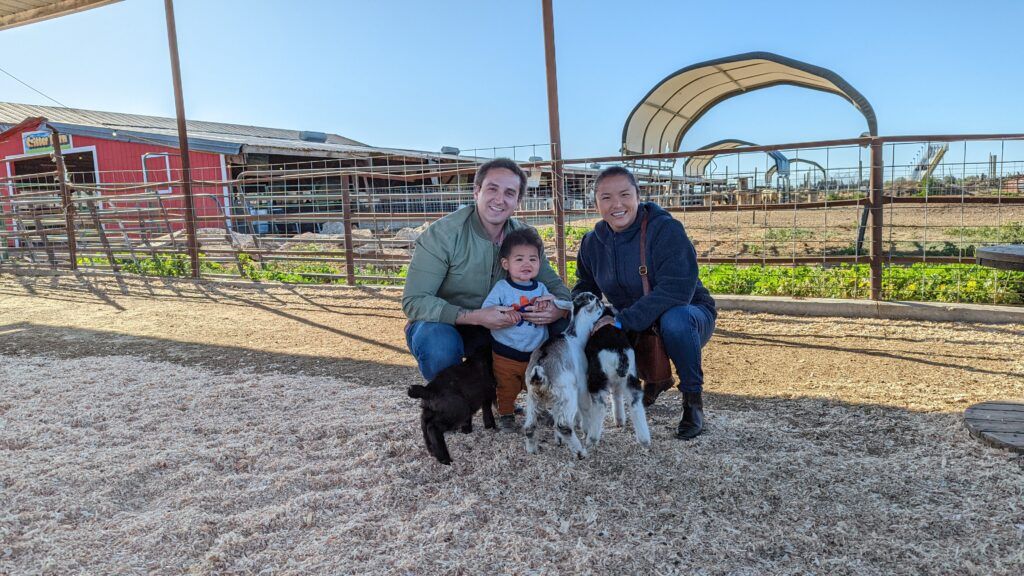 Are You Ready To Work Your Ass Off to Earn Your Lifestyle?
Are you tired of the daily grind? With a laptop and an internet connection I built a small website to generate income, and my life completely changed. Let me show you exactly how I've been doing it for more than 13 years.
Making Money Writing For 5BestThings.com
Let's start with the site itself. The landing page for 5BestThings.com pretty attractive and modern. It features a gallery-style layout that is not so uncommon for blogs in this genre. 5 Best Things is basically a list-style blog site, and they mostly seem to publish lists of 5 items.
5 Unhealthy Habits That Are Preventing You From Losing Weight
Top 5 Most Crazy Travelers In The World
5 Things To Consider While Buying A Drawing Tablet
5 Companies That Are Taking Advantage of Employee Web Platforms
Etc.
There also seem to be a few other types of posts published here that are not exactly lists of 5 items. For example, there was an article featured on the landing page titled 'Absolute Must-Haves For Summer 2018,' and so on.
So yeah. There are a lot of these types of websites posted online. Cracked.com is not so unlike this, as is Listverse.com. But today, I was interested in researching this one.
Is this the type of website that someone could use to make some extra side-hustle writing money? Or is this more of a dead-end where you are either going to get ripped off or waste your time?
There are a lot of websites online nowadays that offer to pay freelancers for their time… but not all of them end up panning out. The real question that any writer should ask about a site like this is…
"Is this website worth my time as a writer?"
And of course, the payoff for getting an article published is not always monetary… but I am going to take everything into consideration as I discuss this site. So let's talk about it.
First Of All, Freelance Writing Can Be A Pretty Good Side-Hustle
Yes, freelance writing can be a pretty good side-hustle. That does not mean that becoming a writer will solve all of your money problems… but it does mean that you can market your skills as a writer, if you have them, to make more money than you could feasibly make with survey websites and other things like that.
But becoming a freelance writer, even for some side-hustle cash, is not an altogether easy gig. In fact, there are a lot of people who start projects like this thinking that it is going to be easy money—and end up giving up within the first week of trying!
The truth is that writing is not always easy… and one of the hardest parts is finding the right websites to write for. So with that being said, that is actually why I do this.
I find websites that claim to pay writers, research them, take a very close look at exactly what they are offering, and then break it down so that writers can have a better idea of what they are getting into.
I have actually made quite a bit of decent side-hustle cash as a writer myself—so knowing what to look for gives me a definite advantage as I navigate the murky, sketchy world of online content writing!
But what about 5BestThings.com?
Here is what you need to know.
Getting Started: An Overview Of 5BestThings.com
We have already basically discussed what this site is and what it does. But the next step in my research had to do with reading through some of their content.
I wanted to find out what level of quality they command when they do publish articles, and I was also interested in whether or not the author gets any sort of credit when the article goes live.
To research this, I went ahead and looked into some of their content.
The first thing that I noticed, after looking through some of their articles, is that they do give the name of the author on their articles—unless the article was written by an editor, in which case it will just say 'editor' in the author-name section. There is also a date given on each post, which is good.
The articles published here are pretty good. Some of them are actually quite brief, while others are more in-depth. In fact, a few of them that I checked out seemed more like filler content than content with substance.
I am not saying that it wasn't well-written, but some of the articles involving tips were almost so common-sense that I felt like I had read them a hundred times before.
But this is not necessarily a bad thing.
It might be possible that the editors are responsible for writing a lot of the content featured on 5BestThings.com… and if so, it might also be possible that writers could have a very good chance of getting published here… as long as their content met all of the proper criteria and was well-written, of course.
So the next thing that I wanted to look at was what it took to have a shot at getting an article published on 5BestThings.com. Here is what I found.
Writing For 5BestThings.com
So here is a screen shot of the page on the website that deals with freelancers.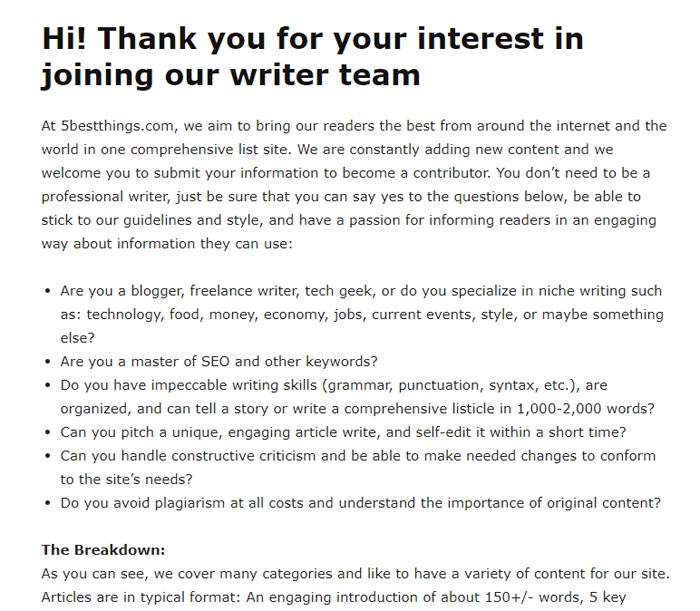 I learned quite a bit on this page about what it takes to pitch to 5BestThings.com. Here is a summary of the main points that are important to know.
They are looking for quality writers
They are looking for writers who can use SEO and keywords
They are looking for articles between 1,000 and 2,000 words
They are looking for well-edited, engaging content
They want writers who can write original content and handle constructive criticism
They actually publish several different types of content on the site, from news stories, to non-monetary guest posts, to lists, to technology reviews, etc.
They pay anywhere from $15 to $63 for most posts, depending on exactly what you are writing. Of course, there is no guarantee that what you write will be accepted—but that is a risk you take when you pitch to websites like this.
To apply, you need to send in your information, writing samples, an author biography, and links to your social media accounts along with your pitch. They also make it a point to say that they check every article for plagiarism (which should be a given), so obviously… make sure that you don't copy/paste anything and claim that it's your own.
These are pretty straightforward rules and guidelines.
Next, let's talk about the value that this website presents to writers.
Is There Any Value In Writing For 5BestThings.com As A Writer?
5 Best Things does not pay as much as some other sites out there—but it does offer some decent value to writers.
First of all, they accept pitches from writers all the time—so that's a plus. Secondly, they do pay for posts (aside from guest posts), so that is also a good thing. Granted, they don't pay as well as some sites that I've looked into, but at least they pay.
Thirdly, they let you put your name on the article, which means that you will be able to use it as a reference to help you get your name out there—and that is pretty huge.
No, you may not get rich writing for this site. You may not even make a decent payday writing for it, to be completely honest. But you could put some gas in your car, pay part of your electric bill, or go out to eat with the money you make—and that is definitely nothing to scoff at.
My Personal Feelings About Writing For 5BestThings.com
If you are a writer looking to make some decent side-hustle cash, then I would definitely recommend pitching to this site and trying to get at least one article published on it.
It will be able to serve as another reference that you can use to help get more writing work, but it will also pay some decent cash at the same time.
As far as the design was concerned, I liked the look of this website. It was attractive, worked well, and was styled in a way that made it feel modern and professional.
No, you will not get rich writing for this site. Nor will you get rich writing for any other site, for that matter.
But that is also not necessarily the point, either. The true value in writing for this site is that it could serve as a benchmark for other, more profitable projects. In the writing world, you always have to be thinking about the future—and this site could help you to do that without wasting your time for a ridiculously low payout.
On a somewhat related note, I like list article sites. They tend to get a lot of traffic, so maybe this site could also give you decent visibility boost as well. That certainly never hurts anything!
Our Final Opinion About 5BestThings.com
Should you pitch to them and try to make some extra money as a freelance writer?
There are a lot of ways to make money online. Some are good, some not, but ALL of them are still just trading hours for dollars.
Starting your own affiliate website really is the best way to build passive income and "make money while you sleep". Affiliate websites earn income in every timezone, and can be instantly accessed by billions of smartphones across the globe!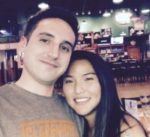 Nathaniell
What's up ladies and dudes! Great to finally meet you, and I hope you enjoyed this post. My name is Nathaniell and I'm the owner of One More Cup of Coffee. I started my first online business in 2010 promoting computer software and now I help newbies start their own businesses. Sign up for my #1 recommended training course and learn how to start your business for FREE!