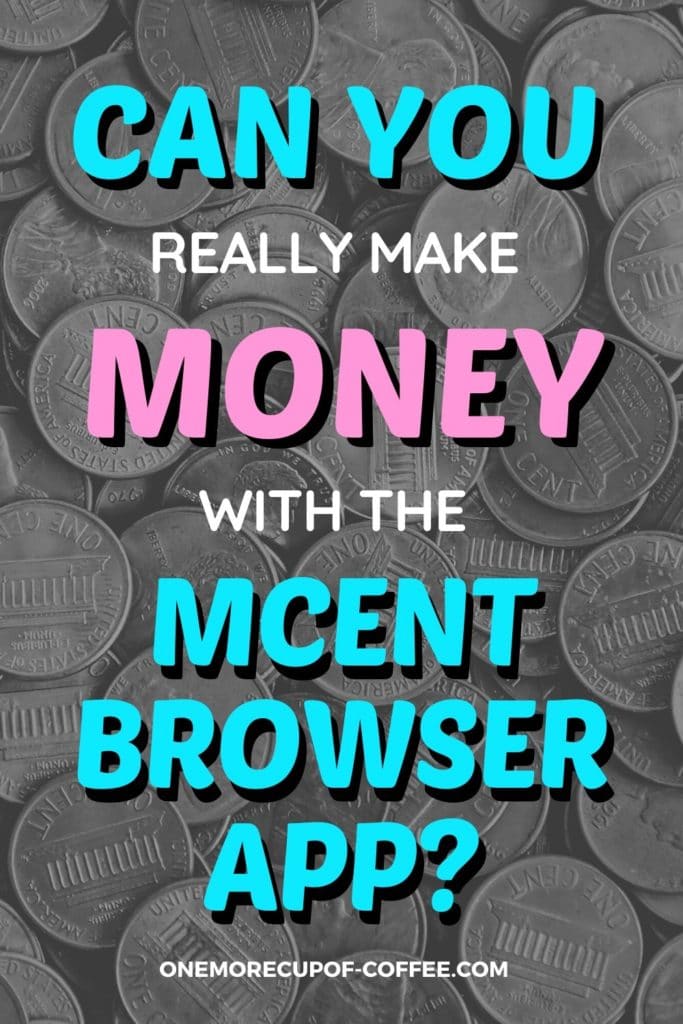 Mobile browsers, that pay you for browsing the internet on your mobile device, are not necessarily a new concept. But, this browser claims to be 'the world's first mobile recharge browser.' But can you really make money with the mCent Browser app?
This is what I was determined to find out.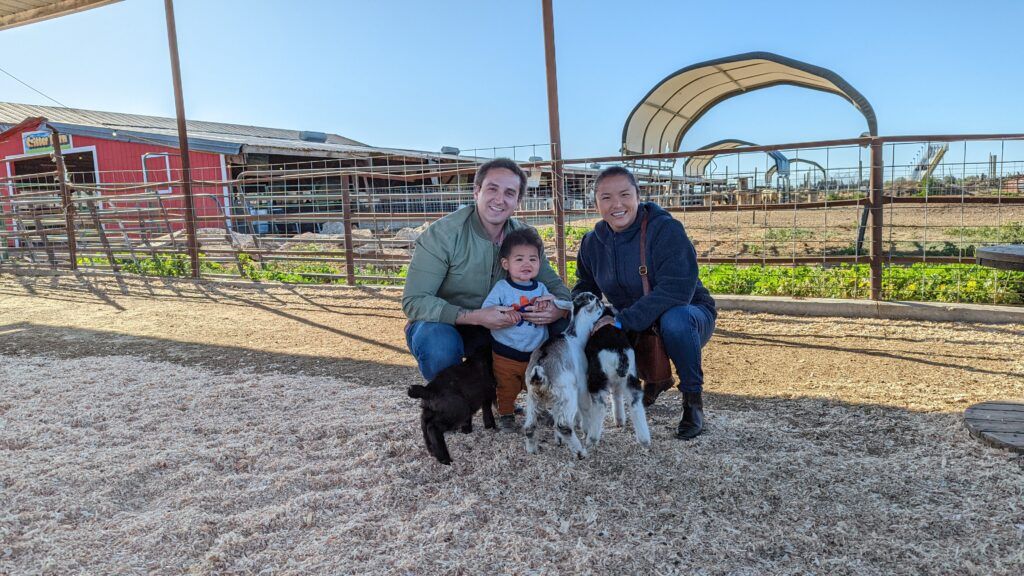 Are You Ready To Work Your Ass Off to Earn Your Lifestyle?
Are you tired of the daily grind? With a laptop and an internet connection I built a small website to generate income, and my life completely changed. Let me show you exactly how I've been doing it for more than 13 years.
I was told about this browser not long ago and had to check it out for myself.

Making Money With The mCent Browser App
The first step is always to take a look at the app itself. As far as the very first screen was concerned, everything looked pretty good.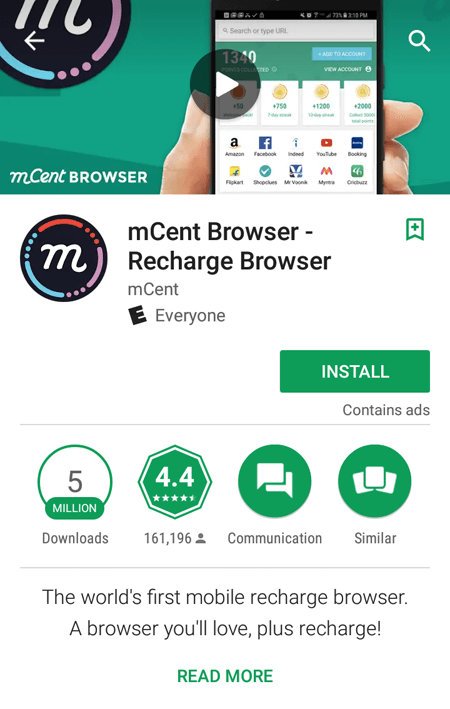 It has 4.4 stars on Google Play and has accumulated over 5 million downloads. To be honest, I was surprised that I hadn't heard of it sooner. The company calls it a mobile recharge app… but I wasn't sure what this was supposed to mean. I took it to mean that you could recharge your phone data or something like that, but I wasn't sure.
So I did a bit of digging and looked into the Read More section to see if I could figure it out.
My question was answered pretty much right away, with the first paragraph of the app description. Here is what it said…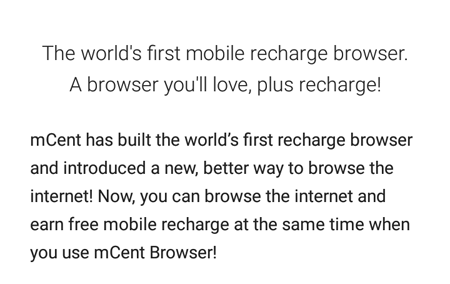 Ok, so this app basically lets you recharge your phone's data by earning you points. Well, to say that they are 'points' is putting it a bit too simply. First, you earn points.
Then, you exchange these points for Rupees (that's what it says in the Read More). Then, you redeem your Rupees for mobile top-up.
I was pretty interested in seeing if I would be able to fill up my mobile service using this browser. I was also interested in seeing if I could cash in my points for any other type of reward. I mean, mobile fill-ups are fine, but the real point here is to find a worthy side-hustle that I can use to earn some extra money.
My Thoughts On The Idea Of A Browser App
Alright, quickly before we get into the app itself, I wanted to share my ideas on what I hoped that this app would deliver.
I like the idea of a mobile browser app because it could, in theory, allow me to earn money for stuff that I would already be doing… like browsing Facebook, watching videos, visiting websites, etc.
From the way I understood it, this wouldn't be a whole lot different from using Google Chrome or my phone's mobile browser… except that the browser would be a bit different, and I would be getting paid in exchange for the company tracking my browsing habits (Bing actually does something similar).
The browser itself had a pretty legit list of features that you can check out in the app listing. But they really did seem like a pretty good list!
I understand that some people might have privacy concerns related to this. And to be fair, the company didn't really give me any privacy information in the app description… so I was kind of left to wonder about this.
I mean, I would assume that an app like this would really protect your privacy… but I had yet to figure this out, exactly.
I did a bit more digging, in an attempt to find out about this, and ended up getting the full discourse on the privacy policy page of the app listing. Here is a link so that you can take a look at it: http://support.mcentbrowser.com/customer/portal/articles/2856815-terms-of-service#privacy
They collect everything. Right down to your passwords.
But, then again, this is a browser. They also say that they collect information regardless of whether the app is in use or not—though I am not sure exactly how much they collect when the app is not in use.
Anyway, I will admit that this made me a little bit leery. I mean, I am not usually paranoid about stuff like this, but this did freak me out a little bit.
But oh well. If I needed to, I could just uninstall the app, right? That's what I decided to do if I didn't like it because I did really want to try it out.
So yeah. My next step was to download it and give it a try.
Downloading The mCent Browser App
The download was 46.26MB, so not too big. It just took a few minutes to be up and running.
My first impression of the browser was that it seemed clean-cut. It was very simply designed in the beginning. I liked it. It almost looked empty, but I didn't have a problem with this.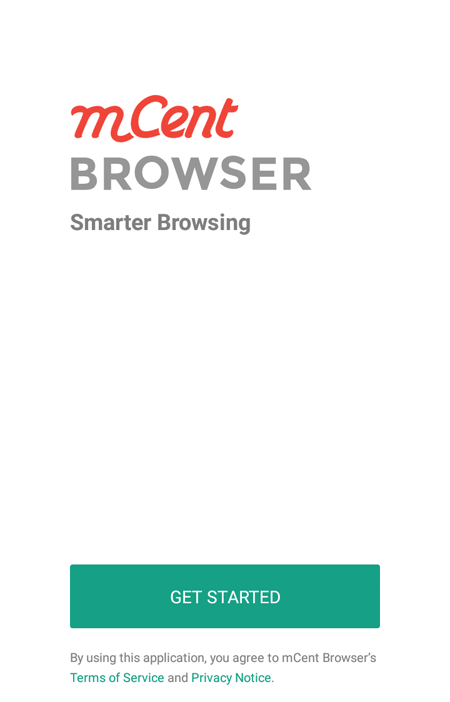 Next, I was taken to a page where I was told that a limited number of people were getting to experience the 'Early Access' stage of mCent. I filled in my mobile phone number, along with my email address, and was promptly shown this screen.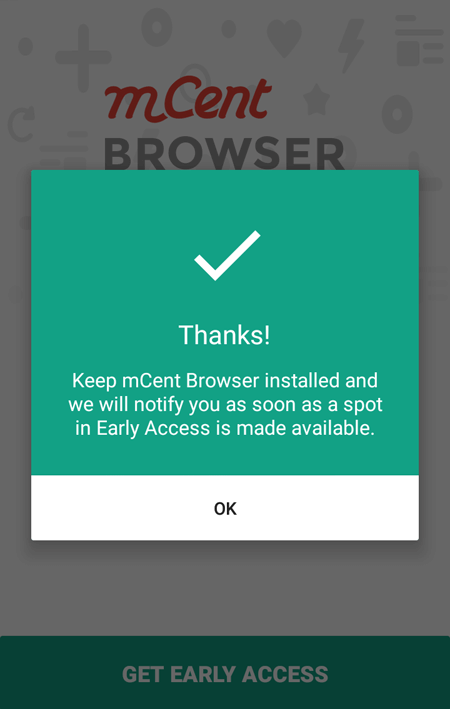 This was a bit unexpected. I wouldn't have known, by what the app listing said, that only certain people were going to be able to use it. I went back to the listing to see if I could find any reference to this at all.
I read the Read More one more time, and it even said this in the very last paragraph.
"Download mCent Browser now and earn mobile rewards today!"
So, I really wasn't sure what was going on with this. I was also not sure how much of a wait I was going to need to give it. Was I going to need to wait for hours, days, weeks, or months?
I decided to take a look at the reviews, just to see what else I could find. Here is a summary of what I found there.
Checking Out The mCent Browser App Reviews
I found two reviews, right at the beginning of my research, that seemed pretty down on the app… and both for the same reason. Here is what they said.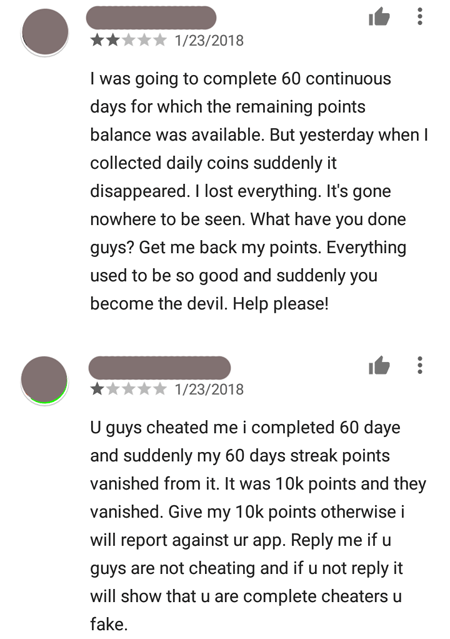 "Everything used to be so good and suddenly you become the devil." –mCent Browser User
(Note: This little snippet above, ahem, cough cough… is the best thing I've seen written on the internet in a long time. Just saying.)
So yeah. If these reviews are any real indication of a problem, then it seems that mCent has its hands full.
I continued my search, and came upon these reviews further down a bit…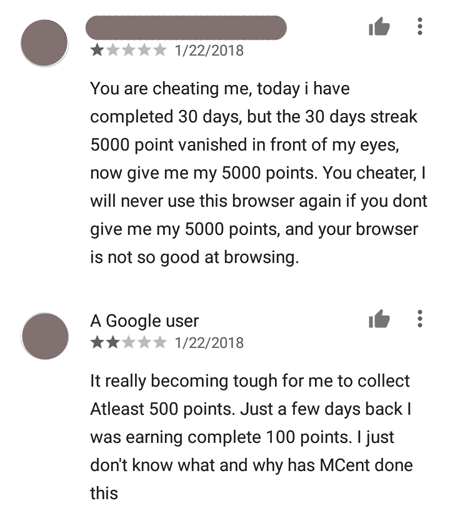 There are some real gems here. I have to hand it to the mCent userbase… they are one unhappy crowd, apparently, and they don't seem to be afraid to really talk about how they feel.
I mean, don't get me wrong, there are some positive reviews as well… but it seems that the largest percentage of the most recent reviews have definitely been negative.
It almost seems like the app has made some kind of 'change' lately. A lot of reviewers are complaining that their points per day have dropped off substantially as of late.
But even more than this, it would appear that, as of the beginning of 2018 at least (this review was written on January 24th, 2018), the company does not offer and will not be creating a cash-out feature. Take a look at this.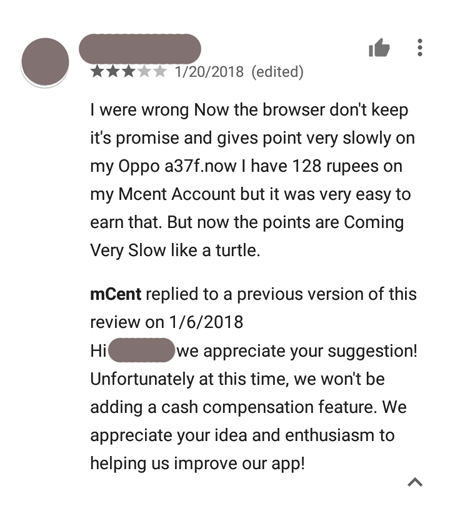 Ok, now this just takes it to an entirely new level. This poor user didn't even mention a cash compensation feature in the review. But it looks as though this company, through the kindness of its heart, did some kind of auto-respond and used an answer that they had already used on another question.
I'm glad that they said something about not making a cash compensation option. I'm just surprised they said something when the question hadn't been asked.
My Personal Feelings About The mCent Browser Thus Far
I am not an expert on this app. I haven't even gotten to use it. But based on the latest reviews from 2018 about it (and there are quite a few of them), I just can't imagine really ever wanting to try it.
I do love the idea of earning money from browsing the web, but there seem to be a number of serious issues here that I just can't overcome.
For one, I can't join the site because there is no room.
Secondly, there seems to be no cash compensation option. And since I don't know if my mobile carrier (which is actually a pretty obscure carrier, unfortunately) would be supported, this is a pretty big issue. If my carrier is not supported, this app wouldn't really work for me anyway.
And third, there are just so many negative reviews that have been posted in the last week. It is like they have been flooded with negative reviews, and most of them seem to say the same thing.
I'm not sure what is going on with this app. I hope they get it worked out because I do like the idea.
But I'm also afraid that this trial was a bit of a disaster. I uninstalled the app, and do not plan on trying it again until I hear that things have changed.
Our Final Thoughts About The mCent Browser App
Should you download it and use it to make some extra money?
The mCent Browser App Review
To be completely honest, doing online surveys will never earn more than minimum wage. In fact, most people rarely earn more than $1-$3 per hour, if they are lucky enough to get a payout.
If you want to legit make money online you need to invest time into building a website. Earn passive income through affiliate links & advertising revenue. Rather than spend an hour trying to answer boring questions, build a real web property that you can earn monthly income from.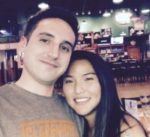 Nathaniell
What's up ladies and dudes! Great to finally meet you, and I hope you enjoyed this post. My name is Nathaniell and I'm the owner of One More Cup of Coffee. I started my first online business in 2010 promoting computer software and now I help newbies start their own businesses. Sign up for my #1 recommended training course and learn how to start your business for FREE!