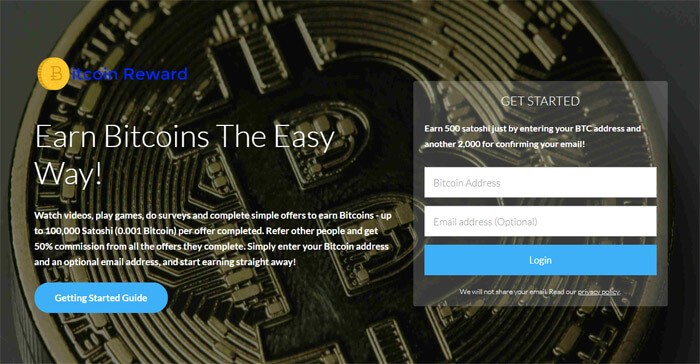 This site claims to pay you Satoshi (equal to 0.001 Bitcoin) per offer completed. But can you really make money with Bitcoin Reward?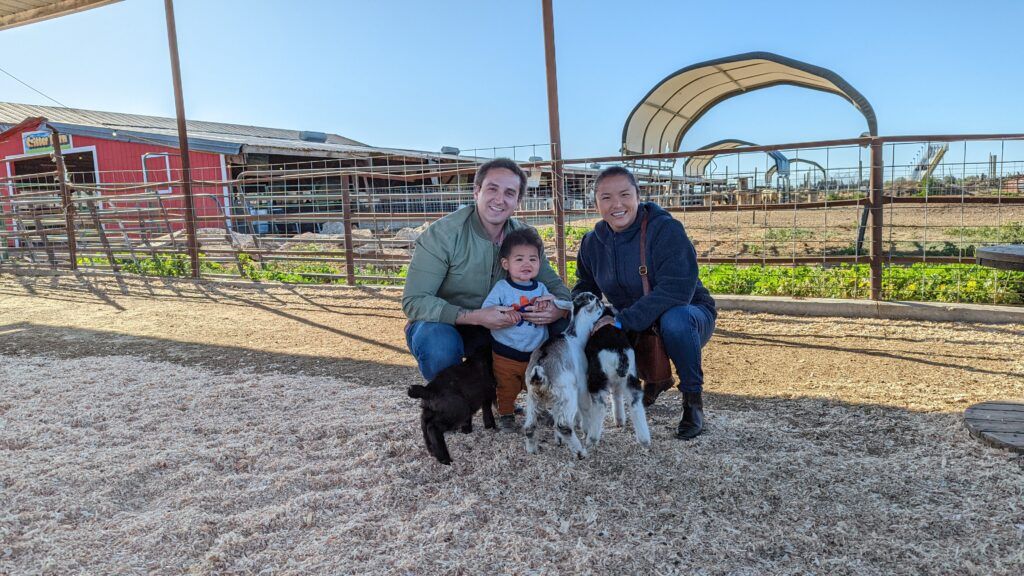 Are You Ready To Work Your Ass Off to Earn Your Lifestyle?
Are you tired of the daily grind? With a laptop and an internet connection I built a small website to generate income, and my life completely changed. Let me show you exactly how I've been doing it for more than 13 years.
I don't know a lot about cryptocurrency. In fact, I have never owned a Bitcoin (or even the smallest piece of one), or any amount of any other cryptocurrency. But that doesn't mean that I'm not interested in it.
Bitcoin has really blown up over the last few years. I even have a few friends who put all of their extra cash into cryptocurrencies… as they believe that it is the currency of the future.
I also love offer sites and survey sites. In theory, these types of sites provide a pretty cool opportunity for those who wish to make some extra money online. I love how flexible they are, and I love how they offer you the means to earn extra cash on your own time, from wherever you happen to be.
This flexibility is a huge part of what makes a quality side hustle—but it is not the only part. Every side hustle should offer equal amounts of flexibility, profitability, and consistency. That is the only way that a real side hustle will be worth the time spent on it.
So does Bitcoin Reward offer what it takes to call it a true side hustle?
I decided to dig in and see what I could find. Here is what you need to know.
Making Money With Bitcoin Reward
Let's start at the very beginning. What is Bitcoin Reward?
Bitcoin Reward is, to put it very simply, a website that will pay you Bitcoin to watch videos, do surveys, play games, and complete simple offers. They pay up to 100,000 Satoshi per offer, and you can also refer other people to make 50% commissions on the offers that they complete.
But this was about all there was to see on the landing page, so I clicked on the 'Getting Started Guide' to learn more. Here is what I found.
I was taken to a page that started off by explaining what Bitcoin was. The site did a pretty good job of explaining it, which I especially appreciated as I am not an expert on it, by any stretch of the imagination.
Here are the most important facts that I learned from this section.
First off, I learned that you need a Bitcoin wallet if you wish to send and/or receive Bitcoin. There are a lot of different wallets out there, but this site says that Electrum.org is the best and easiest to use. Once you have installed some Bitcoin wallet software, you will be ready to start earning.
Obviously, you get paid on this site with Bitcoin… so the next obvious question is, can you convert Bitcoin into real cash?
The answer is most definitely a yes, and the site certainly talks about this quite a bit. The two most popular sites for converting your Bitcoin into cash seem to be Coinbase and Localbitcoins.
These sites allow you to sell your Bitcoin, and then to transfer your funds to your bank account. They charge you a very small fee for doing this, but it seems to be well worth it.
I also saw that there was a lot of information about Satoshi on this site, which I appreciated very much. Satoshi is the smallest denomination of Bitcoin, but it can still be a bit confusing. Here is a screenshot of what Bitcoin Reward had posted about it.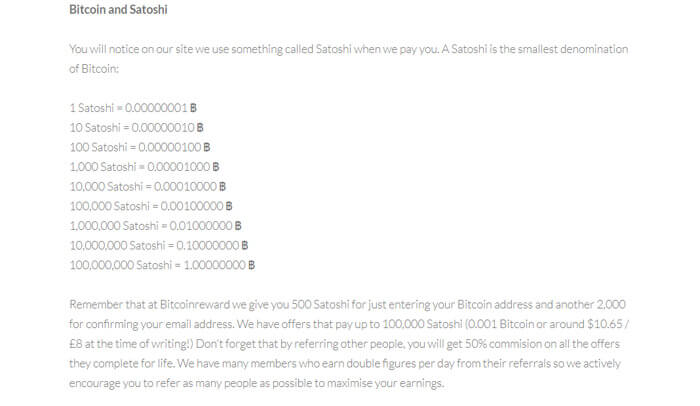 I am a little bit disappointed that the site only uses Satoshi for payment, as it is the smallest denomination, and that leads me to fear that I may not be able to earn enough to make it worth the time.
But, they say that they pay up to 100,000 Satoshi per offer, so that is a good thing.
At this point, 100,000 Satoshi is worth about $10.65, give or take… so that is not necessarily a minuscule amount of money to earn, though this also depends on how long the tasks take or how much trouble they are.
This screenshot also tells you a bit more about the referral program. If you refer people, you earn 50% commissions on everything that they complete, for life! This is really good news for people who enjoy getting other people interested in earning money the same way that they are earning it.
At any rate, this about sums up what I was able to learn on this page. But I did a Google search, and found out that a lot of offer-site review sites had also seemingly tried out Bitcoin Reward before as well… so I was pretty interested in seeing what they thought of it.
Here is what I found in reading through some reviews.
Reading Online Reviews For Bitcoin Reward
To start with, most sites gave Bitcoin Reward a very positive overall review. But let's be honest—a lot of these sites also want to take advantage of the awesome referral commission system, so let's not forget about that detail!
The first thing I learned was that Bitcoin Reward seems to hold your Bitcoin for 3 weeks before paying out—which is a definite downside. It is said that they do this as a measure to avoid fraudulent earnings… and from what I hear, as long as you earned your money honestly, you will have nothing to worry about.
The review sites that I regularly follow seemed especially down on this detail. But they also pointed out that you will not be able to earn very much using the site anyway.
They say that the number of points that you get for the amount of time that you need to spend on the tasks is just not very profitable, which certainly makes Bitcoin Reward less desirable in my eyes.
In the end, most of the good review sites that I looked over agreed with my concluding ideas about the site… that it is legitimate, that you can earn with it, that it is not necessarily special unless you wish to get paid in Bitcoin, and that it probably isn't worth the time if you are looking for a good side-hustle.
Creating A Profile On Bitcoin Reward
To get started on this site, you are going to have to have a Bitcoin Address. And to get one of these, you are going to have to create an account with a Bitcoin Wallet company. But this is a pretty easy process.
Aside from this, you also need to have an email address. But you get paid 500 Satoshi automatically for giving them your Bitcoin address, and you actually receive 2,000 more, for free, just for verifying your email.
The downside to this is that 2,500 Satoshi sounds like a lot when it is actually not. It takes one million Satoshi to equal just one bitcoin, and 100,000 Satoshi equals just over $10 (depending on what Bitcoin is worth at the moment). So yeah. 2,500 Bitcoin is just not a lot of money at all.
My Personal Feelings About Bitcoin Reward
At the end of the day, I could summarize my feelings about this site like this.
It is a legitimate site. Yes, you can make some Bitcoin using it. But, it is not a serious side hustle. If you want to make some extra cash doing fun offers and surveys, then this site might be a good choice for you.
But if you are looking into side hustles and you want to make some serious cash for your time, then I am afraid that this is not going to be the best option for you to invest in.
Bitcoin Reward does a lot of things right. It is a quality site that can be a lot of fun for people who enjoy completing offers and things like that for cash. And the fact that they pay out in Bitcoin makes them even better.
But that is really the only thing that makes this site anywhere near 'above average.' Without the Bitcoin aspect, it is an average offer site, at best… and it really isn't that profitable when you factor in how much time it takes to make money with it.
Besides Bitcoin Reward isn't the only offers site that relies on Bitcoin. BitMaker and BitCoinGet both do as well.
The main type of person who I could see making use of this site is someone who…
Wants to get paid in Bitcoin
Enjoys doing offers
Doesn't mind that they will only be getting paid a little bit for their time
If this sounds like you, then it is possible that Bitcoin Reward might be your cup of tea.
On a somewhat less related note, I do feel like the site was well-put-together. I liked how it looked, and I didn't experience any glitches while using it. Other review sites seemed to mirror these sentiments as well, so I wasn't the only one to have such an opinion.
But yeah. All in all, not a bad site. It just won't necessarily work for my specific side-hustle needs.
Our Final Thoughts About The Bitcoin Reward Website
Should you sign up and use it to earn some extra money?
There are a lot of ways to make money online. Some are good, some not, but ALL of them are still just trading hours for dollars.
Starting your own affiliate website really is the best way to build passive income and "make money while you sleep". Affiliate websites earn income in every timezone, and can be instantly accessed by billions of smartphones across the globe!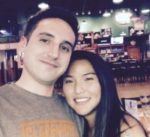 Nathaniell
What's up ladies and dudes! Great to finally meet you, and I hope you enjoyed this post. My name is Nathaniell and I'm the owner of One More Cup of Coffee. I started my first online business in 2010 promoting computer software and now I help newbies start their own businesses. Sign up for my #1 recommended training course and learn how to start your business for FREE!