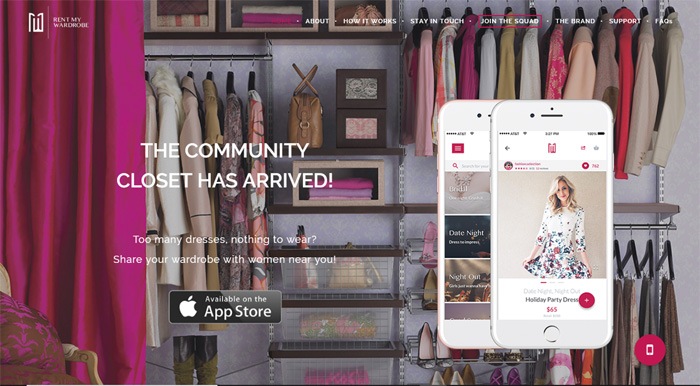 This website claims that they can put cash in your pocket while still allowing you to keep your clothing. Yes, the share economy has certainly scaled over the last 5 years, and websites like RentMyWardrobe.com are part of the movement. But can you really make money with RentMyWardrobe.com?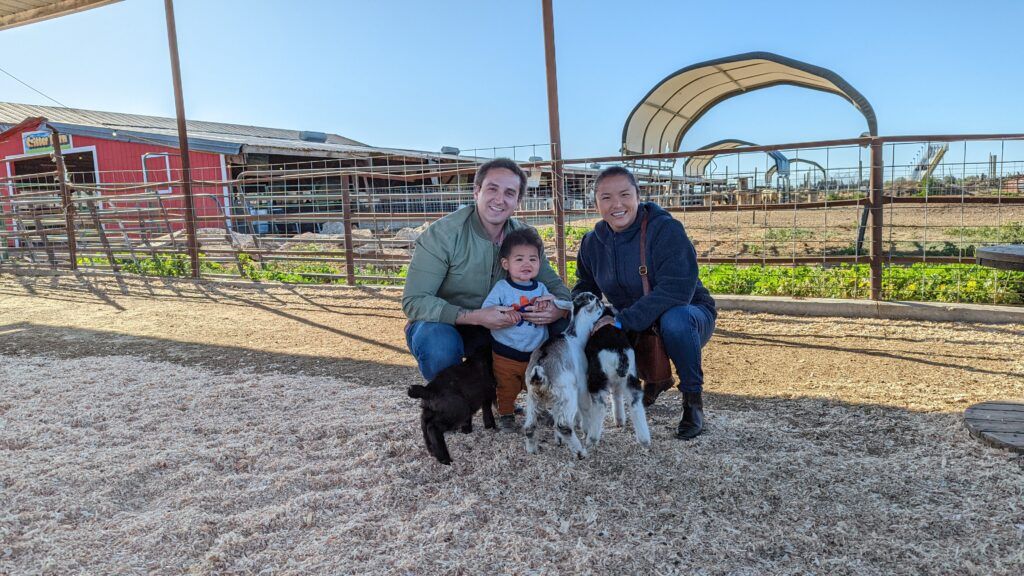 Are You Ready To Work Your Ass Off to Earn Your Lifestyle?
Are you tired of the daily grind? With a laptop and an internet connection I built a small website to generate income, and my life completely changed. Let me show you exactly how I've been doing it for more than 13 years.
Is it really worth the trouble you would have to go to if you wanted to list your clothes and make some extra cash?
This is what I found myself wondering as I started browsing the site. Honestly, I was impressed with the design and style of the landing page right from the beginning. It has a simple elegance to it that really makes it feel good… like a designer clothing store.
They also have an app, though it is an Apple app (sorry Android users). Also, this service is limited to women's fashion.
Making Money With RentMyWardrobe.com
To talk about making money, we first have to look at what RentMyWardrobe.com actually offers. The idea is pretty simple.
This website lets you rent clothing from other people, but also gives you the opportunity to list your own extra clothing to be rented out by others for cash. In fact, they call themselves 'the first app-based platform that facilitates a consumer to consumer rental service for women's fashion.'
They really make it a point to talk up the app on their homepage. They say that it saves you time and money, helps you to verify customers through social media, and even helps you to rent to other women in your immediate area to save on shipping costs!
Here is a list of some of the features you can expect to encounter while reviewing the app and the website.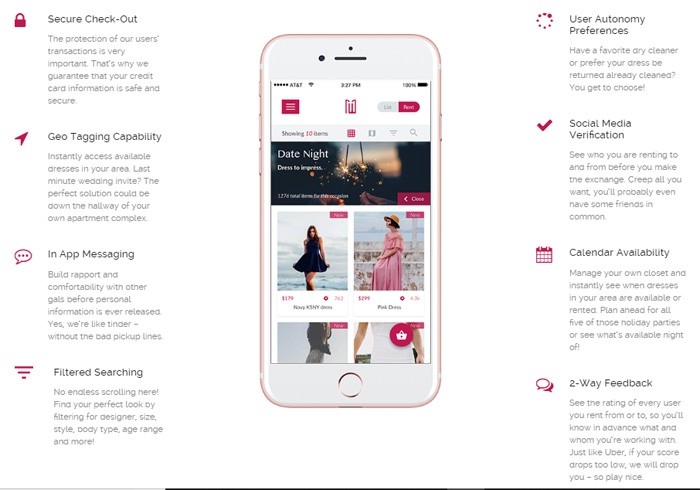 As you can see, they have a lot of the bases covered here. They offer in-app messaging, calendar availability, two-way feedback, and even a Geo Tagging feature.
Share Economy As A Side Hustle
One very important thing to keep in mind is that I am writing this review from the standpoint of someone looking for a quality side-hustle. I love the idea of websites that let you rent out your own stuff because this is a very inventive way to not only help other people to save money, but also to produce a valuable revenue stream of your own.
Creating extra revenue streams, even small ones, is a big part of wealth-building. If you rely on your job alone to sustain you, you may not ever get past the paycheck-to-paycheck grind. But on the flipside, if you can manage to get a few different streams of revenue flowing in, you may very well end up moving past that situation and into another level of financial freedom.
Financial freedom is absolutely the end goal. Happiness comes from having more, better options in your life. And usually, one part of having more options is to achieve a higher level of financial freedom. Get your debt paid down, get your bills paid, reduce those credit card balances, pay the rent off early, put more money into savings, etc.
All of these things can help to make a big difference.
How Do You List Items On Rent My Wardrobe?
Listing items on this site is actually pretty easy, and they give you a detailed step-by-step process on the landing screen.

You basically create a profile, list your dress with photos, select availability, respond to inquiries, rent it out, get paid, then rate your renter. It is that easy.
But… there is one little catch that might actually make a big difference to anyone wanting to use this app.
It is only currently available in Dallas, Texas. So if you do not live in Dallas, or very close-by, you may not actually be able to use it at this current moment in time.
The owner of the service (an entrepreneur by the name of Rachel Sipperly) plans to eventually make it available nationwide though, which is pretty awesome. There is even a form that you can fill out near the bottom of the landing page that will sign you up to be notified when the app comes to your area.
I really loved how this site looked. The pink and white really make it feel like an online magazine to me, and it is obviously branded for women who are looking to rent fashionable clothing. I just really feel like Rachel Sipperly, the entrepreneur responsible for the idea, did an excellent job on this.
The website is truly brilliant.
How Much Can You Earn On RentMyWardrobe.com?
The website recommends that you set a rental price of 30% of the retail value of whatever item of clothing you are going to be renting out. But, with that being said, as the owner of the item, you have the power to set the price however you wish.
Obviously, if you price your items too high, you could lose out on business. But if you price them too low, you may miss out on profits. So finding the right balance here would be crucial.
There is also a small fee included to help pay for dry cleaning, which is very nice! You can also arrange dry cleaning through the messenger on the app, which is another very cool feature that I liked.
It is rather obvious that this has all been thought through. I was quite impressed with it!
Rentals last for 3 days as a standard duration.
Obviously, the amount of money that you could make on a site like this will mostly depend on two things.
How many cool, trendy items you have to rent
How often you can actually rent them out and get paid for them
You may quickly realize that a better wardrobe selection will get you more business. But of course, you never can tell about these things ahead of time. The only way to figure out exactly how much you will be able to make every month using this service is to just go ahead and give it a try.
Does It Cost Anything To Use Rent My Wardrobe?
It seems that using this site (and the app) is free until you rent something. Then, obviously, you need to pay for the rental.
In their features list, they say that they have a secure checkout, which is pretty awesome. There is nothing more 'sketchy' than not feeling safe sharing your payment information. But thankfully, this is not a problem on RentMyWardrobe.com.
I also really liked the idea of there being a two-way feedback system. Feedback is vitally important to share economy apps and websites, because word-of-mouth is truly the best way to make sure that everyone 'behaves appropriately.'
But as far as costs are concerned, there isn't much else to say. You are pretty much only paying for rentals if you are renting. Aside from that, those who list items don't seem to have any fees to pay.
Are There Any Non-Monetary Costs?
The time required to get your items listed could be considered a non-monetary cost. It sounds pretty relaxed on this site, though. You have a virtual 'closet' that you fill up with pictures of the clothing you want to rent out. There is also a profile for you to build, which would take a bit of time.
There is also the 'meet and greet' aspect of the app to figure out. It takes time to meet and exchange the clothing, etc. But, at the same time, this also cuts down on shipping costs, which is pretty cool.
Personally, I really like the idea of meeting up in-person for clothing rentals. I think it adds to the social experience of the app.
My Personal Feelings About RentMyWardrobe.com
I love share economy websites, so this one fits right into the kind of niche I've been exploring lately. The best thing about it is that it takes the idea of renting out your wardrobe and makes it easy. They equip you with all kinds of tools, and basically deliver a platform that makes sharing clothing super simple and user-friendly.
The main downside? It is only available in Dallas. Dallas is a large city, and there has doubtlessly been some traffic on the site since it first launched. It is actually a pretty new concept, but has proven to be popular thus far… as far as I can tell, anyway.
You can also check out Style Lend. That site serves a wider area, although there is a focus on brand-name products. For people in Australia, TheVolte.com could be an option.
You will probably not get rich using this website. If your goal is to become a multi-millionaire or something like that, then it is important that you keep in mind that this website will only create a limited revenue stream… limited by not only the size of your wardrobe, but also by the success that you have renting out your items.
But that doesn't mean that it isn't worth it. I love the idea of turning existing purchases into investments—and that is exactly what this site does.
So two thumbs up to RentMyWardrobe.com. I love it!
Our Final Opinion About RentMyWardrobe.com
Should you log on, build a profile, and start renting out your extra dresses and clothing?
There are a lot of ways to make money online. Some are good, some not, but ALL of them are still just trading hours for dollars.
Starting your own affiliate website really is the best way to build passive income and "make money while you sleep". Affiliate websites earn income in every timezone, and can be instantly accessed by billions of smartphones across the globe!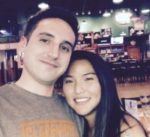 Nathaniell
What's up ladies and dudes! Great to finally meet you, and I hope you enjoyed this post. My name is Nathaniell and I'm the owner of One More Cup of Coffee. I started my first online business in 2010 promoting computer software and now I help newbies start their own businesses. Sign up for my #1 recommended training course and learn how to start your business for FREE!