Plunder Design is basically a jewelry company, like many others. They promote themselves as offering 'vintage and unique designs'. And indeed, the styles used for many pieces are somewhat interesting. If nothing else, they do stand out.
Jewelry is a huge industry and demand for products continues to be high. In fact, jewelry is considered an evergreen field. This means there are always sales to be made. Indeed, there are many ways to make money with jewelry, regardless of whether you're making jewelry yourself or selling someone else's products.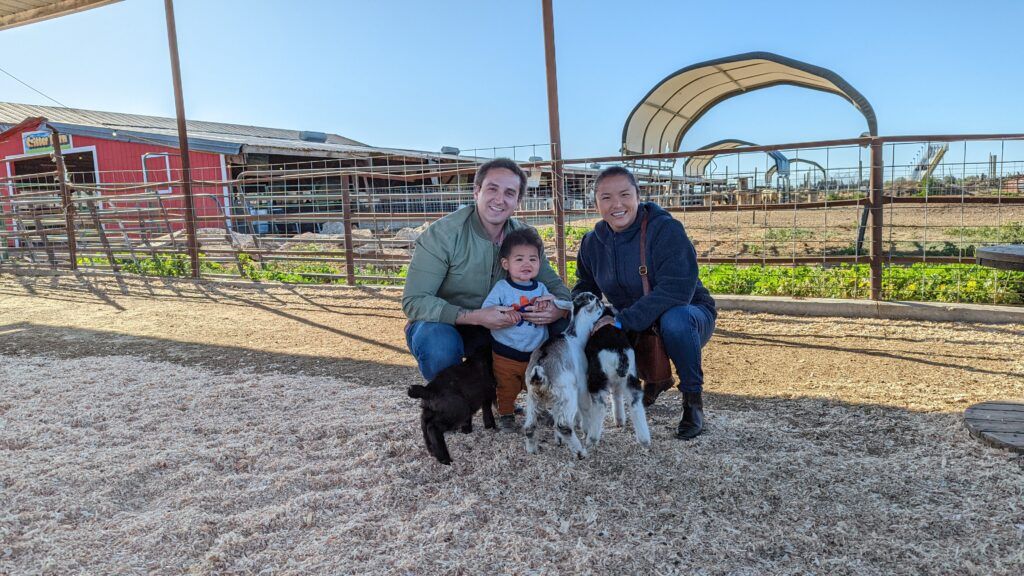 Are You Ready To Work Your Ass Off to Earn Your Lifestyle?
Are you tired of the daily grind? With a laptop and an internet connection I built a small website to generate income, and my life completely changed. Let me show you exactly how I've been doing it for more than 13 years.
As with the fashion field, jewelry isn't a consumable product. But, that doesn't really matter. Instead, people tend to buy more jewelry even when they already have pieces, partly because they want new styles. Jewelry can make people feel good as well, which helps to promote sales.
There is some talk that the jewelry industry is shrinking, with smaller companies closing and larger ones continuing to grow. Yet, this idea may not be true at all. More than anything, the industry is simply changing.
Companies are increasingly making sales in unusual ways, including social media, websites, and through home parties. The style seems to work well for the companies and their customers.
Such changes increase the power of companies like Plunder Design – making shopping online and through distributors a much more acceptable concept.
Two Ways To Make Money With Plunder Design
As an MLM, Plunder Design offers two distinct approaches for making money. The first is that you can sell the products and earn a commission by doing so. The second approach is to build a team. This process allows you to earn override commissions and bonuses based on the success of your team members.
While these ways to earn are common across all MLMs, there are many variations between companies. That's why this post examines how well Plunder Design works as a way to earn a consistent income.
Make Money From Product Sales
The main types of products are roughly what you would expect from a jewelry company. These include earrings, necklaces, pendants and bracelets.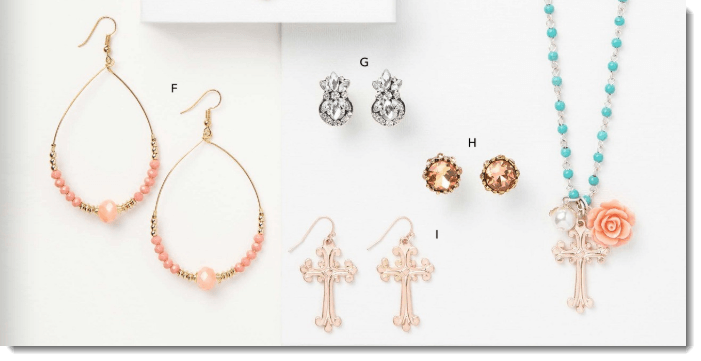 There is considerable variation in the style of jewelry. Some pieces follow familiar styles, which includes items that could be considered elegant. Others are bolder, with unusual shapes and colors.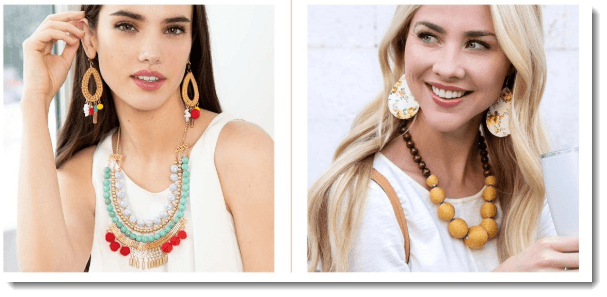 The approach could work well. It means that most women should be able to find at least some pieces of jewelry that they like. Of course, the approach could also decrease the number of items available in any single style.
Another appealing aspect is how much Plunder Design charges. For example, many of the necklaces are less than $30, while bracelets are around the $15 to $20 mark and earring sets are often less expensive still.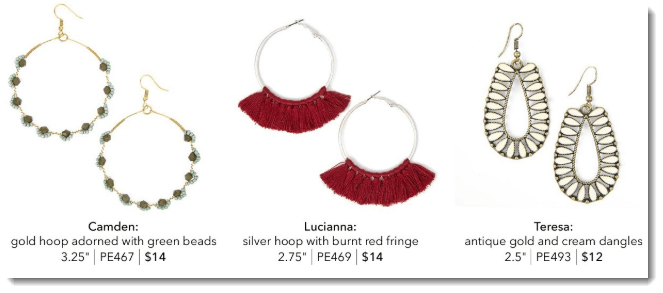 This can work well. The prices are low enough that people could be willing to buy items regularly. In contrast, customers often hesitate when jewelry is $50 or more apiece. Many of the other jewelry MLMs charge an average of somewhere around $80 per necklace. The price difference does make Plunder Design stand out.
There is also a decent selection. At one time I saw close to 60 different bracelets and just as many necklaces, all varying in price. The exact range is likely to change over time as well, which should increase the chances of consistent sales.
Beyond conventional jewelry, there are also items that can be customized in some way. The customization seems to be mostly an image and some written text – so it's not amazing. Still, it might be enough for some customers and makes the company seem a little more unusual.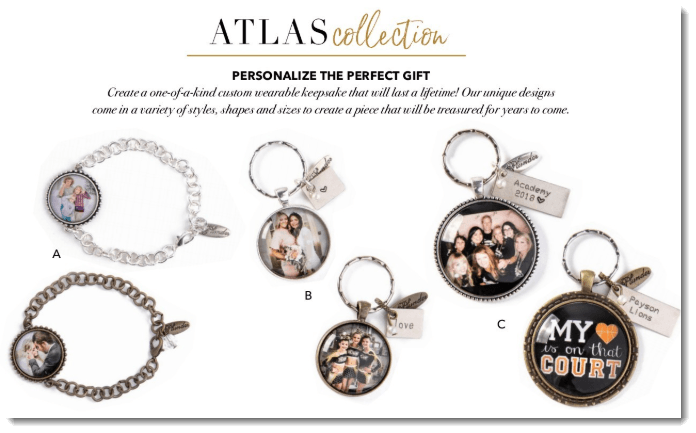 Another interesting aspect is the Plunder Posse program. This is a monthly subscription box that provides between one and three pieces of jewelry per month, for $25. Customers also receive promo codes for remaining a member for multiple consecutive months.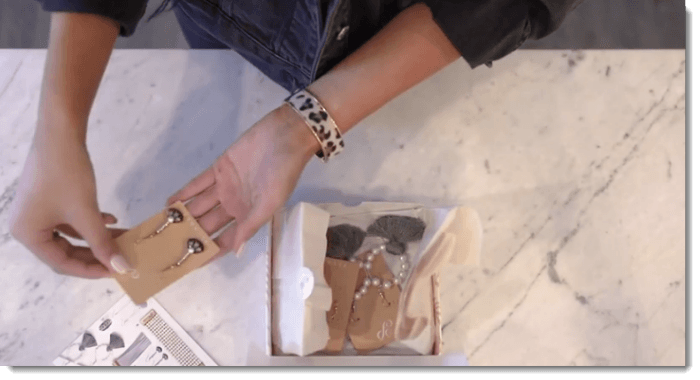 Subscription boxes are often popular, as many people love getting surprised each month. $25 is a reasonable price for what the box offers too.
Making Money With Plunder Design
At the base level, you earn a 20% commission. This means you get 20% income for every product you sell directly. This is pretty average for MLMs.
I've certainly seen ones that offer more, such as 30% per sale. But, there are also others that provide less. 20% is also higher than you'd earn per sale through affiliate marketing (although affiliate marketing has some extra advantages).
Make Money Building A Team
From a product perspective yes, Plunder Design is appealing. Their selection may not be the most unique but their items are reasonably priced and would be appealing enough. But, that's only half the story.
Like many companies, Plunder Design offers a rank-based income system. As you move up through the ranks, your commission increases, as does your chance to earn from your team. For the base commission, the progression looks like this:
Savvy Consultant (initial rank): 20%
Posh Consultant: 25%
Moxie Consultant: 25%
Stellar Consultant (and beyond): 30%
There is also a Super Retail Bonus if you hit $1,200 sales within a calendar month. This bonus ranges from 2% to 6% and depends on your rank again. In this case, you have to get into the highest ranks to get the full bonus.
Interestingly, there is no retail bonus for the first rank. This means that you need to work on team building to get anything beyond the initial 20% commission rate.
With Plunder Design, the ranks fall into two categories: Team Building and Leadership. Each category has four individual ranks. The bonuses that you earn from the Team Building ranks look like this:

The entries Level 1, Level 2 and Level 3 refer to levels in your downline. Here, anyone you directly recruit is your Level 1. Anyone they then recruit is Level 2 and that pattern continues.
With Plunder Design, you can start earning from this team at the second rank and you get 5% from Level 1. That's 5% of the sales and purchases made by anyone you recruit. Once you progress up a rank, you're then earning 4% from Level 2 as well.
The potential is easy to see. If the people that you recruit are successful, you could easily earn a decent amount of income from their sales. And, this is only the first four ranks. If you get into the latter ranks, the bonuses become much more dramatic still.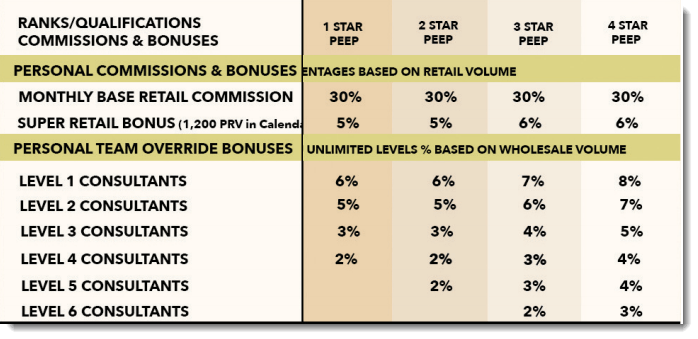 I did cut out the Team Building ranks in the image above, just to make it readable. But, you can see how many more opportunities for income there are. It's not clear what generations are in this context but the basic idea is just more potential to make money.
This type of idea is why people get so excited about MLMs. On paper, it simply looks amazing. Imagine being in these higher ranks with a team of 20 people or more. You could theoretically earn a large amount. What about a team of 50, or 100?
But, of course, there's a catch. Only a fraction of MLM members ever hit those levels.
One reason is the ranks system. Most of the bonuses come from the higher ranks. But, each new rank comes with more requirements. For the first four ranks, the requirements look like this: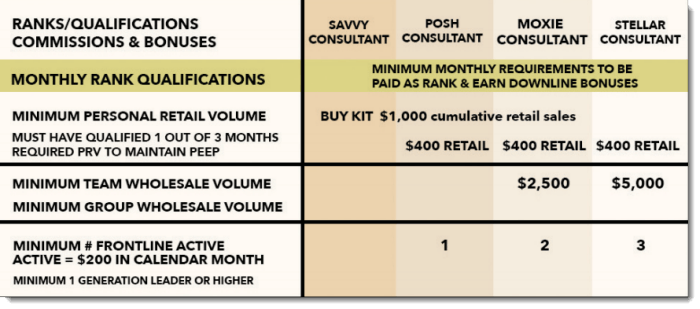 Not too bad, right? But, you do have to sell $400 worth of jewelry one month out of every three to stay active. You also need to hit $2,500 and then $5,000 in sales across your entire team each month. That's a lot of jewelry to sell – especially if some of your team members are targeting the same audience.
You also need an increasing number of active members. So, if anyone drops out, you'd have to quickly find a replacement to avoid losing your income stream.
On the plus side, the Posh Consultant rank is easy to hit. This one does let you earn from your first level and gives you a 25% commission. If you just wanted to earn a little, you could potentially stop there. But, you'd still have to hit the $400 in sales at least one month out of every three. That goal may simply not be realistic in many situations.
And remember, these are the lower four ranks. The income potential wasn't all that high for these ranks. To really find success, you'd have to get into those higher ranks. Those requirements look like this: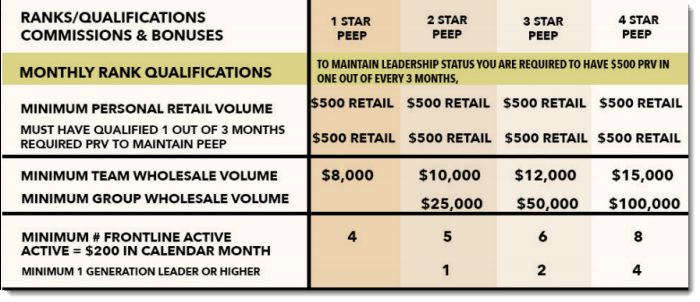 Simply put, it's difficult. Your team has to make a large number of sales every single month. You're not selling a consumable product either – all of the items are jewelry. The industry might be evergreen but there's only so much jewelry people can buy before they get sick of it.
In the real world, sales are seasonal. You'll find that your ability to make sales changes too, especially if life gets in the way. These aspects would make it difficult to hit the requirements every month.
You would have to continually find new people to sell to and to recruit. Anyone in your team would need to do the same. As your team gets larger, this actually becomes more difficult. The same happens if Plunder Design itself gets more popular. After all, you'd struggle to make sales if there were multiple other distributors in the same physical area.
Chances Of Being Successful
There are key advantages to Plunder Design, including the products and some aspects of the compensation plan. Even so, the odds of success in an MLM are never amazing. Instead, most distributors will make relatively little income and many won't progress past the first rank or two.
One reason is simply the overall style. To be successful, you need to recruit others and ensure they make money as well. The problem is, most people can't do this. Many of them simply won't be able to sell or recruit. If they do, they may not get far.
You're even likely to find your own sales decline over time. After all, there is substantial competition for jewelry. You might make sales early on when people are excited about the products and the concept. But, as time wears on, this excitement tends to decrease and sales do as well.
Finally, the model works against you. The whole idea is to recruit others. Yet, every person you recruit ends up competing against you to some degree. Many will even be promoting to the same audience. This makes it difficult to create a large and sustainable team. It can be done, of course. But, you need a wide audience and excellent sales skills.
The company's Income Disclosure Statement makes this pattern clear too. Plunder Design states that in 2016, 24% of stylists didn't earn anything at all. In total, less than 12% earned more than $1,000 for that same year.
Let me put that in context. Around 88% of all distributors earned less than $1,000 in total. That's a little under $85 per month. Not much money for the amount of work you have to put in.
The same statement says that the average annual expenses were $1,074.40. That's more than the average for 88% of distributors. Plunder Design also mentions that the expenses can be anywhere from 'several hundred or thousand dollars annually'. That suggests several thousand dollars for some people. Ouch!
These are averages and they don't track any product reselling that a distributor does. So, it's possible that some distributors earn more than the numbers suggest. Likewise, some people will make much more than the averages suggest, while others will make much less. Even then, it's clear that the vast majority of members earn very little and may even be running at a loss. That's not a good sign for a business you want to get involved in.
And remember, it isn't enough for you to beat those odds. If you want your team members to stick around, they'll need to be making money as well. Based on these numbers, that just doesn't seem likely.
Can You Generate Reliable Income With Plunder Design?
The Plunder Design Review
When we get down to it, Plunder Design has some interesting characteristics but there's nothing especially unique. After all, jewelry companies are all competing against each other, so most do aim to have their own specific styles and approaches.
Even the customization aspect here isn't that exciting. If you want customized jewelry, you'd be better off with a company like Magnabilities, which specializes in this area.
The only real advantages are the lower prices and the wider selection. Both aspects are good – but many local and online stores offer something similar. So, is this enough?
The evergreen nature of the jewelry niche should mean that you get some interest, especially early on. And the pieces from Plunder Design are at least affordable. Even so, you should consider your audience and competition.
If nothing else, think about whether the designs are likely to sell among the people that you interact with personally. The right audience could easily get passionate about the products and buy them regularly. But, you would struggle with sales if most people you know simply aren't interested in jewelry or in this particular style.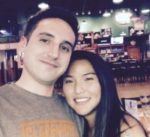 MLM Critic & Author: Nathaniell
What's up ladies and dudes! Great to finally meet you, and I hope you enjoyed this post. I have to be honest though. I'm not a big fan of MLM. Tried it. Hated it.
Affiliate marketing is cheaper, faster, and easier. See for yourself and join millions of other successful affiliates generating income from their blogs!
No inventory. No fees. No recruiting. 3 BILLION potential buyers online.
Reader Interactions