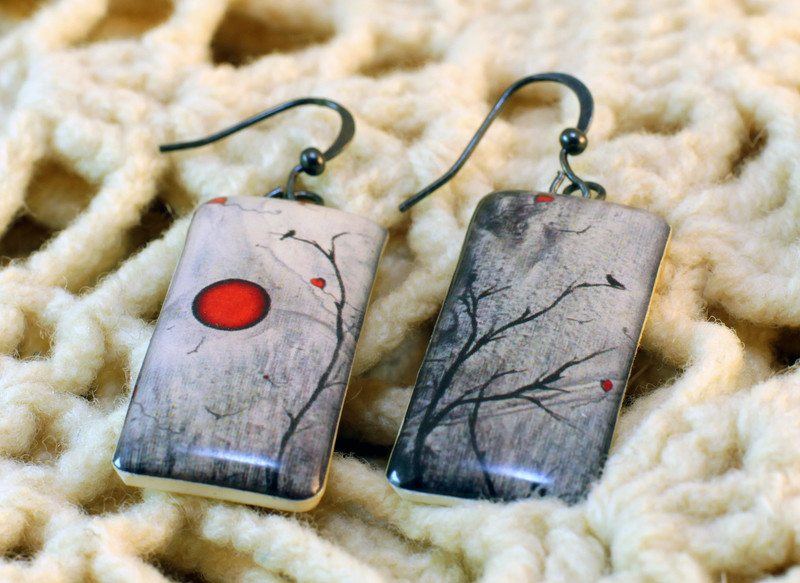 If you're going to try and make money selling products, jewelry does often seem like a natural place to start. After all, it's one of those products that people can never quite get enough of, regardless of how many jewelry pieces that they already own.
Jewelry is also something that people will buy regardless of the economy. In fact, you notice people buying jewelry even when they don't really have any money to spare. Much of that comes from the fact that jewelry simply acts as a way to feel good and it's a little bit of luxury.
But, should you try to make money selling jewelry online? Is this a realistic goal or just another area that sounds much better than it is?
Well, the first thing to consider is the type of jewelry that you plan to sell.
Selling Jewelry That You Own
You might consider selling jewelry that you own if you have a large collection of jewelry or if you have a good place to find cheap jewelry. For example, some people enjoy trawling second-hand stores and this can be a great place to find bargains, as long as you know what you're looking for.
When it comes to selling this type of jewelry, one of the challenges is figuring out how much the jewelry is actually worth. If it's costume jewelry, then you're selling based on appearance, rather than any inherent value of the piece. However, even then, you have to seriously consider what people are likely to want to pay.
In contrast, if you're selling quality jewelry, then there are a range of factors that can influence the price. You also have to determine whether the jewelry is real or fake. In the case of expensive pieces, you may even need to be able to prove their authenticity.
These tasks are all very achievable but they are things that you need to seriously consider before trying to sell jewelry. If they sound too complex, you may want to consider an alternative approach.
As for actually selling jewelry online, one of the most obvious ways to do so is eBay. Now, eBay is certainly a site that lets you sell pretty much anything and there is a large amount of jewelry for sale on there at any given time. For example, the image below is the listing counts for just some of the metals used in jewelry.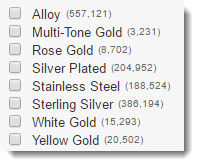 There are alternative places to sell jewelry as well, such as on Amazon. There are also other more obscure sites but most of those cater for homemade jewelry rather than reselling jewelry.
I do also want to note that sites like Amazon and eBay (especially eBay) can make selling difficult. In the case of eBay, the company places a strong emphasis on the rights of the buyers, over and above the rights that sellers have. In some cases, sellers have found that they have been forced to refund buyers or have even had their accounts closed altogether – even though they did nothing wrong.
So, selling jewelry through these sites can end up being stressful and even a little risky.
Honestly, the biggest challenge of this approach is simply competition. There are so many different places out there to buy jewelry, both online and offline. Unless you are selling something unusual or unique, you probably don't have a chance of successfully making money this way.
And… even if the jewelry you find is unusual, you still have to get people to notice it. With all the listings on eBay and Amazon (not to mention other sites), getting your products noticed is no easy task.
Selling Jewelry That You Make
In many ways, selling homemade jewelry is easier than selling jewelry that you own, especially as people are getting increasingly passionate about homemade products. There is also a large number of sites out there that specifically cater to selling homemade products.
Perhaps the most well-known of these is Etsy, which hosts upwards of 12 million different products right now and continues to grow. While the competition on the site is intense, there is also a huge amount of customers that buy products from the site, which can make it worthwhile.
With your own jewelry, you do have the advantage that whatever you're making is unique and may be unusual as well. But, you do still face the challenge of getting it noticed. After all, the number of products on Etsy is extreme, which makes for intense competition.
One way around this is to pick a jewelry type that is a little bit unusual or highly specialized. For example, there are around 6 million different pieces of jewelry on the site but only around 118,000 pieces of steampunk jewelry and only around 9,000 steampunk rings.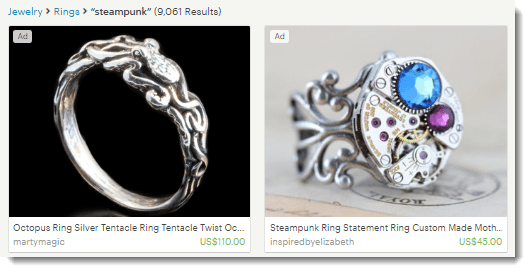 This is still a lot but steampunk is also a rapidly growing subculture. In contrast, there are less than 6,000 pieces of Doctor Who jewelry and only around 500 rings.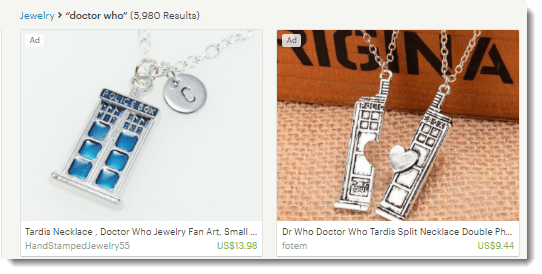 Many areas, like steampunk and Doctor Who, might not have an extreme number of sellers but they do have a passionate following of customers. So, you may have better luck selling in a specialized niche like this rather than selling jewelry in general.
You can also turn to other sites for selling homemade jewelry, as there are quite a few of them out there. Some examples include Bonanza, Zibbit and Art Fire. Each site has its own unique aspects and fee structures. The more obscure sites may be better If you want to get your products noticed but they do tend to have fewer customers as well, so you might not end up better off.
It is certainly possible to make money selling homemade jewelry online, especially if you are creating something that is a little unusual. You may also have a better chance if you can build up a positive reputation with customers on the site you choose and if you pick an area that has lower competition.
Even so, being successful in this way is certainly an exercise of patience.
It's also important to note that you do have to deal directly with customers, which may include emailing them about specifications and receiving feedback. Personally, I find that aspect especially challenging, as customers are often unrealizable and you can often end up with bad feedback or out-of-pocket, even if you don't do anything wrong.
An Alternative Approach
Regardless of whether you sell jewelry that you own or jewelry that you make, the process of trying to make money selling jewelry online is never simple. Much of that challenge simply comes down to the traffic and competition.
In most cases, you'll be trying to sell jewelry on sites that have thousands of different seller and possibly millions of individual products. In these situations, even just getting someone to notice your jewelry is difficult, let alone getting them to actually make a purchase. Now, with some sites, there might be an option of paying for ads but that can get expensive fast and you still face considerable competition.
Does that make selling jewelry online a waste of time? No, not really.
One powerful way of getting around this issue is to have your own website. To some, taking this approach sounds a little scary but bear with me because it is actually a whole lot easier than it sounds.
There are a lot of advantages to having your own site for selling any type of product – but the biggest one is probably control.
With your own site, you get to design pretty much everything – no restrictions! There are website templates you can use, but even they are less restrictive than the selling portals you find on sites like Etsy. This gives you the ability to focus on making things look fantastic and also talk more about you and your jewelry. This is especially relevant if you're making your own jewelry but even if you're selling jewelry from other places, the advantages are still obvious.
For that matter, you don't even need your own products to make money from a website!
If you have a passion for jewelry (or fashion, or anything else for that matter) you can make money from a website simply by promoting products from other companies. You don't make as much per sale as you would from selling physical jewelry but you also don't have to worry about having stock/inventory on hand or shipping products out. This is a process called affiliate marketing and it's incredibly powerful.
Whatever approach you take, having your own website also lets you get ahead of the competition.
Now, if you're selling products on a site like eBay or Etsy, your main tools for getting your products noticed are having good images and good descriptions, as well as (possibly) paying for ads. People search Etsy for stuff, then run across your store based on what you offer and what keywords you use. But, with your own site, you have so much more potential!
Think of how many people use Google versus Etsy!
Through your own site, you can work on getting your website ranked on Google, which makes it so much easier for people to find it. For example, here are 2nd and 3rd results in Google that I get when I search for the term 'steampunk jewelry':

Each of those entries appears to be a personal blog where the owners sell a range of different products. Doing it this way is certainly more effective (long terms) than trying to get noticed on Etsy. You could even sell from your own site and from Etsy if you wanted to, although the workload would be higher.
At the end of the day, selling products from your own site is a powerful way to make money – regardless of whether you have physical products or not. The biggest challenge of building your own site is not the actual "website making" process. It's getting traffic – a similar issue to listing your goods on other sites.
But because search engines users are much greater in numbers, they have much more diverse searches, meaning there are so many more avenues that you can use to generate traffic to your site. For example, you could teach people how to make their own jewelry similar to yours, and that would be an incentive for them to buy examples! Or you could create simple tutorials, but sell your more intricate pieces (without giving away your secrets)
This challenge might sound like a deal breaker but it doesn't have to be. Instead, with the right training, you can learn everything you need to know about building a site and driving traffic to it. For training, my main recommendation is a site called Wealthy Affiliate, which offers comprehensive training on every aspect of building and running a site.
An additional advantage of Wealthy Affiliate is that it is a community-focused site. This gives you the opportunity to talk to and learn from other members who are building their own sites. Doing so is an amazing way to learn and people often find that the community aspect helps them to figure things out much better than they could on their own.
Do you run your own jewelry focused website? Drop a link below and I'll feature it here so others can see what you've been working on.

What's up ladies and dudes! Great to finally meet you, and I hope you enjoyed this post. My name is Nathaniell and I'm the owner of One More Cup of Coffee. I started my first online business in 2010 promoting computer software and now I help newbies start their own businesses. Sign up for
my #1 recommended training course
and learn how to start your business for FREE!

Latest posts by Nathaniell (see all)