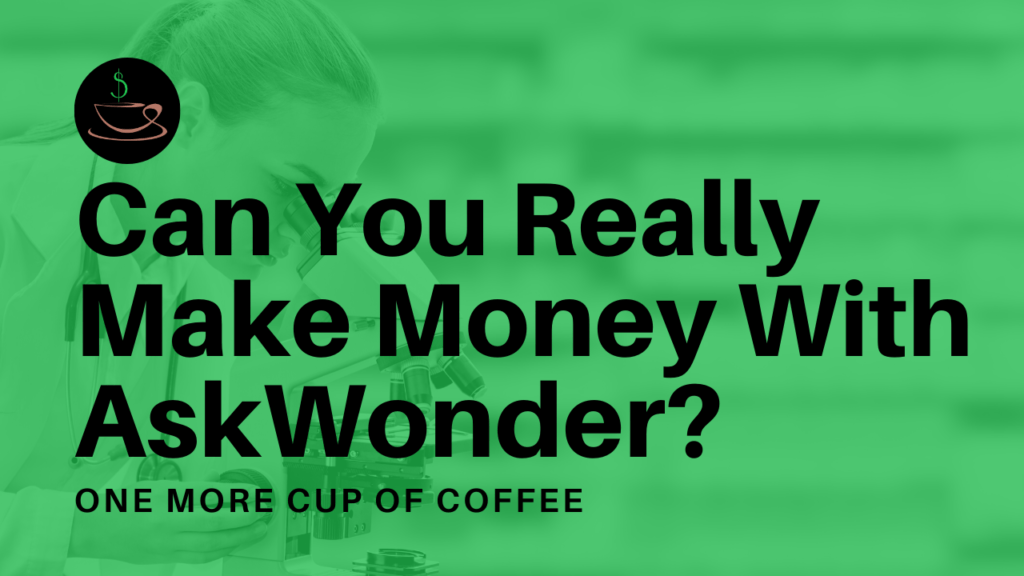 I found AskWonder while looking into some alternative side-hustle-level money making opportunities online. But can you really make money with AskWonder.com? Turns out, yes, you can. Now the question is whether it's worth your time.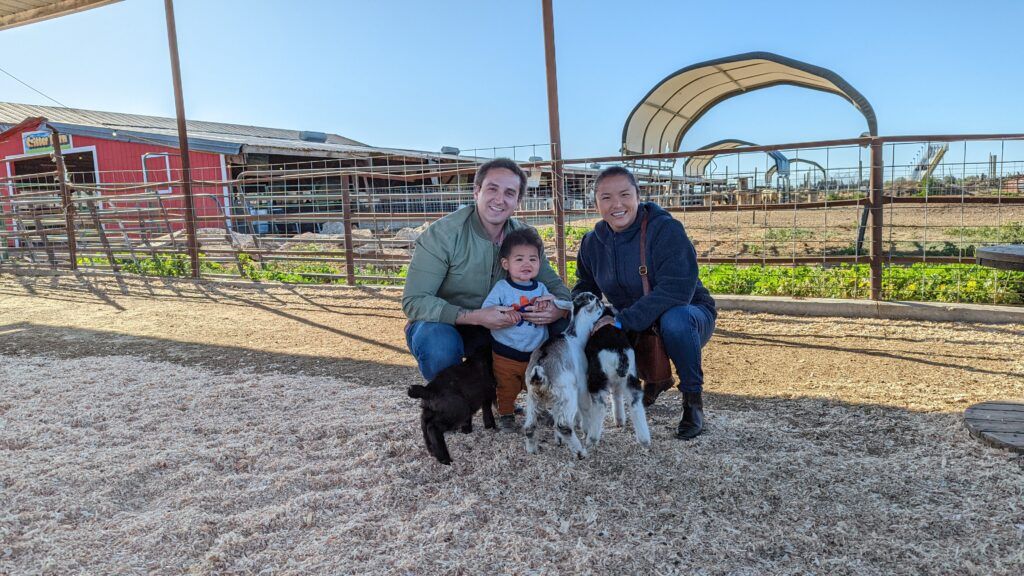 Are You Ready To Work Your Ass Off to Earn Your Lifestyle?
Are you tired of the daily grind? With a laptop and an internet connection I built a small website to generate income, and my life completely changed. Let me show you exactly how I've been doing it for more than 13 years.
"Great research, in 24 hours or less."
How AskWonder works is that their clients pay for research to be done, and you, the side-hustler, conducts the research then writes up a report based on what you find.
It's not a typical penny-paying side hustle. You can make some decent money working for these guys. It's also not your "accept anyone" type of side gig either though, so keep reading to see if AskWonder will be a good way for you to make money in your spare time.
AskWonder Review: Is AskWonder Legit?
My first impression of Ask Wonder was great. They looked like a professional outfit, and when I checked other reviews to see if it was a scam or not, it was clear that it wasn't. AskWonder.com is legit! Based on both my research and my first look at it, was actually really good.
I especially liked how the site looked. The blue and white design was simple, but presented with an intentional simplicity that really drew me in. In browsing the site, I just felt like this was a modern, professional web-page/service, and that doesn't happen all that often.
In scrolling down and continuing to read, I found out that they basically designed this site to operate like a very highly-educated personal assistant. Whether you have questions related to business, finance, or a weekend itinerary for a vacation, this site is supposed to be able to help you get things figured out.
As someone paying for the service, once you become a member, you can make unlimited requests at $75 each. That might seem like a lot of money, but when you take into account that you are paying an entire team to get you really in-depth results in 24 hours or less, it doesn't actually seem like that much.
There is also an annual membership fee for joining the site.
What I was curious to find out, though, was about what it is like to become an analyst on this site. But before I knew it, at the very bottom of the landing page, right before you reach the footer, I found a banner that said 'Earn while you learn. Join our team as a research analyst.'
There was also an 'Apply Here' button that I could push. Here is what I found.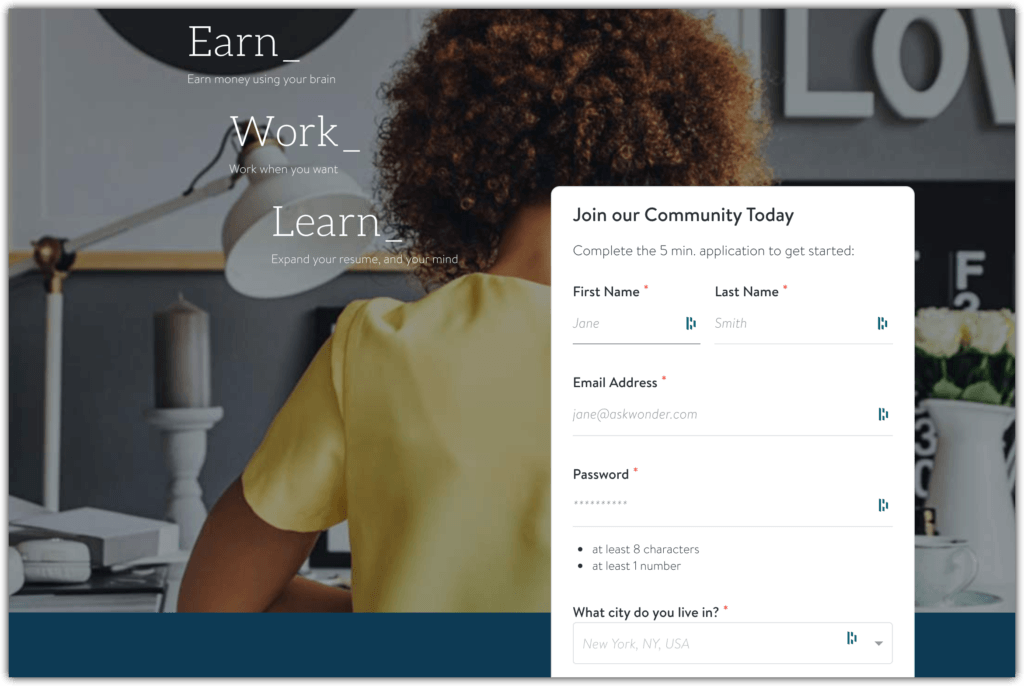 This, apparently, was the starting point for becoming an analyst on AskWonder.com. So let's talk about it.
Signing Up For AskWonder.com
Before I signed up, I wanted to scroll down the page a bit and see if I could learn anything more about the site I was researching. Unfortunately, it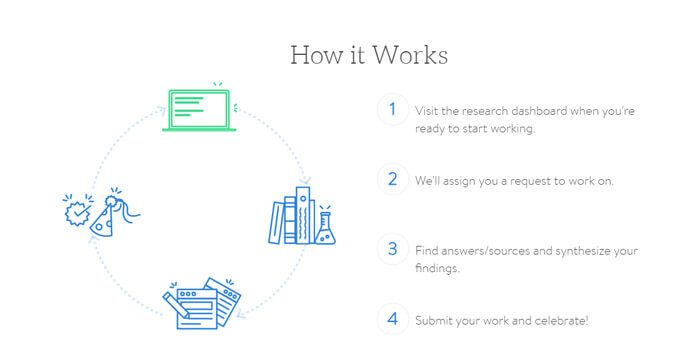 Here is the basic rundown of what this told us.
You visit the dashboard when you want to get to work
They assign you requests to work on
You find answers and/or sources, and synthesize your findings
Then, you submit your work… and that's it
Making Money With AskWonder.com
AskWonder.com is a legitimate website, which pays people on time. This isn't your typical online survey scam! However, because they are running a legit operation, there are actually some standards you need to follow in order to get paid.
Previous experience isn't required, but it certainly helps!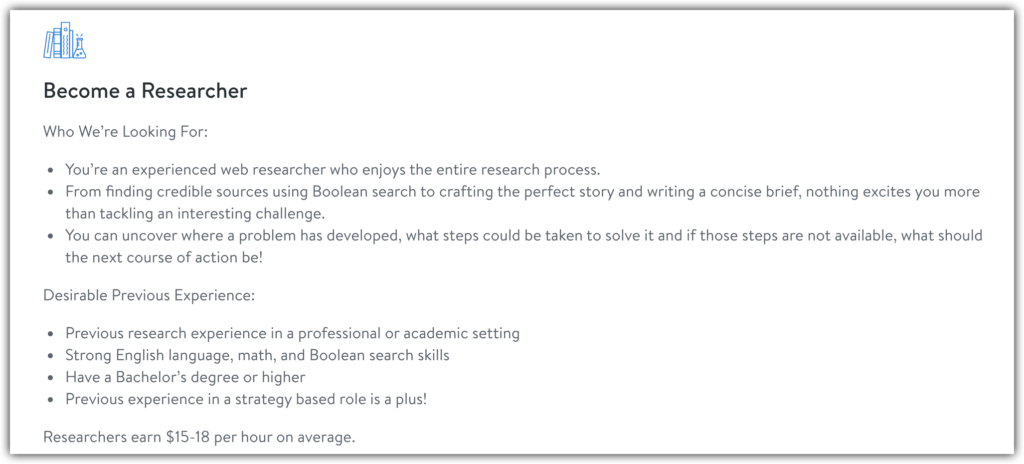 How Much Do Wonder Researchers Get Paid
There are not very many real people posting online about how much money they make at AskWonder. Most reviews I read from folks who actually tried the system were pretty frustrated at spending too much time for too little pay. I guess it depends on your perspective.
Multiple websites have quoted price ranges from $8 to $35 for each bit of research completed, and $12-$14 per hour average earnings. This probably depends a lot on how efficiently you can conduct your research and write about your findings.


Reading Through The AskWonder FAQ Page
First of all, I found out that you get paid per research request you complete… and each task has a set price, so that you will know what you are actually going to make before you really get started.
All Wonder analysts start with either sourcing jobs or writing jobs. But it sounds like you can level up to what they call the 'A-Z Research Process' with enough experience. From the sound of it, this position gives you more flexibility and perks.
If you wish to really keep your profile up to date, and to keep moving forward with this company, they recommend that you try to do at least one assignment per week. People who don't are put into different lists. In other words, they seem to show priority to people who are actually working.
You can work on a particular request for as long as you need, but you cannot 'save your work' and come back to it. Once you get to a point where you are 'done' or 'need to be finished,' you either just submit your work or hand it off to another researcher. This helps projects to be completed in a timely manner.
AskWonder payments are done through PayPal, and I found out that researchers can actually earn up to $15-$25 an hour once they start to get good at the job.
Obviously, the site pays out by the project, not by the hour… but when you average everything out and factor in getting better at it, it seems that this is what most people can expect to earn. Researcher payments are also processed every two weeks.
Some Miscellaneous Thoughts About AskWonder
For one, I just really like the way this site looks and performs. It is pretty awesome in both of those respects. They are a legit site, and seem dedicated to producing a specific product for their clients. That's good news for you if you're looking for long-term work.
Secondly, it really does sound like AskWonder has a lot of good things going on with it. I get a lot of traffic to this review here, so they've got lots of researchers, and based on reviews like this, it sounds like their researchers are pretty happy.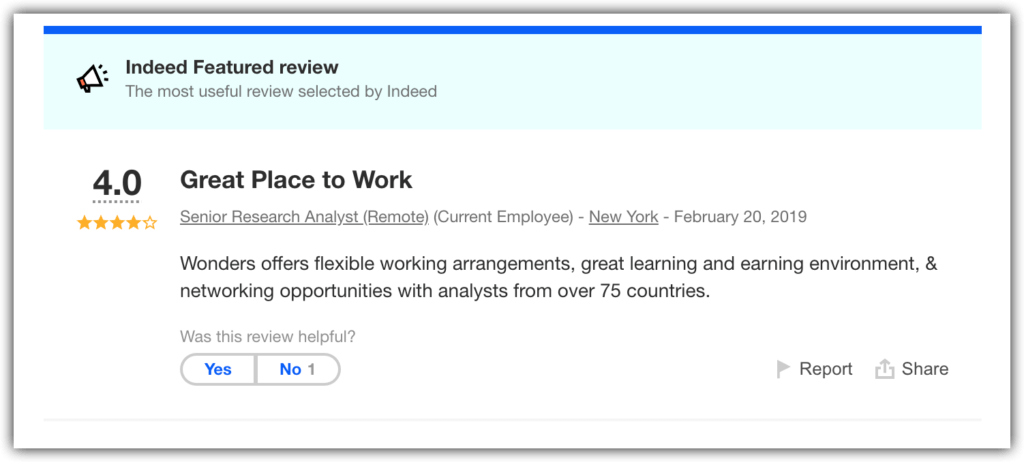 I haven't come across a serious side-hustle website in quite a while… but I dare say that this one challenged the status-quo for me.
Are All Wonder Researcher Reviews Positive?
Should you be using AskWonder? Honestly, I think most people will be disappointed by the tough guidelines for research. In my experience, based on who I talk to in the comment section of One More Cup of Coffee, most folks looking to answer questions for money are looking to burn through a bunch of easy questions for a couple pennies. Here's what I feel like a typical user experience will be (from Reddit):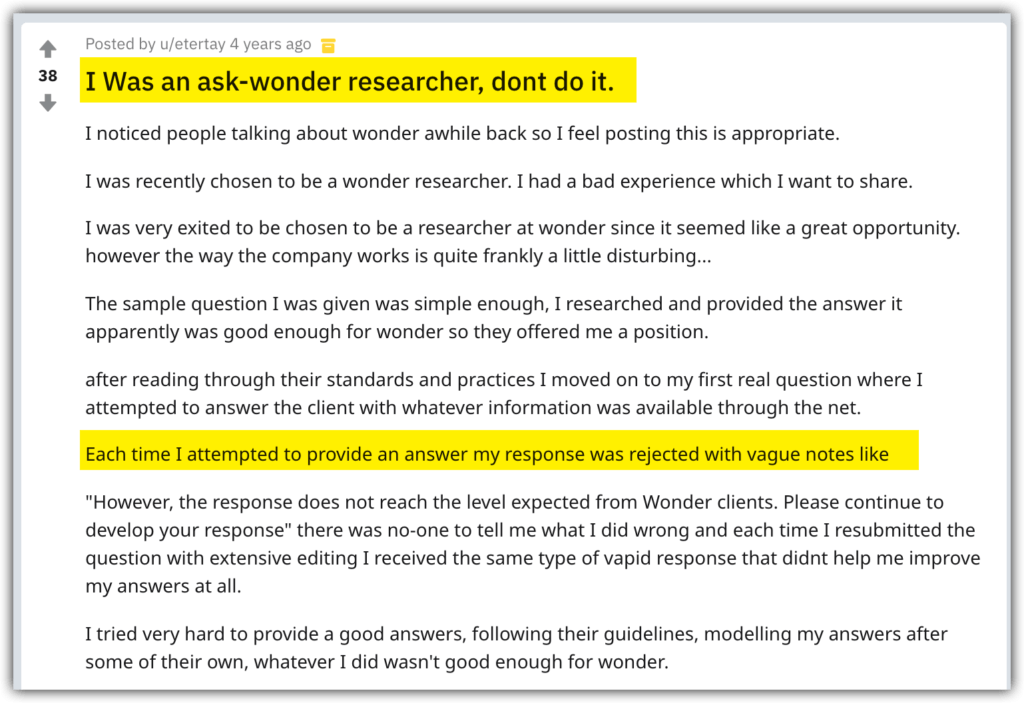 Who Is AskWonder For?
AskWonder is going to be for a very specific type of person. In my mind, this person should be analytical, focused, and someone who has high quality standards for their work, even without a boss breathing down their neck.

For this type of person, it could be a great side gig. $15/hour for online work where you can earn money on your own time? A job that's flexible, profitable, and consistent? Sounds like a sweet deal.
However that's not a common type of person. I think a lot of people will realize quickly that research is tedious, and they may not have the writing skills required to actually stay on researcher here.
Plus, personally, I think that if you are analytical and dedicated, you'd be better off building an affiliate website and earning commissions. Instead of just over ten dollars an hour, you can earn thousands per month. It just depends on if you need the money NOW vs LATER. If you need the money now, try AskWonder. If you don't need money now, and are willing to put in a few months of research and writing before seeing profit, then building a profitable website is definitely something you should look into (plenty of information here on my site!).
Our Final Thoughts About The AskWonder.com Website
Should you sign up and use it to make some extra cash?
There are a lot of ways to make money online. Some are good, some not, but ALL of them are still just trading hours for dollars.
Starting your own affiliate website really is the best way to build passive income and "make money while you sleep". Affiliate websites earn income in every timezone, and can be instantly accessed by billions of smartphones across the globe!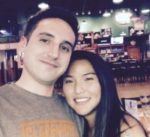 Nathaniell
What's up ladies and dudes! Great to finally meet you, and I hope you enjoyed this post. My name is Nathaniell and I'm the owner of One More Cup of Coffee. I started my first online business in 2010 promoting computer software and now I help newbies start their own businesses. Sign up for my #1 recommended training course and learn how to start your business for FREE!