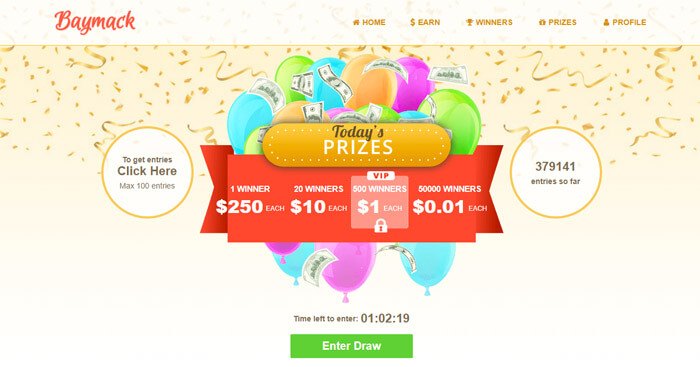 We got turned-on to this site through a review site that we like to look at, and we are not normally into 'lotto' type sites… but they gave this one very high marks, so we decided to take a closer look at it. Can you really make money with the Baymack website?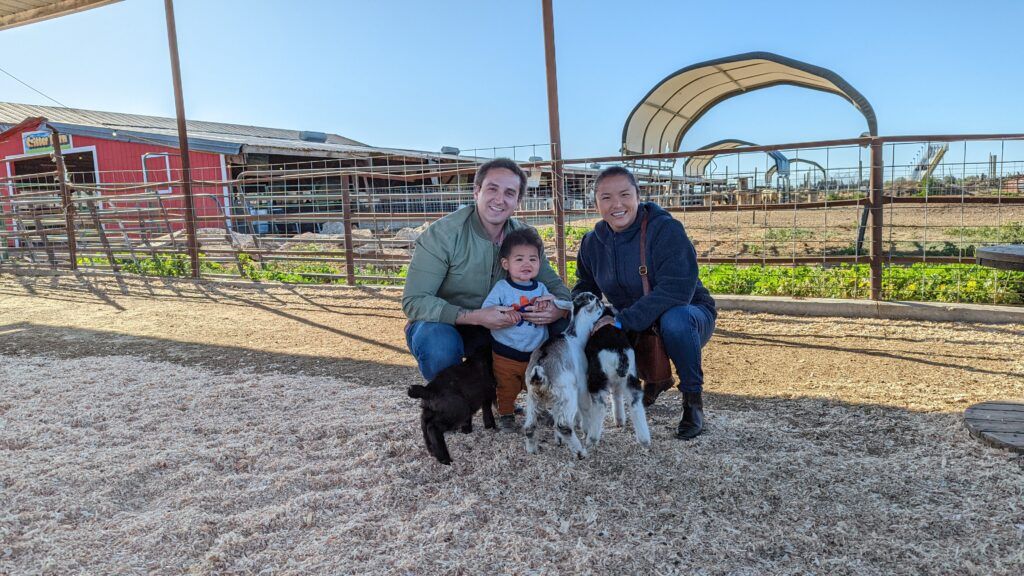 Are You Ready To Work Your Ass Off to Earn Your Lifestyle?
Are you tired of the daily grind? With a laptop and an internet connection I built a small website to generate income, and my life completely changed. Let me show you exactly how I've been doing it for more than 13 years.
Here is what we discovered.
Making Money With The Baymack Website
The first thing we need to look at is the site itself.
Getting Started: What Is Baymack?
On the FAQ page, the question 'What is Baymack?' is asked. And the answer is pretty simple.
"Baymack is a daily lucky draw. You get entries by watching videos."
Ok. So here, we establish that this is like a lotto site mixed with an offer site—except that you seem to earn entries to sweepstakes as payment for watching videos instead of money or gift cards.
As a general rule, I am not super crazy about sites that offer sweepstakes or lotteries as prizes, because you can't really count on them. You might do all kinds of work, and never receive any sort of payment whatsoever.
I should probably take a moment to talk about what I am actually looking for. I am looking for a website where I can earn some serious side-hustle-quality cash. I want to be able to make enough money to either make a dent in my bills, or to afford me the luxury of forwarding my monetary situation somehow.
And as a general rule, good side-hustle websites require three things to be considered a success.
Flexibility
Consistency
Profitability
So does Baymack offer these three things? Could I really use it to make some decent side-cash? Or is the lottery aspect of it going to make it a waste of time?
I will admit that a lot of these sites end up being kind of a waste of my time. I don't want to be pessimistic, but there are a TON of websites out there that seek to take up your time without paying you much of a reward… and sites like this are certainly not what I'm looking for.
So my first order of business was to figure out what Baymack was, in an attempt to figure out if it might be worth my time. I am all-about websites that pay you enough for the time you put into them. Here is what I learned after looking through it a bit more.
Taking A Closer Look At The Baymack Website
Taking a closer look at the website homepage revealed quite a bit of information. I realized that there are quite a few winners every day, thought the lotto changes a bit every day. Here is what it was on the day that this review was written.
1 winner wins $250
20 winners win $10 each
500 winners win $1 each
And 50,000 winners win $0.01 each
Ok, so this kind of changes things a little bit. You can get up to 100 max entries (per day, I believe), and you get these entries by watching videos. But then, you win rewards based on luck… and a lot more people win at least something on this site than normally do on sites like this.
The home page said that there were almost 40,000 entries so far for the current giveaway, but that 50,000 people win $0.01 each. So that means that most people who enter will win at least one penny.
This changes my perspective of the site by quite a bit. It is a reward/sweepstakes site, but more people win than you would think… so this almost makes it to where most people get paid, they just don't know how much they are going to make.
I decided to delve a bit deeper into the site, to see what else the FAQ had to say about how it operates. So that's what I did next.
What Else Did We Learn From The Company FAQ?
The next thing we learned from the website FAQ was that their winners are selected randomly. This seems like a no-brainer, but it is actually a very nice thing to confirm.
The next thing we learned was that you can, indeed, increase your chances of winning by getting more entries.
I also learned that you can withdraw any money that you win via PayPal. This seems to be the only payout option, but we were totally fine with it because this is really our favorite option.
They only allow each person to have one account, and they have a video-category option to make sure that people actually watch and listen to the video. You can also have up to 100 entries per drawing.
I also found out how many videos you need to view for an 'entry.' The first 1-10 entries will require you to watch 5 videos per entry, and entries 11-100 require you to watch 2 videos each.
I will admit that I wasn't too crazy about this information. Being required to view 5 videos just to get 1 entry is not very profitable… especially when you don't know how much you are going to win.
Obviously, getting more entries after the first 10 are way easier, and there is quite a bit of value in that… but then again, is it really worth the time?
Joining Baymack
Joining Baymack is pretty easy. To join, you click on the 'earn' button located at the stop of the home screen. Then, this window pops up.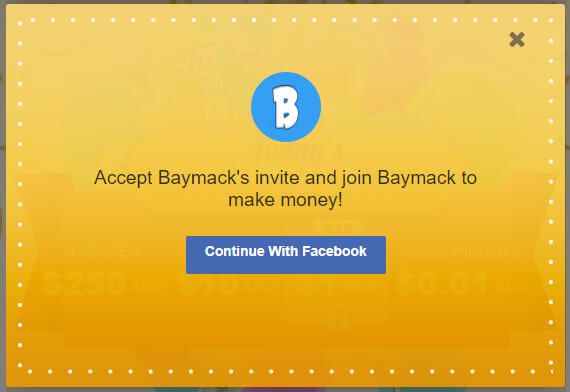 This window tells you that you can accept Baymack's invite, and join them to make money. But, you must join them through your Facebook.
I didn't have a problem with this, so I clicked on the Facebook button and continued onward.
But then I came to this page.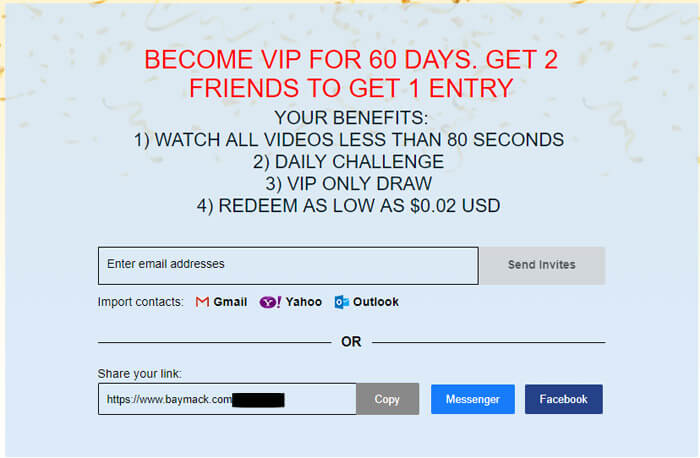 This page seemed to be offering me VIP status for 60 days to invite my contacts. But I didn't really want to invite any contacts yet, because I don't like inviting people to things that I haven't tried yet.
So I tried to exit out of it—and couldn't figure out how! It almost seemed like I wasn't going to be able to move forward until I actually did invite at least one contact—and this made me feel a bit irked at the whole thing.
I don't like it when websites try to force me to do things. I looked all around for a way to exit out of the screen. I even hit the escape button on my keyboard… but to no avail.
What Did Other Online Reviews Say About Baymack?
I did some reading about the site on some other review sites, and found out a few interesting bits of information.
First of all, I learned that a lot of review site mirror my feelings about the lotto part of the site. They say that they don't necessarily recommend it because you have no guarantee of winning… but that it can make you some extra money if you do win.
Whenever you watch a video, you will also have to choose (guess) which category out of four the video fit into the best. This is to make sure that you are actually paying attention to the videos. If you guess wrong, you don't get credited.
Baymack does have a decent referral program, but you are going to have to get people to stick with the site to really earn extra money through their efforts.
At the end of the day, most review site really fell into the same category of opinion that I did regarding the site—that it is a quality lotto site that gives you chances to win, but that it is not necessarily an ideal site to use if you are actually looking for a side-hustle income.
My Personal Feelings About The Baymack Website
As you can probably guess, this site did not really earn many points with me. If you are bored, like watching random videos, and enjoy the fun of entering a lotto with the chance to win, then this site may appeal to you.
But for someone like me, who is looking for a legitimate side hustle that will earn them some real income, I am afraid that it just didn't add up to a very hopeful prospect.
The site behaved well, despite the fact that I was not a fan of feeling 'forced' to invite my contacts. I didn't experience any glitches or any technical difficulties, so that is a good thing.
But at the end of the day, the site did leave a bit to be desired, and I found myself losing interest in it rather quickly.
I am really looking for a quality side hustle. So sites like this, that require me to depend mostly on luck, just don't really earn a lot of cred with me. If I could be more assured of receiving payment for my time, then I would be a lot more interested in it. But as it was, it just didn't do it for me.
Our Final Thoughts About The Baymack Website
Should you use it to try to earn some extra money online?
There are a lot of ways to make money online. Some are good, some not, but ALL of them are still just trading hours for dollars.
Starting your own affiliate website really is the best way to build passive income and "make money while you sleep". Affiliate websites earn income in every timezone, and can be instantly accessed by billions of smartphones across the globe!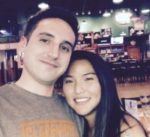 Nathaniell
What's up ladies and dudes! Great to finally meet you, and I hope you enjoyed this post. My name is Nathaniell and I'm the owner of One More Cup of Coffee. I started my first online business in 2010 promoting computer software and now I help newbies start their own businesses. Sign up for my #1 recommended training course and learn how to start your business for FREE!