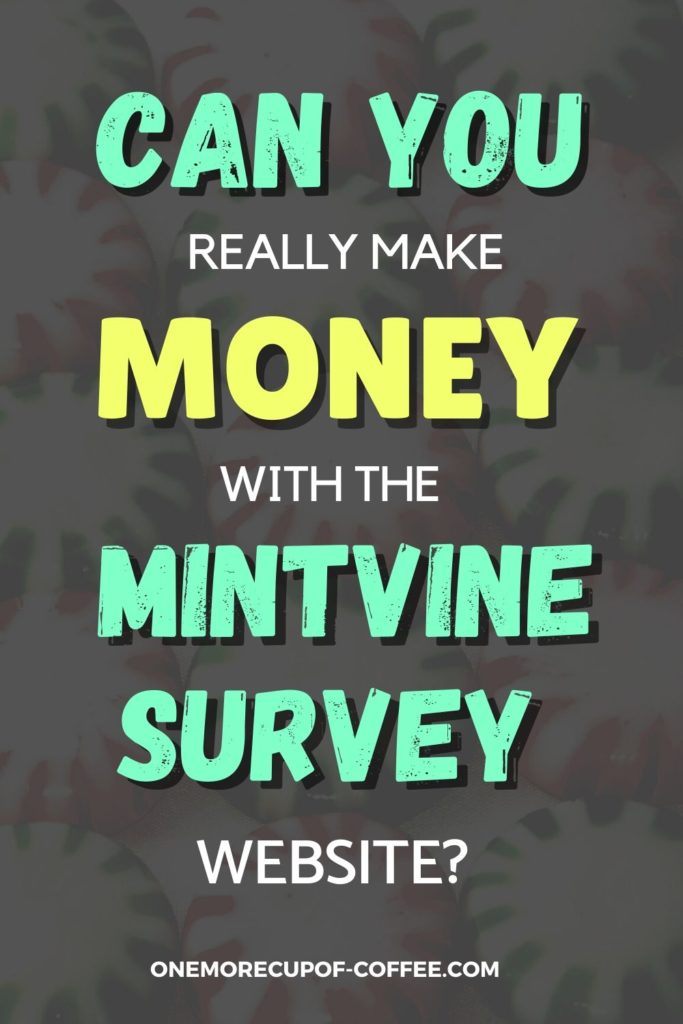 This is yet another survey site that I've been made aware of lately. On the official website (mintvine.com) it says that "Thousands of people started making money with MintVine this week."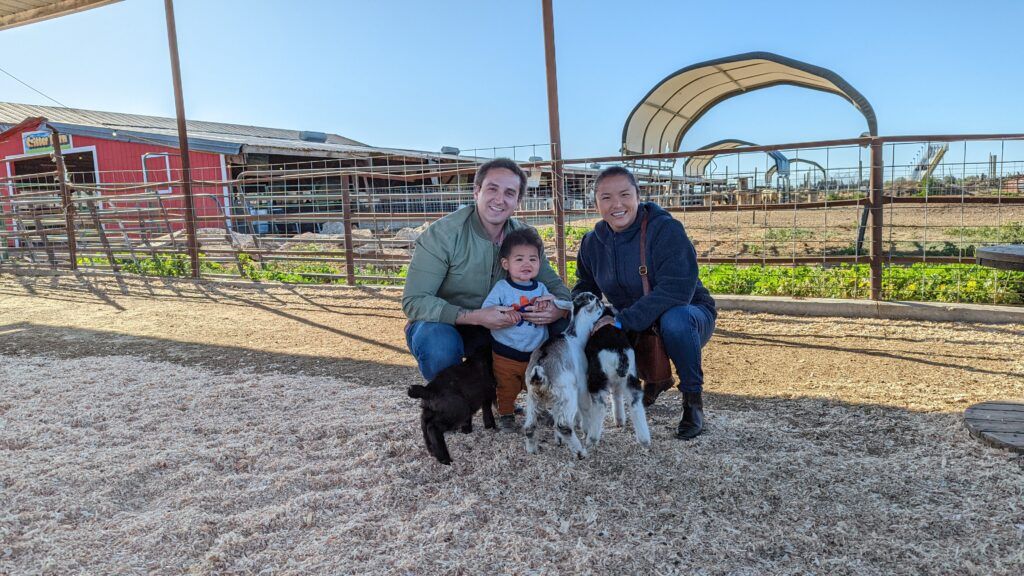 Are You Ready To Work Your Ass Off to Earn Your Lifestyle?
Are you tired of the daily grind? With a laptop and an internet connection I built a small website to generate income, and my life completely changed. Let me show you exactly how I've been doing it for more than 13 years.
But is it true? Can you really make money with the MintVine survey website?
This is what I was determined to figure out as I began my research.
Survey sites like this can have a lot of benefits… but many of them don't pay well enough to make it worth it. Will MintVine.com make the cut?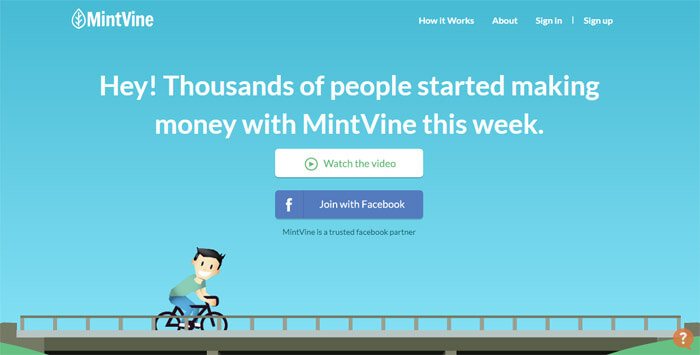 Let's start at the beginning, and go through it step by step.
What exactly is MintVine? And is it worth the time for the money you can earn?
Making Money With The MintVine Survey Website
Here is what I learned.
Getting Started: What Is MintVine?
In the How It Works section of the website, I found this screen… which does a pretty good job of explaining what it was designed to do.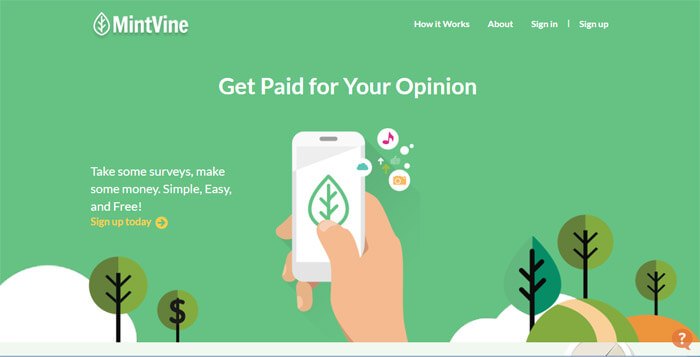 Basically, MintVine is a standard survey website. It is explained with this very simple description, which is about as basic as it gets.
"Take some surveys, make some money. Simple, easy, and free!"
Ok. So far so good. Beneath this description was a 'Sign Up Today' button, so I clicked on it.
Joining MintVine was pretty simple. The home page says that the website is a Facebook partner, so you can either join with your Facebook login information, or you can create a brand new account without linking to your Facebook.
Since I had never used MintVine before, I decided to just create an entirely new profile from scratch. So that's what I did first.
Here is the first screen I saw after creating a profile.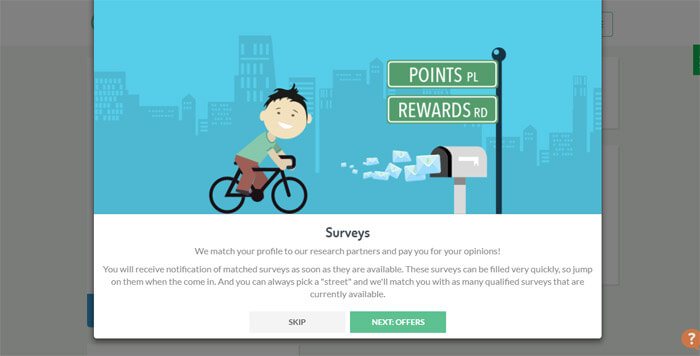 As you can see, this little message popped up, telling me that I would now be notified that surveys were available. As you can also see, I could either 'skip' this step or move on to view offers… but I chose to skip it, because I wanted to see if there were any more steps to the profile creation process.
As it turns out, there were. There was a page titled 'one last step' in which I needed to give them some demographic information about myself—probably to see if I qualified for any surveys. I needed to provide my age, birthdate, country, zip code, and gender.
After passing by this screen, I was taken to the main hub of the site. Here is what it looked like.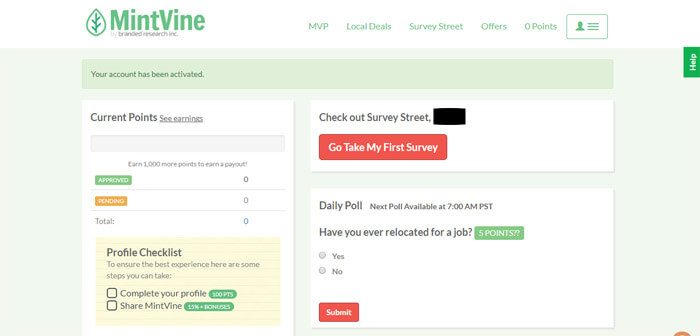 Let's take a moment to talk about this.
The Main Hub Of The MintVine Website
First of all, we can see that there is a spot in the top-left hand side where I can see my current points. There is also a small note underneath this saying that I need to earn 1,000 or more points to cash out.
There is also a profile checklist, which tells me that I will get extra points if I complete my profile and share my MintVine account with other users.
There is also a daily poll, where you can answer questions to earn small numbers of points.
But, what I was most excited about was the button that said 'Go Take My First Survey.'
So I clicked on this, just because I wanted to see what kinds of surveys I could expect to encounter on MintVine.com. Here is what I found.
Taking My First Survey On MintVine.com
The first survey that I was directed to was the 'Profiling Survey,' which is basically a survey that asks me questions and attempts to place me with surveys that may match my demographic. Usually, you don't get paid for taking these initial surveys.
But MintVine actually offers you 100 points to take and complete this survey, which was pretty awesome. I took it, and it was pretty easy. I actually really liked how the 'flow' of the survey went.
Technically, it was superb in both form and function, and the layout was very attractive. It had this flow to it, where you could hit enter and scroll right to the next question without any complications or confusing controls.
It was actually really cool.
Once I got done with it, I was kicked back to the main hub. I saw that I could now go take my first survey (my first real survey), so that's what I decided to do now.
As my next survey started to load, it redirected to this screen.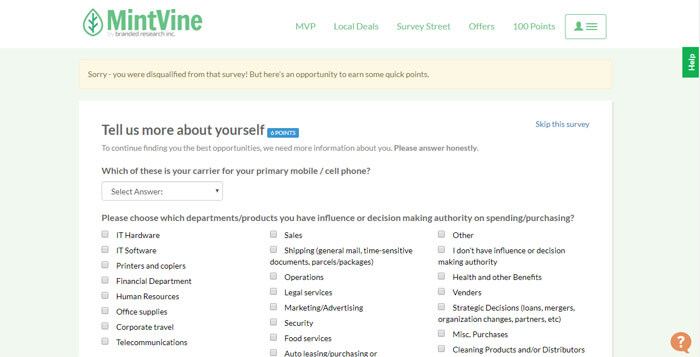 This is what it said along the top of the screen.
"Sorry – you were disqualified from that survey! But here's an opportunity to earn some quick points."
This was a bit disappointing to me. But, it was pretty cool that I was getting offered some points (even if just a few) to complete this little mini-survey.
I also received an email, not soon after this, asking me if I had watched TV within the last day. In this email, I was offered an opportunity to take a survey that was worth 35 points, that was expected to take 8 minutes to complete.
Now, at this point, I had already spent quite a bit of time on the site. I had earned a few points, and had taken a survey (and tried to take another one). My time investment, thus far, was pretty big… but I was still interested in seeing if I could actually get qualified for another survey.
So I skipped this mini-survey step that I was on (it was only worth 6 points anyway) and was directed to this page.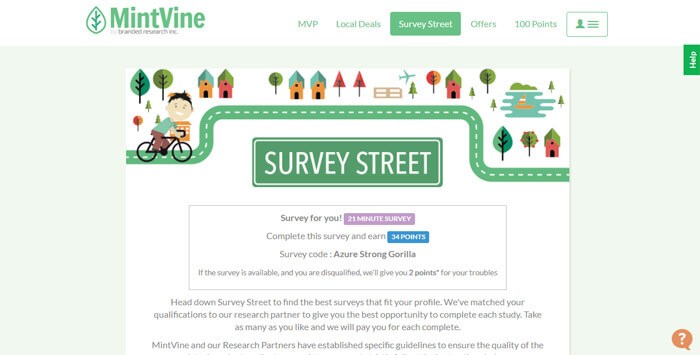 Here, I was offered 34 points to take part in a 21 minute survey. Now, I still don't know how much points are worth on MintVine, but I found myself stopping in my tracks here—because that did NOT seem like very many points to be offered for 21 minutes of work!
So instead of taking this survey, I decided to visit the Rewards page of MintVine.com to find out what these points were even worth. Here is what I found out.
Visiting The Rewards Page On MintVine.com
I had to do a bit of looking around to figure out exactly how much points were worth on this site. I knew that you needed to have 1,000 points to cash out, but I didn't know how much 1,000 points was worth.
Finally, on the MintVine forums, I found a help article titled 'How do I redeem my points,' and clicked on it. This told me that 1,000 points was the equivalent of $10.
So, with that being said… it would appear that each point is pretty much worth one penny.
This means that the last survey that I was offered would have paid me 34 cents for a 21 minute survey! That comes out to less than $1 an hour, and leaves me with little choice but to go ahead and talk about my official verdict.
What Were My Personal Feelings About The MintVine.com Survey Website?
After trying this website out, I realized that there were a number of good and bad points about it that deserved some attention.
Firstly, I do like how the site operates. From a technical standpoint, it is pretty awesome. The survey that I took was especially cool. It was designed very well, and I love how easy and user-friendly it was.
Secondly, I like how simple the point system is. 1,000 points for $10. That is pretty simple. I also like how many surveys there seem to be.
I had only been a member of this site for about an hour before I had received like three invites to surveys… which was pretty cool.
I also like how you can use the site anytime you want. Being able to earn my extra cash on my own timeline is important.
But, unfortunately, MintVine.com also seems to fall prey to the most common problem that plagues survey websites like it.
It just doesn't pay enough to make it worth the time.
If you want to put in the time to take surveys, then you will undoubtedly make some extra money doing it with MintVine. You can redeem your points for PayPal cash-outs, or even for gift cards from numerous different businesses.
This is all good, and I have no doubt that some people would find it profitable and useful. I just value my time a bit too highly to spend it for this kind of money.
Making less than a dollar per hour on surveys just isn't enough, in my opinion, to justify the commitment. If the site just paid more, I would be super into it… but it doesn't even begin to compensate adequately enough for me to feel like it would be worth my time.
I just cannot help but to feel like there would be better uses of my time if I wanted to make extra money.
Our Final Thoughts About MintVine.com
Should you register and use it to make extra money?
The MintVine Survey Website Review
To be completely honest, doing online surveys will never earn more than minimum wage. In fact, most people rarely earn more than $1-$3 per hour, if they are lucky enough to get a payout.
If you want to legit make money online you need to invest time into building a website. Earn passive income through affiliate links & advertising revenue. Rather than spend an hour trying to answer boring questions, build a real web property that you can earn monthly income from.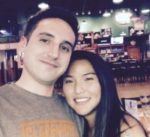 Nathaniell
What's up ladies and dudes! Great to finally meet you, and I hope you enjoyed this post. My name is Nathaniell and I'm the owner of One More Cup of Coffee. I started my first online business in 2010 promoting computer software and now I help newbies start their own businesses. Sign up for my #1 recommended training course and learn how to start your business for FREE!