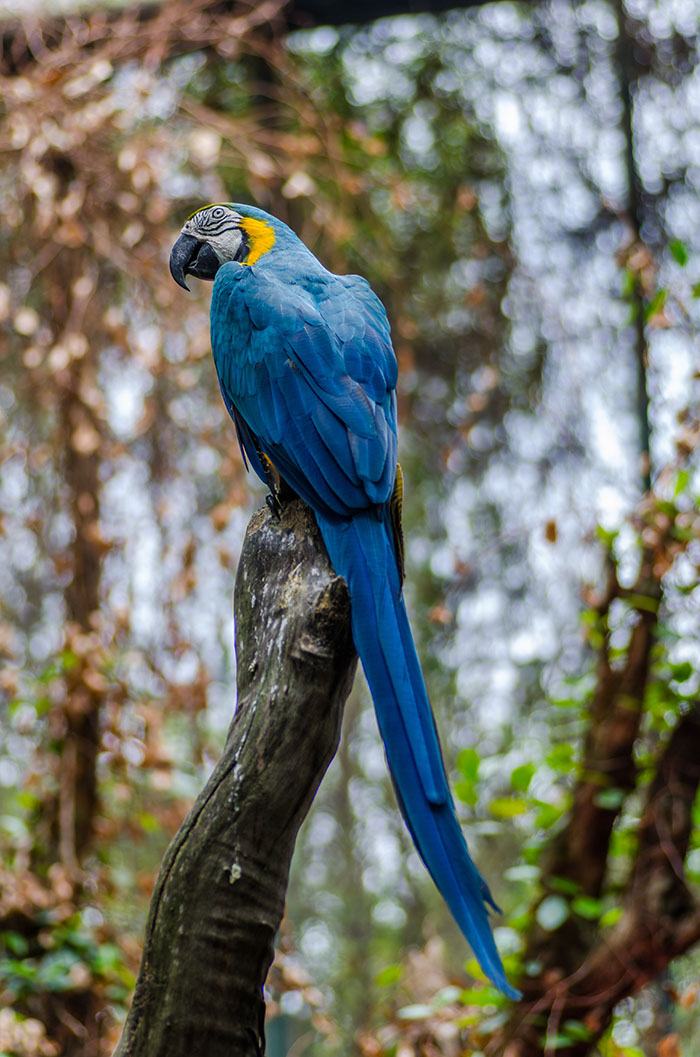 Sometimes we can complicate things without knowing. When I research these SEO Training articles I search for questions online that people are asking, and this one about longtail keywords for product reviews popped up.
The answer is quite simple – the keyword research process is the same, and the concept of longtail keywords applies to product reviews just like any other page.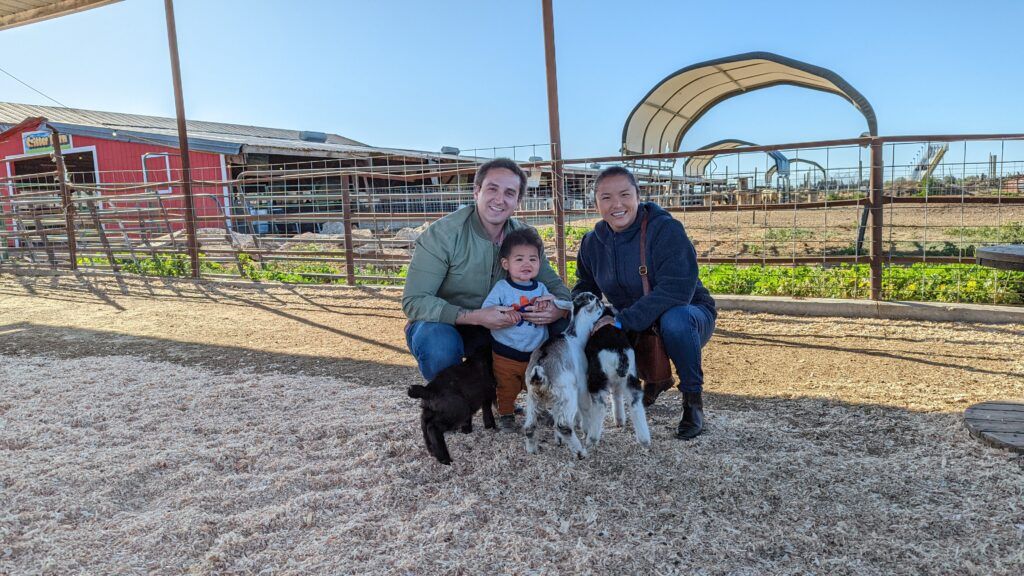 Are You Ready To Work Your Ass Off to Earn Your Lifestyle?
Are you tired of the daily grind? With a laptop and an internet connection I built a small website to generate income, and my life completely changed. Let me show you exactly how I've been doing it for more than 13 years.
Still, let's look at the process and a couple examples to see how we can easily rank for product-related keywords using longer phrases.
Answer: Use product-focused keywords you find in your keyword research routine
What Are Long Tail Keywords?
A long tail keyword is a long phrase that accurately and precisely describes what someone is searching for Usually, they consist of at least three to five or even six words.
For example, "how to research keywords", is not really long tail because it's a general topic. They want to learn how to do something, but haven't put in a lot of specifics about why or how. To turn this into a longtail keyword, we'd need more qualifiers.
"How to research video game keywords" would be a better example of a longtail keyword, or "how to research keywords using a free SEMRush account" would be another example.
research keywords (2 words)
research video game keywords (4 words)*
research keywords free SEMRush account (5 words)**
*this phrase could be considered 3 words since "video game" is a single thing, therefore perhaps one word
**this phrase could be considered 4 words since "SEMRush" assumes the creation of an account, so the word account could be irrelevant. (Read more about my thoughts on keyword intent)
Long tail keywords are important for targeting specific audiences and often come with less competition. For instance, "nighttime bowling in Seattle " is more specific than simply "bowling". Long tail keywords attract more qualified traffic and convert better than short tail even though they typically receive fewer searches.
Long Tail Keywords Increase Traffic Cumulatively
Many newbies abandon long tail keywords before they even make a dent in their website traffic. Long tail phrases grow your traffic cumulatively, meaning they bring in small amounts of traffic, but over time stack more and more increase your overall web traffic.
It's not a glamorous process, but it works. You'll need to create a lot of highly targeted product reviews to accumulate web traffic.
For example, let's assume that one long tail product review earns your site roughly 15 visits from Google per month. Therefore, it makes sense that 100 product reviews targeting long-tail keywords can earn your site about 1500 unique visits per month. Each article you publish is another 10 – 15 unique visitors per month under your belt.
Also, worth noting is that roughly 70 percent of all searches are made up of long tail keywords!
How to Find Long Tail Keywords For Product Reviews
Paid keyword tools like Jaaxy are great for finding keywords because they can streamline the entire process. The only potential flaw or downside of using keyword research tools is that your competitors are probably doing the same thing. More or less, they'll probably get the same list of keyword targets as you.
So it's better to add a manual touch to the process. What I've found is that with a little manual work, you can gather more unique keyword ideas. The general process is to compile a list of manually discovered long tail keywords and insert them into your keyword research tool.
Firstly, write down a list of words or phrases that best describe your business or are related to it in some way. These are called 'seed keywords'. They don't have to be extremely accurate or data-driven. You can use a brainstorming session to uncover them.
Then use the following steps to find long tail keywords.
Using Google Autosuggest
Go to Google's homepage and type a seed keyword into the search box. You'll near instantly trigger autosuggest as you key in queries.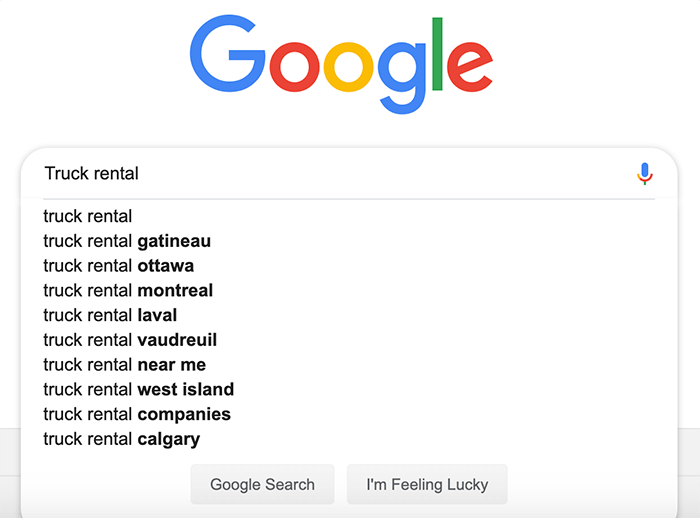 On a side note, you can do this with Bing too. Write down all the keywords you see that are three words or more. Use an underscore (_) with space before it to get a different set of suggestions.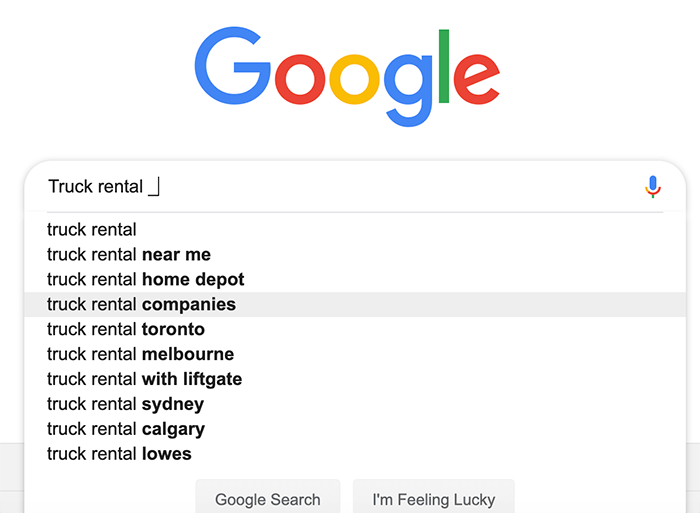 Add anything to your list that did not appear before. You should now have your first set of long tail keyword targets in an excel spreadsheet or Google sheets, whichever you prefer.
Now it's time to search for each long tail keyword on Google to find even more suggestions. Let's use, "truck rental companies", as an example. You'll find "searches related" when you scroll down to the bottom of a search result page.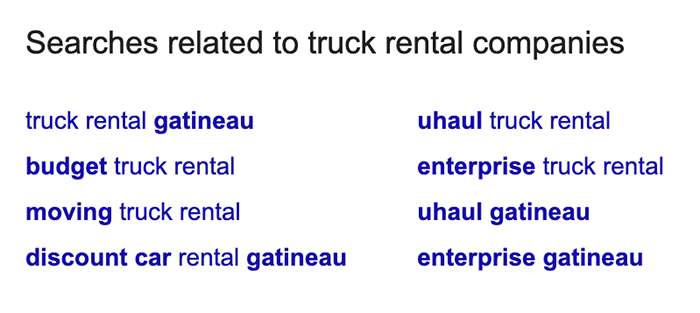 Add anything you find that is relevant and isn't already on your list. Then click on those keywords to find even more suggestions. For instance, I clicked on "moving truck rental" and got more suggestions under searches related.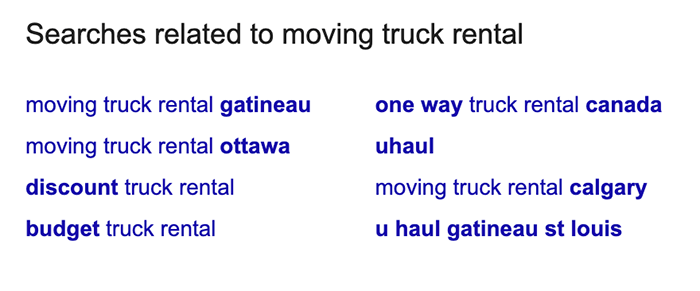 Repeat the process over and over again until you have a significant number of keywords on your spreadsheet. The long tail queries you've gathered are your new seed queries to be used with your keyword research tool. Copy and paste all of the long tail queries into your keyword research tool to get suggested targets.
I also like the Chrome extension Keywords Everywhere.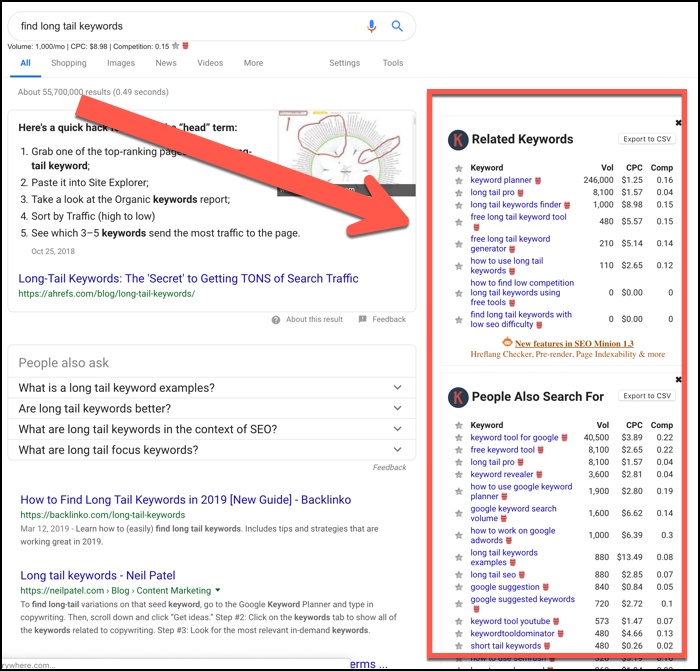 For some examples on this page, I actually went to Amazon to read comments. This is a bit more of a guerrilla tactic, since you have to read information and invent your own keywords from the knowledge you gain, but it still works great!
The Buyer's Journey
This is a framework marketers use to understand how buyers decide on purchases. Essentially, it's the cycle consumers go through before they take action on what they want. Typically the process is as follows.
Awareness – The consumer becomes aware that a solution to their problem exists.
Interest – They develop a desire or interest in purchasing that product.
Shop – They'll often start gathering information about it and comparing vendors in this stage.
Buy or Purchase – The customer is ready to make a purchase but might still seek answers to any unanswered questions.
Understanding the buyer's journey will help you target the right long-tail keywords for product reviews.
Examples Of Longtail Product Review Keywords
Enough about "how to". Let's look at some real world examples. I want to buy one of those robot cleaner things, so I'm in the Shop stage where I'm doing research and ready to buy, but not sure which one. I still need to learn a lot.
One thing I'm most curious about is whether iRobot is the best, or just the most expensive brand because they were first to market. I hear that Samsung is a good one too, and much cheaper. I could type in 'Samsung robot sweeper review", but I'll most likely type something more specific like is Samsung PowerBot Worth The Price?
Here are some longtail product review keywords I found:
which Samsung vacuum robot cleans pet hair?
does iRobot have a mopping robot?
does Samsung or iRobot clean carpet better
which Roomba cleans carpet and hard wood
does the Roomba 690 do mopping?
is Wifi important for a robot floor cleaner
See how each of those phrases conveys a specific topic other than just "iRobot Roomba Review". These specific, long tail keywords are less competitive in search engine rankings, and will convert better too! If someone is looking for a the best robot cleaner for pet hair and you rank them #1, #2, and #3, it's a pretty straightforward decision. If someone is looking for a Roomba that does both mopping and sweeping, then your review which specifically addresses those concerns will definitely engage the reader more.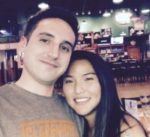 Nathaniell
What's up ladies and dudes! Great to finally meet you, and I hope you enjoyed this post. My name is Nathaniell and I'm the owner of One More Cup of Coffee. I started my first online business in 2010 promoting computer software and now I help newbies start their own businesses. Sign up for my #1 recommended training course and learn how to start your business for FREE!