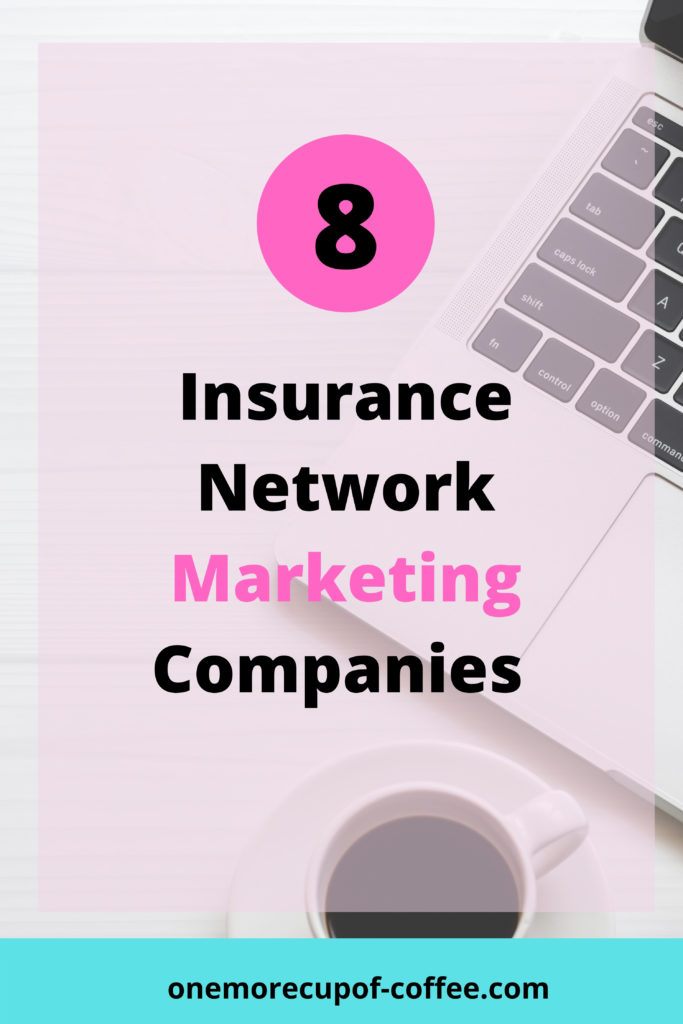 Insurance agents don't exactly have the best reputation. They're often considered pushy, to the point of being rude and obnoxious. After all, most people don't appreciate having sales pitches forced onto them, especially not for an area as sensitive as insurance.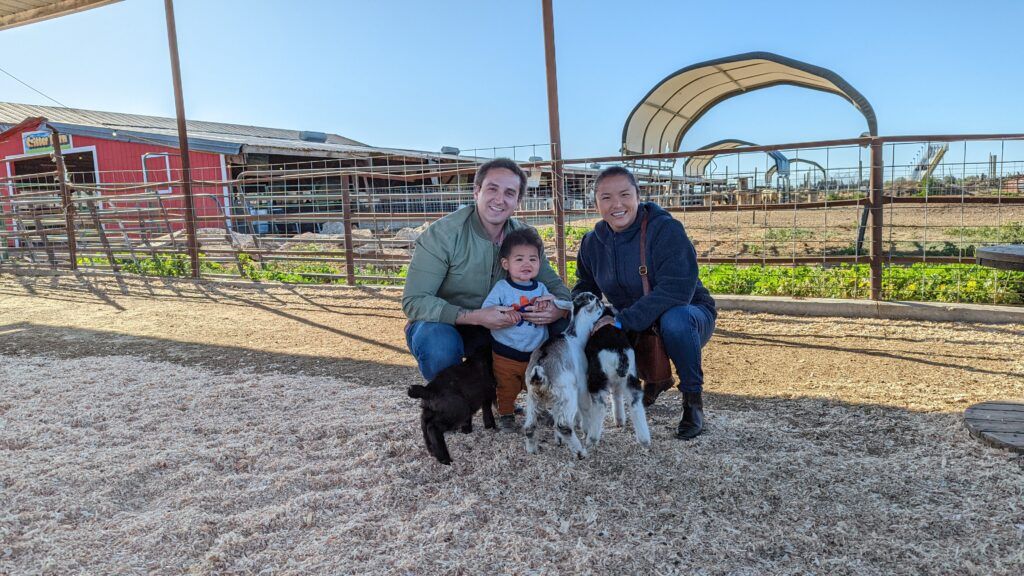 Are You Ready To Work Your Ass Off to Earn Your Lifestyle?
Are you tired of the daily grind? With a laptop and an internet connection I built a small website to generate income, and my life completely changed. Let me show you exactly how I've been doing it for more than 13 years.
Insurance network marketing companies aren't seen as being much better. One of the only things more frustrating than someone trying to sell you insurance is when that person also wants to recruit you into the company.
But, what about the other perspective? Is being an insurance network marketer a good way of making money?
In one sense, the idea seems appealing. Insurance plans often aren't cheap and people are paying regular fees. Insurance is also an important service for many situations.
These patterns suggest the potential for regular income. You may even earn from a customer for years after you made the initial sale.
Of course, the reputation that insurance salespeople 'enjoy' could make the sales process difficult. You're also competing against many other companies and agents who have more background in the field than you.
These complexities make it critical that you carefully evaluate any company before signing up. Look at their requirements and think realistically about whether you would be able to meet them. To help with the process, this post provides details on network marketing companies in this field.
Plus, you have to worry about the negative reputation MLM and network marketing has in general. And by the way… do you actually enjoy selling insurance? I'm not really sure why someone would choose to leave a traditional job only to jump into (what I see as) the most boring industry possible. If you're going to try to do your own thing, why no go all the way and actually do something you want?
That's why honestly, I wouldn't recommend any of these insurance network marketing companies to anyone.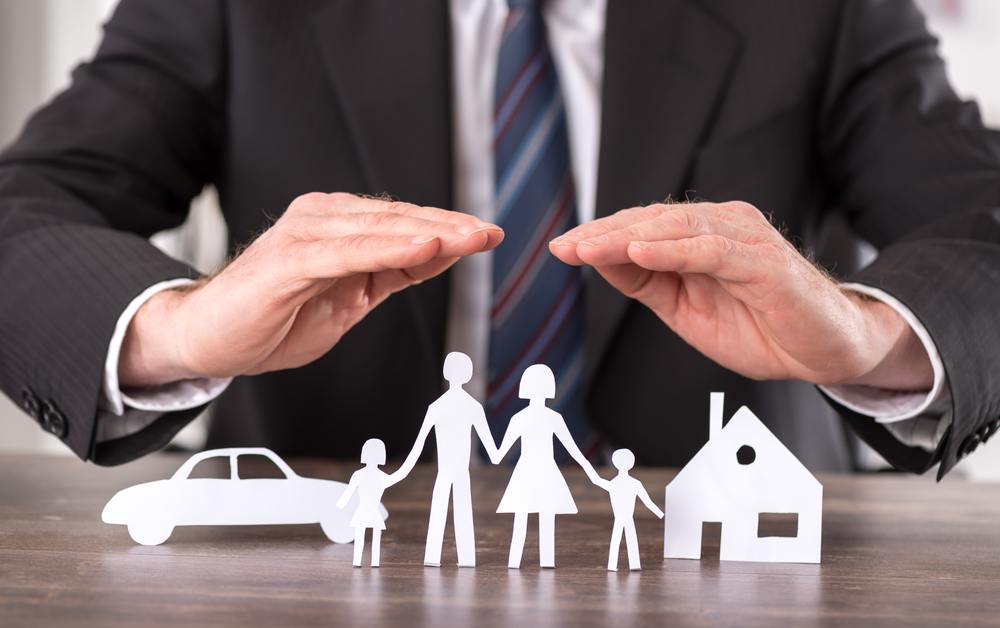 Insurance Network Marketing Companies
Primerica
World Financial Group
Symmetry Financial Group
Premier Financial Alliance
PHP Agency
Freedom Equity Group
American Income Life
Family First Life
1. Primerica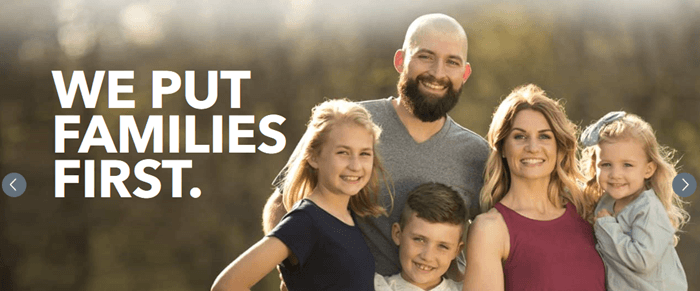 Focus: Term life insurance
Minimum Cost: $99
Product Overview: Primerica is the most well-known insurance MLM – by far. The company was founded in 1977 and is currently thought to have around 120,000 independent reps.
Primerica is also somewhat notorious. While the company has many passionate agents and has been featured in Forbes, many people consider the model manipulative, especially if family or friends have tried to pressure them into insurance.
Primerica's main focus is on term life insurance, although there are some other insurance types as well, such as long-term care insurance and investment insurance.
Because we're talking about insurance, there is no simple way to compare between one company and the next. Insurance plans and prices tend to be specific to the individual, based on their needs and situations.
Reviews of Primerica's insurance tend to be mixed. For example, the site insureye.com has an average of 2.5 stars across 21 customer reviews, while consumeraffairs.com gives it a little over 3 stars across 459 ratings.
Some reviews are overwhelmingly positive, talking about the benefits of the plan and how the prices compare to other companies (of course, some such reviews may be from distributors).
Others are negative. A common complaint is that previously satisfied customers found their prices suddenly hiked by Primerica upon term renewal. Others mention that the rates dramatically increase with age.
Both patterns are fairly common for term insurance, but they're still not encouraging. Part of the problem seems to be that customers often don't know what they're getting into with the insurance, as the plan isn't explained well at the beginning.
Many reviewers also mention being declined for insurance and then struggling to get refunds from the company. This isn't an encouraging situation.
A related issue is that Primerica's insurance options are limited (compared to other companies). This can be problematic for some situations, like if you want permanent insurance.
Nevertheless, Primerica's insurance is legitimate and it probably works fine for many people. The company's long history is an indication of this.
Primerica also has a Financial Needs Analysis (FNA) that agents carry out for customers. This can help customers to understand their options before making a decision. It acts as a sales tool for agents too.
Commission Quick View: Primerica works like any other MLM in that you're earning a commission from making a sale. This starts off at 25% from contracts and can increase to 35%.
While this rate sounds good, it isn't clear what the percentages are based on. Are you earning from the monthly fee the customer pays, from the company's profit or something else?
Primerica uses a unilevel model for team earnings. This means you get overrides from people in your downline based on positioning. The highest income potential comes from progressing up the ranks.
This is where things get complicated. Primerica has more rank requirements than most other companies, which severely limits income potential. Not only do you and your team need to hit performance goals, but there are also licensing requirements.
The licensing aspect makes sense. You are selling insurance after all. But, some of the costs do come out of your pocket.
Some former Primerica agents mention that the training isn't as good as you might expect. This could influence your ability to adequately advise customers about insurance and the specifics of Primerica's plans.
Final Thoughts: From a sales perspective, Primerica's long history is a blessing and a curse. This history does make the company feel more trustworthy, but it also means that most people who might join Primerica probably already have.
Remember that your goal isn't just to sell insurance. You also need to recruit people as Primerica agents. This seems like a tough task given that Primerica has such a mixed reputation.
2. World Financial Group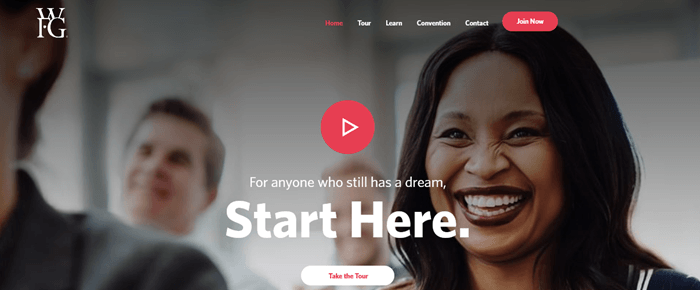 Focus: Financial services and insurance
Minimum Cost: $100
Product Overview: World Financial Group doesn't have products of their own. Instead, the company acts as an intermediate for promoting a variety of insurance plans and financial services from other companies.
Their insurance largely comes from Transamerica (in the United States). Other American providers include AMS Financial Solutions Group, Pacific Life and Prudential. Because we're talking about insurance, let's take a look at Transamerica.
Transamerica is a legitimate insurance company and has received high ratings from some rating companies. Despite this, the company isn't BBB accredited. While it receives an A- rating from the BBB, average customer reviews on that site give the company less than two stars.
Indeed, many reviewers point to poor customer satisfaction in many areas.
Like Primerica, Transamerica has a simplified selection of policies compared to other insurance companies. This approach can make insurance easier to understand, but also provides customers with fewer options.
The other insurance providers that World Financial Group works with will help to flesh out the selection of policies and give customers more options. Of course, each insurance provider will have its own positive and negative features.
Even if the insurance through World Financial Group is good, the low level of customer satisfaction with Transamerica is a serious concern. To make money with World Financial Group, you would need people to sign up for the company and remain members. This goal seems very unrealistic if the company fails to keep people happy.
Commission Quick View: Commissions from World Financial Group (and most financial MLMs) is linked to your licensing. You need to pass licensing exams in order to sell specific services. If you don't have the appropriate license, much of your potential commission goes to someone who has a license.
According to the compensation plan, income can be made through four approaches: Personal Income, Agency Income, Expansion Income and Bonus Income. While some of the terms are unusual, the underlying concepts are the same as other MLMs.
You're basically earning from your own success, from the sales that your team members make and various bonuses due to hitting particular targets along the way.
Base compensation starts off at 25% and increases with rank in the company. This can get as high as 65%.
The team side of the plan follows a unilevel design. You are earning from multiple generations under you, starting at 12% from your first generation and then 6% from your second generation.
There are some differences between variable and fixed insurance plans, but the differences are largely small.
While the percentages do sound amazing compared to a regular MLM, there is little information about what they mean in practice (they're also on the low end for an insurance MLM). As with Primerica, it's not clear what the percentages are based on.
In all likelihood, distributors are receiving a percentage of the money that World Financial Group is paid from the provider. In other words, you're getting a percentage of a percentage. You're certainly not getting 25% to 65% of the amount that customers pay.
Rank progression is linked to your team sales and growth. Recruiting people isn't enough either. The people you recruit need to become licensed too.
Final Thoughts: World Financial Group isn't as well-known as Primerica and hasn't suffered from the same controversies. Even so, you're looking at a complex compensation plan that relies on licenses.
3. Symmetry Financial Group

Focus: Various insurance types
Minimum Cost: Unknown
Product Overview: Symmetry Financial Group provides a fairly wide selection of insurance types, including life insurance, disability, critical illness and retirement. They have a focus on the stages of life, recommending different services based on where people are in their life path.
Once again, the company primarily acts as a referral agency, providing products that are supported by other insurance companies (up to 30 of them!).
One immediate challenge is that details about the insurance providers aren't clear. For example, the page on term life insurance largely just offers information on what term life insurance is, why it matters and statistics on this type of insurance.
But, the page provides little information about what Symmetry offers specifically and no details about the individual insurance carriers that are being used. The only way to find out is to request a quote, which involves providing your contact information and waiting for an agent to get in touch with you.
The style is beyond frustrating. As we've already seen, some insurance carriers are better than others. Symmetry's approach gives customers no chance to research first.
While it's possible to research after hearing plan details, pressure from agents could make this difficult. For that matter, some Symmetry reviewers mention that they ended up unknowingly signing up for insurance when they thought they were just finding out more information.
Another issue is Symmetry itself. There are concerns about the company's practices, including the accusation that agents are taught to behave unethically and that some agents are taught how to focus on recruitment only, rather than selling the policies.
Some complaints highlight an underlying issue with this type of company – that training will only be as good as the person who recruited you. If they don't understand the company well or have a particular bias, then you may not learn everything that you need to know.
Commission Quick View: Agents for Symmetry start off at a 60% contract rate. This is 60% of the commission that Symmetry itself receives, not 60% on contract totals.
Interestingly, this 60% doesn't apply to all products and insurance carriers. One estimate suggests that new agents only earn commissions on less than half of the total carriers that are offered.
The company also seems to pay lower commissions and renewals compared to other insurance companies, even for similar products.
Symmetry uses a rank structure, where your commission rate increases as you move up through the ranks. It can get as high as 110%, although doing so requires hitting significant targets along the way, including having 53 individual writers and an annualized premium of $350,000.
The exact percent that agents receive is strongly influenced by the insurance carrier and the specific product. This can mean that some sales earn agents much less than they might have expected.
As an agent, you would be responsible for your own promotions. You need to keep track of your progress towards the promotion guidelines and then contact your sponsor when you are eligible for a commission increase. Failing to do so would leave you at your previous commission rate.
This is an unusual style and a frustrating one, as it isn't always easy to keep track of your progress across multiple rank requirements.
There is also the potential to buy leads, where the cost increases as you move up the ranks. This style is common among insurance companies. While buying leads isn't essential, new agents may feel pressured to do so, especially if they struggle to get leads on their own.
Finally, there is a team aspect for Symmetry, but details are not as readily available.
Final Thoughts: Symmetry does have an appealing site and a decent selection of insurance types. Still, the number of negative reports are concerning. It's clear that agents often don't do as well as they first expect to.
4. Premier Financial Alliance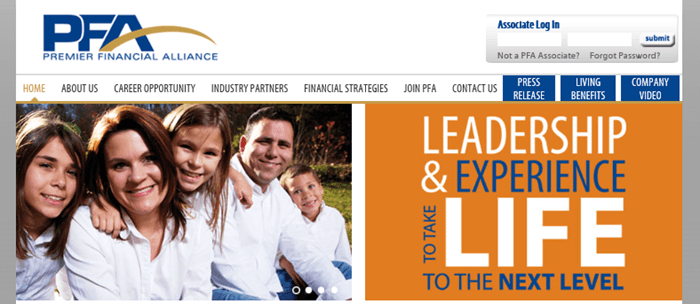 Focus: Insurance
Minimum Cost: Unknown
Product Overview: While Premier Financial Alliance does sell insurance, you wouldn't know this from their website. The company almost entirely focuses on their opportunity instead, including the idea of having a "duplicatable business system" and "unlimited advancement".
It's always deeply concerning when a company talks more about their opportunity than what they are actually selling.
For that matter, the website for Premier Financial Alliance doesn't even currently have a products or services section. They do have one for industry partners, which should like it should be useful.
But, that section just talks about how "PFA has gained the respect and support of a number of successful corporations". That claim is so vague that it is useless. The page doesn't provide any names of industry partners either, which is concerning.
The company has been surrounded by controversy too, including a lawsuit in 2018 that labeled Premier Financial Alliance as a pyramid scheme. One problem is that the company allegedly required members to recruit six people into the company before the member was able to earn any commissions.
Such a style creates an emphasis on selling services to recruits, rather than to retail customers. If such claims are true, then Premier Financial Alliance could well be considered a pyramid scheme, as sales to retail customers do seem to be minimal.
Regardless, the way that Premier Financial Alliance focuses on their opportunity suggests that the underlying insurance (and whatever else they sell) is unlikely to be any good.
Commission Quick View: With so much debate and discussion around Premier Financial Alliance, details about their current compensation plan are difficult to find.
One post suggested that members make 30% sales commission initially and can get up to 55% commission. These numbers aren't great for a company that sells insurance.
Final Thoughts: Premier Financial Alliance is a concerning idea from start to finish. The lack of product information on their website should be reason enough to avoid the company. The lawsuits that they are facing just seal the deal.
5. PHP Agency

Focus: Financial services
Minimum Cost: Unknown
Product Overview: PHP Agency bills itself as a financial services company, although they mostly focus on insurance. Once again, the company works with various insurance carriers, like National Life Group, American National and National Western.
Focusing on multiple companies like this should mean that PHP Agency is able to better tailor insurance plans to the needs of the individuals. But, the style does make it more difficult to pinpoint whether the insurance itself is any good.
The company's main focus is on life insurance, including term life insurance and indexed universal life insurance. Pricing details aren't provided, which isn't surprising for this industry.
There are few online reviews about the insurance from PHP Agency. That's not encouraging either and may be partly because PHP Agency is relatively young as far as insurance companies go.
Most reviews focus on recruitment instead, with various people complaining about being targeted by reps from the company. The complaints should be familiar by now, including the idea that reps are often pushy and try to pressure people into making purchases.
Commission Quick View: New agents start off at the Trainee rank in the company and must move up from there. The requirements for the ranks get tough fast. For example, you need to recruit three people, get three sales and hit 3,000 Group Volume per month just to hit the second rank.
By the third rank, you need to have 15 active recruits in your downline, hit 30,000 Group volume and have an insurance license. There are many more ranks after this, with the requirements quickly becoming absurd.
It's never a good sign when compensation plans rely this heavily on recruitment.
As for compensation, the commission rate starts off at 30%. This increases with rank, ending up at 82%. There is also a bonus of up to 40% commission if you can hit certain sales and recruitment targets.
If the commission rate is based on the amount that PHP Agency gets from insurance carriers, then 30% is a pretty low starting rate. Being able to get up to 82% with a 40% bonus is much better, but let's be honest, few agents are going to get anywhere close to the required ranks.
The team aspect follows a unilevel structure. Agents can earn from up to seven generations, starting with 10% from their first generation and 5% from their second generation.
Unusually, PHP Agency calculates the generational structure separately for each unilevel leg. Most companies don't do this and instead focus on generations for a person's downline as a whole.
Final Thoughts: The commission rates for PHP Agency start off pretty low and there are few details about extra costs. This lack of details on the PHP Agency site isn't a good sign either.
6. Freedom Equity Group

Focus: Insurance
Minimum Cost: $125
Product Overview: Here's another example where there is very little information about what to expect. Freedom Equity Group's website largely just talks about their opportunity. There is some mention about having satisfied customers, but most information about products or services is kept very vague.
When you get down to it, Freedom Equity Group seems to be another case the company acts as a middle man for various insurance providers. The site lists AIG, Fidelity & Guaranty Life, American National and National Life Group as partners.
Some of these companies are partners for other MLMs on this list too. This suggests that different MLMs end up offering similar services at the end of the day (which makes the whole process feel pretty pointless).
There are few reviews about Freedom Equity Group itself. However, some people mention that the policies tend to be substandard, especially once people get into later life.
Commission Quick View: Compensation starts out at 30%, which is pretty low for an insurance company. It is possible to get up to 93%, but only if you manage to progress up through the company's ranks.
The ranks are closely tied to recruitment. You can't get into the higher ranks without recruiting others. Simply getting people to join isn't enough either. They need to remain members. This is where the real problems start, as MLMs like Freedom Equity Group tend to have high turnover rates.
The team aspect of Freedom Equity Group shouldn't be too surprising. The company follows a unilevel plan. You're able to earn generational overrides based on the levels in your downline.
This time, you're getting 8% on the first level and the rate decreases from there. The final levels just provide 1% each. Of course, the lower percentages for later levels won't be relevant to most people – as getting your downline that large is no easy feat.
Final Thoughts: There really isn't much to say about Freedom Equity Group. The compensation plan isn't horrible, but it's not great either. The same can probably be said about the insurance too.
7. American Income Life

Focus: Life insurance
Minimum Cost: $490
Product Overview: American Income Life primarily offers life insurance, including whole life insurance and term life insurance. The company actually spells out the differences and provides basic information about the services that American Income Life offers. Most of the companies featured in this list fail to provide that information.
There are also various types of accident and supplemental health insurance, which can be added to an insurance plan from the company.
It's nice to see a company that actually talks about the services that they offer. There aren't many specifics, but even so, American Income Life provides more information than most other companies.
Interestingly, American Income Life appears to provide insurance itself, rather than being connected to insurance providers. This isn't necessarily a good thing, as reviews are far from positive.
Some of the complaints relate to the company's sales techniques, which border on harassment. Another problem is that representatives often give different answers about policies. This can be a pattern with many insurance MLMs, as training is often limited and agents may not fully understand the policies that they are meant to be promoting.
Commission Quick View: While American Income Life might provide details about their services, information about income is much more difficult to find.
Some information online suggests that you may start off earning around 50% commission at the beginning. However, only 65% of this is provided immediately, the rest is paid out six months later.
The commission rate probably increases with rank, but details aren't provided. Still, if American Income Life is similar to other insurance MLMs, you'll need to build a well-performing team in order to get the higher commission rates from the company.
There are also residual commissions from your team, which probably follow a unilevel model. But, once again, there are no details about what this all looks like in practice.
Final Thoughts: American Income Life looks appealing at first glance, as they don't focus on their opportunity. Still, they clearly have an MLM structure.
Without any information about the compensation plan, it's hard to know how American Income Life stacks up against other companies. Even so, the lack of details is never a good thing.
8. Family First Life

Focus: Life insurance
Minimum Cost: $0
Product Overview: Despite the company's name, the website for Family First Life tends to focus largely on the opportunity, rather than their services. In fact, the 'what we offer' section of the homepage talks about their lead program and compensation plan, rather than services.
Once again, the underlying concept is insurance. Family First Life works with a variety of carriers, including Transamerica, AIG, Global Atlantic Financial Group and Americo.
Family First Life calls these top carriers in the industry. This is a bold claim and it isn't supported much on the site. Besides, as we highlighted earlier, Transamerica has some serious limitations. The same may be true for other entries on the list.
The name Family First Life suggests that the company is offering life insurance. But, it's not clear what type of life insurance this is or whether they have other types of insurance too.
Commission Quick View: Family First Life claims to be disrupting the insurance industry by offering a better compensation plan than competing companies. The claim isn't entirely unrealistic either.
Their compensation plan starts out at 80% and maxes at 140%. It's rare to see any company end up at 140% commission. Starting at 80% is unusual too. Some of the other insurance companies on this list started at around 30% (although others were higher).
Training with Family First Life seems to be free, which isn't always the case. However, there are quarterly conferences and these would cost to attend. You may have to pay to sit your license exams too, especially if you don't pass the first time.
Having a maximum of 140% commission is nice, but only if hitting the rate is achievable. This is where things start to get complicated.
For example, getting more than 110% commissions involve rank promotions that are heavily focused on your team. You need to have a team that is making more than $100,000 in sales consistently (your own sales are excluded). Getting a team to perform that well is no easy feat. Don't forget, you need to be successful with sales too.
The requirements tend to increase with each rank. For that matter, you need to make $20,000 a month in your own sales to get 100% commissions, along with $25,000 in team sales.
Final Thoughts: There's no denying that Family First Life has a good compensation plan for the industry. Still, the company doesn't provide any details about their services. That's a very big red flag.
Top Pick
Some of the companies in this list are better than others, but there aren't any that we can recommend. In the end, insurance is not a great service to try and sell through an MLM model.
You're trying to promote something complicated that is very specific to the individual. People who are truly interested in insurance aren't going to be interested in advice from a friend, they're going to want someone who knows the field.
Also, insurance is a concerning service to try and sell to people that you know. The wrong choice in insurance could have dramatic impacts on a person's life and future. You don't want that type of responsibility. At least with product-based MLMs, any damage done to customers is generally minimal.
A Note On MLMs And Insurance
It's worth mentioning that the structure and approach of insurance companies is often very close to an MLM. This can include the idea of recruiting other people and aiming to expand your team over time.
Many such companies haven't been included in this list, as they tend to keep information private and may hire agents as employees rather than as independent contractors.
There are also some network marketing companies that once sold insurance, but have since dropped that particular service.
One example is GoodLife USA, which primarily sells travel memberships. It appears that travel insurance was a part of their membership at one point in time, a feature that has since been dropped.
I also recall seeing insurance included as a service for various financial fitness MLMs when I wrote early reviews for those companies. These days insurance isn't to be found on their service lists.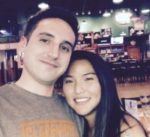 MLM Critic & Author: Nathaniell
What's up ladies and dudes! Great to finally meet you, and I hope you enjoyed this post. I have to be honest though. I'm not a big fan of MLM. Tried it. Hated it.
Affiliate marketing is cheaper, faster, and easier. See for yourself and join millions of other successful affiliates generating income from their blogs!
No inventory. No fees. No recruiting. 3 BILLION potential buyers online.
Reader Interactions