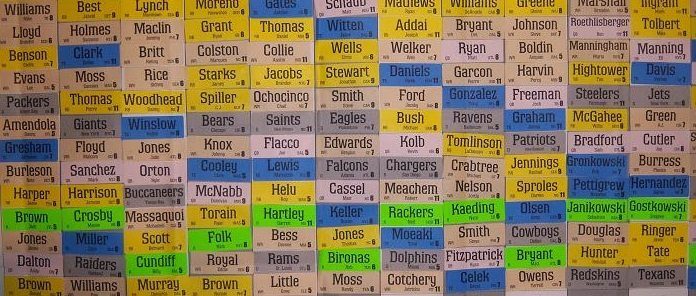 Affiliate Programs, Keyword Lists, and Niche Research for Fantasy Sports
This niche of fantasy sports is very unique in many ways. First off, though this niche has been around since the 1940s it never really became as popular until around 2004/2005. With the birth of the internet and its heavy use of those who fall into the Generation Y category, these individuals tend to be more stats and tech oriented. Those who love sports and stats will love daily fantasy sports.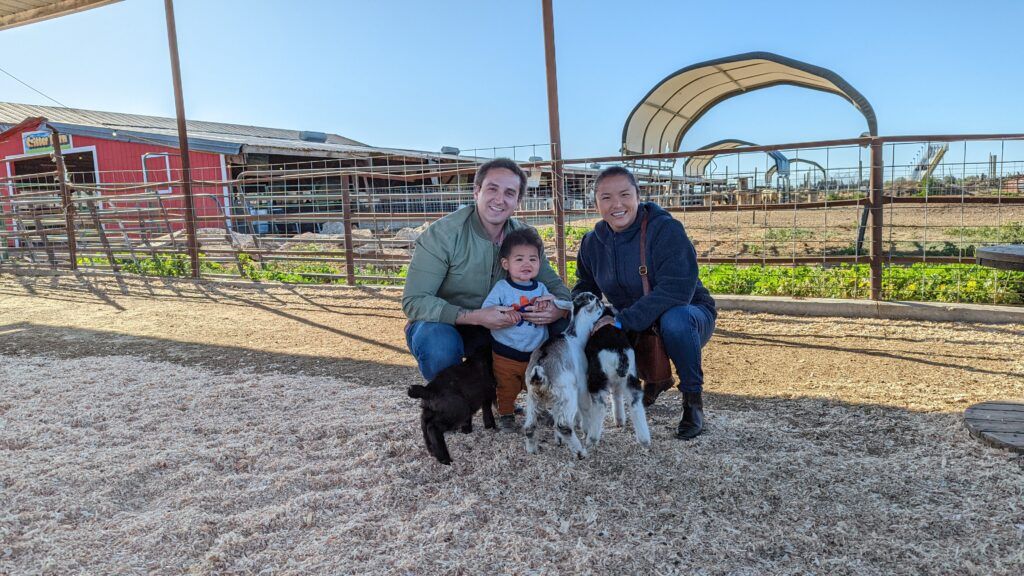 Are You Ready To Work Your Ass Off to Earn Your Lifestyle?
Are you tired of the daily grind? With a laptop and an internet connection I built a small website to generate income, and my life completely changed. Let me show you exactly how I've been doing it for more than 13 years.
As far as digging deeper into fantasy sports goes, you could pick a certain type, such as fantasy football, or fantasy hockey, or just choose fantasy sports in general. Either way would work depending on your own interests. You could get a 'money strategy' angle, or a stats angle, or even some other aspect that you find particular interesting.
Sports on a whole, no matter which type you enjoy, is big business and fans eat up that excitement. Taking into consideration the 4 main sports here in the United States – baseball, basketball, football, and hockey, let us look at their interest and popularity when it comes to online daily fantasy sports. We will start with hockey.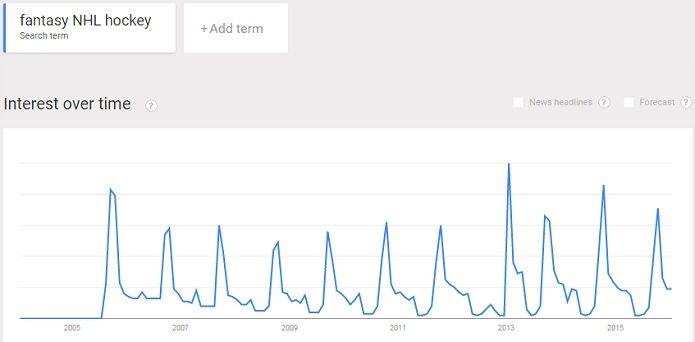 When looking at that graph above you can see extreme highs and lows. This is natural because like all sports, hockey is seasonal. Now let us look at basketball.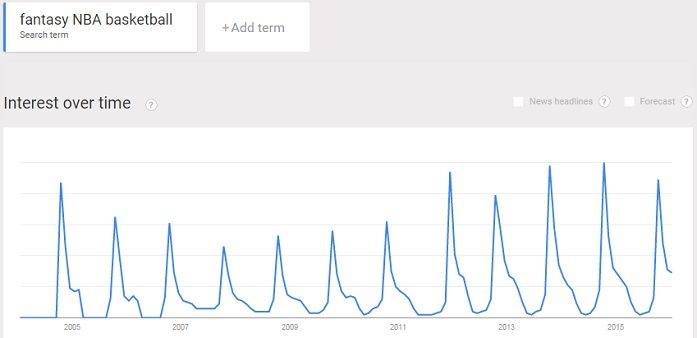 Basketball is also seasonal with extreme highs and lows. However it tends to be much more popular with sports fans here in the U.S. than hockey. Then in the graph below we have one of the most popular, also played in many other countries, and that is baseball.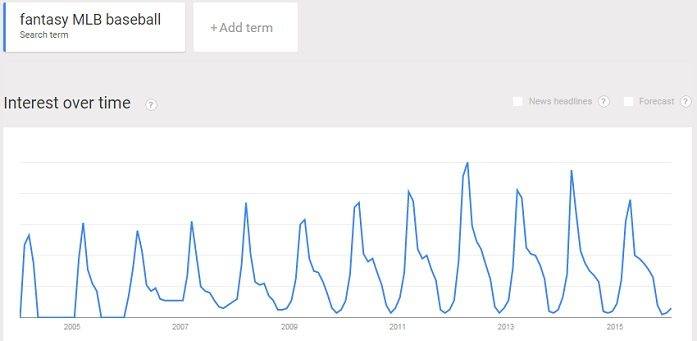 As each of those graphs show, all three of the sports are very popular with their fan base when it comes to fantasy sports. Let's compare!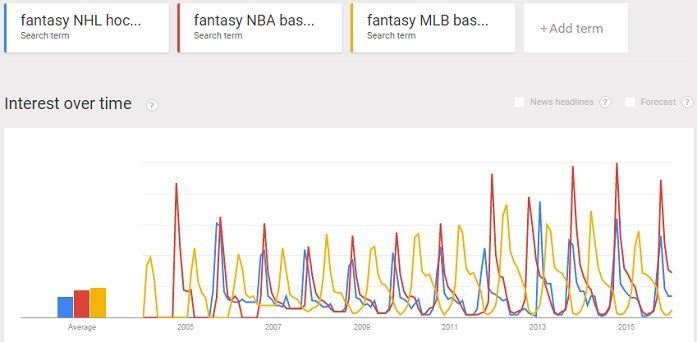 As you can see, many of the extreme lows have been filled with that of another sport. Why does this matter? Because most sports fans are into more than one sport and will more often than not, engage in fantasy sports for multiple genres.
But what about NFL football? When it comes to fantasy sports, The NFL is 10 to 15 times more popular than basketball and baseball. The NFL was the sport that launched online fantasy sports to its extremely quick popularity. To see just how much more popular it is, take a look at the next graph.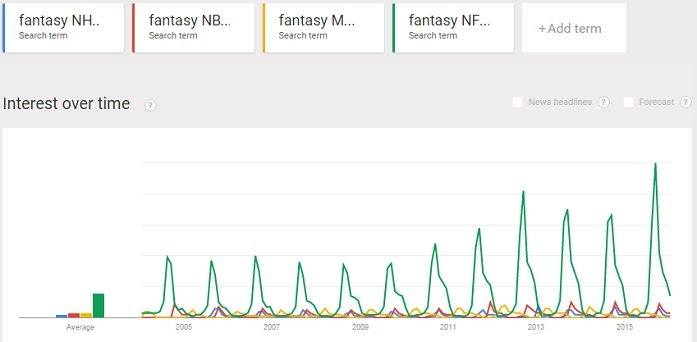 Every time I look at that graph it blows me away. But then again, the Super Bowl is the most watched sporting event here in the U.S. and is broadcast live in many other countries as well. So that brings us to sub niches you could possibly target within the broader industry of fantasy sports.
NFL
College Football
MLB
NBA
College Basketball
NHL
NSL
PGA
NASCAR
Horse racing
Instruction in how to create teams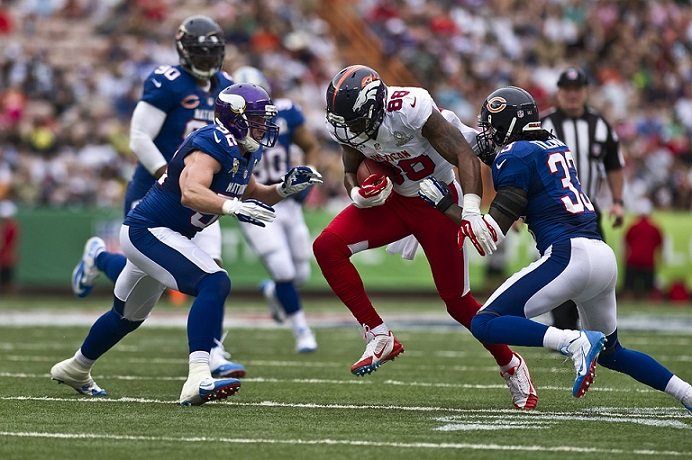 Top 3 Affiliate Programs
My Thoughts
The fantasy sports niche is a different kind of niche in that it is relatively new, about 10 years old, in terms of being played over the internet. Just as there is not much to focus down on when it comes to sub niches, that same sparseness holds true for affiliate programs. I could not find many and this could be due to this niches early stages of growth.
Both DraftKings and FanDuel, see below, are the top two heavy hitters in the daily fantasy sports (DFS) niche. In fact, I have a whole post about the making money with Draft Kings, and came to the conclusion that their affiliate program is probably more profitable that making money playing the game.
Both companies have an estimated value of at least $1 billion, and control 95% of the DFS market in the United States. With the exception of the fast-growing StatClash, all other programs are looking for their slice of the big money pie.
That being said, this is still a niche to get involved with as it is fairly new, and I see no sign of it slipping out of interest with sports fans the world-over. Fantasy sports on the internet today is a multi-billion dollar per year industry! It is new, proven and a huge money maker, both for the fantasy sports companies and their affiliates. Even if legal battles ensure and the betting (money) aspect changes in the next few years, people interest in creating winning teams and competing with their friends will not.
DraftKings
Signup URL: https://www.draftkings.com/affiliates
Focus: Fantasy sports for baseball, basketball, football, golf, hockey, mixed martial arts, NASCAR, soccer, college basketball and college football
Commissions: 20% to 50% based on referral performance
Comments: DraftKings, Inc. is headquartered in Boston, MA and was founded in 2012 by CEO Jason Robins. DraftKings is a leading skill-based Daily Fantasy Sports (DFS) gaming destination for fans in North America to compete in single-day online games for cash and prizes. DraftKings is the exclusive DFS partner of Major League Baseball, the National Hockey League, Major League Soccer, NASCAR and Ultimate Fighting Championship.
Just looking at what they offer by way of sport categories and their up to 50% commission, it is no wonder why they are my #1 pick. The only thing I do not like about their program is the 30 day cookie in comparison with the lifetime cookies of the number 2 and 3 selections below. But that is a minor point compared to the many benefits of this affiliate program. DraftKings is a very popular fantasy sports program and I often see them advertised on TV during sports games.
StatClash
Signup URL: https://statclash.com/Affiliates
Focus: Baseball, basketball, college basketball, football, college football, hockey, and soccer fantasy sports
Commissions: 20% to 35% based on referral performance
Comments: StatClash is a fantasy sports website that is owned by StatClash, Inc. They allow sports fans the excitement of regular season-long fantasy sports in just 1-day. After joining a contest and creating a fantasy team, users compete against other sports fans and the team that scores the most total points wins big cash prizes or lots of other cool stuff like iPads, sports memorabilia, game/concert tickets, and even special trips.
As my number 2 selection StatClash offers a great fantasy sports experience for its members with a rewarding tiered commission structure that pays you more based on how well your referrals do and they also offer a great lifetime cookie, which my number 3 selection offers as well. This is quite advantageous because based on your referrals performance during the lifetime of their membership, your commission totals will rise.
FanDuel
Signup URL: https://www.fanduel.com/partners
Focus: Baseball, basketball, college basketball, football, college football, and hockey fantasy sports
Commissions: 25% to 35% based on referral performance
Comments: FanDuel started as a backyard Texas brainstorm between 5 co-founders in 2009 and is now a driving force in the multibillion dollar fantasy sports industry. The season-long game and winning was simplified, along with paying out real money. The result was a new way to play fantasy, fan vs. fan in a test of sports knowledge, where winners could taste victory on any given day and not just once a year.
The only reason FanDuel is my number 3 selection instead of number 2 is because they offer one less sport. That is it! In all other respects they are tied with StatClash above. FanDuel also offers an easy to navigate website, a tiered commission structure, and a lifetime cookie. When it comes to fantasy sports affiliate programs, these top 3 are hands-down the best and most respected in their niche.
Other Affiliate Programs
StarsDraft
25% to 50% based on referral performance
Fantasy sports for baseball, basketball, football, golf, and hockey
DraftHero
25% to 35% based on referral performance
MLB, NBA, NFL and NHL fantasy sports
Fantasy Football Nerd
15%
Fantasy sports for NFL
BetAmerica
40%
Fantasy sports for MLB, NBA and NFL as well as horse and greyhound racing
FanPicks
50% initial referral & 35% on recurring referrals
Baseball, basketball, football, golf, and hockey fantasy sports
Fantasy Football Draft Boards
10% to 20% based on performance
Football draft boards
DraftOps
$12.50 per referral
NBA, NFL and NHL fantasy sports
Fantasy Sports Keywords Breakdown
10 Low Competition Keywords (Searches/QSR)
fanduel fantasy sports reviews – 128/2
play fantasy football online free – 75/3
draftkings fantasy sports review – 56/9
does yahoo fantasy football playoffs work – 136/11
fox sports fantasy nascar – 345/14
how to win daily fantasy sports – 64/15
fantasy sports affiliate programs – 128/32
how to draft a fantasy football team – 331/37
yahoo sports fantasy golf – 481/62
fox sports fantasy baseball – 639/70
What's QSR
10 High Traffic Keywords (Searches/QSR)
yahoo fantasy football – 1072870/256
nfl fantasy football – 279319/151
fantasy baseball – 239039/196
espn fantasy baseball – 170057/171
yahoo fantasy sports – 26904/210
telegraph fantasy football – 16942/167
cbs sports fantasy – 12291/170
yahoo sports fantasy baseball – 7943/147
fanduel fantasy football – 4946/166
draftkings fantasy sports – 3761/226
Why Is This Different From Google's Number?
Though Google's Keyword Tool has improved in recent years, it still gives inflated (inaccurate) traffic numbers. The keyword tool I use takes data from a variety of search engines, not just Google. Remember that Bing + Yahoo own 30% of the search market.
Other Great Keywords (high traffic, low competition)
does yahoo fantasy football draft work
fox fantasy sports
daily fantasy sports picks
yahoo sports fantasy auto racing
how to play daily fantasy sports
yahoo fantasy baseball
fantasy football
hockey fantasy sports
yahoo fantasy racing
fanduel fantasy baseball
free fantasy football
fantasy baseball rankings
what is daily fantasy sports
sports illustrated fantasy football
cbs sportsline fantasy football
espn fantasy sports
yahoo fantasy golf
daily fantasy sports
basketball fantasy sports
Affiliate Marketing Action Plan For Fantasy Sports
The action plan for this niche seems to be pretty straight forward for anyone who knows sports. But what if you do not love or even know sports? Well I am going to explain how I would tackle this task. Simply put I would select the most popular of the sports and of the affiliate programs.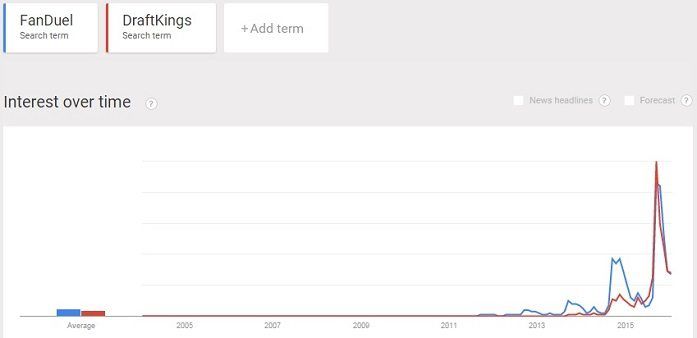 Even though FanDuel started 3 years prior, DraftKings has risen in interest among fantasy sports fans faster and quicker. Being that they are one of the largest in the amount of commissions and sports genres they provide, I would choose DraftKings as my affiliate program. Then I would choose the NFL because it is the biggest market.
I'm not a sports guy, so I can't say that I would pick this out of personal interest. Sometimes you just gotta follow da' money!
I would create a website based around fantasy football, starting out with just the NFL, but would probably include some college stuff as well. This would help to provide my website readers into football with added knowledge of upcoming players into the NFL draft. I would also write articles about my DraftKings experiences, and tips on how to create a successful fantasy team, as well as follow my personal pics and results.
At the end of the day, I wouldn't be making money from winning or losing the game. I'd be making money from the affiliate program. So I would definitely have to keep readers aware that I'm not a "guru" at fantasy sports – I just enjoy it (theoretically of course)! This would be a great way to grow my brand and reach out to people on a personal level.
Need Extra Help?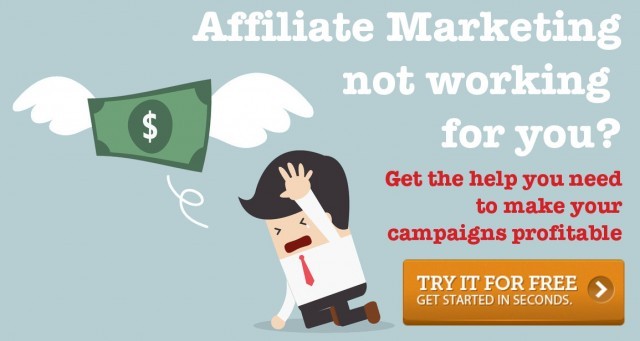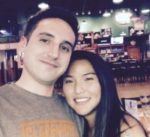 Nathaniell
What's up ladies and dudes! Great to finally meet you, and I hope you enjoyed this post. My name is Nathaniell and I'm the owner of One More Cup of Coffee. I started my first online business in 2010 promoting computer software and now I help newbies start their own businesses. Sign up for my #1 recommended training course and learn how to start your business for FREE!