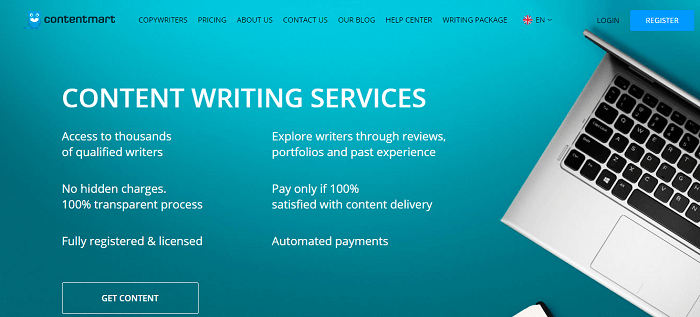 Introduction to Contentmart
Website: Contentmart.com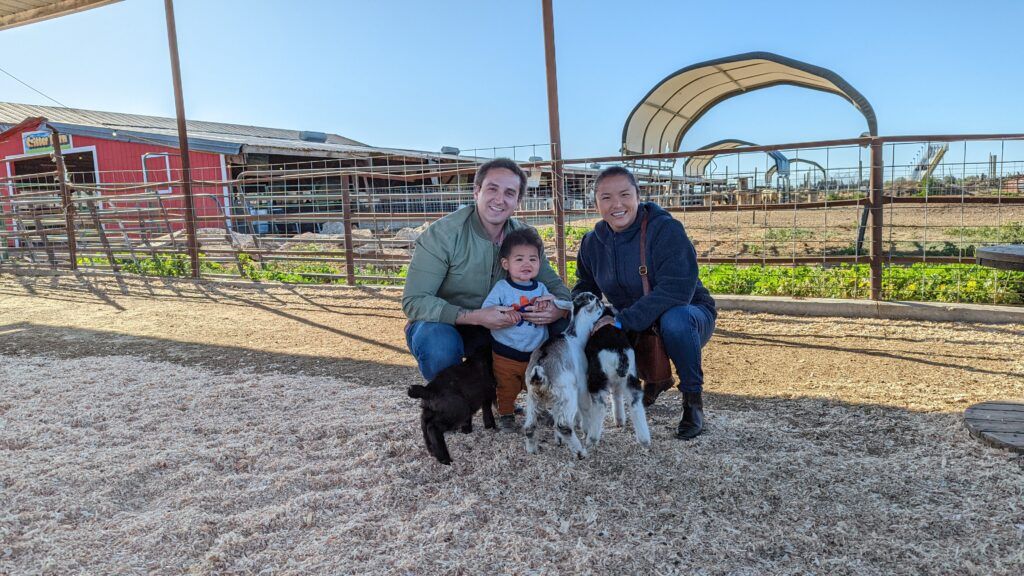 Are You Ready To Work Your Ass Off to Earn Your Lifestyle?
Are you tired of the daily grind? With a laptop and an internet connection I built a small website to generate income, and my life completely changed. Let me show you exactly how I've been doing it for more than 13 years.
Contentmart says it bridges great writers with those that want content. Nothing new there.
What's different is the international flair. This India-based site delivers content in more than 20 languages, which lends a touch of grandiose. The site further backs this concept with data:
135,224 clients
311,087 writers
75,312 successfully completed orders
So it's a big site with lots of jobs done. From the first-impression point of view, Contentmart looks like a good place to find paying work for freelance writers. And it's based in India, which is new to me.
So, I begin my freelance tourism.
And did I get work? Yes. But does being an English-speaking and English-writing native give me an advantage? Not really.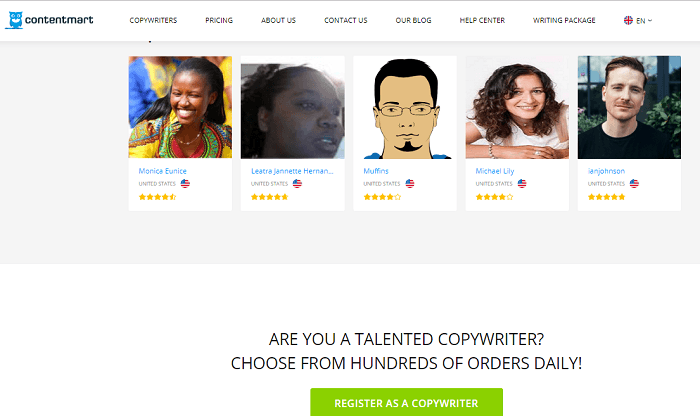 Getting Started with Contentmart
Those looking to write for Contentmart must scroll to the bottom of the opening page. A "Register As A Copywriter" button rests below a statement saying copywriters have thousands of orders to choose from "daily!"
Hitting this link brings prospective writers to a sign-up page. It asks for name, email, birthday and whether you are in the market for content or are a writer. Humorously, you can select "client," which assumes you need content, or "writer," which you can choose because you "need money." (Well yeah, that's an accurate description.)
Completing the initial sign-up form brings you to a profile page. There are five rather lengthy steps asking for a decent clip of information that describes your writing ability. We're talking clips, tests, areas of expertise, that sort of thing. It took about an hour to fill in all the information adequately.
There were some interesting aspects to the exercise that is new to me:
Phone number – They send a verification text to your cell phone. A landline won't work for this, which was an issue for me because I live in an area with no reception. But, I managed.
Tests – The English test measured my understanding of how the language is used in the United States. Included in the three-part exam (beginner, intermediate, and advanced) were a number of questions dealing with rhymes, common clichés, and word usage. They were pretty simple for a native speaker. A U.S. citizen who watches a couple hours of television a week and picks up a book once in a while will be OK. My guess is that you can't handle these questions, then you are not fit for work here, thus cutting down on writers who are not that familiar with English. There were tests in the more than 20 languages, so if English is not a writer's strong suit then…
Time – It took a while to get everything done, about an hour – and I had everything ready to copy and paste into the requisite areas.
Landing a Job at Contentmart
But the time was worth it.
After completing 100 percent of my profile, an item Contentmart measures, I was immediately accepted into the crew of writers.
The queue of open orders was available to me.
Though, I couldn't apply for any of those jobs until my account was activated. It took a weekend and a message to the staff to get things going.
After gaining access to the bid system, I played my cards on a couple of projects hoping my native English skills would be an advantage. Many of the messages left by other freelancers, the majority Indian, had poor grammar and syntax errors.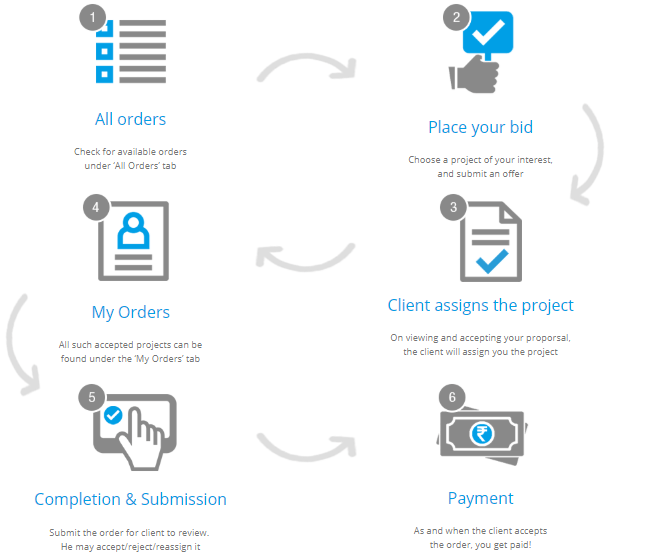 How Contentmart Works
Bidding is the backbone of Contentmart. Freelance writers bid on projects, competing against a number of writers.
Once selecting a project from the more than 10-plus pages of projects, freelance writers hit the "Bid on Order" button. This takes writers to a page where they can place a bid and a message to the client. There are also more details of the project here, such as pay rate, project description, SEO requirements.
You can also see other bids on the project. Most of those are from freelancers from other countries, mostly from India. One of the reasons I liked this site is that I may have an advantage as a U.S. resident and native-English speaker.
All work goes through a spell check, plagiarism check, and an SEO analysis based on client needs. These tools do provide useful information, though some of the results from the AI checkers are questionable.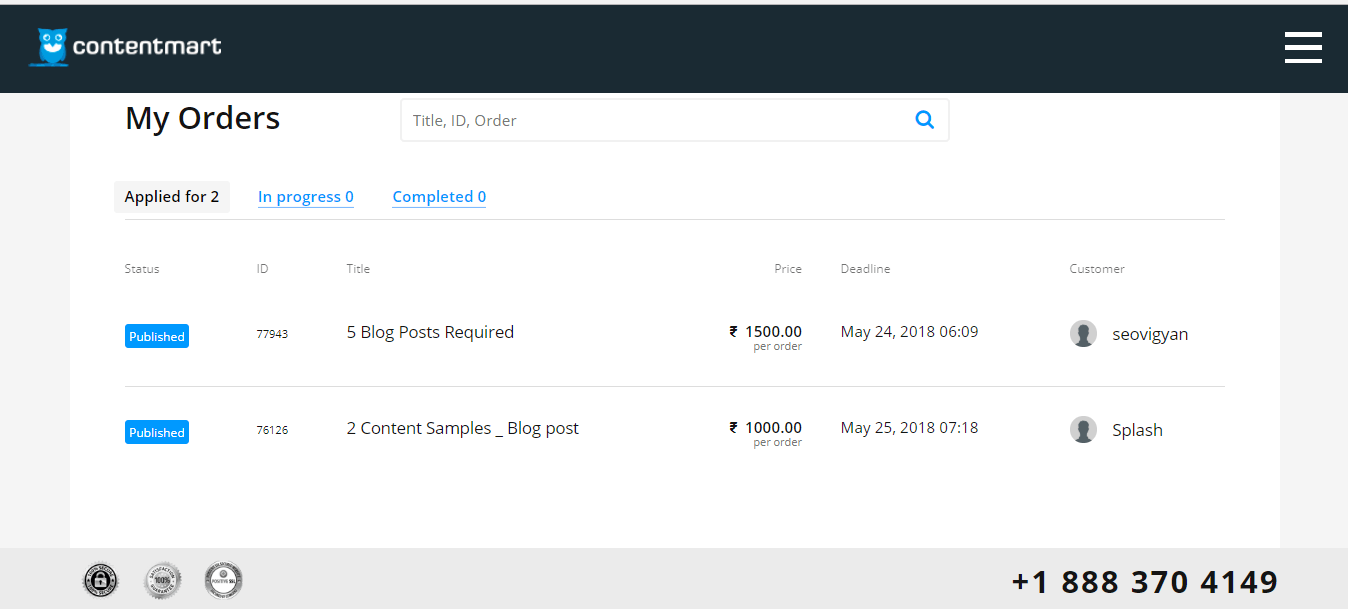 Working at Contentmart
Having worked for this site for a couple of weeks, I did have the following experiences. For one thing, the functionality of the site is not up to the standards of what I've seen with U.S.-based content mills. For instance, I could not:
Search by client
Accept a project on my profile. Instead, I needed to go into my email, accept a project, which brought me to section where I could complete the work.
Cash out until I earned $50.
Find too many decent-paying jobs.
With regard to this last item, there were a lot of projects that paid about .007 cents a word. This means writing a thousand-word article for about $7. Also, mixed into the queue were a bunch of gibberish proposals.
On the plus side, there were lots of proposals to choose from. And among those were some decent-paying projects that were worth a shot. I found a couple clients that were indeed interested in me because I'm from the United States.
I would receive messages from them to apply for work when the projects were available. But the time difference often made it difficult for me to promptly bid for the proposals, which is a problem because there is a lot of competition.
Getting Paid by Contentmart
Contentmart takes 20 percent of the cut paid to writers.
Unlike many other sites, there is a pretty high monetary threshold to meet before you see money from Contentmart. A writer has to earn $50 or more before funds can be transferred to a bank or PayPal account. Also, there were directions for Indian-based writers, which included a rupee threshold.
This is a pretty tough goal since getting high-paying work is difficult. There is plenty of low-paying work, but it takes a lot of time to reach $50 threshold.
Reviews of Contentmart
Many reviews of Contentmart are from Indian-based writers, who very politely complain about the same things U.S.-based reviewers complain about – pay. They say projects don't pay enough and that working full time is the only way to make this a good option.
And there were also many reviews praising Contentmart, saying the site is among the top companies of its kind in the country. There was also a fair amount of brown nosing.
Reviews from U.S.-based writers were pleased with the ease of the site. They were happy with the sign-up process, immediate acceptance, and decent pricing. Though, none of them followed through with information about how and whether they get paid.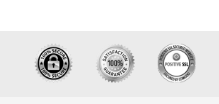 And there were a couple of things I noticed:
Proof that this is a foreign company, which wasn't immediately apparent, can be found here. There are three tiny round emblems on most pages that are meant to advocate safety and guarantees. But a closer look at shows no affiliated link to companies like the Better Business Bureau. The emblems say things like "100% Guarantee" and light up when you mouse over them. But these images are not linked to a certification.
Pros and Cons of Contentmart
This site seems venerable. According to reviews and press, Contentmart is among the top content sites in India.
And, in my opinion, these pros are well earned.
Pros
Signing up was easy, though a bit time-consuming.
The pay is low to fair and vary depending on the project.
May have advantage over non-native English speakers.
Immediate acceptance to Contentmart is a plus.
Well-designed site is simple to use.
Their blog page contains a lot of useful information about writing for online clients.
Cons
Only competitive bidding process for projects, which could eat up time looking for work.
Not all projects are lucrative. In fact, many are not.
Detailed instructions from clients are hit or miss.
A few questionable items like the three emblems.
One still has to bid on repeat work from a client. Thus, a repeat client may or may not choose you again making it hard to establish relationships.
Recommending Contentmart
Contentmart, in my opinion, is definitely worth a look.
Every step of the way was simple and I was able to start bidding on jobs after a few days.
And, I felt like I had an advantage over other freelance writers. Others looking for work used bad English in their messages to clients, which made me feel like I could make a better first impression. My theory was only heightened by more successful writers on the site, who put more effort into this initial message.
And I think I was right, at least to a point. There were a few clients to Contentmart interested in my skills because I live in the United States, but I couldn't say my origins were a huge advantage.
But, I imagine I stood out as I think I saw only one other writer from the U.S.
I have to admit, I was hesitant about going to a non-U.S. based company. My experience writing for foreign clients has always ended with me chasing clients for money, one of them never paying.
But, Contentmart has my confidence. The company spent a lot of time making a user-friendly site and the content queue is full. This latter idea makes me feel they've been doing things right.
I would recommend this site for newbies to freelance writing because of the volume of jobs. Seasoned writers could do OK here, but finding decent jobs could take a while.
As a writer, you have an in-demand talent that can be used to earn you TONS of money online. You can earn money freelance writing, for sure, but it's still just trading dollars for hours. Personally, I recommend starting your own website! Information is the currency of the internet, so why not leverage your talents to build yourself a serious online income! Learn how to create your own blog-style website and make money through advertising.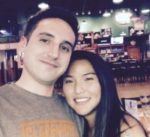 Nathaniell
What's up ladies and dudes! Great to finally meet you, and I hope you enjoyed this post. My name is Nathaniell and I'm the owner of One More Cup of Coffee. I started my first online business in 2010 promoting computer software and now I help newbies start their own businesses. Sign up for my #1 recommended training course and learn how to start your business for FREE!