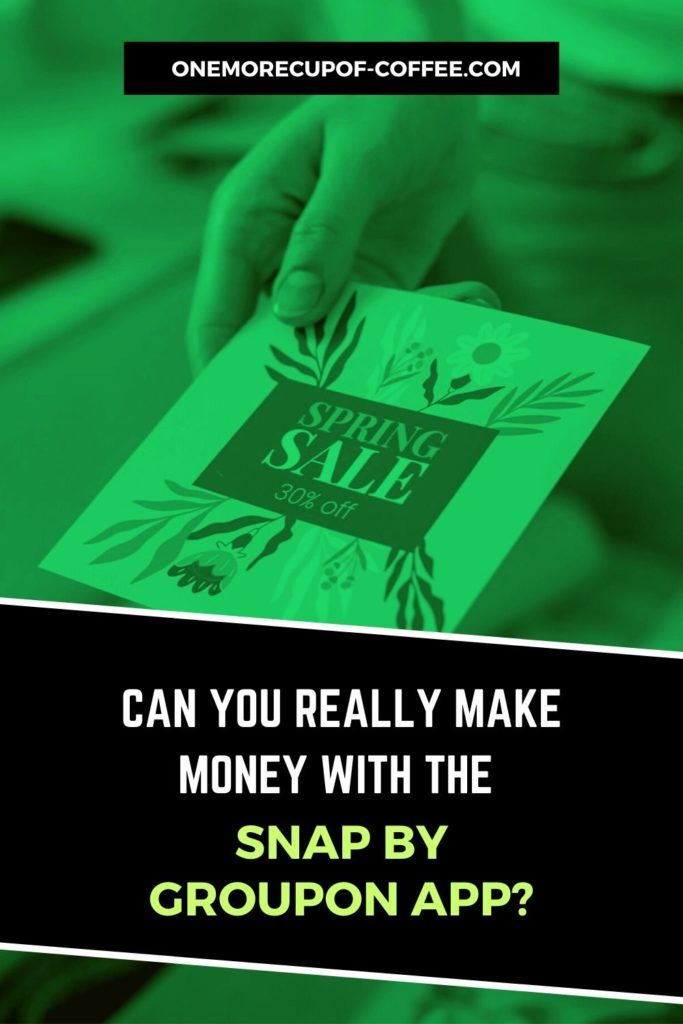 Everyone wants to earn or save a little bit of extra money—and this Google Play store offering promises to help you do just that! But can you really make money with the Snap By Groupon app?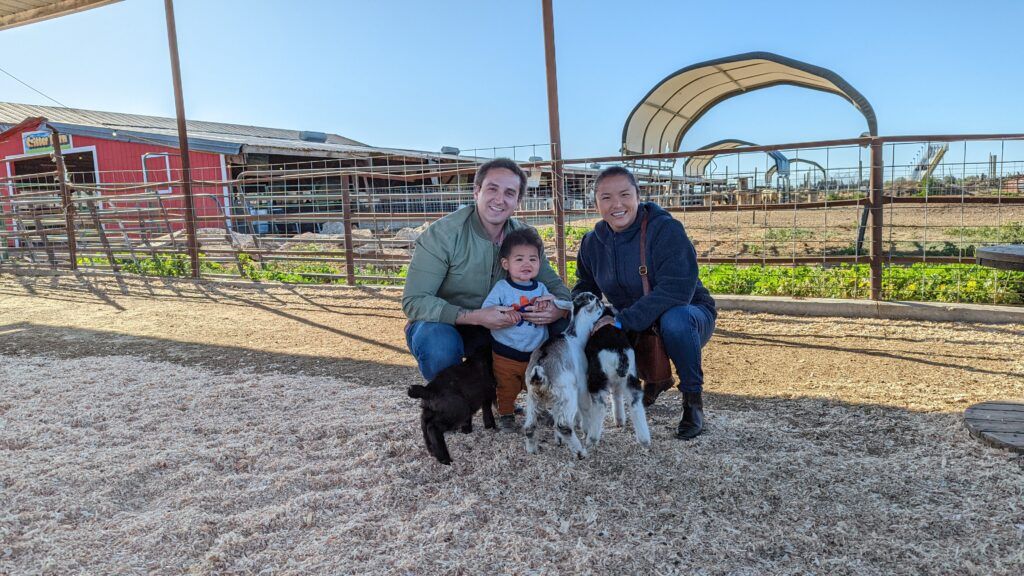 Are You Ready To Work Your Ass Off to Earn Your Lifestyle?
Are you tired of the daily grind? With a laptop and an internet connection I built a small website to generate income, and my life completely changed. Let me show you exactly how I've been doing it for more than 13 years.
That's what I was determined to find out as soon as I heard about it.
I've reviewed a lot of coupon and cash-back-reward-type apps in the past, and some of them have actually been quite decent.
But is Snap By Groupon a winner? Or is it one of those that's destined for the 'dark beyond'… the 'uninstall' button?
Making Money With The Snap By Groupon App
There was only one way to find out the answers to my questions. So I downloaded the app and tried it out. Here's what you need to know.
What Exactly Is Snap By Groupon Supposed To Do?
The description of the app, as found in the Google Play store, reads like this…
"Snap by Groupon is a great way to save money at places where you shop every day."
This seemed straightforward enough to me. The app has been downloaded over 500 thousand times, and has a 3.8 star rating—which isn't terrible, but not necessarily 'awesome' either.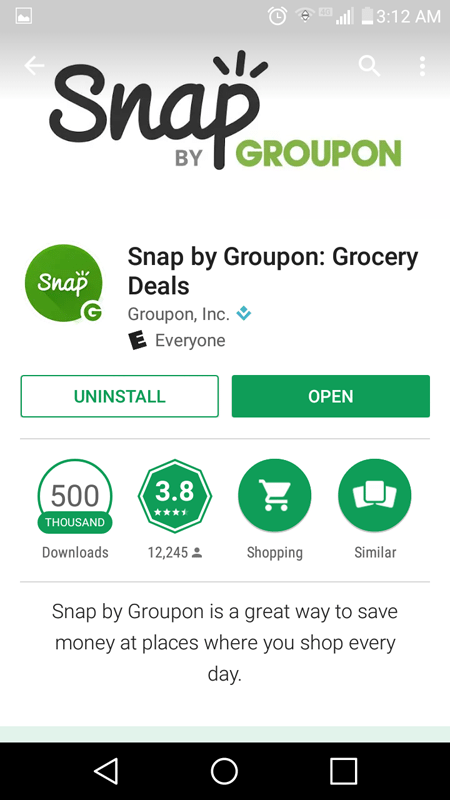 I took a closer look at the Read More section of the listing as well and found basically just a buffed-up description like the one we quoted above.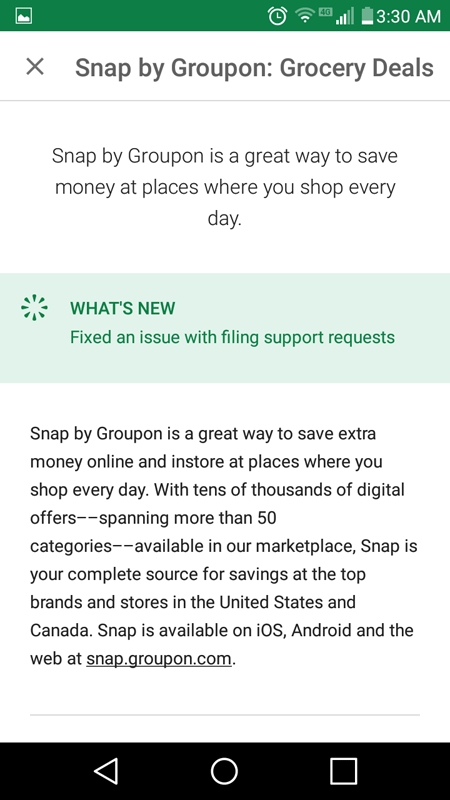 But I obviously wanted to know if I could actually earn cash with it—because that's the entire goal here.
Could I earn some extra money with this app? Would it work? Would it live up to the hype?
Here's what happened when I fired it up for the first time.
Opening Up Snap By Groupon
When I opened up Snap By Groupon, I was greeted with this page…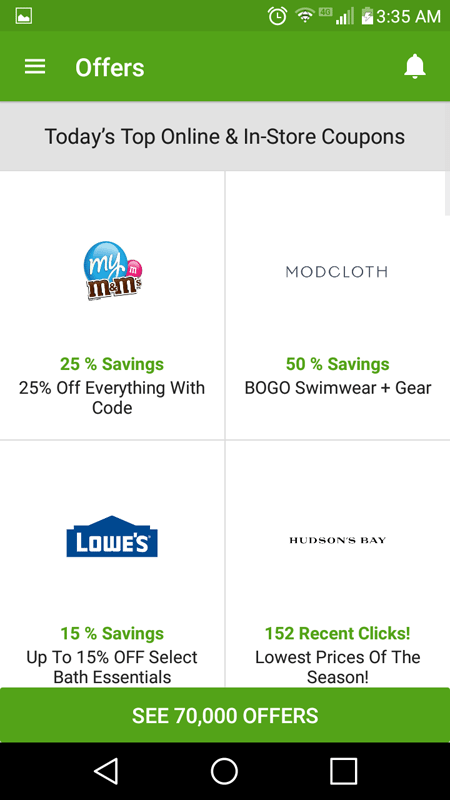 There was a drop-down menu icon at the top left, a notification icon at the top right, a listing of 'Today's Top Online and In-Store Coupons,' and a button across the bottom of the screen that said 'See 70,000 Offers.'
Just to start figuring out what was going on, we opened up the drop-down menu… which gave us these options.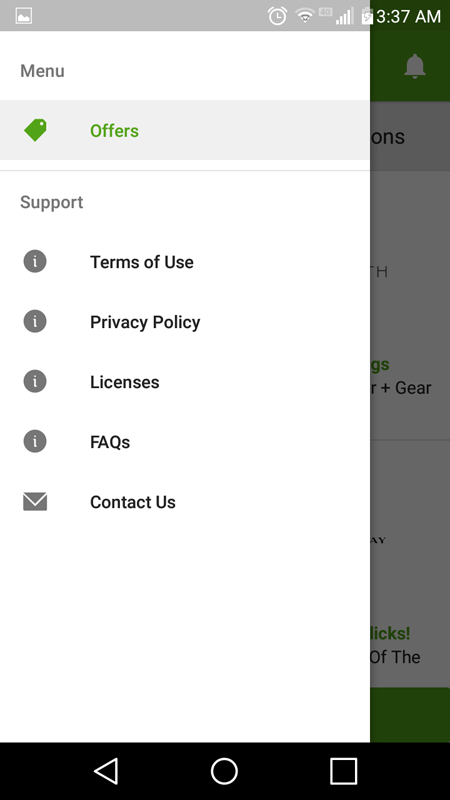 As it turns out, we were on the 'Offers' page, but there were also a few other page options that we could scroll to. One of them was 'FAQs,' which is what we clicked on next.
Alright. The FAQ section really helped me to understand exactly what was going on with this app. Apparently, as of back in 2016, Snap By Groupon transitioned from a shopping app that gave you cashback to being a shopping app that just offered retailer-specific promotions.
In other words, Snap By Groupon is no longer an app that will actually give you cash. Instead, the app is now dedicated to helping you save money by offering retail store-specific promotions, in the form of coupons and advertisements… basically.
But how, exactly, do these promotions work? They're actually pretty simple to use. In the next section, I'll explain.
How The Promotions On Snap By Groupon Actually Work
Here are how the promotions work on Snap By Groupon. First, I'll click on a listing for My M&Ms. Here's a screenshot of the page.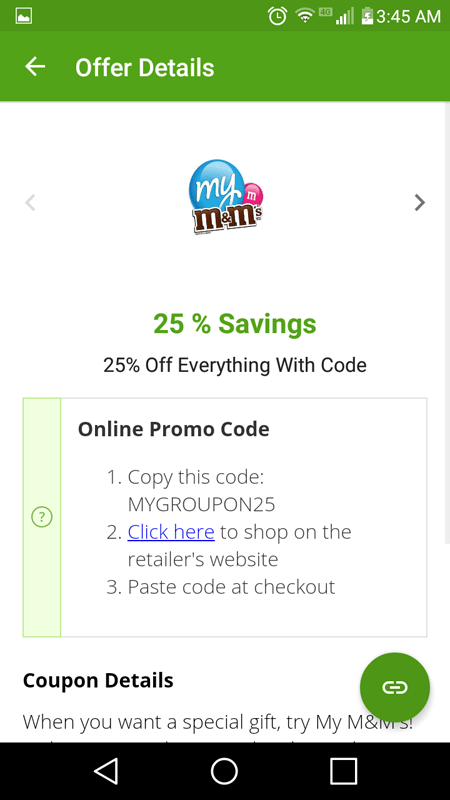 So basically, this listing is giving you a coupon code that you can use to save up to 25% on items from this retailer… which is pretty cool. All you need to do is follow the link in the app to get to the right store, and then paste the code from the listing into the code box at your checkout—and you're good to go.
But not all of the listings were like this.
Here was another listing for a company called MODCLOTH.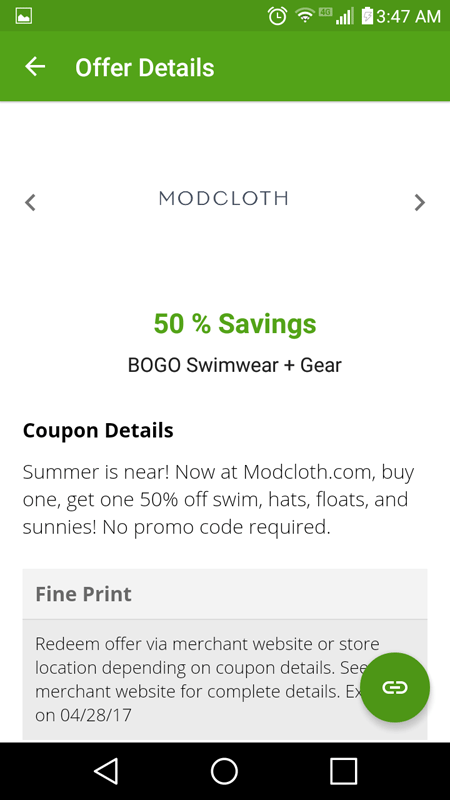 You can use the green link button at the bottom-right side of the screen to visit the website—but other than that, the only real purpose this listing serves is to let you know that the sale is going on. That's it. It's almost more like an advertisement than a coupon-app listing—which was a bit strange to me, but there are some reasons that I can think of for this.
First of all, Snap By Groupon used to be an app that offered cash rewards, but this changed back in 2016. So, the app probably already had a lot of users at that point, and the company might have figured that making this transition, after already gaining some users, wouldn't be nearly as difficult as trying to start up an entire new app with the concept.
I mean, a cash-back app is sure to attract more users than a coupon app (I would tend to think so, anyway—but I could be wrong).
But Snap By Groupon has turned into more of a coupon app than anything else—and there is nothing wrong with that. But, I feel that this is an important thing to point out at this point in time.
Anyway… for the most part, these were the only types of listings that I found on Snap By Groupon.
I did find some listings that seemed to have a record of the number of times that they had been clicked on…
(Like this one…)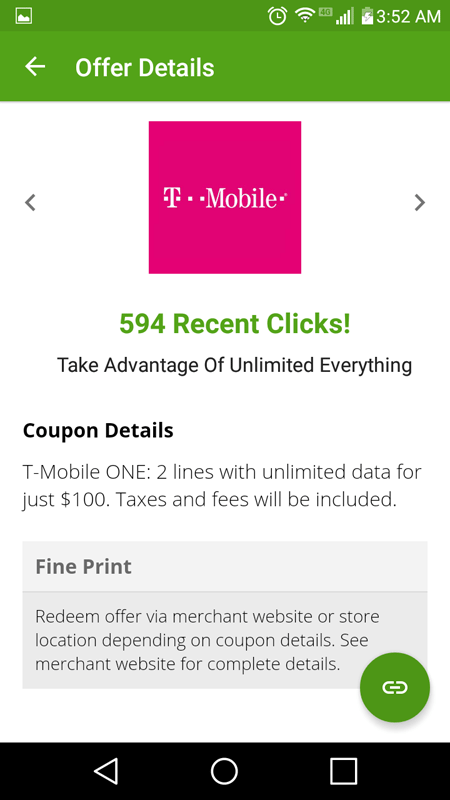 But these just seemed to be glorified coupon listings. Actually, to call them coupon listings is still not entirely accurate, especially for listings just like this one. These were more like advertisements than coupon listings. 'Coupon listing' is more the word I would use to describe the listings that had the coupon codes in them.
And finally, there is the big 'See 70,000 Offers' button located at the bottom of the screen.
What exactly is that all about?
Well, I clicked on it… and was promptly taken to groupon.com, which looked like this.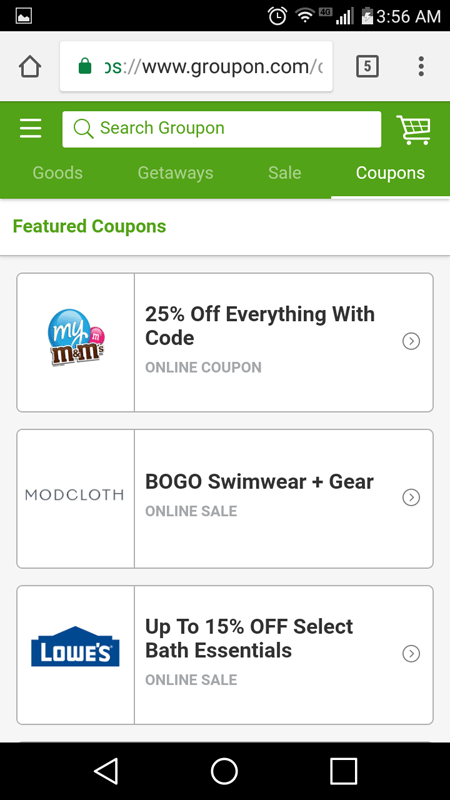 So, that was that. The website was like a glorified version of the app, but they say that you can find 70,000 offers on it.
Is this true?
Well, it might be… if you count every offer in every store that's listed on the website. There are, admittedly, a lot of stores with offers available. So finding deals is pretty easy. You just need to do some looking around.
The website does seem easier to browse, and it has a search bar. But both it and the app are pretty similar in most respects.
There might be more offers on the website. That was a bit difficult to determine just from scrolling around—but it seemed that way to me just based on what I was seeing as I looked at the two side-by-side.
At any rate, this brought me to my conclusion.
What Did I Think About Snap By Groupon After Taking A Look At It?
First off, I think the app works very, very well. I feel like it's pretty fool-proof too. You really can't go wrong with it. It doesn't cost anything to use.
It just takes minutes to browse, and the system is so simple that you really can't run into any real problems with it. Everything is based around the coupon codes and the advertisements for businesses.
With that being said, this isn't necessarily going to be an app that's going to make you money, in the most basic sense of the word… but it is an app that can save you money.
And a penny saved is a penny earned, right?
I actually feel like this is a pretty cool app. All it really does is offer you a bunch of advertisements/coupon codes for sales at major and medium retail stores—which is pretty neat.
Granted, you need to spend money to save money with this app. That makes it best when you can manage to find savings for regular purchases with it, which might not happen very often.
But—the app doesn't penalize you for not using it on a regular basis either, like some other shopping/coupon apps tend to do—so that's a positive factor for it as well.
The Google Play reviews were mixed… but there was a lot more good than bad. I guess the major changes to the app happened when it was acquired by Groupon, so it seems like the reviews have sort of declined after that point. People began to see it more as a portal to the coupons section of Groupon than an app with a real purpose beyond that—and to be honest, I can understand that complaint.
There is also no search feature on the app itself—which is kind of frustrating. This means that you need to scroll through the listings search-and-destroy style, hoping that you'll stumble onto something you want, instead of just being able to search the way you would like to.
But, have no fear—you can search on Groupon.com!
Snap By Groupon is perhaps only a shadow of its former-self—but it still has some merit. Not a lot, to be fair—but some. Enough that it's worth a flip-through now and then, by the chance that you might see a coupon code to your favorite store featured in the listings.
It's nothing to write home about—but I wouldn't call it a total waste either. It's just an app that can save you some money.
Our Final Thoughts About Snap By Groupon
Should you download and use this app on your phone?
The Snap By Groupon App Review
Honestly, there are tons of various apps that claim to help you "make money", but really there are two facts to consider. 1) Most of them don't actually work. 2) If you can make money, it's not going be very much. If I'm going to spend any amount of time working online, I want to be working for myself by building my own profitable website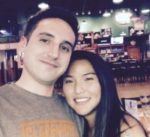 Nathaniell
What's up ladies and dudes! Great to finally meet you, and I hope you enjoyed this post. My name is Nathaniell and I'm the owner of One More Cup of Coffee. I started my first online business in 2010 promoting computer software and now I help newbies start their own businesses. Sign up for my #1 recommended training course and learn how to start your business for FREE!