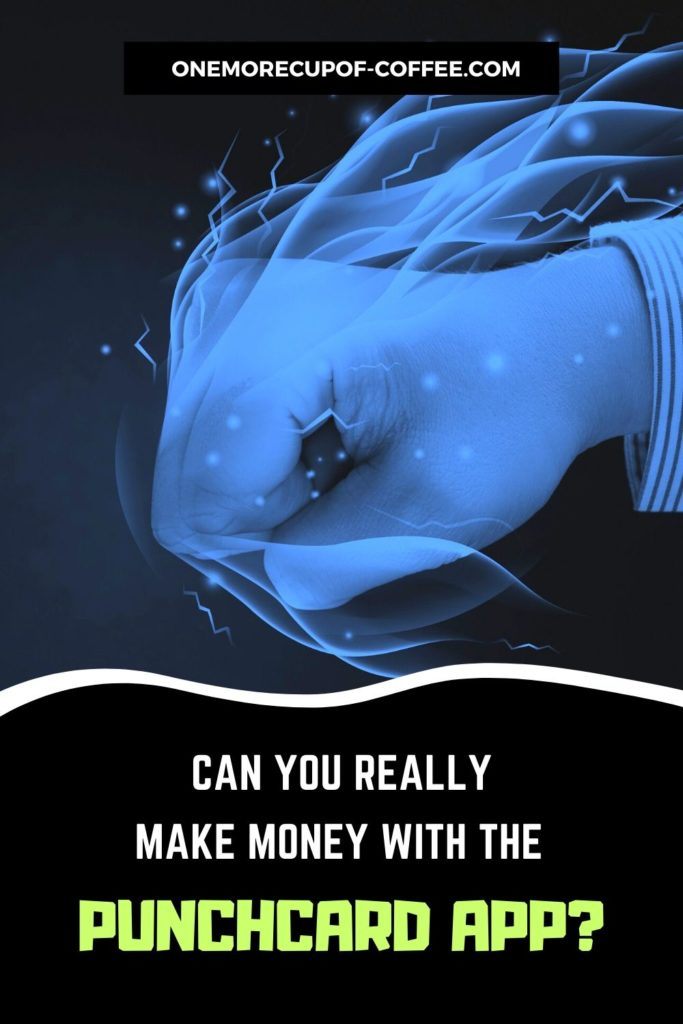 This app claims to give you 'rewards' everywhere you shop! But can you really make money with the Punchcard App?
I recently found this little gem on Google Play, while researching apps that can help you to make some extra cash. It's been downloaded 100,000 times, has a Google Play rating of 3.0 Stars, and has been reviewed by over 2,000 users—so it certainly has a sizeable user base.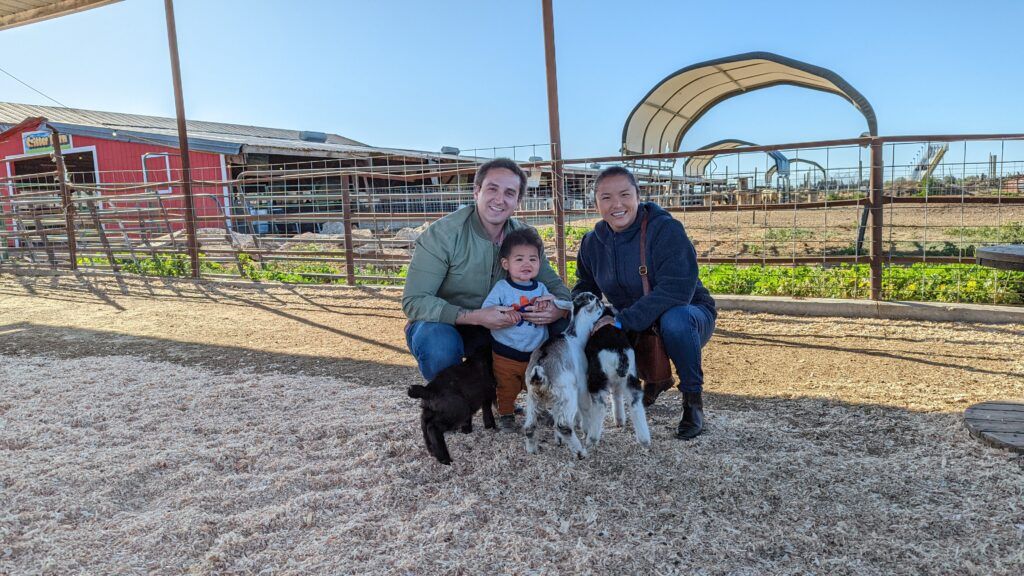 Are You Ready To Work Your Ass Off to Earn Your Lifestyle?
Are you tired of the daily grind? With a laptop and an internet connection I built a small website to generate income, and my life completely changed. Let me show you exactly how I've been doing it for more than 13 years.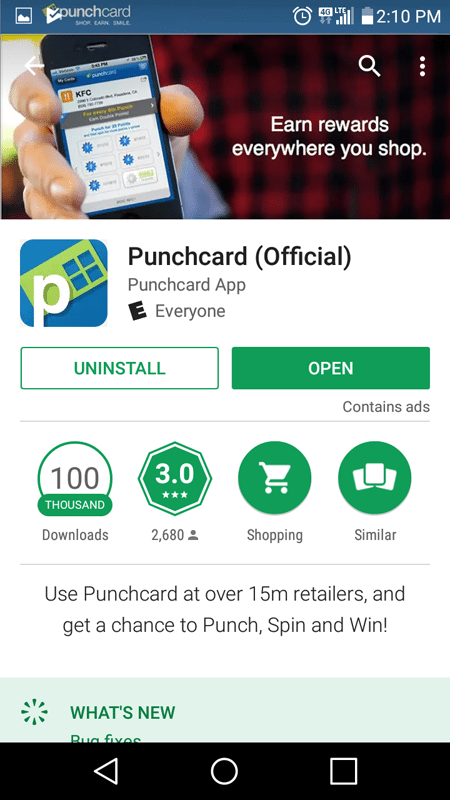 But, it also looks like it may face some challenges in my review process. First of all, the 3.0 rating is a bit low for my taste. I have found that apps with 3.5 stars or more are much more likely to get good feedback from me—but then again, there are always exceptions to this rule.
Secondly, the app has been downloaded 100,000 times, which is pretty impressive. But, I have also found that apps with more like 250,000 downloads are much more likely to strike my fancy… so that is also something that I usually take note of.
I will also say that finding apps that are worth the time is difficult these days. A lot of apps try to do the same thing, with the only difference being how they look. Sometimes they have slightly different functions, but a lot of them are just cookie-cutter copies of one-another that all face the same basic problem.
They don't pay out well enough to make using them worth the time.
But, will Punchcard rise to the challenge and overcome this hurdle?
I am always willing to give an app the benefit of the doubt—so let's get into it and see what it's all about.
Making Money With The Punchcard App
To look at the potential for earning through the Punchcard app, we're going to step through the processes of using the app and see how it performs.
Getting Started: Opening Up Punchcard For The First Time
Opening up the app for the first time brought me to this basic introductory screen.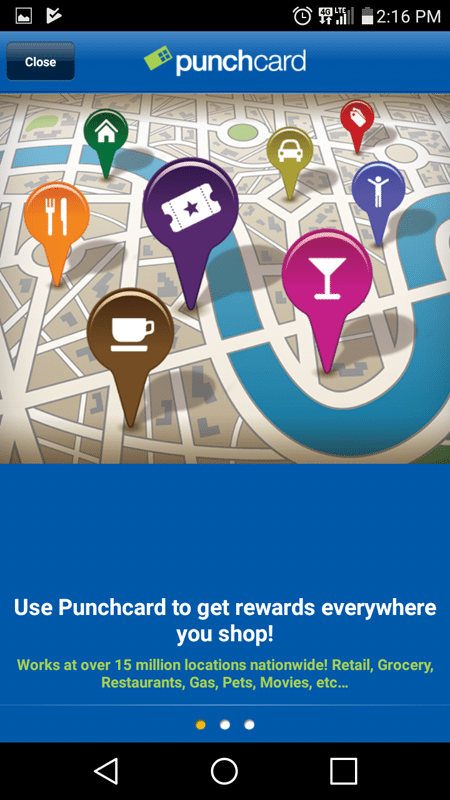 There were actually a few different screens here that you could scroll through to learn more about the app. I scrolled through them, and here is what I learned…
Use Punchcard to get rewards everywhere you shop
Just snap a picture of your receipt to punch a card
Get a chance to spin and win every time you punch
Ok, so thus far, it looked like this app was a combination shopping and lottery-type app. This seemed like a fun idea, so I was excited to learn more.
I pressed on, and found myself at a sign in screen. I chose to use my Facebook to sign in, which was very easy. This brought me to what seemed to be the main 'hub' of the app.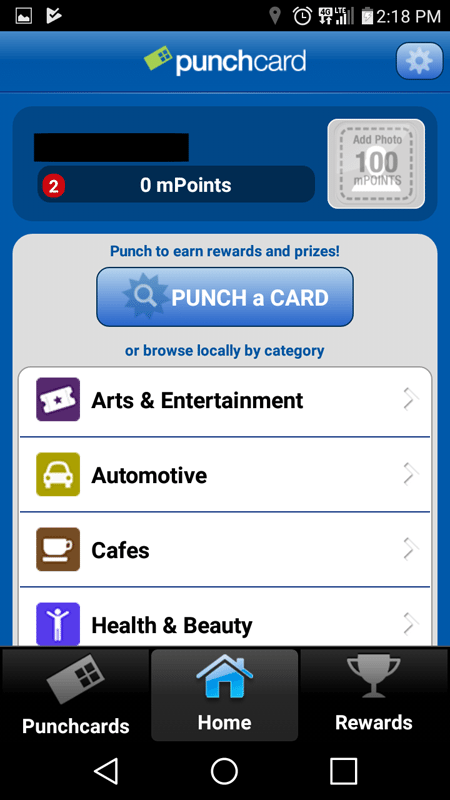 Here, I saw a list of categories, a spot where I could upload a photo for 100 free points, and a button that I could press to punch a card, as well as buttons along the bottom for Punchcards, Home, and Rewards.
Earlier, I had gone to my favorite store, Wal-Mart, to get some stuff for lunch (that's a dirty lie … Wal-Mart is not my favorite store), and I had come back with a receipt… so I decided to scan it to see what would happen.
The scanner was quite easy to use. I brought it up by hitting the Punch a Card button on the main hub. Once I had taken a picture of it, a wheel appeared that I was apparently supposed to spin to try to earn mPoints.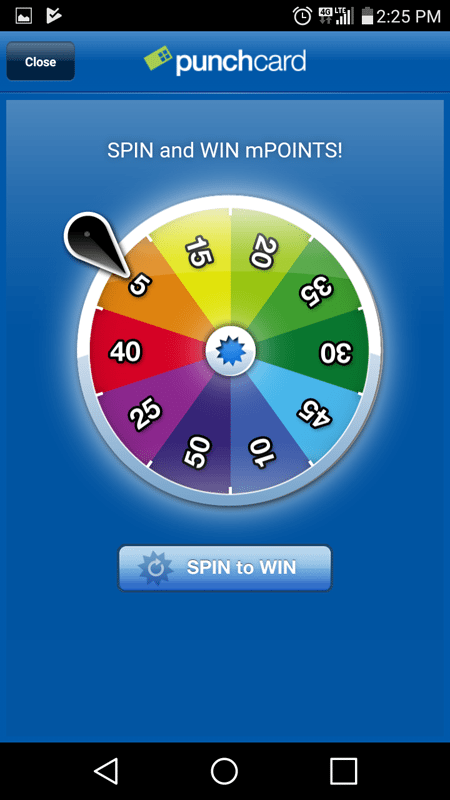 Thus far, I had earned 5 points, by using the spinner. I also now had a much better idea of how the app worked.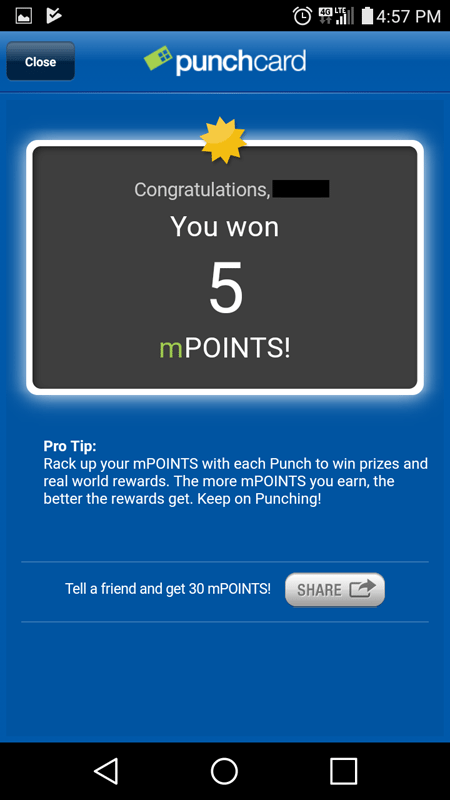 Unlike other receipt apps that I have used, where your rebates (or rewards) are based on coupons or what you bought, this app works differently. Instead, receipts give you spins on the wheel, where you seemingly win random numbers of points, determined by how well your spin goes.
I also realized that you start a 'Punch Card' for each business you submit receipts for. They basically look like this.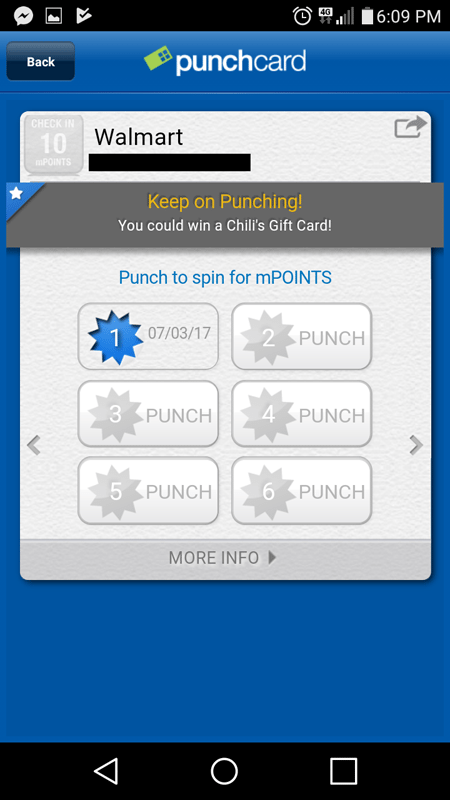 As you can see, I had already punched it once for my receipt. It seems like I had a chance to win a gift card if I finished the card—though I will admit that I saw no real, concrete incentive beyond this to try to do so.
But, I did find myself curious about the points. What could I get for my points? What kinds of rewards could I trade them in for?
These were the next questions I wanted to answer for myself, so that's what I looked into next.
What Can You Get For Your Points In The Punchcard App?
I checked out the rewards section of the app… but I'm surprised to say that I could not find what I was looking for (It turns out I didn't look hard enough… but more about that in a moment…).
I know that you can get prizes for your points, but it looks like it only shows you the prizes that you qualify for… not any others. So, since I didn't have many points, I couldn't see any prizes.
To try to move past this shortcoming, I decided to turn to the Google Play Reviews, to see if other users had shared any information. So that's what I took a look at next.
Upon looking up this information, I immediately learned that you can rack up points to earn gift cards to popular businesses. But I still didn't know how many points you needed to earn real cash.
But, I did learn that the app is connected to something called mPoints. This makes sense, because that is what the points are called within the app… mPoints.
But, upon Googling this, I realized that mPoints are now called mPLUS points. But, upon trying to visit the home page, all I really found was a link to the main mPlus point app… which seems to be where you trade in points?
I was not completely sure how this all worked, to be honest. But, I decided to go back to the app, because I had a feeling that I could somehow gain access to the mPLUS rewards from there—and I was absolutely right. Here is what I found under the 'featured' section…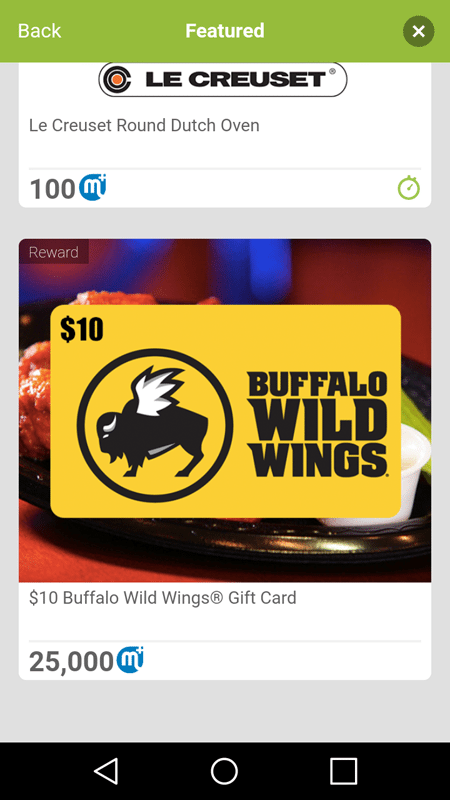 So, I could get a $10 gift card to Buffalo Wild Wings for 25,000 mPLUS points.
Now that we had a conversion rate, I could figure out what each point was worth.
Dividing 25,000 by 10, we come up with 2,500 points. This is how many points you need to equal $1. Then, dividing this by 100, we come up with 25. So, you need 25 points to equal one penny.
I will be really honest—this is a pretty low conversion rate. My wheel spin only granted me 5 points, and I heard a lot of people in the reviews say that they never spun above 10 points. That is pretty slow going for uploading receipts.
I realize that you also get the punch cards and can earn rewards that way, but I wasn't impressed with how many points you needed to actually earn concrete rewards.
So yeah, my final opinion of the app was definitely shaped by this discovery.
Do I Personally Feel Like Punchcard Is Worth The Time?
Personally, no. I usually like receipt apps, like Checkout51 and Receipt Hog. In fact, they tend to be some of my favorite apps—but this app almost took away everything that I liked about them and made the idea into something that I just didn't like.
Here is what I like… consistency and flexibility. This app offers plenty of flexibility, because it allows you to earn points from wherever you are. But you are also limited by how many receipts you can scan, so that's kind of a problem.
And it doesn't really give you consistency at all. If all you are getting is 5 points a pop, you are going to be doing this A LONG TIME before you could EVER hope to redeem your points for anything.
And therein lies my real problem with this app. It is almost luck if you actually win anything, and I am not into that idea. I like to create my own 'luck' by putting in the time and working hard for something that I know will have a good chance of working.
I don't wish to waste my time hoping that it will pay for itself. If I wanted to do that, I would use my money to play the lottery and keep playing until I won.
No, I want to know that my time is going to pay off in the long run… and the fact that Punchcard can't seem to do that is probably my biggest criticism of the app.
Punchcard was kind of fun and did some good things. If you don't really care if you ever make much extra cash, then you might like it. You might also like it if you have other ways of earning mPLUS rewards, but just want to use the receipt scanner to add to your efforts.
But outside of these cases, I just don't see how this app is really going to appeal to anyone looking to make any real extra cash.
Our Final Thoughts About The Punchcard App
Should you download it and use it on your phone?
The Punchcard App Review
Honestly, there are tons of various apps that claim to help you "make money", but really there are two facts to consider. 1) Most of them don't actually work. 2) If you can make money, it's not going be very much. If I'm going to spend any amount of time working online, I want to be working for myself by building my own profitable website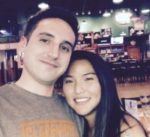 Nathaniell
What's up ladies and dudes! Great to finally meet you, and I hope you enjoyed this post. My name is Nathaniell and I'm the owner of One More Cup of Coffee. I started my first online business in 2010 promoting computer software and now I help newbies start their own businesses. Sign up for my #1 recommended training course and learn how to start your business for FREE!