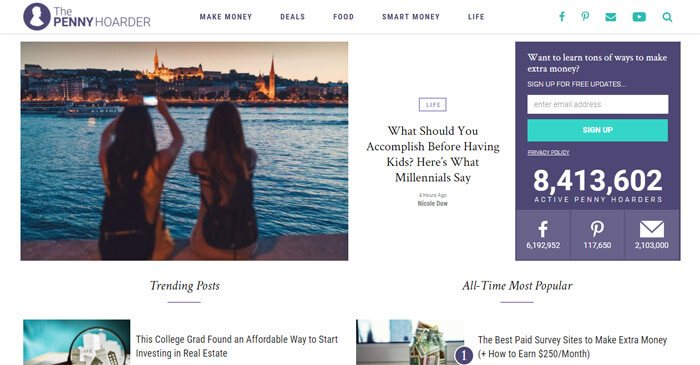 As you likely know, the Penny Hoarder (located at www.thepennyhoarder.com) is a website mostly dedicated to personal finance and living a simpler, more frugal existence.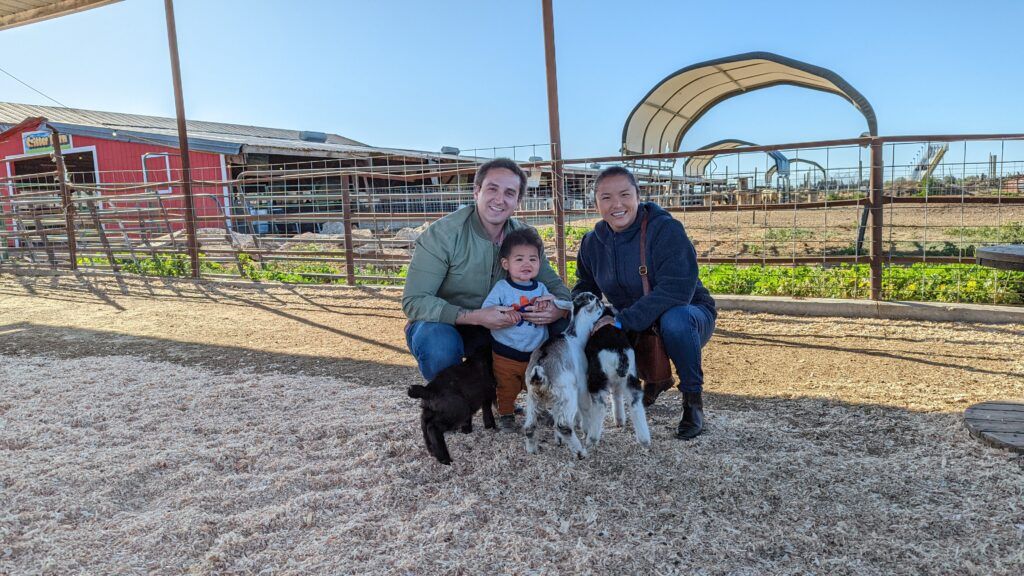 Are You Ready To Work Your Ass Off to Earn Your Lifestyle?
Are you tired of the daily grind? With a laptop and an internet connection I built a small website to generate income, and my life completely changed. Let me show you exactly how I've been doing it for more than 13 years.
But they also do a surprising amount of research and fact-finding for people looking to earn some extra cash… and they even post some of their own money-making opportunities on their site. But can you really make money with the Penny Hoarder website?
Making Money With The Penny Hoarder Website
To talk about making money with the Penny Hoarder website, we first need to look at what the site is.
I've always been a huge fan of this site. In fact, I have been following them on social media for over a year now, and I visit their site anytime I see that they have posted something interesting.
I am a self-proclaimed minimalist, and I find myself drawn to the types of articles and the specific sort of content that the Penny Hoarder puts out. But I have recently been looking even closer at the site as a possible means for finding a quality side-hustle.
Yes, it might sound weird, but the Penny Hoarder actually does present quite a bit of opportunity for people looking to make some extra cash… especially for those who are looking for freelance writing gigs.
But is it worth the time to look into their site?
It just might be, and in this post, I'm going to tell you why.
Here is our review/overview of the Penny Hoarder, and my official opinion on whether or not they might present enough opportunity to make them worth the time to check out.
The Basics: What Is The Penny Hoarder?
If you visit the About Page on thepennyhoarder.com, you will find this… and it does a pretty good job of describing exactly what the site is.

It is the number 1 fastest growing private media company, boasts 13 million readers per month, has over 5.7 million Facebook fans (of which I am one), and has a staggering 2 million email subscribers.
Anyway, the Penny Hoarder does a lot of legwork in the personal finance niche—and some of that comes from how they cover the topic of making extra money. In fact, there is an entire section of their website dedicated to making extra money, and you can find a tab for it in the main menu tab across the top of the page.
It is the 'Make Money' tab.
But what kinds of opportunities exist on this page? Are there really opportunities that are going to help you, or is it more like generic fluff content?
I did some serious looking-into it, and have collected my thoughts on the matter here.
Can You Actually Make Money With The Opportunities Covered On The Penny Hoarder?
The 'Make Money' tab is broken up into four different parts.
Jobs
Side Gigs
WFH (Work From Home)
Career
We took a look at each of these sections, and decided to cover each one.
So first, jobs.
Jobs On Penny Hoarder
This page is full of articles detailing different jobs that could be applied for by readers. They range from jobs for writers, to articles detailing jobs for companies like Yelp. But the company also publishes articles specifically written by people who have gotten unique jobs, in which the authors share their experiences and give you some helpful information for finding similar gigs.
I love how Penny Hoarder keeps everything updated. They literally publish articles to these pages every few days, without fail… and they apparently do a lot of legwork to research these different opportunities.
Seriously… they post about some pretty obscure opportunities on this site! That makes it awesome, but it also stands as a pretty tremendous testament to the amount of research they must be doing.
Side Gigs On Penny Hoarder
This part of the site isn't so different from the Jobs part in a lot of ways—except that some of these articles detail opportunities that are a bit more 'temporary.' For example, they provide information on writing contests, survey websites, and other similar types of opportunities on this page.
If you are looking for a side-gig, then this is certainly a part of the site that you may want to check out… though they also maintain some information on more permanent gigs here as well. As always, everything is really up to date, and the articles are very high in quality.
Work From Home Gigs On Penny Hoarder
This part of the site literally deals specifically with work-from-home opportunities. They post content ranging from articles with tips and tricks, to researched content about actual jobs that you could literally apply for right now!
And all of it is work from home related, which is pretty awesome.
The Penny Hoarder is really good at finding job opportunities that you don't see every day, which adds an attractive element to their site for people like me, who are always looking for new, unique opportunities.
Career Opportunities On Penny Hoarder
The Career section of their site actually seems to feature a lot of content that is about things like building a quality LinkedIn profile, negotiating a salary, doing well in job interviews, overcoming fear in your business endeavors, etc.
There are fewer actual career opportunities listed here, and more actual 'tips and tricks' to be found. Nevertheless, it is still a worthwhile page to visit, without a doubt!
Can You Actually Make Money On The Penny Hoarder Website?
If you click on the 'Contact Us' link on the website footer, you will see a link that says 'Want to write for us?' If you follow this link, you will find a page dealing with submission guidelines for The Penny Hoarder.
I am not completely sure what this site pays for articles, but I do know two things about it. One, because they do tend to pay very well, submission is a competitive process.
So if you plan on submitting an article to them, you better bring your A-game. And second, I know that they pay out quite a bit… more than enough to make it worth it if you do manage to score an accepted submission.
I have never personally tried to submit a post to The Penny Hoarder, but I have spoken with people who have. Obviously you need to have some compelling content, and you need to be able to share something of real value. You also need to be able to cover a topic that hasn't been covered before.
And anyone who has ever read any of their posts also knows that your writing needs to be pretty top-level.
So yes, there are opportunities to make side-hustle cash on The Penny Hoarder, though I am not necessarily sure that you could count on scoring more than a couple of submission every few months.
It is, perhaps, possible to score a longer-standing writing gig with them if you keep at it—but since I have never even tried to write for them, I do not know anything about this process or how they do it, aside from what they record in the 'Write for us' section.
If you wish to know more about this process, you can visit the website here: https://www.thepennyhoarder.com/contributor-guidelines/.
If you are interested in doing some pretty serious freelance writing work, then I would recommend at least giving it a shot.
My Personal Feelings About The Penny Hoarder
This site is more of an information resource than anything. But, you can use it to find some pretty good opportunities… and therein lies its value.
And yes, there are some money making opportunities on the website itself, but they are rather limited, and you will probably quickly find that they are also competitive… so you may have a better shot at earning some extra income if you investigate some of the third-party opportunities that they blog about.
I have used this site in the past to research different earning opportunities… though once again, I will say that true side-hustle-level gigs are hard to find, even on The Penny Hoarder. And as of yet, the best opportunity that I have found on this site is still probably the opportunity to contribute blog posts to the site itself.
But this is also not an opportunity that seems 'bountiful,' mostly because they do seem to employ some of their own writers and staff. So their need for outside content does, admittedly, seem limited.
But, with that being said, you should give it a try if your style matches theirs, and you should also subscribe to their mailing list to stay aware of current possible opportunities that they may be researching/blogging about.
Who knows? You may find a gold-mine in there somewhere that will really pay off. Plus, their content is helpful in a general way as well. They give you some pretty good information about freelancing as a bonus—even if some of their articles are a bit more 'generic how-to-esque' in style.
I have noticed that it can sometimes be difficult to find true substance in their content (a lot of it seems more general than technical), but that is not uncommon.
Freelancing and side-hustling are not necessarily exact sciences, so you are most likely to score inspiration and potential leads on this site than an actual gig. But… it is still valuable. And for that, we give it two thumbs up and some definite street cred.
You could also check out the Money Crashers website. This has some similarities and offers the chance to earn from articles too.
Our Final Thoughts About The Penny Hoarder Website
Should you sign up for their mailing list and use their blog to help you find a quality side-hustle?
There are a lot of ways to make money online. Some are good, some not, but ALL of them are still just trading hours for dollars.
Starting your own affiliate website really is the best way to build passive income and "make money while you sleep". Affiliate websites earn income in every timezone, and can be instantly accessed by billions of smartphones across the globe!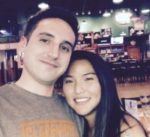 Nathaniell
What's up ladies and dudes! Great to finally meet you, and I hope you enjoyed this post. My name is Nathaniell and I'm the owner of One More Cup of Coffee. I started my first online business in 2010 promoting computer software and now I help newbies start their own businesses. Sign up for my #1 recommended training course and learn how to start your business for FREE!