In 2019, the global market for electric scooters was estimated to be around $18.6 billion. The market is growing, too. Ecological concerns, reducing traffic noise, and the need for fuel-efficient travel options point to solutions like electric battery-operated scooters. There are several types of scooters available. The best scooter affiliate programs include scooters for mobility issues as well as scooters for travel.
If you're interested, read through the following list of the top 10 scooter affiliate programs. At the end of this article, I'll share some ideas for ways you can incorporate these programs into your affiliate websites.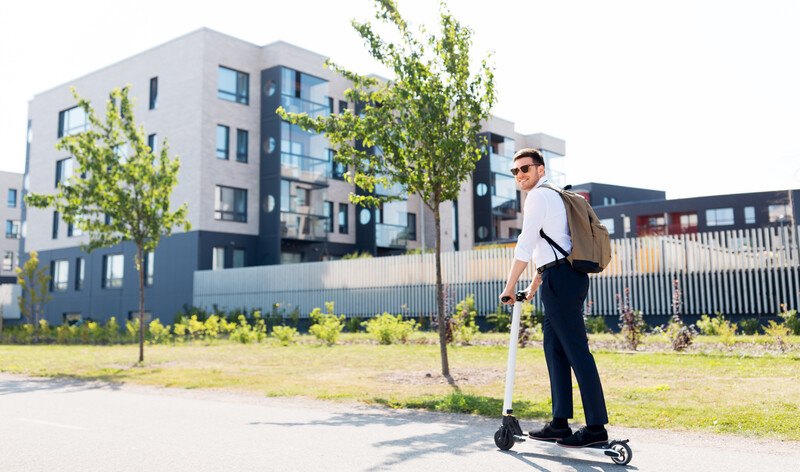 Scooter Affiliate Programs
Segway
Trendy Scooter
All Electric Scooters
Electric Spokes
Pure Electric
Scooters N' Chairs
Swifty Scooters
Megawheels
Drxft
Electric Wheelchairs USA
1. Segway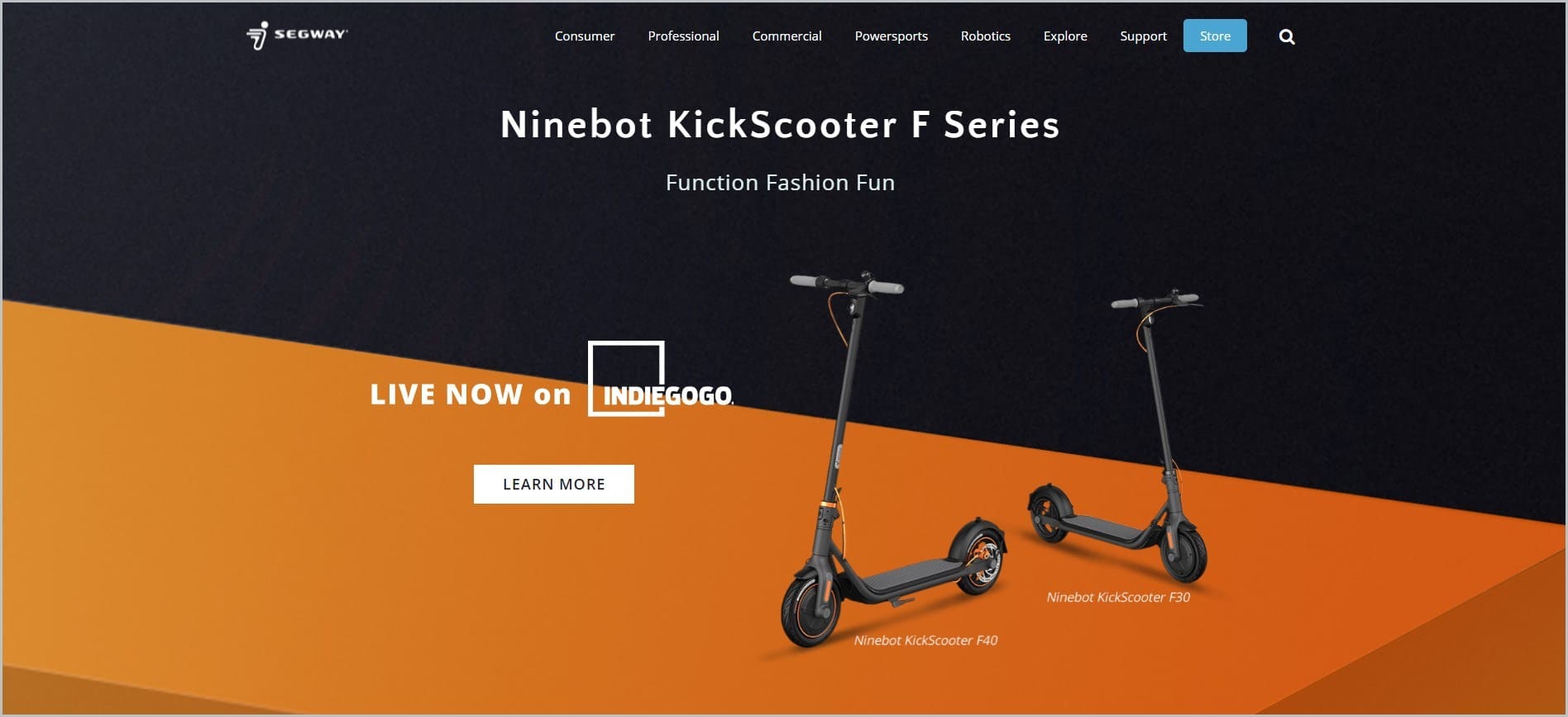 Segway founded in 1999, is the worldwide leader in personal transportation that makes getting around easier. Included in their amazing line of products are the Ninebot KickScooter and Ninebot eKickScooter series.
These scooters feature integrated molding technology, outstanding design, lightweight aerospace-graded aluminum alloy, and more. Segways' line of consumer products is portable, easy to learn and move comfortably and conveniently.
Segway partnered with ShareASale to run its affiliate program. Affiliates will earn a 6% commission with a long cookie duration of 60 days
Why You Should Promote Segway: The brand is known worldwide and a trusted leader in the industry. Aside from their scooters, they of course have other interesting lines of consumer products like the Ninebot S, Ninebot GoKart, Segway Drift, and more.
2. Trendy Scooter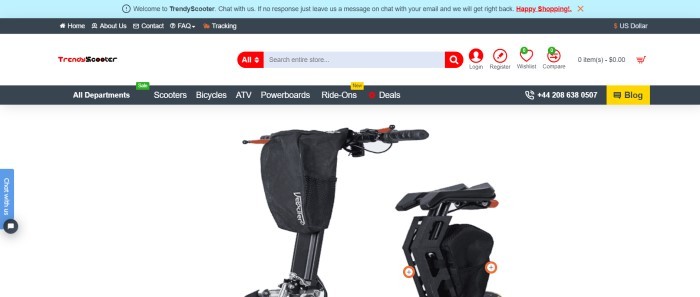 Trendy Scooter is a recreation company that carries both gas and electric scooters, as well as bicycles, ATVs, and powerboards. The scooters, e-bikes, and hoverboards are all eligible for earning commissions with the affiliate program. Other products include ride-on bikes, cars, and trucks for children, dirt bikes, and mopeds.
The website has a deals section, as well as a product comparison feature that allows customers to compare similar items side by side. Customers can browse through subcategories such as motor power, maximum rider weight, recommended age, wheel size, and mileage. The motorized scooters range in price from around $199 for a child's electric scooter to $1,499 for an adult or family scooter.
Why You Should Promote Trendy Scooter: The focus on recreational scooters is fun, the items are mostly high-ticket items, and the commission rate is decent.
3. All Electric Scooters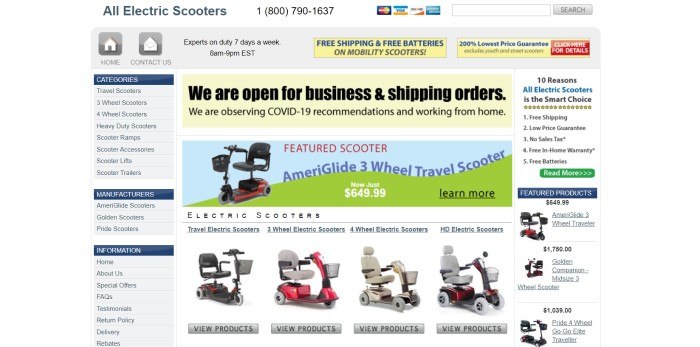 All Electric Scooters sells several types of scooters from well-known brands such as Pride Scooters, AmeriGlide Scooters, and Golden Scooters. The scooters include three-wheel and four-wheel models as well as travel scooters and heavy-duty scooters. This company also carries scooter accessories such as ramps, lifts, and trailers.
Every scooter this company sells comes with a one-year in-home service warranty. The website also contains helpful information so that customers can make informed decisions when they're ready to buy a scooter. All Electric Scooters provides free shipping and free batteries for all mobility scooters, as well as a 200% lowest price guarantee for some items.
The base commission rate of 10% brings in affiliate earnings of $40-$400 per sale.
Why You Should Promote All Electric Scooters: This company has a nice selection of scooters for both mobility and recreation. The service warranty, free shipping, and free batteries for mobility scooters, and the lowest price guarantee could help convert shoppers. The commission rate is nice, too.
4. Electric Spokes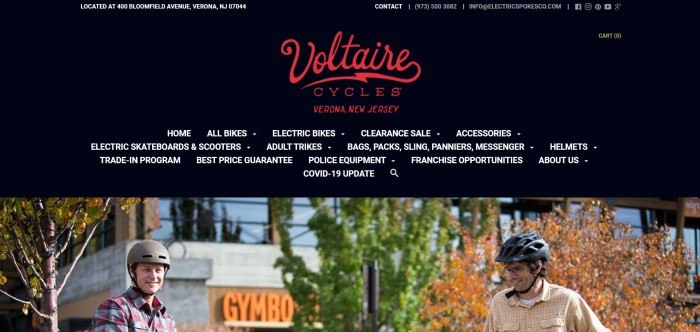 Electric Spokes is the head company for the Voltaire Cycles franchise chain and a leading manufacturer for motorized mobility equipment. Products include several types of electric scooters as well as e-bikes, electric skateboards, Segways, solo wheels, adult trikes, traditional bikes, and accessories such as helmets, bags, and packs. Some products have free shipping available.
The website has a special section for police equipment as well as a tab for franchise opportunities. This company also provides the best price guarantee and a 30-day return policy.
Affiliate commissions are paid out every 60 days. Affiliates have access to regular customer promotions they can use to market the products, as well as dedicated coupons and ongoing affiliate promotions. High-volume affiliates have extra opportunities with specialized customer promotions.
Why You Should Promote Electric Spokes: Electric Spokes has a nice selection of traditional bikes as well as electric travel solutions such as scooters. The best price guarantee could help convert some shoppers.
5. Pure Electric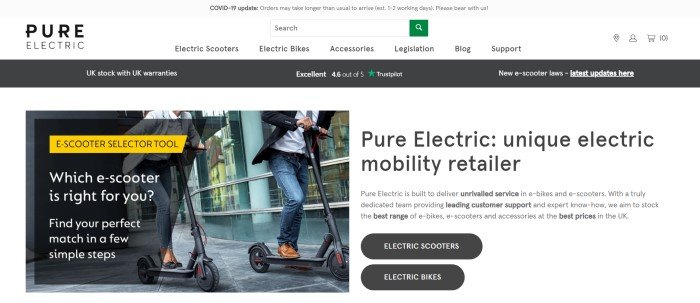 Pure Electric sells electronic travel solutions, including scooters, across Europe. Many of the scooters come with manufacturer's warranties, and scooter orders placed in the UK are usually delivered the day after they're ordered.
One interesting thing about this company is that the website includes a scooter selector feature, which walks new scooter buyers through the process of choosing the best scooter for their needs. Most scooters carried by this company travel 12-15 miles per hour. Pure Electric carries scooters for both adults and children.
The affiliate program is run through AWIN. Pure Electric products are often marketed on websites or blogs.
Why You Should Promote Pure Electric: Pure Electric provides quick delivery in the UK, as well as manufacturer's warranties for many of the scooters it sells. The commission rate is decent, too.
6. Scooters N' Chairs

Scooters N' Chairs sells mobility scooters, wheelchairs, lifts, shower chairs, ramps, beds, scooter batteries, and scooter accessories. The website offers secure shopping, free shipping on all orders totaling more than $100, credit options for customers who want to pay monthly, and the lowest price guarantee. Most products are delivered within 5-7 days after the order is placed.
The scooters include three-wheel scooters as well as bariatric and heavy-duty scooters. Some scooters are portable and can fold for easy transportation. Many of them can be used outside, as well. The scooters range in price from under $1,500 to more than $4,000. Customers can browse scooters by price, brand, user weight, speed, and other features.
The affiliate program is run through Refersion.
Why You Should Promote Scooters N' Chairs: This company focuses on mobility scooters and other independent living solutions, offers free shipping and credit options, and provides a low-price guarantee.
7. Swifty Scooters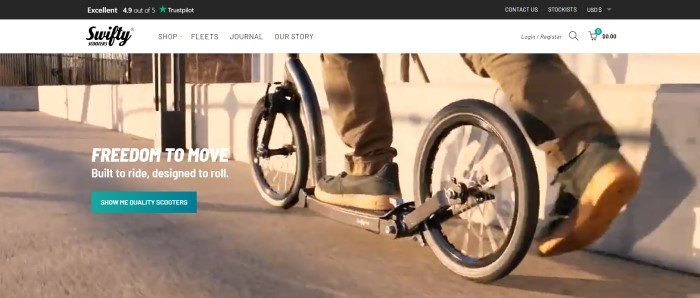 Swifty Scooters manufactures and sells travel scooters to help ease daily travels and improve fitness in users. These scooters include both kick scooters and electric versions in a variety of colors and styles for both children and adults. Most of these products are sold in the UK, but Swifty Scooters does ship worldwide. UK customers get free shipping.
Swifty Scooters offers a two-year warranty on most products. Customers can pay through PayPal or credit card, or they can take advantage of interest-free credit options provided through DivideBuy.
Besides scooters, Swifty Scooters sells helmets, tires, lights, locks, packs, and other accessories. One interesting thing about this company is that it has a fleet option for scooters for companies looking to increase corporate mobility.
Only orders of more than £200 are eligible for commissions.
Why You Should Promote Swifty Scooters: The cookie length is somewhat short, but the commission rate is nice. The interest-free payment plan, free UK shipping, two-year warranty, and the ability to get Swifty Scooter products worldwide could all help convert shoppers.
8. Megawheels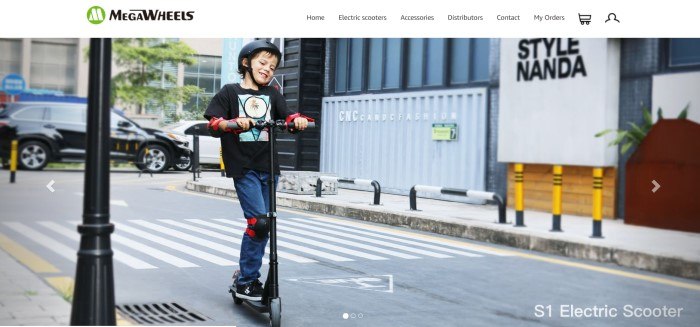 Megawheels manufactures hoverboards, electric skateboards, and electric scooters. While these products are still high-ticket items, they're relatively affordable when compared to products sold through similar companies.
This company has warehouses both in Europe and in the United States. Delivery in Europe takes 2-7 days, and delivery in America takes 3-5 days through FedEx.
Megawheels products are best promoted on websites or social media sites. Affiliate marketers have access to daily product feeds, a large selection of banner ads and other promotional creatives, and an exclusive newsletter with information about upcoming promotions, sales opportunities, and new product launches.
Affiliate commissions are paid through PayPal or bank cards when the commission amount totals more than $50.
Why You Should Promote Megawheels: The products are relatively affordable, affiliates have access to a wide range of promotional materials, and products are shipped to both European and American destinations.
9. Drxft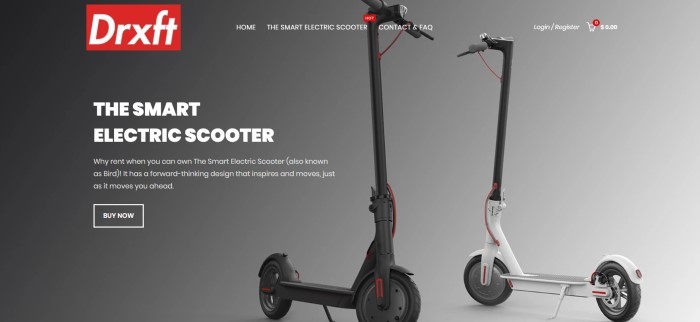 Drxft makes and sells a high-quality, self-balancing, two-wheel scooter hoverboard in both black and white designs. The handlebars are anti-skid with a press-type throttle that helps riders control the speed easily. There is also a double brake system and an LED light for riding at night, and the scooter folds for easy transportation.
The Drxft scooter costs around $495 and is shipped for free in the United States with same-day FedEx ground shipping. This company has a 30-day return policy.
The flat-rate commission is nice, and affiliates are able to earn up to $500 per week.
Why You Should Promote Drxft: Drxft scooters are compact, easy to fold and store, easy to control and come with safety features such as double brakes and a light. The price is relatively affordable. Orders in the United States receive free shipping.
10. Electric Wheelchairs USA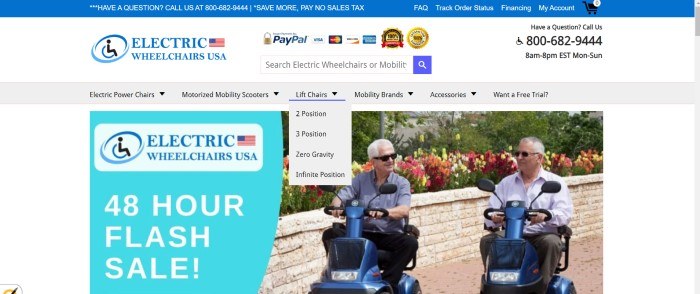 Electric Wheelchairs USA sells mobility scooters, lift chairs, and power wheelchairs, as well as accessories like ramps. This company offers a free seven-day trial on the Luggie line of electric scooters and a low-price guarantee.
This company carries a great variety of scooters, including two-wheel, three-wheel, and four-wheel versions. One of the most unique offerings is a two-person mobility scooter. There are also bariatric scooters and scooters that fold for easy travel.
The minimum payout amount is $20, and affiliates are paid through PayPal.
Why You Should Promote Electric Wheelchairs USA: Besides the free trial period and a low-price guarantee, Electric Wheelchairs USA offers a 100% satisfaction guarantee. The selection is nice, and the high-ticket items could generate some nice affiliate earnings.
Affiliate Website Ideas
Now that you've read through this list of the top 10 scooter affiliate programs, how do you intend to use them with your affiliate websites? I have some ideas to share with you that could help you get started.
For example, you might have a website that focuses on making the most of retirement years. Scooters and other mobility options could be featured here, as well as nutritional supplements, at-home medical equipment, travel packages, and meal kit delivery programs for seniors.
Another idea is a website for increasing wellness in the workplace. Electric scooters could be promoted as a less stressful way to commute. This type of website could also feature exercise equipment for offices, standing desks or treadmill desks, and refrigerated buffet tables for company-sponsored salad bar lunches.
One final idea is a website for getting children out into nature more. Both electric and kick scooters could be featured here, as well as bicycles, soccer gear, hiking boots, and family camping gear. Even child-friendly photography equipment could be promoted on a website like this one.
Boost Your Affiliate Earnings
These 10 affiliate programs are just the beginning of what's possible. There are hundreds of ways to earn affiliate commissions with your website, including product reviews, top 10 lists, how-to guides, and more
But what about traffic and conversions? How do you make sure your affiliate links get clicked?
I used the affiliate training here to turn my brand new website into a six-figure income generator in less than two years. Build a business, not just a pocket-money side project!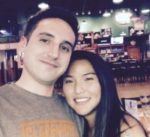 Nathaniell
What's up ladies and dudes! Great to finally meet you, and I hope you enjoyed this post. My name is Nathaniell and I'm the owner of One More Cup of Coffee. I started my first online business in 2010 promoting computer software and now I help newbies start their own businesses. Sign up for my #1 recommended training course and learn how to start your business for FREE!