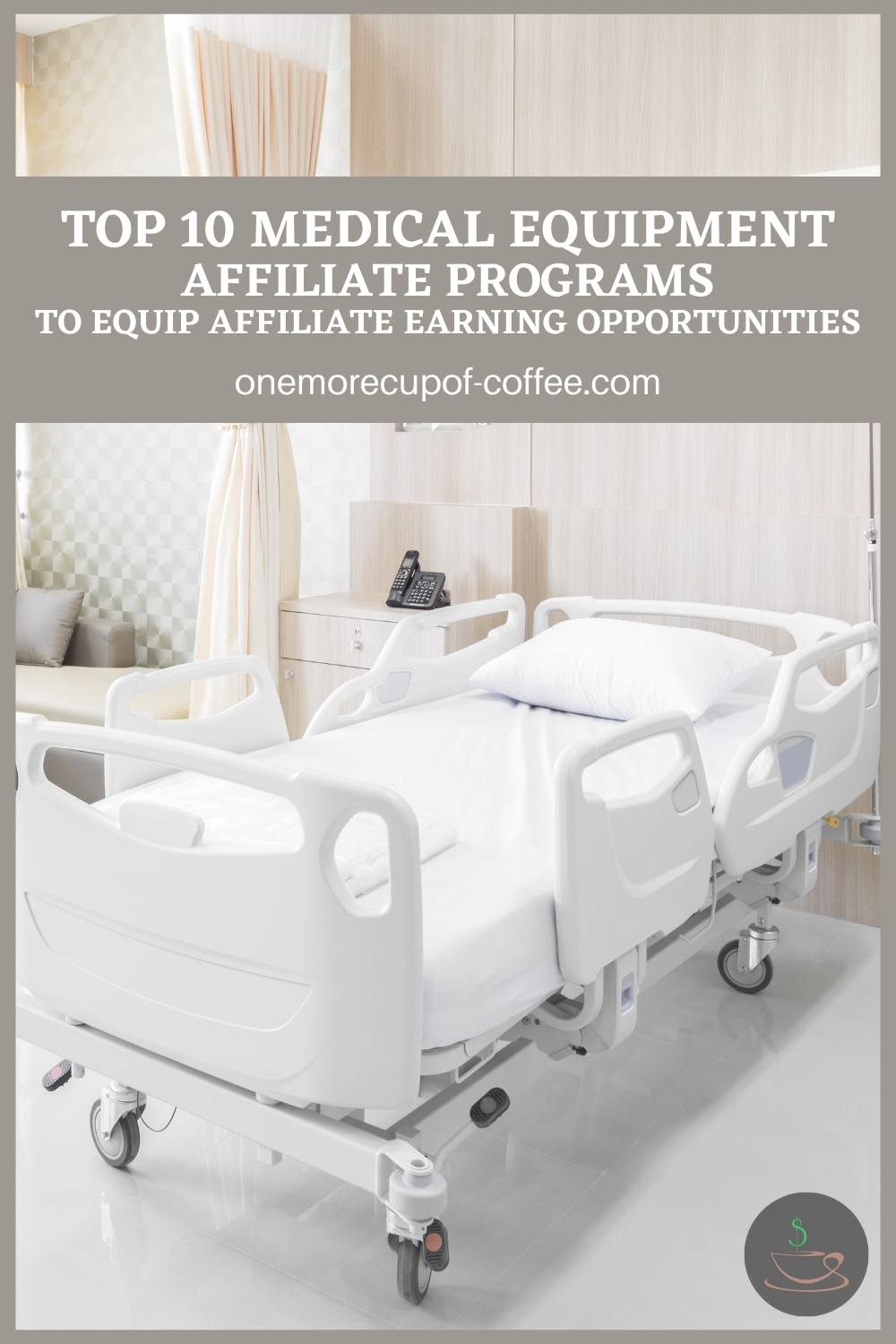 The best medical equipment programs include big-ticket items such as patient lifts or hospital beds, as well as smaller equipment like CPAP machines and general medical supplies. If you're interested in getting involved in this industry, read through the following list of the top 10 medical equipment affiliate programs. I'll share some ideas at the end of this article that could help you determine how to use these programs with your affiliate websites.
But first, let's talk a little about the importance of medical equipment. A few years ago, one of my friends was seriously injured and had to have emergency back surgery. She wasn't able to move around, so her family set up a hospital bed for her in the living room. Later she needed a leg scooter so she could get around after she broke her ankle.
Another friend raised three disabled boys on her own. Now that they're grown, she uses lifts to get them in and out of the bathtub and wheelchairs to move them around her house.
The need for medical equipment to use in the home as well as in-office settings is real, but it's expensive, too. By 2022, global healthcare costs are expected to reach about $10 trillion. Many families struggle to find medical equipment that meets their needs and fits within their budgets, and this is where affiliate marketers can help.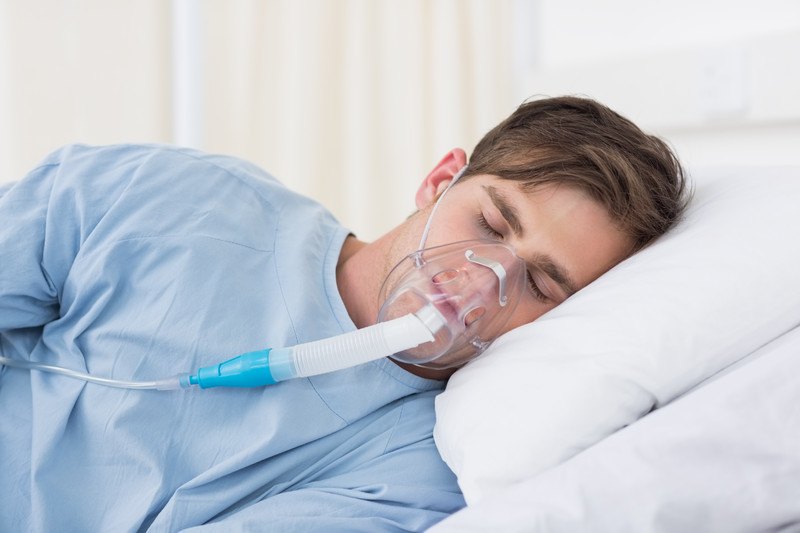 Medical Equipment Affiliate Programs
Health Products For You
Medical Supply Depot
1800Wheelchair.com
4MDMedical
AvaCare Medical
AeroFlow Healthcare
U.S. Medical Supplies
CSA Medical Supply
Medisave
Lift Chairs
1. Health Products For You

Health Products For You carries health care products and home medical equipment, with the goal of making these products accessible to everyone and keeping them affordable. This company mostly sells items that would be used in long-term care facilities or hospitals, such as hospital beds, bedpans, and wheelchairs.
The products are sorted into categories such as urological issues, wound care, incontinence, respiratory problems, women's health, rehabilitation, and mobility. Customers can shop by the type of products they need or use the search bar to find something specific.
Health Products For You runs its affiliate program through CJ Affiliates and ShareASale. Affiliate marketers can promote more than 20,000 products from this company on their websites.
Why You Should Promote Health Products For You: Health Products For You works to make home medical equipment affordable, and that could attract or convert customers. This company also runs occasional cash-prize contests for affiliate marketers, too.
2. Medical Supply Depot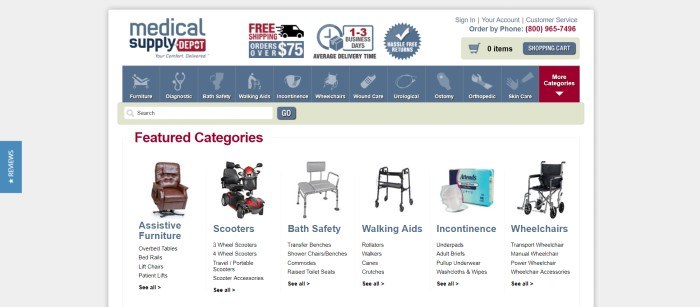 Medical Supply Depot carries healthcare supplies and medical equipment for use in the home. Products include hospital beds, walk-in bathtubs, bath safety products, diagnostic tools, wheelchairs, and walking aids. This company also carries smaller items such as supplies for wound care, urological issues, orthopedics, and skincare.
These products are designed to be used by customers who require in-home care, as well as friends, family members, and nursing staff who take care of them. Medical Supply Depot works to deliver orders quickly, be open and honest in all their dealings, provide excellent customer service, and keep product prices affordable.
Medical Supply partnered with ShareASale and Rakuten to run their affiliate program.
Why You Should Promote Medical Supply Depot: Medical Supply Depot has a tiered commission structure, so the more referrals an affiliate marketer brings in, the more money the affiliate can make. Although the products are priced fairly, some of them are still big-ticket items that could boost affiliate income, as well.
3. 1800Wheelchair.com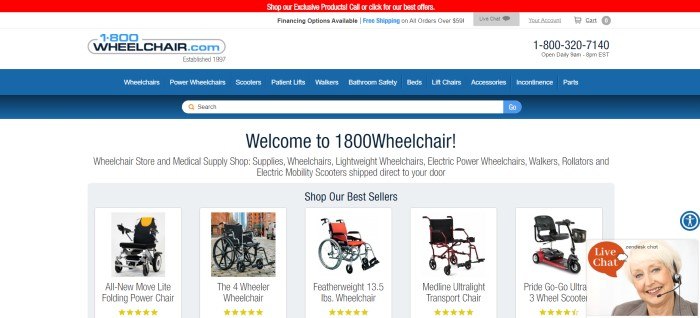 1800Wheelchair.com provides several types of wheelchairs for customers who need mobility options. The products include basic wheelchairs, power wheelchairs, and scooters. The company also sells other types of medical equipment, such as walkers, beds, lift chairs, and patient lifts, as well as accessories and replacement parts for the equipment. These can range from wheels for the wheelchairs to armrest pads.
Prices for the products have a wide range, but several of the items are big-ticket purchases that can cost hundreds of dollars. For example, an airline-ready power wheelchair can cost $1,900, which can bring in over $100 in affiliate earnings.
Why You Should Promote 1800Wheelchair.com: This company offers a wide range of mobility options, and depending on the product, affiliates have the potential to earn more than $100 in commissions.
4. 4MDMedical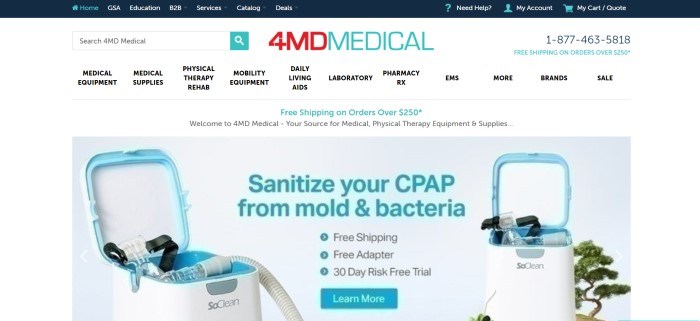 4MDMedical is an internet medical supply company and an authorized dealer for many top brands. This means the company can offer an enormous selection of products and pass savings on to customers.
Customers can shop from several different categories. Where medical equipment is concerned, the products range from defibrillators to medical cabinets. There's also a medical supply section that includes items for diabetes care, wound care, and more. Other items include physical therapy products, helpful items for daily living, mobility solutions, IV supplies, and laboratory tests.
Why You Should Promote 4MDMedical: 4MDMedical carries a range of medical equipment that could be used both at home and in physician's offices. The commission rate and cookie length are decent, too.
5. AvaCare Medical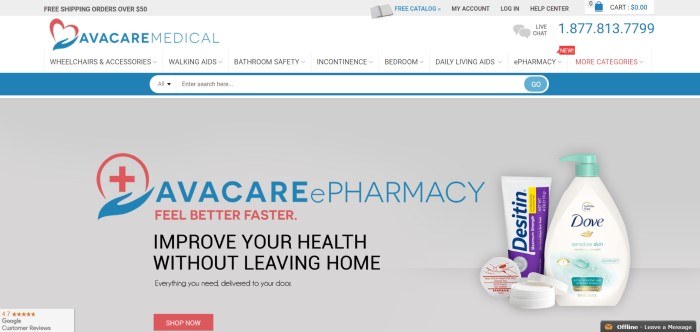 AvaCare Medical carries more than 20,000 medical equipment and supply products. Some of the larger pieces of medical equipment include walkers, bathtub lifts, wheelchairs, and hospital beds, but AvaCare also sells items like safety rales and IV poles. There are also smaller products, such as arthritis aids and adult diapers.
This company stands out because of its new ePharmacy section. Through the ePharmacy, customers can browse through the online drugstore and purchase items like over-the-counter pain killers, vitamins, supplements, and hygiene products. This allows them to shop for all their medical needs from one online store rather than have to visit several websites or go to a local drugstore.
Why You Should Promote AvaCare: The great selection of medical supplies and equipment could attract shoppers, and the ability to shop for everything at once through the ePharmacy could help convert them.
6. AeroFlow Healthcare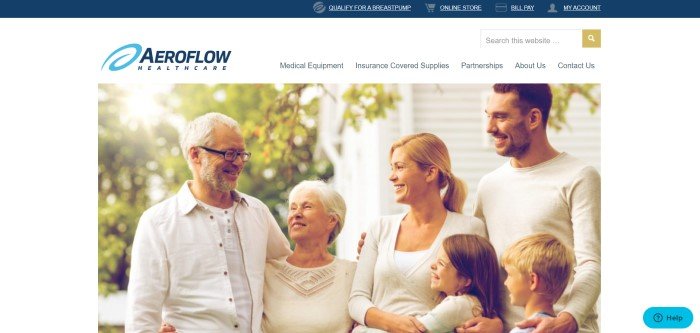 AeroFlow Healthcare carries medical supplies and equipment, including small items such as breast pumps, CPAP supplies, braces, wound care supplies, and incontinence products. This store also sells pediatric medical equipment and mobility equipment.
In some cases, insurance policies can cover the purchases of supplies. Customers can find out by clicking the tab on the website and sending a query to the company to ask about covered products. Once their message has been received, an AeroFlow agent will contact them to answer their questions.
Why You Should Promote AeroFlow Healthcare: The commission rate and cookie length are good. The possibility to get some medical supplies covered by insurance could attract and convert customers, too.
7. U.S. Medical Supplies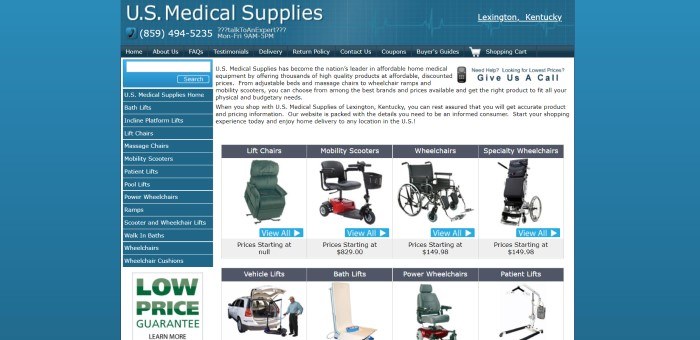 U.S. Medical Supplies carries more than 800 big-ticket medical equipment items that cost $1,000 or more each. These products include bath lifts, lift chairs, stairlifts, and vertical platform lifts. These products have a relatively high conversion rate.
The affiliate program is run through Commission Junction, and the commission structure is tiered. Affiliates who refer sales of up to $999.99 can receive payment at a 10% commission rate. They bump up to the 12% commission rate when their referral orders total $1,000 or more.
Why You Should Promote U.S. Medical Supplies: This company has a large selection of big-ticket items. The conversion rate is good, the commission rate is great, and the relatively expensive costs of the items contribute to a nice per-sale income for affiliate marketers.
8. CSA Medical Supply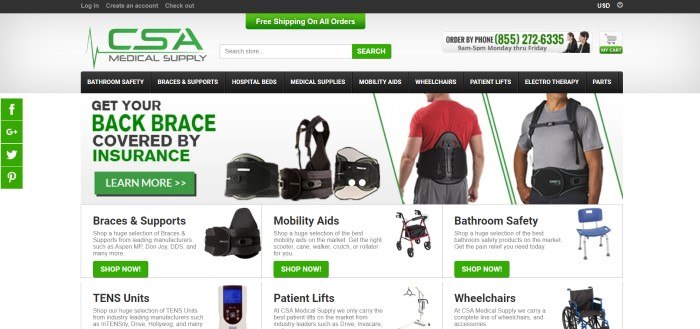 CSA Medical Supply offers medical supplies and equipment in several categories that customers can browse through. Products include mobility aids, hospital beds, lifts, breast pumps, diabetic supplies, and more. This company stands out because it also offers electrotherapy options, which isn't a common offering on any of the other websites I've looked at.
The section for hospital beds carries several types of beds ranging in price from $695-$1,248. Because these are big-ticket items, affiliate marketers can expect to receive commissions of up to around $84 per bed.
CSA Medical Supply runs its affiliate program through Refersion. The base commission rate is 7%. Shipping generally takes 2-3 days, and customers get free shipping on all their orders.
Why You Should Promote CSA Medical Supply: The electrotherapy section, free fast shipping, and the ability to get large items like hospital beds could draw in shoppers.
9. Medisave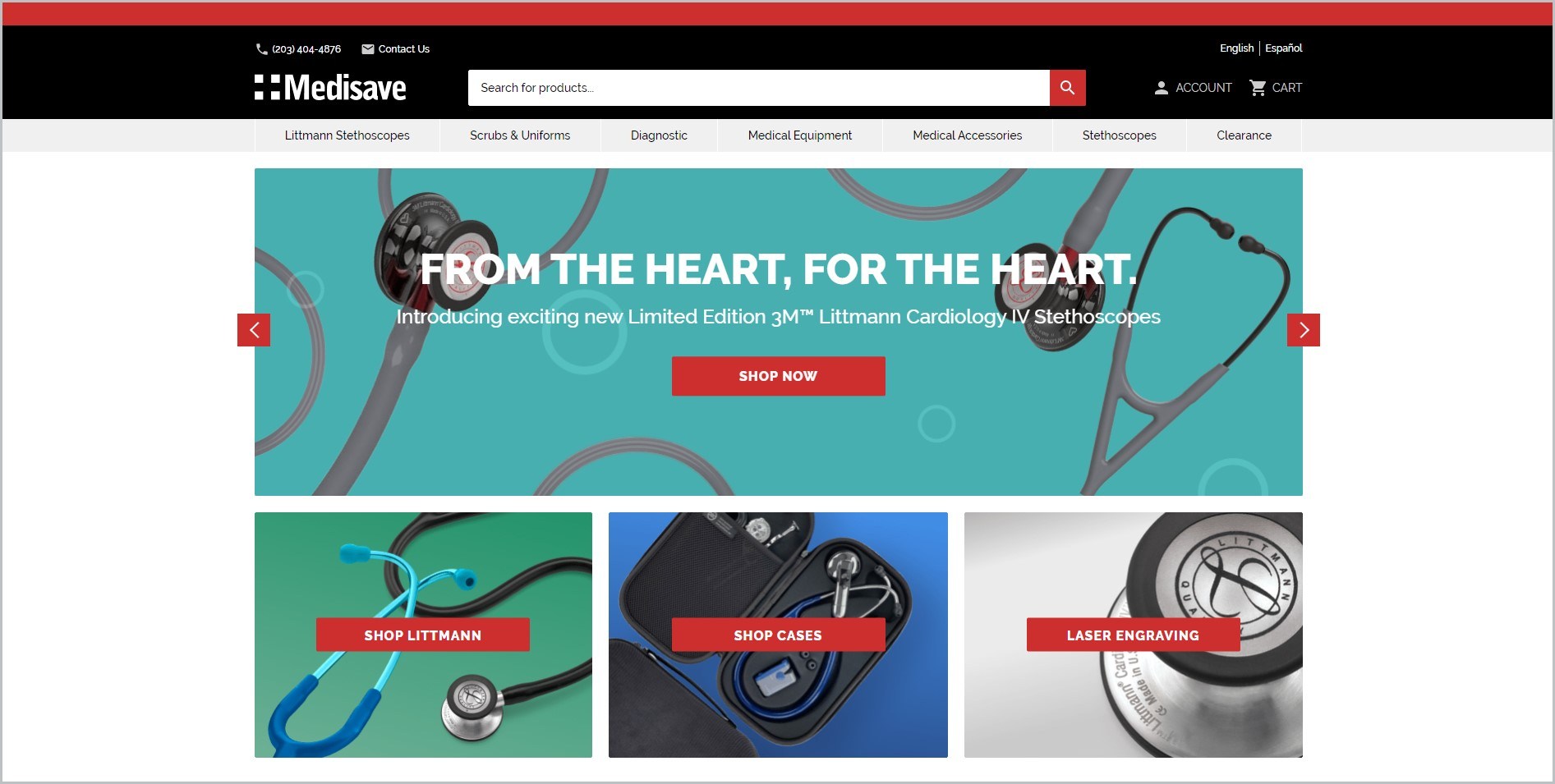 Medisave is the global leader in the medical supplies market, with more than 5000 product lines – from scrubs and uniforms to medical equipment and accessories. They meet every need of physicians, healthcare professionals, students, private individuals, consultants, clinics, and hospitals.
Because of their global expansion covering such a wide and varied demographic, they have increased their buying power enabling them to pass better pricing directly to the consumers.
Medisave ensures that their customer service and the training of their personnel worldwide is consistent and meets their high expectations throughout the countries and territories in which they have a presence.
Why You Should Promote Medisave: They carry an enormous catalog of products and have locations and substantial warehousing in the United States, the UK, New Zealand, Australia, and throughout Europe.
10. Lift Chairs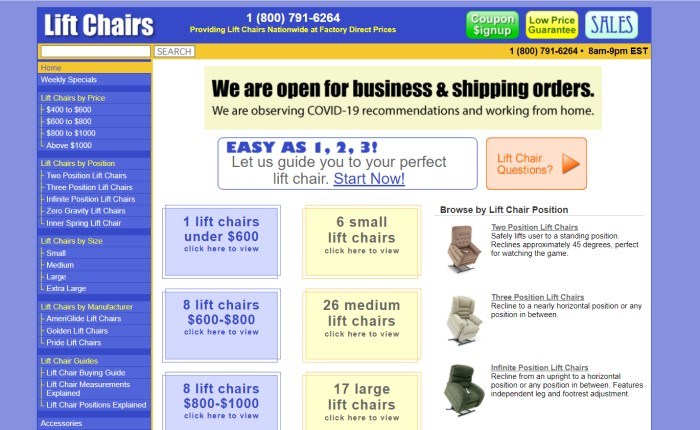 Lift Chairs carry lift chairs, bath lifts, toilet seat lifts, walk-in bathtubs, and other mobility solutions. This company has been in business for the past ten years and sells products across North America. Customers in the continental United States get free shipping on any lift chair.
The lift chairs range in price from around $400 to $2,780. The other products are high-ticket items, too. For example, a walk-in shower and tub cost nearly $4,900, and a bath lift costs around $1,000-$3,995.
Customers can shop for items by price, size, position, or manufacturer. This company also provides a lift chair buying guide and information on lift chair measurements.
The base commission rate is 10%, so affiliate marketers can make $40-$278 on the sale of one lift chair. Lift Chairs carries around 100 different products to choose from, as well as a 30-day 150% low price guarantee.
Why You Should Promote Lift Chairs: Lift Chairs carry mobility solutions such as lift chairs and bath lifts. While these are high-ticket items, the company also offers a 150% low price guarantee. For affiliate marketers, the 10% commission rate is great.
Affiliate Website Ideas
Now that you've read through this list of the top 10 medical equipment affiliate programs, it's time to look at how to integrate them into your affiliate websites. There are several ways to do that. I'll mention just a few here.
For example, a website for children's outdoor activities could feature scooters, bicycles, trampolines, and soccer cleats, but it could also include medical equipment such as wheelchairs for kids who get hurt playing. Kid's furniture, toys, and fan sports apparel could also be promoted here.
Another idea is a website for baby boomers. This type of website could include medical equipment, nutritional supplements, and online pharmacies. It could also feature travel packages, genealogical subscriptions, internet TV, and comfortable furniture such as recliners.
A final idea is a website for martial artists. While medical equipment could be promoted for those who get hurt competing, other featured items could include sparring gear, practice equipment, home gym systems, and uniforms.
Boost Your Affiliate Earnings
These 10 affiliate programs are just the beginning of what's possible. There are hundreds of ways to earn affiliate commissions with your website, including product reviews, top 10 lists, how-to guides, and more
But what about traffic and conversions? How do you make sure your affiliate links get clicked?
I used the affiliate training here to turn my brand new website into a six-figure income generator in less than two years. Build a business, not just a pocket-money side project!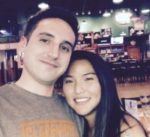 Nathaniell
What's up ladies and dudes! Great to finally meet you, and I hope you enjoyed this post. My name is Nathaniell and I'm the owner of One More Cup of Coffee. I started my first online business in 2010 promoting computer software and now I help newbies start their own businesses. Sign up for my #1 recommended training course and learn how to start your business for FREE!