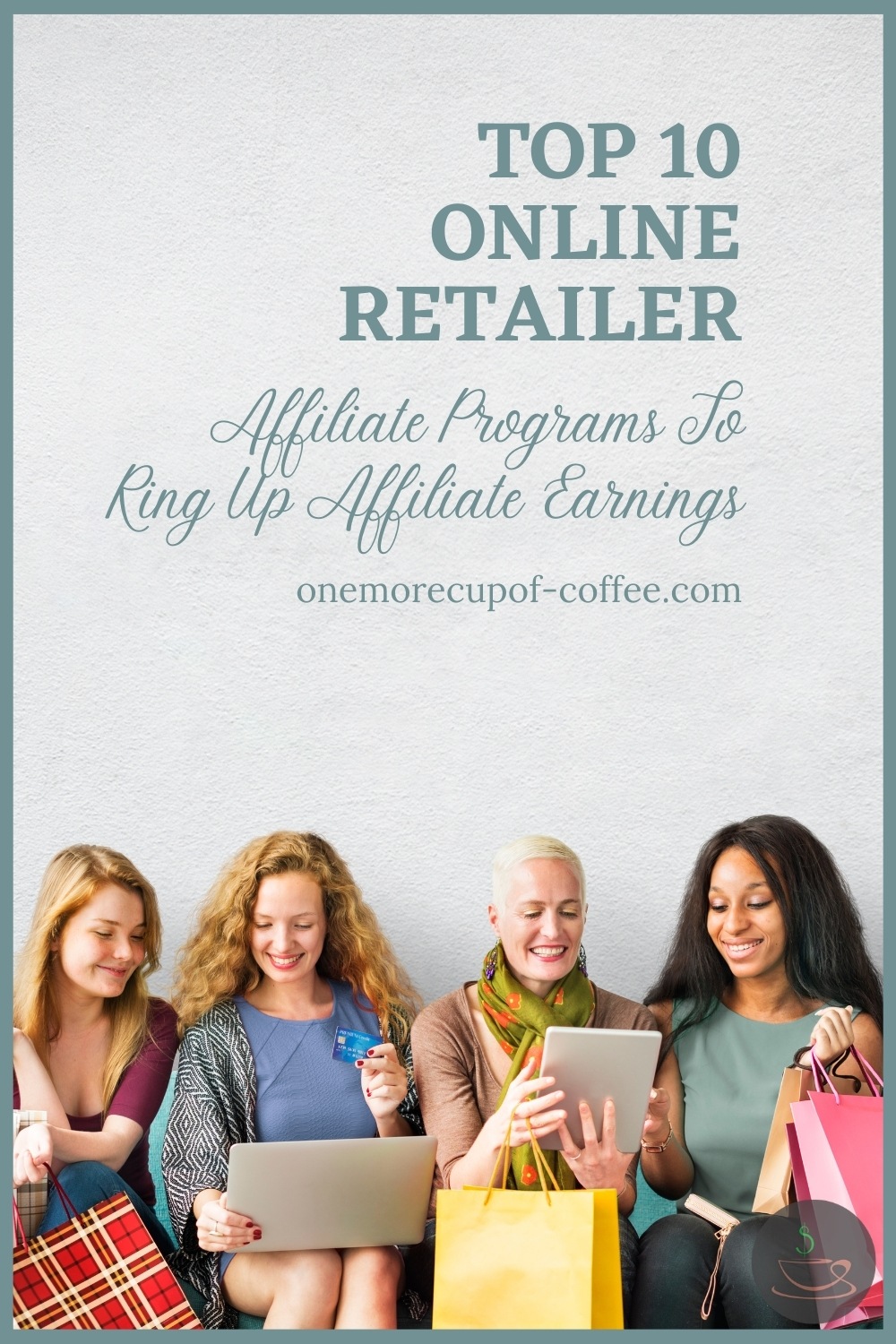 When you know you're going to need something in the next few days, do you put it on a list for a trip to the store? Or do you punch it into your phone and purchase it online, so that it can be delivered right to your home when you need it?
The online shopping trend is continuing to grow. Around 57% of consumers now prefer to shop online because of the convenience, the ability to save time, the ability to shop 24/7, and the ability to seek out and find lower prices.
As more people shop online, affiliate marketers can earn commissions by making use of the affiliate programs run by online retailers. This list of the top 10 online retailer affiliate programs is a great way to learn about what's out there and to get a feel for ways to use these programs with your own niche websites. At the end of this list, I'll share some ideas that could help you think of some ways to use these programs to boost your affiliate income.
Related Topics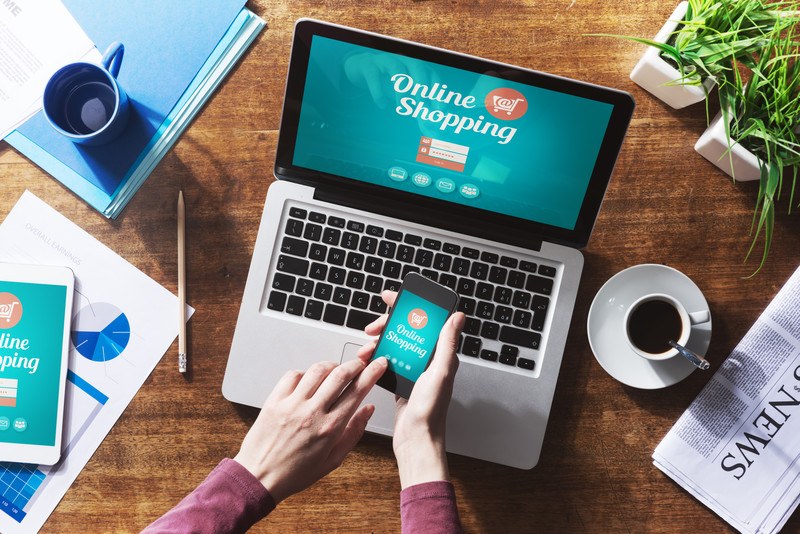 Online Retailer Affiliate Programs
Amazon
AliExpress
Walmart
Target
eBay
Etsy
REI
BestBuy
Hobby Lobby
Home Depot
1. Amazon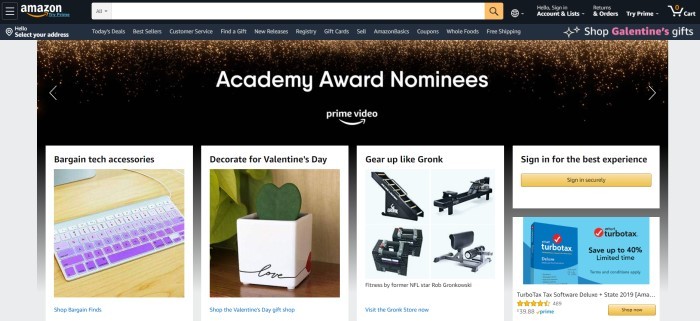 Commission: up to 10%
Cookie: Unknown
When it comes to online retailers, Amazon.com is one of the most well-known and largest companies. Amazon carries more than a million products, and there around 45 categories, including fashion, books electronics, home, garden, and music. There's even a category for handmade items.
Affiliates are provided with ads to place on their pages. They can also directly link to the product pages they want to promote on Amazon.com, which can be helpful for deep niche marketing.
The commission structure is a little bit confusing because it varies depending on the type of product you're promoting. The commission rate is 4% for fashion, jewelry, shoes, Kindles, Kindle Fire tablets, and Echo and Fire TV devices. The commission rate for digital music and videos is 5%, and there's an 8% commission for home, garden, and furniture purchases. Luxury beauty products bring in a commission rate of 10%.
Why You Should Promote Amazon: The wide range of products could bump up shopping cart totals and affiliate earnings. For affiliate marketers, it's nice to be able to promote specific products that align with specific niche market websites.
2. AliExpress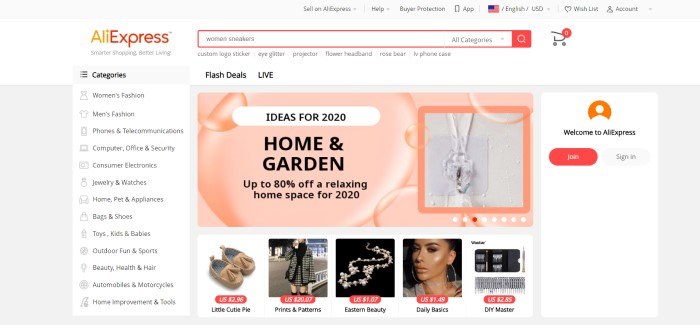 Commission: varies by product; up to 50%
Cookie: Unknown
AliExpress is a Chinese-based online retailer that carries over a million products sourced from more than 130,000 different sellers. This company offers websites in five languages to help meet the global shopping demand, and orders are shipped to over 200 countries and regions.
As with Amazon.com, the commission rate varies by the type of products being promoted. In some categories, the commissions can reach as much as 50%. AliExpress pays its top affiliate marketers up to $20,000 each month.
Why You Should Promote AliExpress: Many of the goods sold on AliExpress are relatively inexpensive, which can convert shoppers and bump up shopping cart totals.
3. Walmart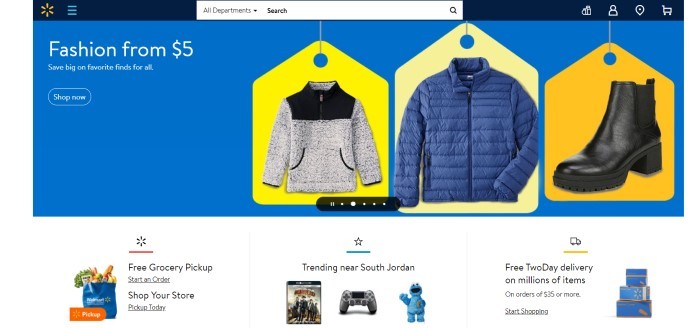 Commission: up to 4%
Cookie: Unknown
Beyond its brick-and-mortar stores, Walmart has a strong presence as an online retailer. Customers can search for items in a variety of categories ranging from automotive and electronics to baby and beauty products.
Affiliates can earn up to 4% commission on eligible sales. As with other online retailers, the commission rate varies depending on the type of goods. Affiliates get a 1% commission rate from sales of books, electronics, movies, and music. Products in the categories of beauty, clothing, gifts and registry, health, home, jewelry, and patio or garden products earn the standard 4% commission rate.
Walmart administers its affiliate program through Impact Radius.
Why You Should Promote Walmart: Walmart's enormous selection and high reputation could convert shoppers, and the relatively inexpensive prices could mean higher total order values that increase affiliate earnings.
4. Target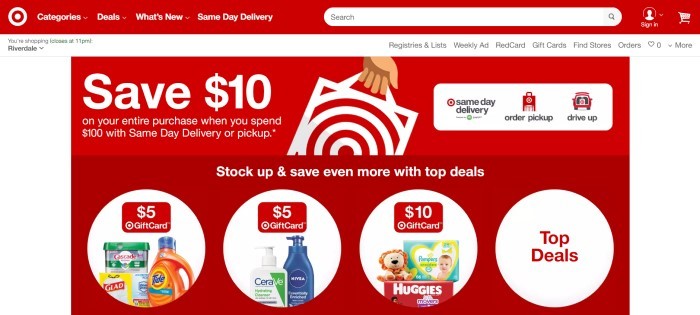 Commission: up to 8%
Cookie: 7 days
Like Walmart, Target has both brick-and-mortar stores and a strong online retail presence. Target carries more than a million products for shoppers to choose from, and the commission structure varies based on the categories of the goods being promoted.
Baby gear and furniture bring in a commission rate of 3-5%. Outdoor living products, home items, apparel, and accessories earn a commission rate of 5-8%. Affiliate marketers can get a 1% commission for health and beauty products, but there is no commission for groceries, household items, electronics, toys, sporting goods, movies, video games, and consoles, or products for pets or babies.
Target accepts affiliate marketers from around the world, as long as they have a family-friendly website aimed at American viewers. They also have to live in a country that supports Impact Radius, which runs the affiliate program for Target.
Why You Should Promote Target: Besides the large selection and stellar reputation, this company provides affiliates with promotions, contests, and sales opportunities.
5. E-Bay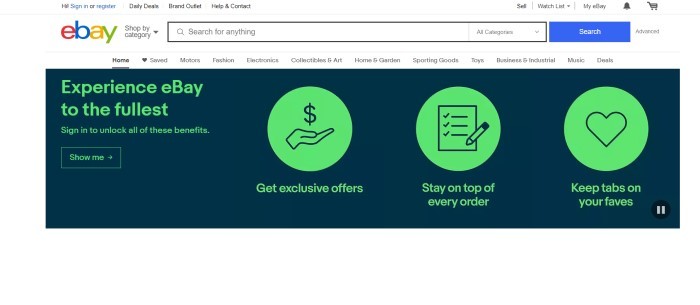 Commission: 40-80%
Cookie: Unknown
E-bay is a global online retailer with 13 different websites across the world and more than 1.2 billion listings. Products are arranged in categories such as collectibles, home goods, fashion, electronics, and more, and affiliates can deep link directly to product pages.
Customers can use the 'buy it now' option if they want to get something right away, or they can bid on some products. E-Bay also has a daily deals section.
As with most other online retailers, the categories that promoted goods are in determines the amount of money an affiliate marketer can make. The commission rate for most E-bay products ranges from 40-80%. When an affiliate link reactivates a former E-bay customer and that customer makes a purchase, the affiliate can earn a 200% commission.
Why You Should Promote E-Bay: The 200% reactivation bonus is amazing, and the base commission rates are nice, too.
6. Etsy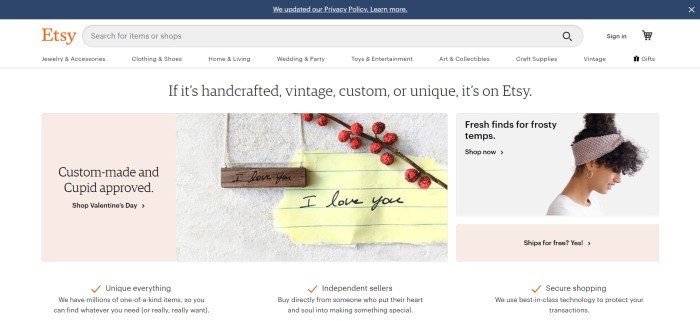 Commission: 2-4%
Cookie: 30 days
Etsy is slightly different from other online retailers, in that many of its businesses are run by individuals selling homemade goods, unique collectibles, and antiques. Etsy has a global online presence with support in English, French, Italian, Spanish, and German languages.
Affiliate marketers can link directly to items on Etsy that they've found and that fit their niche market websites. Categories include weddings, DIY, handmade items, clothing, jewelry, home, arts, crafts, vintage, and décor. Most items will earn an affiliate marketer a 4% commission.
Etsy offers affiliate promotional materials through both Awin Create-a-feed and FusePump Feed Creator.
Why You Should Promote Etsy: The small-shop feel, human connection element, and eclectic collection of unique items could convert shoppers. The support in other languages could bring in shoppers from outside the United States, as well.
7. REI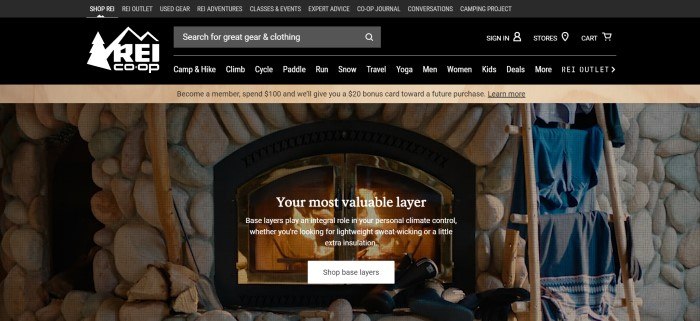 Commission: 5%
Cookie: 30 days
REI Coop is an online retailer that has specialized in selling outdoor gear since 1938. At this point, it's one of the largest outdoor stores on the internet, with a strong reputation for setting sustainability standards for all of the products it carries. This company also gives back to local communities, including donating money to help re-wild areas in and around major U.S. cities.
REI provides customers with free shipping on orders of more than $50, as well as free shipping to any REI brick-and-mortar store for customer pickup. There's also a 100% satisfaction guarantee.
The average order value is $120. This company runs its affiliate program through AvantLink.
Why you Should Promote REI: REI's philosophies of keeping the Earth and its people healthy, happy, and out in nature could appeal to some shoppers. The free shipping options and satisfaction guarantee could also be converting factors. The average order value is decent, too.
8. BestBuy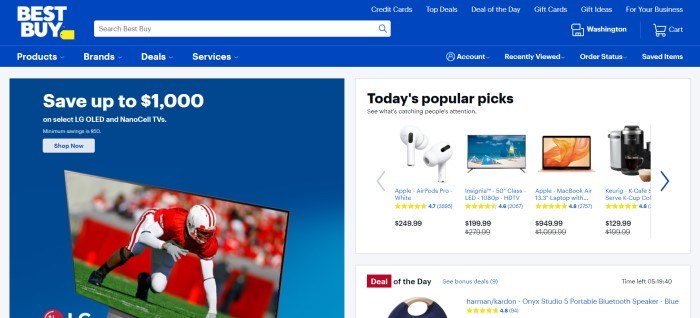 Commission: 1-7% on selected products
Cookie: Unknown
BestBuy is an online retailer and brick-and-mortar chain store with a strong focus on electronics. On the website, customers can browse by the types of products they're looking for, brands, deals, and services. Orders of $35 or more ship for free.
Affiliate commissions are based on the type of products that the affiliates sell. Many items, such as Apple-brand watches, laptops, tablets, and video game hardware, are excluded from commissions. Geek Squad services and other products have a commission rate of 1%, while certain items such as fitness equipment, baby gear, and furniture bring in a commission rate of 7%.
BestBuy also provides a $5 bounty for some mobile phones when they're activated.
Why You Should Promote BestBuy: BestBuy has a strong reputation and a large selection of products, which could convert shoppers.
9. Hobby Lobby

Commission: 4%
Cookie: Unknown
Hobby Lobby is an online retail store and brick-and-mortar chain that focuses on arts, crafts, hobbies, home décor, fabric, picture frames, holidays, and seasonal items. This company carries more than 80,000 items online.
Hobby Lobby offers regular coupons and often has sales on specific items. The affiliate program is run through FlexOffers.
One nice thing about this company is that it lists top themes in its department section, including ideas such as animals, movies, or fishing, that can be used in niche market strategies.
Why You Should Promote Hobby Lobby: This store has a great reputation and a nice variety of products to choose from, which could increase shopping cart totals.
10. Home Depot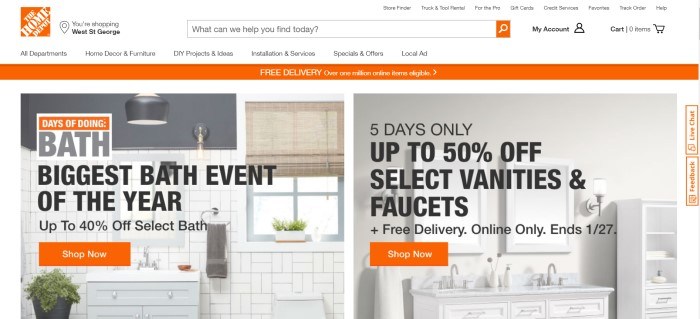 Commission: $10, 1%-4%
Cookie: 3 days
The Home Depot is a chain of stores with a strong online retail presence, selling more than 500,000 items in the DIY niche. The products can be shipped for free to local stores or customer's homes.
Not every product in the store's inventory brings in a commission, though. Affiliate marketers don't earn commissions on gift cards, installation services, custom products, special orders, and in-store purchases. However, they do earn a 2% commission on appliances, an 8% commission on some home décor items, and a 3% commission on most other products.
Why You Should Promote Home Depot: One thing to note with this company is that the cookie is extremely short, but it comes with a new data feed of promotional materials every day. The store is well known, and the commission rates are average compared to many other online retailers.
Affiliate Website Ideas
Now that you've read through the list of the top 10 online retailer affiliate programs, do you have any ideas for ways you might use them with your own niche websites? I have a few ideas of my own to share that you can use as springboards for further brainstorming.
One niche website idea is to focus on the ins and outs of managing a household. Almost any of the online retailer programs could be promoted here, but you could also feature meal kit delivery services, budgeting software, and time-saving devices such as robot vacuums and instant pots.
Another idea is a website that features Asian cooking. A website like this could be a lot of fun because it could deep-link to specific product pages from several of the programs listed above. Items like electric woks, hot pots, hibachi grills, bamboo bowls, chopsticks, and even specialty items like sauces and spices could be promoted this way. You could also feature travel programs, Asian fashions, and even Asian artwork.
One final idea is a website for real estate agents. Using the deep linking method, you could promote household items. You could also feature DIY programs like The Home Depot for people who like to flip homes. Photography equipment, WordPress website plugins, and small business loans could also be promoted here.
Boost Your Affiliate Earnings
These 10 affiliate programs are just the beginning of what's possible. There are hundreds of ways to earn affiliate commissions with your website, including product reviews, top 10 lists, how-to guides, and more
But what about traffic and conversions? How do you make sure your affiliate links get clicked?
I used the affiliate training here to turn my brand new website into a six-figure income generator in less than two years. Build a business, not just a pocket-money side project!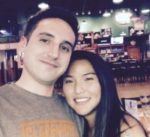 Nathaniell
What's up ladies and dudes! Great to finally meet you, and I hope you enjoyed this post. My name is Nathaniell and I'm the owner of One More Cup of Coffee. I started my first online business in 2010 promoting computer software and now I help newbies start their own businesses. Sign up for my #1 recommended training course and learn how to start your business for FREE!