A typical manicure can cost $20-$50 each, depending on the type of nail art you want. Manicures can also take 20-45 minutes out of your day, or more, depending on how far you have to travel to see your nail artist.
In 2018, there were more than 395,000 nail technicians in the United States, and around $8.69 billion was spent on nail care services. That's a lot of money that affiliate marketers could earn a share of, and now, with many people staying home because of the coronavirus, the opportunity to break into this market is ripe.
The best nail art affiliate programs include items such as nail gels, lacquers, accents, stickers, decals, and wraps, as well as lamps, drills, and accessories to create the best nail art at home, salon, or nail spa. If you're interested, read through this list of the top ten nail art affiliate programs. At the end of the list, I'll share some ideas of ways you can use these programs with your existing affiliate websites.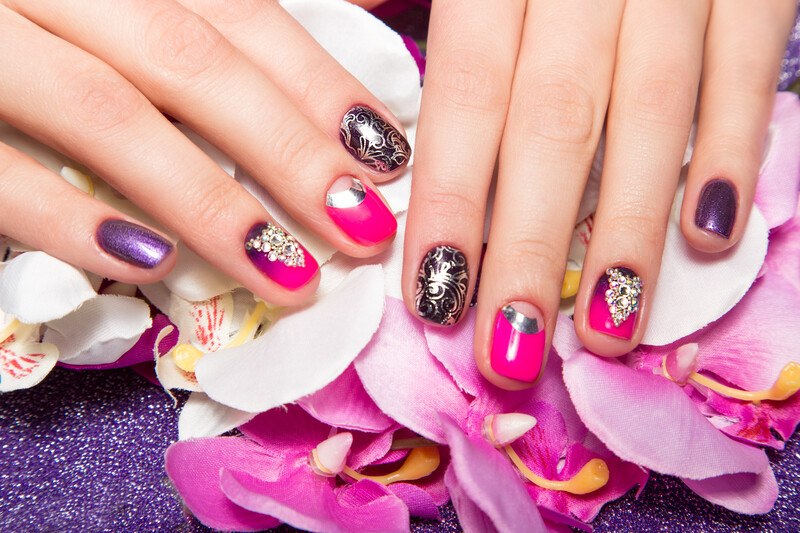 Nail Art Affiliate Programs
Nail Hugs
Born Pretty
Beyond Polish
Twinkled T
Dimension Nails Affiliate Program
Melodysusie
Dashing Diva
Kiss
Medusa Nails
Teal Creek Nail Wraps
1. Nail Hugs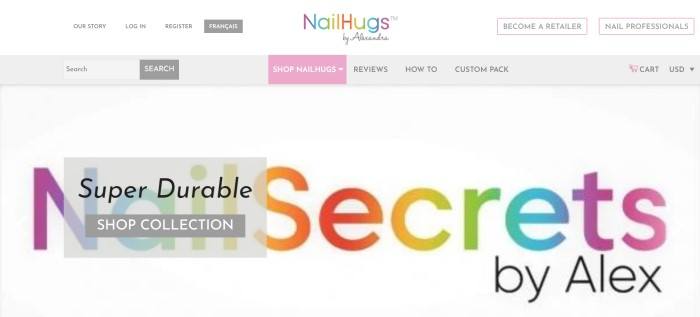 Nail Hugs offers nail applique art in a different form from the normal stickers and decals. Nail Hugs products are non-toxic, easy to remove, and when they're removed, they don't leave any residue behind.
The website carries about six pages of products that start at around $10 and go up to around $55 for a full starter kit.
The affiliate program is run through ShareASale. Banner ads, text links, and data feeds are available. Affiliates are also provided with monthly newsletters, as well as occasional coupons and deals that can be used to promote the products.
Why You Should Promote Nail Hugs: Nail Hugs has a unique application process, are non-toxic, and are easy to remove. The commission rate is great, too.
2. Born Pretty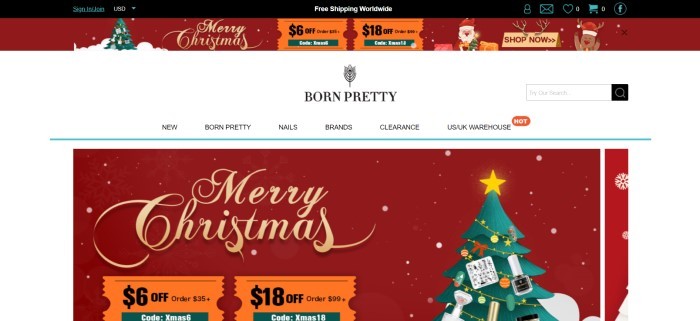 Born Pretty has over a thousand nail art products, including stamping plates, nail gels, nail foils, nail dipping powder, and 3D nail decorations. This store also carries UV nail lamps, nail drills, and grinding and buffing heads.
Most items are budget-priced, and the website has conversion rates as well as a clearance section. Born Pretty also offers free worldwide shipping, and it has warehouses in both the United States and the UK.
This company runs its own affiliate program. The commission is calculated four times a year, in March, June, September, and December.
Why You Should Promote Born Pretty: The cookie length is great, and the commission rate works well because the products have a high conversion rate. The large selection and budget-priced items could increase the shopping cart total, as well.
3. Beyond Polish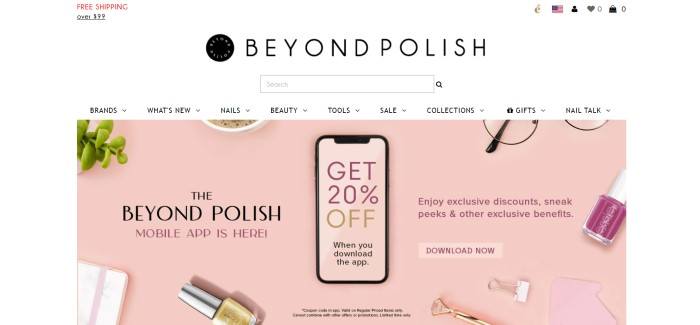 Beyond Polish is a nail art company offering gel polish and dipping powders to manicure and pedicure tools. This company also carries items like makeup brushes, makeup, hair products, and products for the body and skin. One nice thing about Beyond Polish is that many of the nail and makeup items it carries are non-toxic.
The website has a sales section that includes mystery boxes, markdowns, and last chances on CND polishes. This store also carries gift cards, gift sets, and collections, such as the OPI Muse of Milan nail lacquer collection.
The affiliate program is run through Rakuten. Banners, links, and creatives are available, as well as affiliate-only opportunities and bonus commissions.
Why You Should Promote Beyond Polish: Besides nail art supplies, Beyond Polish carries makeup and other beauty supplies. This store also carries some unique items, including mystery boxes and non-toxic products.
4. Twinkled T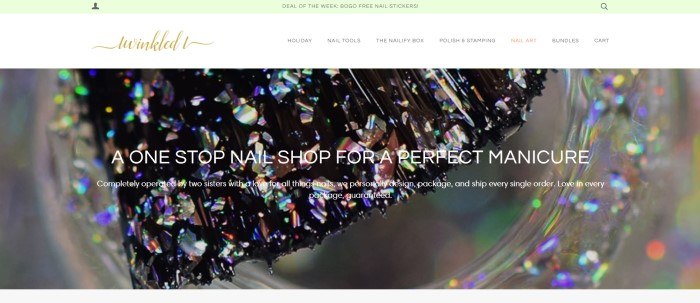 Twinkled T carries a wide range of nail art supplies such as charms, deco, glitter, powders, stickers, wraps, and vinyl appliques. This store also sells nail tools, polish and stamping supplies, and product bundles. One fun idea that Twinkled T offers is the Nailify product boxes, which include a manicure box, a stamping box, and a nail tech box.
The affiliate program is run through LeadDyno. Affiliate commissions are paid through PayPal, and there is a minimum payout threshold of $5. This affiliate program doesn't have a minimum age requirement for affiliates.
Why You Should Promote Twinkled T: Twinkled T carries some unique items as well as a wide range of nail art supplies.
5. Dimension Nails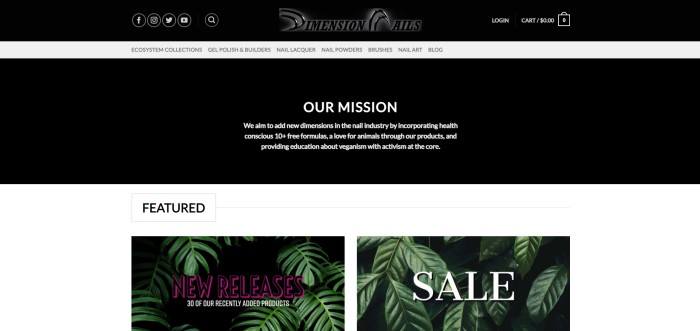 Dimension Nails sells nail products that are vegan and cruelty-free. This store has several ecosystems collections covering areas like oceans, woodlands, deserts, and savannahs. There are also several stand-alone nail lacquers supporting animals such as the African Pygmy Falcon and the Amazonian Manatee.
Besides nail lacquers, gels, and powders, this store carries a nice selection of nail art such as glitter, crystals, stampers, plates, and charms. The website promotes reducing, reusing, and recycling packaging wherever possible.
Dimension Nails runs its own affiliate program. Affiliates are paid quarterly through PayPal.
Why You Should Promote Dimension Nails: This company has a strong focus on keeping planet Earth healthy, which includes recycling as well as nail lacquer collections associated with specific ecosystems and animals.
6. Melodysusie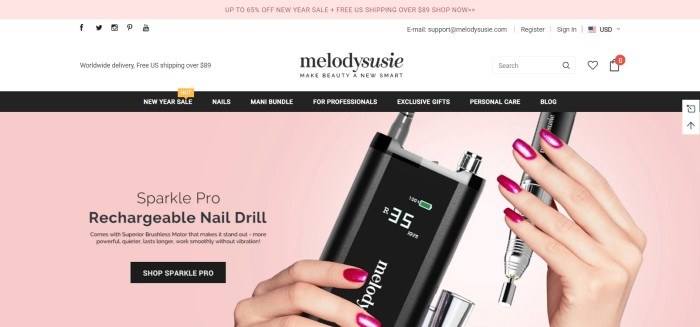 Melodysusie sells nail lamps, drills, gels, and accessories. The nail art section of the website includes brushes, cutters, rhinestones, and gloves, while the professional nail artists section has items like nail drills, bits, lamps, and dust collectors.
This store also offers manicure bundles, exclusive gifts, and personal care items such as foot peel masks and magnetic eyelashes. Shipping is free on all purchases in the United States that total more than $89, and the company ships products worldwide.
The affiliate program is run through Affiliatly. Besides the affiliate program for bloggers, website owners, and social media pros, this company offers a program for influencers and one for VIP members.
Why You Should Promote Melodysusie: Melodysusie has a nice selection of items covering most types of nail art and nail care needs, as well as other beauty products. This company also offers a higher-than-average commission rate for affiliates and specialty programs for VIP members and influencers.
7. Dashing Diva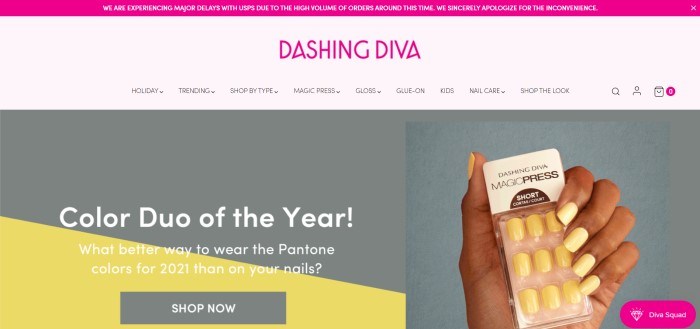 Dashing Diva offers innovative, cruelty-free nail products for women and children. The products include everything from nail strips and glosses to glue-on nails and cute appliques for kids.
The website provides several ways for customers to filter their searches and get exactly what they want. Besides browsing through colors or types of products, customers can narrow their searches to include holidays, current trends, sales, palettes, and nail care concerns.
The affiliate program is run through Refersion. Affiliates are provided with marketing products such as promotions, banner ads, and creatives.
Why You Should Promote Dashing Diva: Dashing Diva focuses on providing simple but beautiful nail solutions that are cruelty-free. This store offers a nice selection of nail art products, and the well-designed website makes it easy for customers to find what they're looking for.
8. Kiss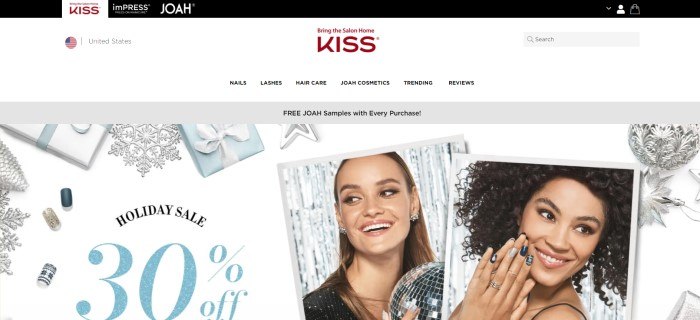 Kiss sells nail products, lashes, hair care items, and cosmetics. This store carries Kiss, JOAH, and imPRESS brands, and the website has a tab for trending items that includes a sales section.
As far as nail art goes, Kiss sells stickers, crystal nail accents, and stamp styler kits, as well as glue-on and press-on nails, dip powders, gels, acrylics, and nail tools. One of the premier products is the Kiss brand of French-style glue-on nails.
The affiliate program is run through CJ, and it's limited to the United States and Canada. The commission system is tiered. Affiliates have access to exclusive affiliate discounts and special offers, online coupon codes, early notification of upcoming sales events, and marketing materials such as creatives, banners, and text links. A product feed is also available, and influencers can get free products to try.
Why You Should Promote Kiss: Kiss specializes in press-on and glue-on nails, with real crystal accents. Influencers can try out some products for free.
9. Medusa Nails

Medusa nails specialize in non-toxic nail gels designed specifically for nail art professionals. Products are shipped worldwide. One interesting feature the website offers is a 'shop the look' option, which allows nail professionals to find everything they need to create a specific look in one place.
The affiliate program is administered through Affiliate WP, and affiliates are provided with all the promotional materials and support they need to market the products. This includes a monthly newsletter and the ability to promote free shipping on all US orders of more than $100. The average order value is $120.
Affiliates are also offered monthly incentives and contests to help them earn more.
The affiliate commission structure is tiered, starting at 10% commission for sales of up to $5,000. Affiliates who bring in $5,000-$15,000 in product sales earn 15% commissions and those who bring in product sales of more than $15,000 earn 20% commissions. Sales of forms, files, buffers, and lamps won't generate commissions, but all other products do.
Why You Should Promote Medusa Nails: This company sells products specifically for professional nail artists, including 'shop the look' options. The affiliate commission rate is generous and tiered, and affiliates are offered monthly contests and incentives.
10. Teal Creek Nail Wraps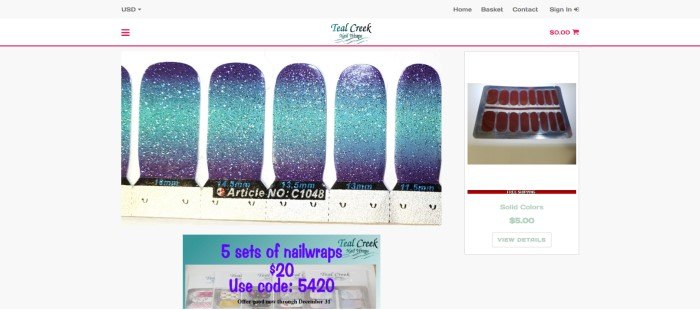 Teal Creek Nail Wraps sells nail art in the form of quick, easy-to-use nail wraps for women and children. Besides wraps, the store carries decals and stickers, dipping powder, tools, overlays, and seasonal products. This company also offers free shipping in the 48 continental states.
Teal Creek Nail Wraps runs its own affiliate program, and affiliates are paid through PayPal. The base commission starts out at 20% and can go up to 35%, depending on how many sales the affiliate marketer generates. Affiliates can also earn 5% of the sales amount referred by second-tier affiliates who have signed up under them.
Why You Should Promote Teal Creek Nail Wraps: These nail wraps are affordable, easy ways to apply nail art at home, and customers can get free shipping. Affiliates can take advantage of tiered commission rates to earn more money, too.
Affiliate Website Ideas
Now that you've read through this list of the top ten nail art affiliate programs, it's time to think about ways you can use these programs in your affiliate marketing strategies. I have a few ideas to share with you that could help get your creative juices flowing.
First, many of these programs could be utilized on a website specializing in themed parties. Nail art featuring holiday themes, baby showers, weddings, and birthdays could be promoted as party activities on a website like this. Party supplies, e-invitations, party playlists, gourmet appetizers, portable bars, and camera equipment with software to capture and edit special moments could be included, too.
A second idea is a website featuring mom-and-daughter fashions. A website like this one could include matching apparel, shoes, bags, hair accessories, and sewing patterns, as well as nail art. This type of website could also feature hobbies for moms and girls to enjoy together, such as local ceramic shops, hair stylists, or baking classes.
A final idea is a website for on-the-go career women. This website could feature quick at-home nail art sets from the programs above, as well as corporate apparel and time-saving programs such as meal kit delivery services or robotic vacuum cleaners.
Boost Your Affiliate Earnings
These 10 affiliate programs are just the beginning of what's possible. There are hundreds of ways to earn affiliate commissions with your website, including product reviews, top 10 lists, how-to guides, and more
But what about traffic and conversions? How do you make sure your affiliate links get clicked?
I used the affiliate training here to turn my brand new website into a six-figure income generator in less than two years. Build a business, not just a pocket-money side project!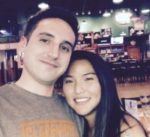 Nathaniell
What's up ladies and dudes! Great to finally meet you, and I hope you enjoyed this post. My name is Nathaniell and I'm the owner of One More Cup of Coffee. I started my first online business in 2010 promoting computer software and now I help newbies start their own businesses. Sign up for my #1 recommended training course and learn how to start your business for FREE!