Hearing loss is the third most common health problem in the United States, ranking behind arthritis and heart disease. It impacts people of all ages, as well. In the United States, more than 28 million people could benefit from using hearing aids and many hearing aid companies have affiliate programs. The best hearing aid affiliate programs provide hearing aids, independent living products, and hearing aid necessities such as batteries.
Such affiliate programs are important, as getting a hearing aid isn't a simple task. Instead, a hearing aid can cost between $1,000-$6,000. In recent years, several companies have opened with the intent to help get good hearing devices with affordable prices into the hands—or behind the ears—of the people who need them most.
Many of these companies have affiliate programs. If you're interested in getting involved in this market, read through the following list of the top 9 hearing aid affiliate programs. I'll share some thoughts about how to work them into your affiliate websites at the end of the list.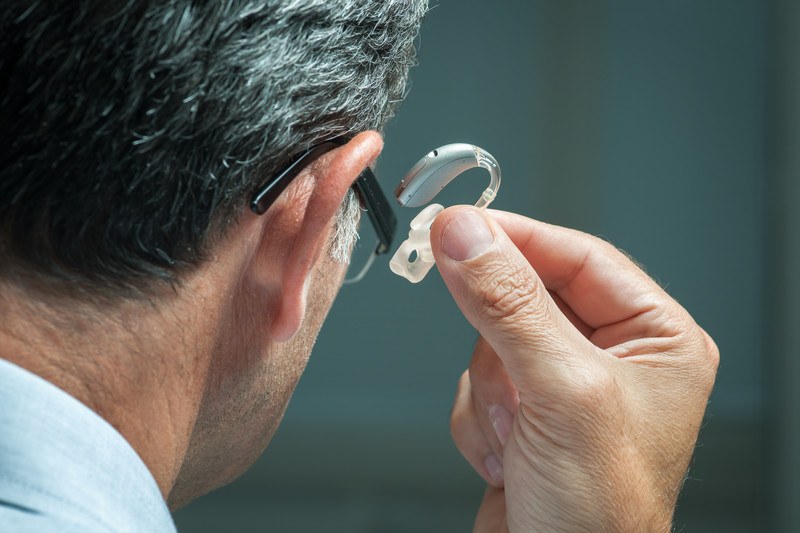 Hearing Aid Affiliate Programs
Advanced Hearing Technologies
Hear.com
Otofonix
HearingDirect.com
Elevated Hearing
Discounted Hearing
ListenClear
MDHearingAid
Eargo
1. Advanced Hearing Technologies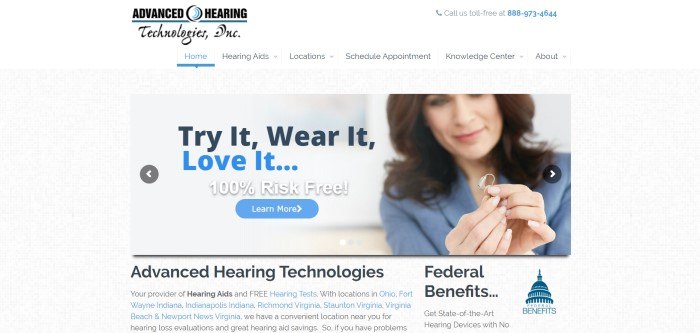 Advanced Hearing Technologies sells hearing aids and provides free hearing tests. Customers get a free 60-day trial period to make sure their hearing aids are right for them. The prices are affordable, and the company provides free lifetime service for cleaning hearing aids, making adjustments to them, or programming them. Advanced Hearing Technologies operates mostly in Ohio, Indiana, and Virginia, with brick-and-mortar stores where hearing tests are performed.
This company has a hearing aid referral program that affiliate marketers can participate in. There are three sub-tiers, which means if a referral spreads the word, affiliate marketers can make money from those sales, too.
One interesting thing about this company is that it participates in Operation Gratitude, a program dedicated to sending care packages to people serving in the U.S. military.
Why You Should Promote Advanced Hearing Technologies: The commission rate is great, the product prices are affordable, and hearing tests are free. The company's participation in Operation Gratitude is nice, too.
2. Hear.com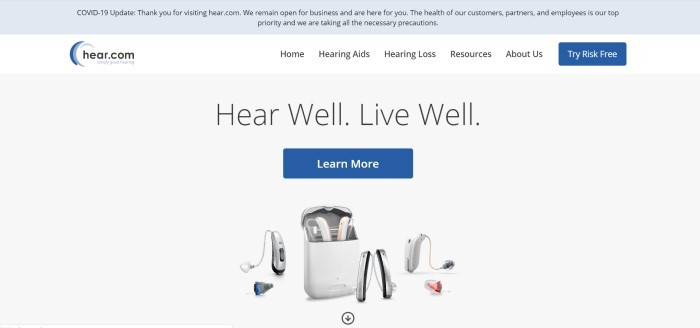 Hear.com is the world's largest provider of hearing aids. This company operates in eight different countries. All customers are acquired digitally, which makes it a great fit for affiliate marketers. The digital business foundation also helps Hear.com keep costs down, which results in less expensive prices for hearing aid products.
The commission structure is pay-per-lead. A lead is generated every time a potential customer completes a ten-question survey centered on their hearing loss. The affiliate program is administered through ShareASale, and the company provides regular bonuses for top-performing affiliates.
Why You Should Promote Hear.com: The commission rate and cookie length are decent, the product prices are relatively affordable, and the digital business foundation makes it a good fit for affiliate marketing.
3. Otofonix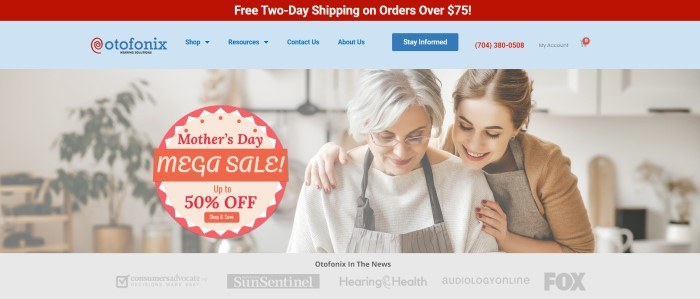 Otofonix is a high-rated and trusted hearing aid company with a nice lineup of hearing aid solutions. These products include rechargeable hearing aids as well as digital hearing amplifiers. The hearing aids are designed to be affordable, and in some cases are around a tenth of what some other hearing aid companies charge. Customers can also pay in installments if they need to.
Customers in the United States can get free shipping on orders of more than $75. This company also provides a 45-day money-back guarantee.
Otofonix runs its affiliate program through ShareASale. Affiliates get real-time reporting of sales and leads, as well as marketing materials such as banners, creative materials, and special promotions. The average order value is $400.
Why You Should Promote Otofonix: This company has a great reputation, offers free shipping options, and provides a money-back guarantee. The products are affordable, as well.
4. HearingDirect.com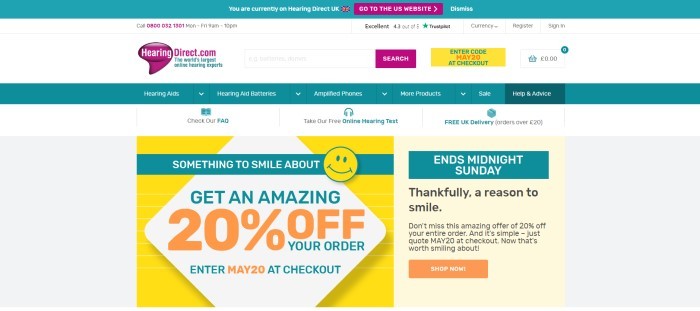 HearingDirect.com carries hearing aids, hearing aid batteries, amplified phones, and other products for the hearing impaired. This company is based in the United Kingdom, but it also has a website for the United States.
This company offers a free 30-day money-back guarantee and a free hearing test. The United States website also provides free shipping on all orders. Hearing aids start at $169 and go up to around $550. HearingDirect.com carries both behind the ear and in-the-ear hearing aids, which is about the size of a dime.
This company provides special discounts, marketing creatives, and up-to-date banners for affiliate marketers.
They partnered with Awin to administer their affiliate program.
Why You Should Promote HearingDirect.com: The 30-day money-back guarantee, free hearing test, free shipping in the United States, and websites in both the United States and the United Kingdom could attract and convert some shoppers.
5. Elevated Hearing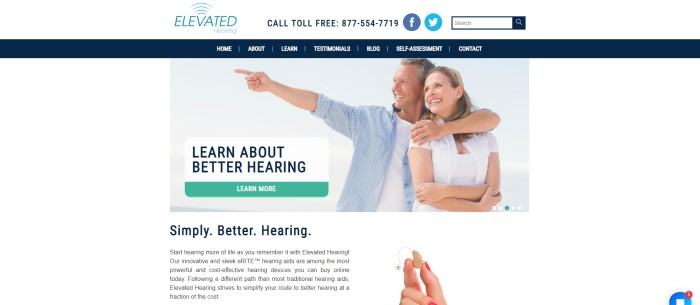 Elevated Hearing carries eRITE hearing aids, which are powerful and affordable and can be purchased online. Customers can get free shipping their orders, and the company offers a free 30-day trial period. The eRITE hearing aids also come with a full one-year warranty. The website includes a self-assessment for discovering the hearing loss.
The affiliate program is administered through Rakuten. This program includes a 10% revenue share and a CPA-oriented offer with a flat-rate commission for generating leads. The company provides ads for affiliate marketers to use, but affiliates can also hyperlink to Elevated Hearing in blog posts or email messages.
Why You Should Promote Elevated Hearing: Elevated Hearing offers a revenue share and a CPA program for affiliate marketers. The free shipping, free trial, and one-year warranty could draw in new referrals.
6. Discounted Hearing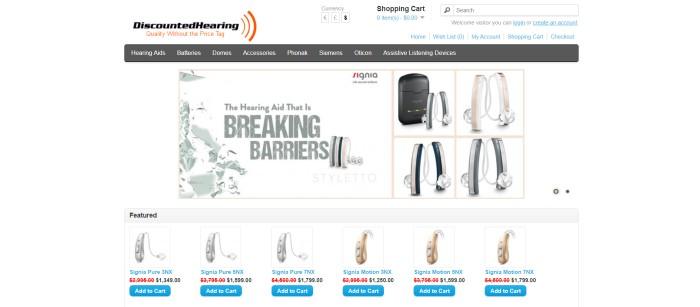 Discounted Hearing provides affordable products for the hearing impaired. Items include hearing aids, batteries, hearing aid domes, and assistive listening devices. This company works with brands such as Oticon, Phonak, Hansaton, Panasonic, and Siemens.
The hearing aids themselves are priced at around $1,250 to $2,150, with advertised savings of $1,000-$2,500 per pair. This company works with a large network of clinics and hearing aid centers that allow bulk purchases, so the savings can be passed on to customers. Discounted Hearing also offers gift vouchers, and customers can order in euros or pounds as well as U.S. dollars.
Why You Should Promote Discounted Hearing: The ability to shop in different currencies could appeal to some customers. Even with discounts, the hearing aids are relatively high-ticket items, which can boost affiliate earnings.
7. ListenClear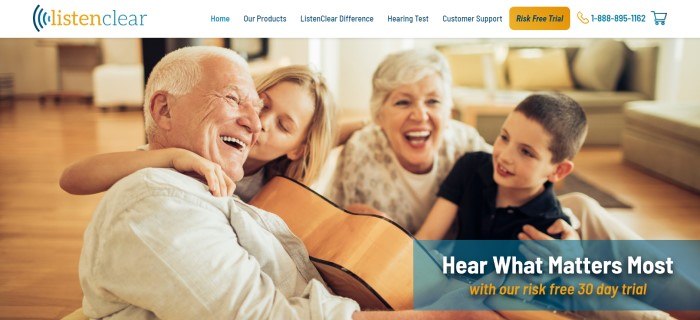 ListenClear carries hearing aids and similar devices to make life better for the hard of hearing. The primary products are the Premier 70 and Premier 50 hearing aids, which can be self-adjusted using the ListenClear mobile app or with the Premier remote control.
The hearing aid features include noise reduction, feedback control, and comfort. This company also sells hearing aid batteries and TV streamers. One nice thing about this company is it offers a free online hearing test.
Like some other hearing aid companies, ListenClear works to provide high-quality hearing aids at affordable prices. This company offers a 30-day risk-free trial and delivers the hearing aids right to customers' doorsteps.
Why You Should Promote ListenClear: ListenClear hearing aids are high-quality and affordable. The 30-day free trial is another perk for customers.
8. MDHearingAid
ListenClear carries hearing aids and similar devices to make life better for the hard of hearing.
MDHearingAid provides affordable hearing aids to more than 500,000 Americans for over 10 years now. They have high-quality and FDA-registered medical devices – all are programmed to the highest standards.
They believe cost should not hinder people with hearing loss get high-quality medical devices. And because they have cut out the middleman, their doctor-designed hearing aids are more affordable and can fit any budget.
All of their hearing aids are registered with the FDA. They also offer a free online hearing test that takes less than 8 minutes. Their products are easy to use and arrive at your doorstep already assembled with everything needed for a successful 45-day trial.
Why You Should Promote MDHearingAid: Aside from the generous commission rate, the average order value is pretty substantial at over $500. , you can hear more and save more.
9. Eargo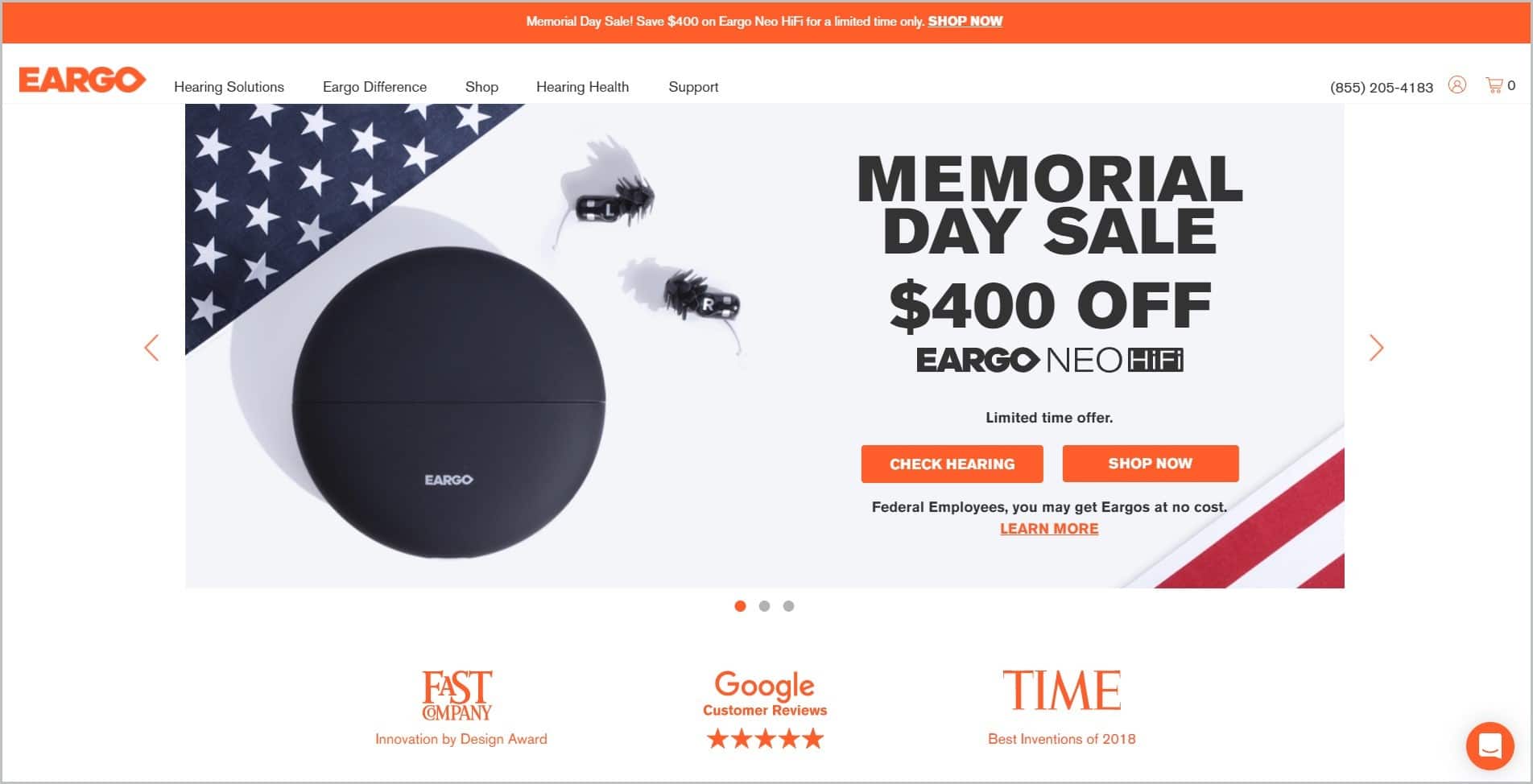 Eargo offers virtually invisible hearing aids that combine sleek proprietary technology, on-demand licensed hearing professionals, and an advanced personalized App to ensure high-quality performance.
Eargos are designed for mild to moderate high-frequency hearing loss – which is the most common and untreated form of hearing loss. They offer free hearing checks to see if one is a match and help ensure that Eargos is a good fit for the hearing loss.
Orders for the medical-grade Eargo hearing loss solution take only 2-3 days to arrive and comes with a 45-day money-back guarantee.
Why You Should Promote Eargo: They offer lifetime Telecare support from their team of licensed hearing professionals. With the use of their smartphone app, one can also make adjustments to Eargos' settings.
Affiliate Website Ideas
Now that you've read through this list of the top 9 hearing aid affiliate programs, how can you use them with your affiliate websites? This might seem like a tight niche, but there are actually a lot of ways to fold these programs into a variety of different types of websites.
For example, you might have a website focused on helping disabled children live full, active lives. This could include hearing aids, as well as mobility equipment, educational materials, specialty toys, weighted blankets, savings programs, and summer camps.
Another idea is a website for active seniors. Besides hearing aids, a website like this could feature travel, investment strategies, at-home medical supplies, online workouts or home gym equipment, and meal kit delivery services geared toward seniors.
A final idea is a website for farmers and ranchers. This type of website could feature gardening and farm equipment, business plans, insurance options, and small business loans. Hearing aids, earplugs, and similar products could be featured here as a way to help farmers and ranchers who work around loud equipment during harvest seasons.
Boost Your Affiliate Earnings
These 10 affiliate programs are just the beginning of what's possible. There are hundreds of ways to earn affiliate commissions with your website, including product reviews, top 10 lists, how-to guides, and more
But what about traffic and conversions? How do you make sure your affiliate links get clicked?
I used the affiliate training here to turn my brand new website into a six-figure income generator in less than two years. Build a business, not just a pocket-money side project!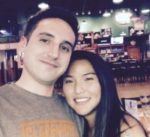 Nathaniell
What's up ladies and dudes! Great to finally meet you, and I hope you enjoyed this post. My name is Nathaniell and I'm the owner of One More Cup of Coffee. I started my first online business in 2010 promoting computer software and now I help newbies start their own businesses. Sign up for my #1 recommended training course and learn how to start your business for FREE!
Reader Interactions