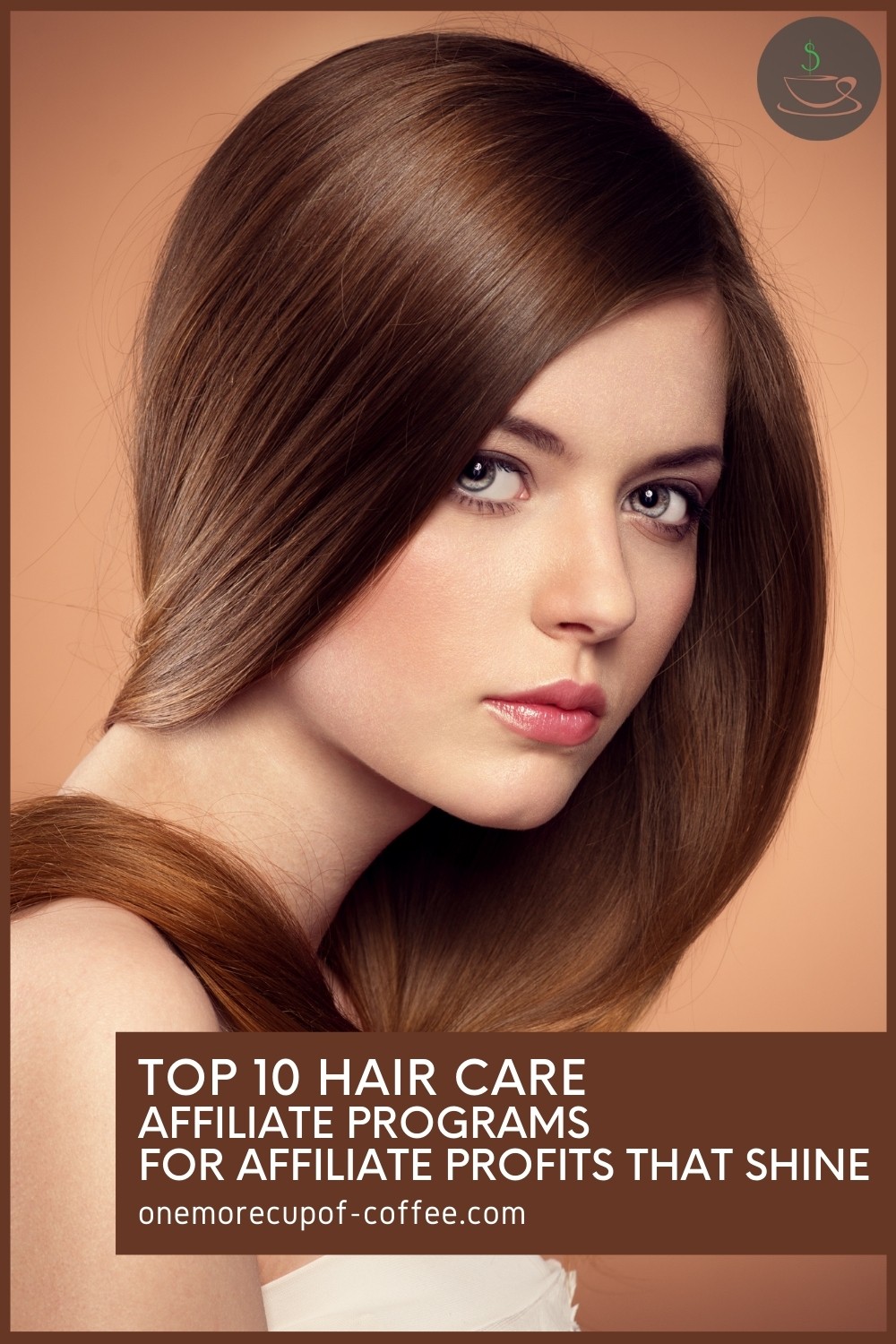 How much are you willing to pay for a bottle of shampoo? I have one friend who pays less than $1 for her shampoo, and another who pays close to $30.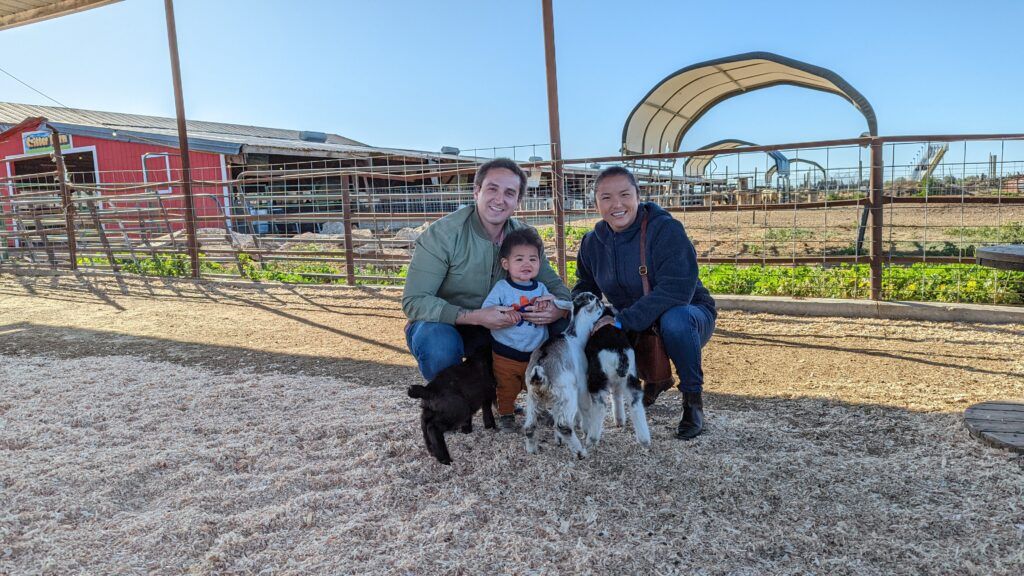 Are You Ready To Work Your Ass Off to Earn Your Lifestyle?
Are you tired of the daily grind? With a laptop and an internet connection I built a small website to generate income, and my life completely changed. Let me show you exactly how I've been doing it for more than 13 years.
The global hair care industry reached $87.9 billion in 2018. That's a high number, but it goes beyond shampoos and conditioners to include specialty hair repair treatments. Affiliate marketers can get in on the hair care action as they help consumers find the hair care companies that will help them solve a problem. Do they want more luxurious hair? Do they want hair dye for sensitive skin? Are they a woman with thinning hair? These are the types of problems you can help fix as a marketer with a blog.
This list of ten haircare affiliate programs is a good place to start with for ideas of what to promote on your blog. As you read through it, think about ways that you can apply these programs to your niche marketing efforts. I'll share some of my own ideas on possible blog topics at the end, as well.
Hair Care Affiliate Programs
iRestore Hair Growth System
Naturally Curly
Lipogaine
It's A 10 Hair Care
Madison Reed
Regenepure
Lather
Viviscal
HairMax
Virtue Labs
Related: Hair Extension Affiliate Programs
Related: Black Hair Care Affiliate Programs
1. iRestore Hair Growth System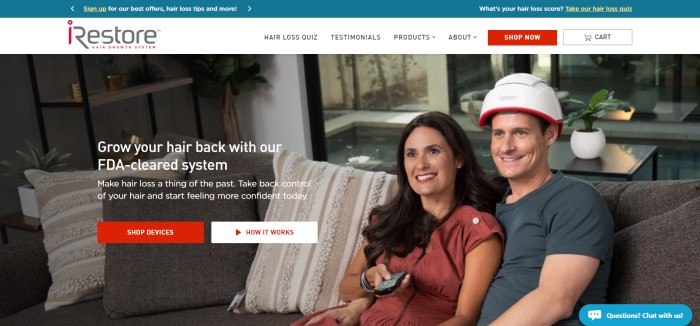 iRestore Hair Growth System addresses hair loss with an FDA-cleared system that includes clinically proven laser technology. The laser systems look like specialized helmets that deliver laser treatments to customer's scalps to help regenerate hair growth.
Affiliate commissions on iRestore products are product-specific, meaning affiliate marketers can only earn commissions on the products listed on the affiliate website. Currently, affiliates can make commissions on the laser hair growth systems and the MAX growth kit.
The products are relatively expensive. The iRestore essential hair growth system costs $695, while the professional system is priced at $1,195. This company also sells items like hair loss shampoos, gummy supplements to help support healthy hair, and anti-hair-loss serum.
Why You Should Promote iRestore Hair Growth System: The relatively high prices could mean a nice income bump for every purchase. This is also a unique product that could fit well with niche market efforts. This company also provides free U.S. shipping and returns and a 12-month money-back guarantee.
2. Naturally Curly

Naturally Curly sells shampoos, conditioners, oils, hair styling products, tools, and accessories to help people with curly hair manage their curls and keep their hair healthy. Customers can shop by texture type as well as by product type.
The website is informative, with articles on what to look for in products for curly hair as well as ways to prevent frizz and keep hair looking great.
Naturally Curly provides free U.S. shipping for orders of $50 or more and free samples with some orders.
Why You Should Promote Naturally Curly: Besides fitting nicely within a niche market, the free shipping and extra information about dealing with curly hair could be a converting factor for some shoppers.
3. Lipogaine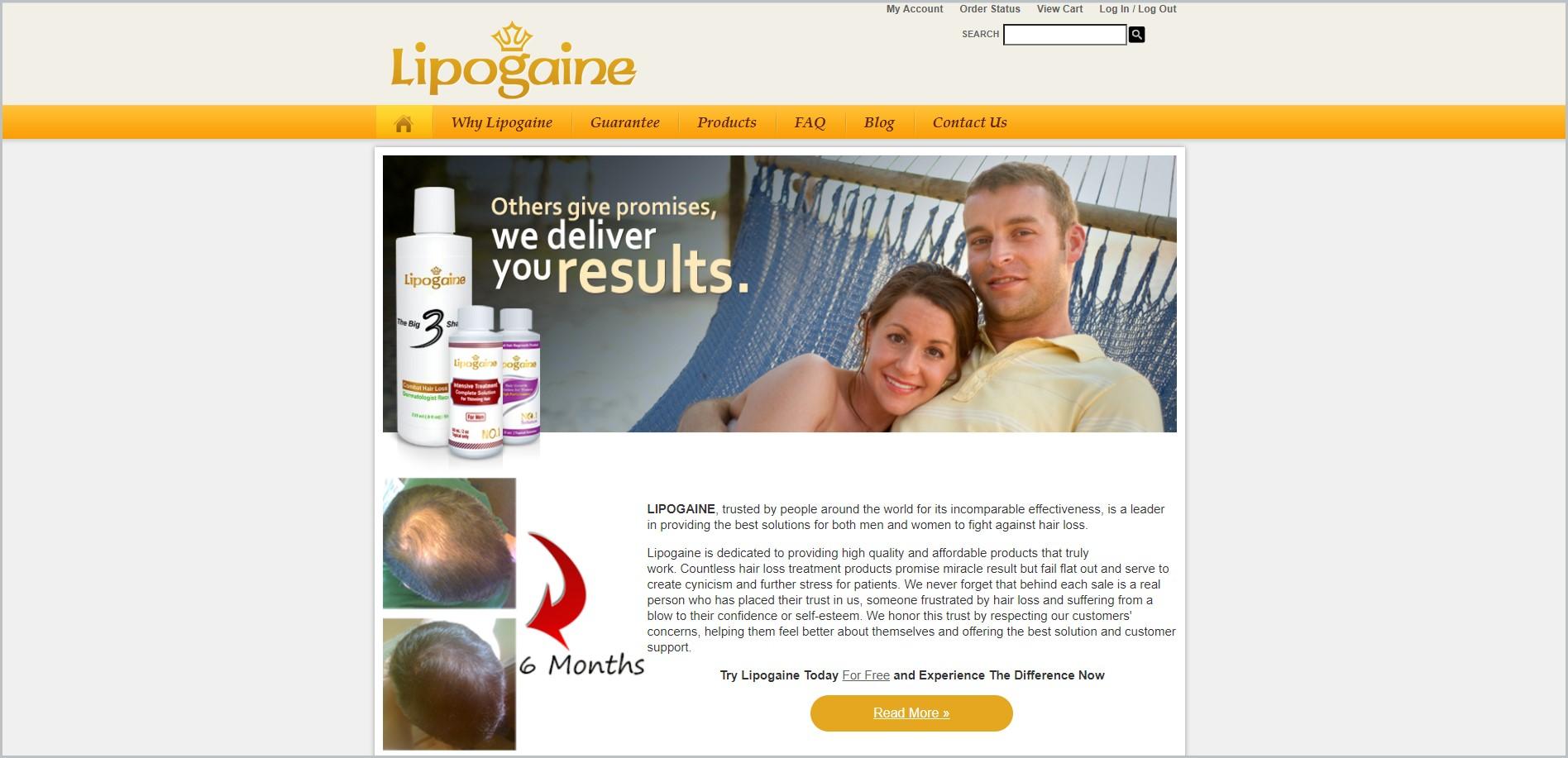 Lipogaine offers products that provide the best solutions for both men and women who are fighting hair loss. Their products are made of the highest quality materials. They follow the most stringent manufacturer guidelines to create excellent products that are safe in order to achieve excellence and gain reliability.
Lipogaine is one of the leading suppliers of hair loss products and is gaining popularity all over the world because of its unmatched effectiveness and quality. Their products are formulated with unique combinations of clinically proven ingredients that show superior effectiveness over other hair loss products available in the market.
Lipogaine's affiliate program is being administered by ShareASale. They offer a 15% commission on the purchase of any products. Affiliates will have access to seasonal promotions with bonus incentives, customized banner images and keyword-rich text links, and even free website content upon request.
Why You Should Promote Lipogaine: Aside from the generous commission, partnering with a reputable brand with proven solutions increases your chance of success in tapping into the growing hair loss market.
4. It's A 10 Hair Care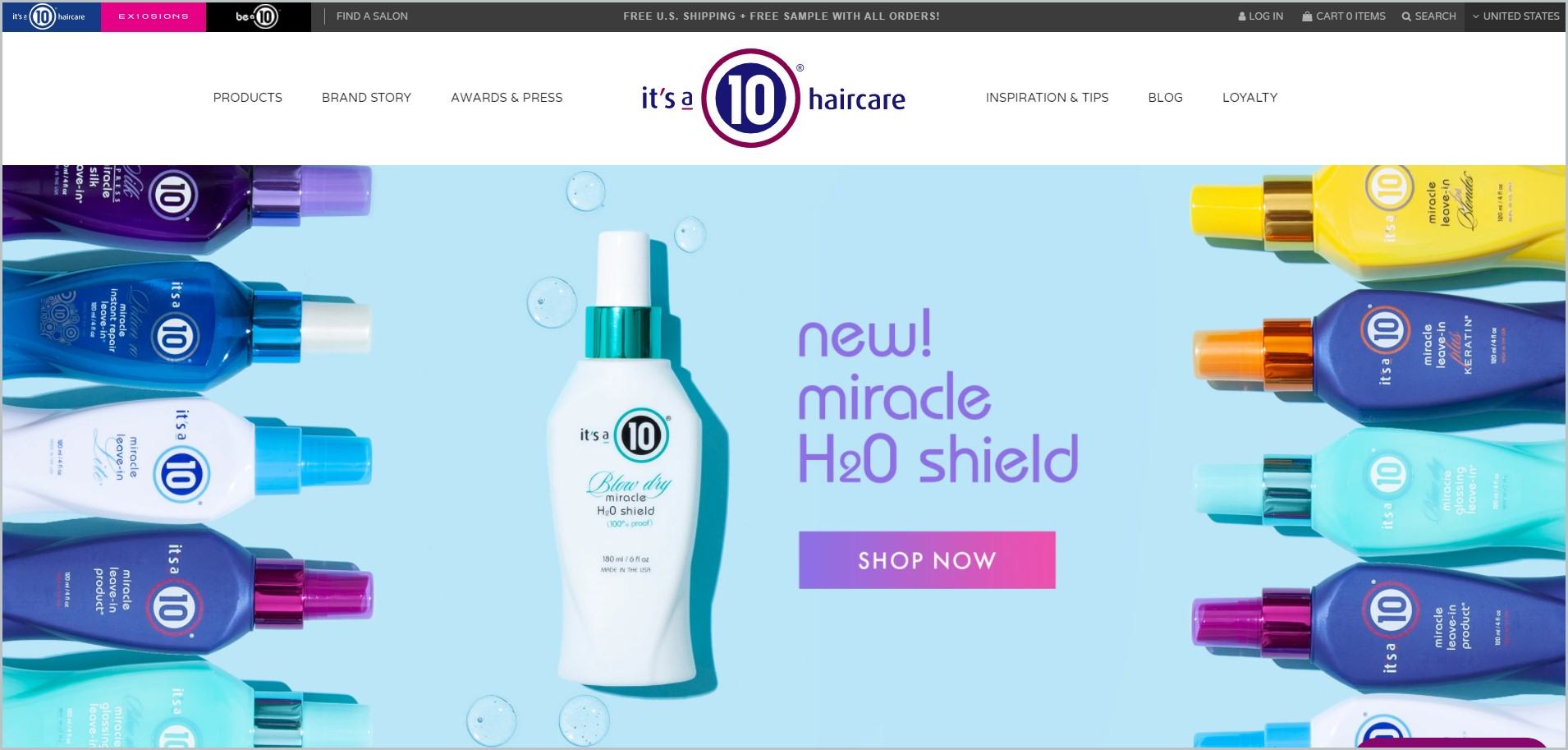 It's A 10 Hair Care is a well-known national luxury US brand offering hair care products like shampoo, conditioners and masks, leave-in products, and more. Their products are well known among consumers and salon professionals alike. They also offer hair tools, gift and travel sets, and hair extensions dubbed 'hair ex10sions.'
The company became the first indie-owned and female-owned hair care brand to run a national Super Bowl spot in 2017. They have been featured in multiple publications through the years as well including major ones like Forbes, Oprah Magazine, Marie Claire, and others.
It's A 10 Hair Care's partnered with ShareASale to manage their affiliate program. They offer an 8% commission on all product sales. Affiliates will also have access to It's A 10 product catalog. Large publishers can receive custom creative and brand-specific coupon codes.
Why You Should Promote It's A 10 Hair Care: The company is all about cruelty-free products and they also give back by providing education and spread awareness on the fight against lymphoma and leukemia. These could appeal to conscious consumers and help support more responsible shopping.
5. Madison Reed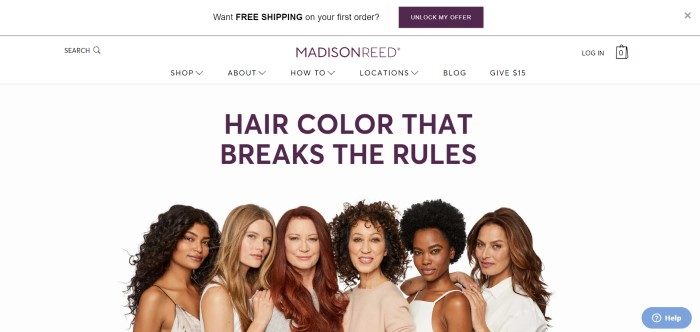 Madison Reed is an at-home hair color company that provides hair color products from ingredients that protect and promote health. All products are free from ammonia, parabens, gluten, resorcinol, and other harmful chemicals. The products contain keratin, argan oil, ginseng root, and other nutrients to protect and nourish hair.
This company sells permanent hair colors, glosses, root touch-ups, highlights, glazes, and treatments, as well as shampoos, conditioners, and styling tools. The products are relatively expensive compared to similar items you could buy at a local drug store.
Affiliate marketers earn commissions on new purchases by new members, but the commission rate isn't listed on the affiliate sign-up page. Madison Reed provides an additional $10 when affiliates refer new affiliates to the program.
Why You Should Promote Madison Reed: The relatively expensive products could bump up shopping cart totals, and the natural ingredients could attract health-conscious shoppers.
6. Regenepure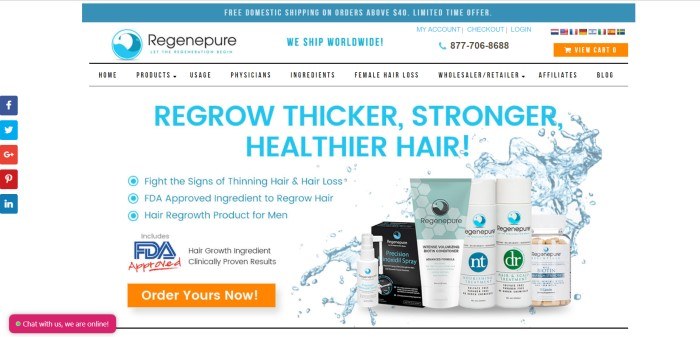 Regenepure sells products to help regrow hair following hair loss as well as to fight the signs of thinning hair. It includes items like shampoos, sprays, conditioners, and supplements that people can take internally to help prevent hair loss.
The products are designed to create a good scalp environment for healthy hair to grow in, as well as to protect existing hair, nourish hair, and stimulate new hair growth. The products are priced at around $20-25 per bottle for shampoos and conditioners and $30-40 for minoxidil sprays.
Why You Should Promote Regenepure: The relatively high cost of the products could bump up shopping cart totals. The commission rate and cookie length are nice, too.
7. Lather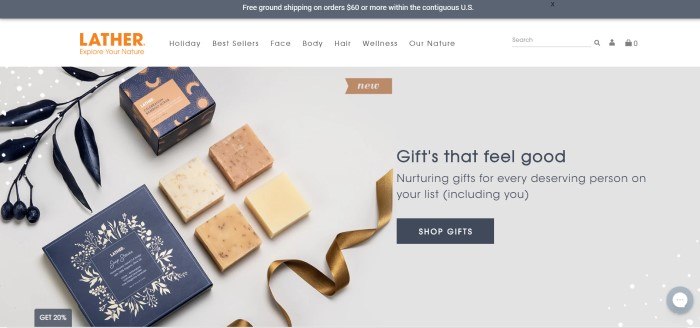 Lather sells natural wellness products, including hair care products. Customers can shop for products that feel good as well as for products under $30, under $60, and over $60. These products are made for the face, body, and hair.
There's a haircare tab that allows shoppers to select their hair type or to shop by the type of product they want, such as shampoo or conditioner. Many of the hair care products include special ingredients such as bamboo, shea butter, baobab, and mint.
Lather administers its affiliate program through Pepperjam, and it provides free shipping on orders of $60 or more in the contiguous United States.
Why You Should Promote Lather: This company offers bonus programs for affiliate marketers who are good at promoting Lather products. The filters make it easy for shoppers to find what they're looking for, too.
8. Viviscal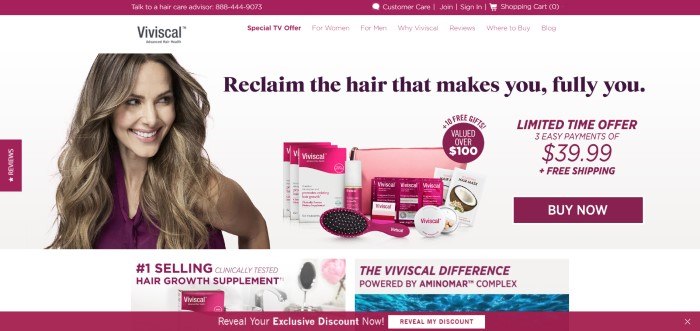 Like many hair care products, Viviscal focuses on minimizing hair loss and restoring healthy hair growth. It includes health supplements intended to create a good growing environment for hair and keep hair follicles healthy.
This company also sells shampoos, conditioners, and elixirs. The products can be purchased individually or in a bundle. There's also a Viviscal Elite kit, which is a subscription-based service that sends customers a full hair-care system every 90 days. These kits cost around $40 per month, and there's a 90-day money-back guarantee on them.
Why You Should Promote Viviscal: The ability to subscribe to a quarterly delivery could be a plus for some shoppers, and the money-back guarantee could help convert some reluctant customers. The products are decently priced, so affiliate marketers can make a nice income for each purchase.
9. HairMax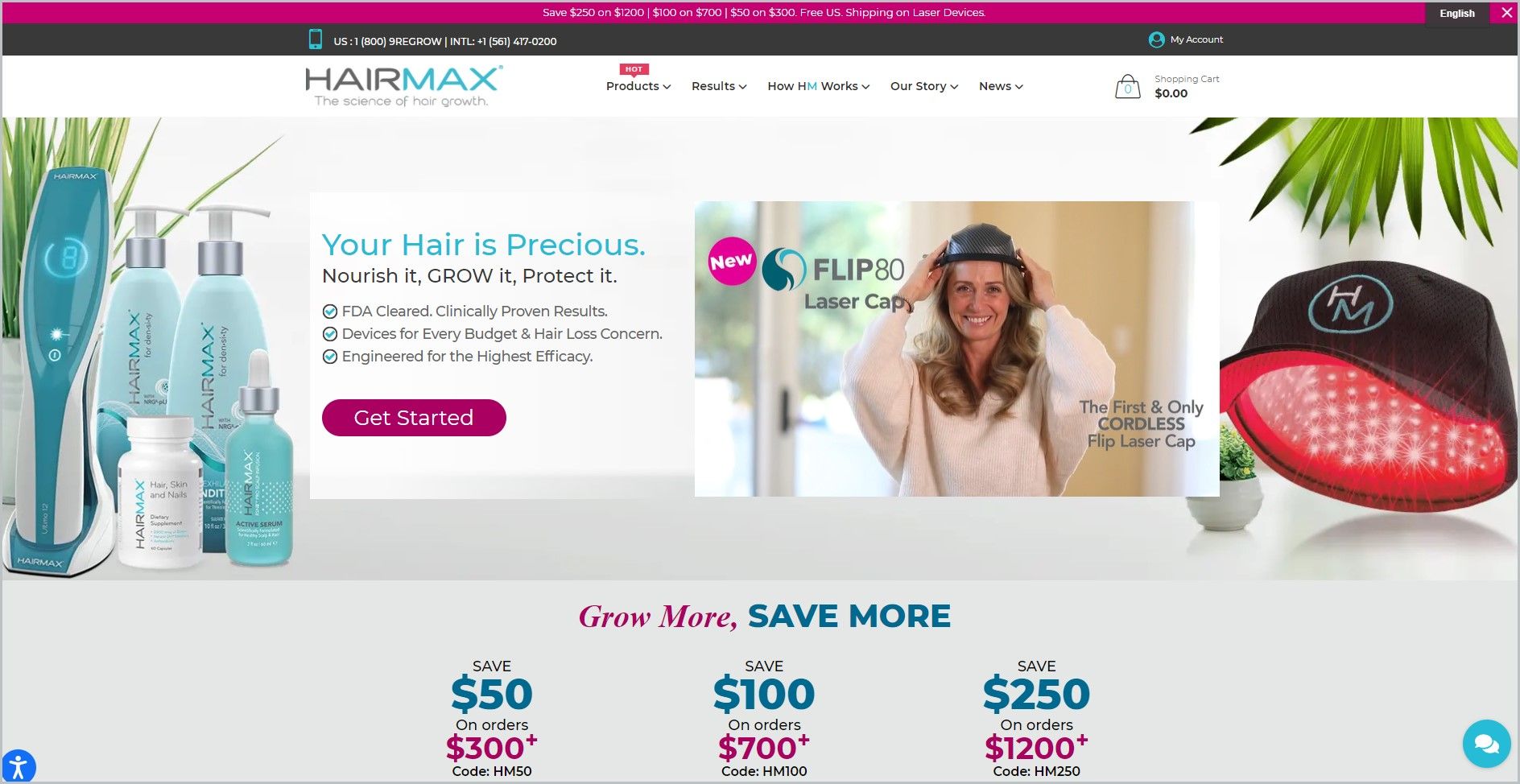 HairMax offers products that range from lasers to hair care products and nutritional supplements. They have earned the distinction of being the undisputed leading global brand in at-home hair growth technology. And ever since their founding in 2000, they have sold over 1.8 million laser devices in 170 countries.
Their products include the HairMax Lasers, Density Bio-Active Hair Therapy, targeted hair care products, HairMax nutritional supplements, and HairMax Hair fibers. To date, HairMax has invested in seven clinical studies, the results of which have been published in five peer-reviewed medical journals.
HairMax partnered with ShareASale to oversee their affiliate program. Affiliates can earn up to 10% commissions on all orders. Content sites can earn a $100 bonus if they can make 10 or more sales in a month.
Why You Should Promote HairMax: They offer a complete selection of proven hair regrowth products, they also have 2 years manufacturer's warranty and up to 1 year Money Back Guarantee on HairMax laser devices.
10. Virtue Labs

Virtue Labs is a biotech lab that provides hair care products specifically designed to repair hair. The products contain a special protein ingredient called Alpha-Keratin 60ku that has been used to help heal burns and wounds as well as restore hair.
The products that Virtue Labs carries include luxurious shampoos, conditioners, hair treatments, and styling products. Customers can shop by the type of products they're looking for or by the type of help they need, such as frizz control, hair repair, or volumizing.
Virtue Labs provides free shipping on all U.S. orders as well as free 30-day returns.
Why You Should Promote Virtue Labs: The free shopping is a definite plus, as is the 30-day return policy. The use of Alpha-Keratin 60ku makes this company stand out, too.
Affiliate Website Ideas
Now that you've read through this list of the top ten haircare affiliate programs, do you have any ideas about how you'd like to start applying programs to your blog? There are actually quite a few ways that you could put programs like this to use!
For example, a website that focuses on helping people cope with serious allergy problems could promote organic or scentless hair care products, as well as natural hair coloring. A website like this could also feature air purifiers, organic clothing, and genetic testing kits for helping find possible allergies.
What about a website that focuses on specialty hairstyles for actors, actresses, and people who enjoy cosplay or Live Action Role Play? Haircare products that keep hair in great condition could be featured here, along with tools, accessories, and even wigs. A website like this could also include costumes, fashions, and video or camera equipment to capture fun hair moments.
One more idea is a website that focuses on people recovering from chemotherapy or radiation. Besides hair care treatments to help regrow lost hair, a website like this could feature wigs, vitamins, and supplements to help with detoxification, and at-home medical supplies.
Boost Your Affiliate Earnings
These 10 affiliate programs are just the beginning of what's possible. There are hundreds of ways to earn affiliate commissions with your website, including product reviews, top 10 lists, how-to guides, and more
But what about traffic and conversions? How do you make sure your affiliate links get clicked?
I used the affiliate training here to turn my brand new website into a six-figure income generator in less than two years. Build a business, not just a pocket-money side project!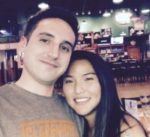 Nathaniell
What's up ladies and dudes! Great to finally meet you, and I hope you enjoyed this post. My name is Nathaniell and I'm the owner of One More Cup of Coffee. I started my first online business in 2010 promoting computer software and now I help newbies start their own businesses. Sign up for my #1 recommended training course and learn how to start your business for FREE!