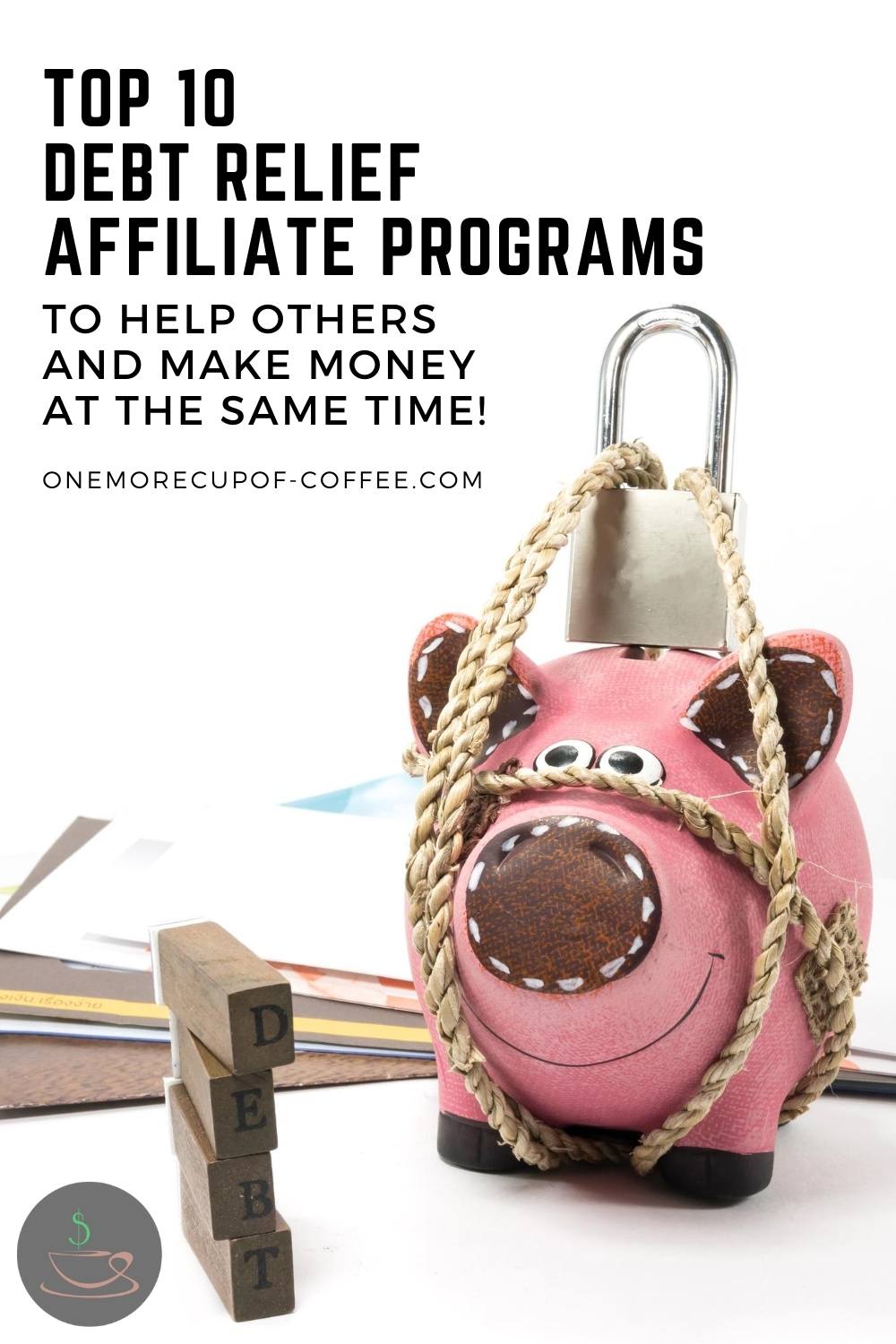 Being in debt can become a very stressful situation that might seem easier to ignore than deal with. Luckily there are lots of services to help you get out of debt and on the path towards financial freedom. Debt relief services include debt settlement, debt consolidation, loan refinancing, financial counseling, and budgeting courses.
Here are 10 great debt relief affiliate programs to start working with.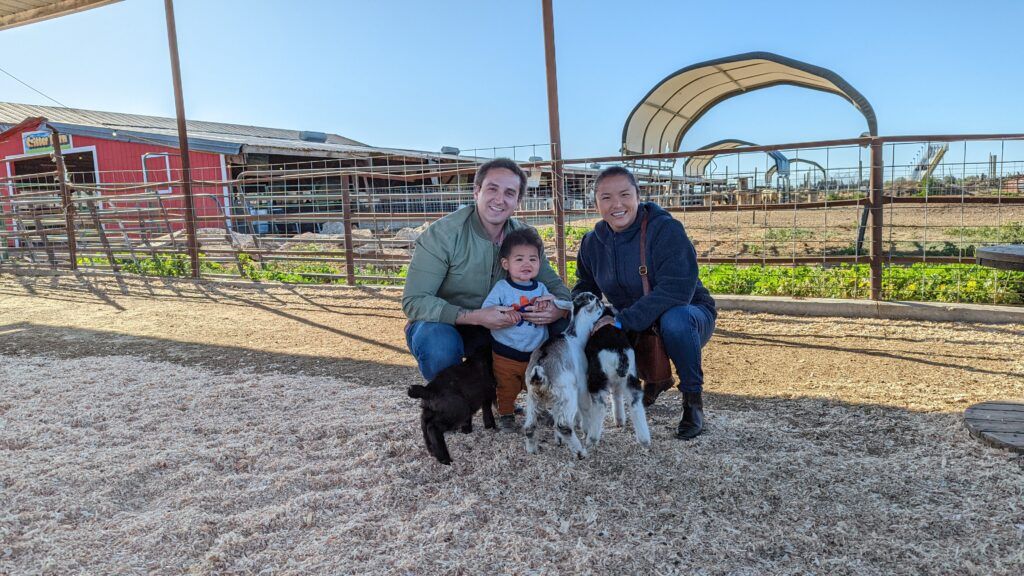 Are You Ready To Work Your Ass Off to Earn Your Lifestyle?
Are you tired of the daily grind? With a laptop and an internet connection I built a small website to generate income, and my life completely changed. Let me show you exactly how I've been doing it for more than 13 years.
Debt Relief Affiliate Programs
American Debt Enders
National Debt Relief
Guardian Debt Relief
CuraDebt
Payoff
Credible
Education Loan Finance
Your Sunny Money Method
Freedom Financial Network
LendingTree
American Debt Enders
American Debt Enders is a debt relief one stop company that is a member in good standing of NETCHECK and operates in 46 states with no complaints. They offer free credit counseling and a debt dispute program that is less expensive than debt settlement.
Qualified leads must be contactable with a minimum of $7500 of debt. American Debt Enders has partnered with ShareASale to manage their affiliate program. Affiliates have access to marketing materials like banner ads and text links along with tracking and reporting tools.
Why Should You Promote American Debt Enders: One-stop debt relief company, cookies never expire, higher commission available
Higher commissions are available for more active affiliates.
National Debt Relief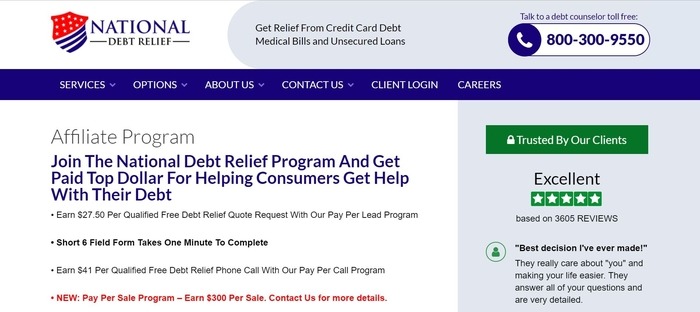 National Debt Relief is committed to helping people achieve financial freedom through debt settlement. They are one of the largest debt settlement companies in the US and are accredited by the BBB, AFCC, and IAPDA.
Affiliates have access to their high-quality banners, text links, and tracking tools through ShareASale. National Debt Relief offers their affiliates ongoing training and resources to help maximize lead conversions. You can contact them for more details about their new pay per sale program.
Why Should You Promote National Debt Relief: Top debt settlement company, great commission rates, higher volume affiliates can earn higher commissions
Affiliates can also earn money by referring other affiliates. Each month, you'll earn 12% of your referral's commissions.
Guardian Debt Relief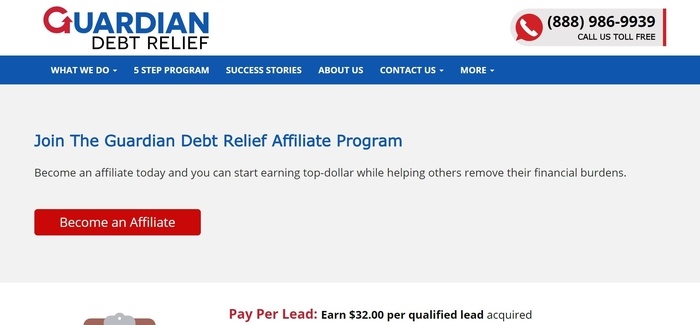 Guardian Debt Relief is a trusted and certified AFCC and IAPDA debt relief company with an A+ BBB rating. They've helped thousands of people successfully reduce their debt with debt negotiation which is a great alternative to bankruptcy or debt consolidation loans. Their program has no upfront fee. They only get paid after they've successfully helped their clients reduce their debt.
Qualified leads must have $10,000+ in unsecured debt and live in a qualified state. Guardian Debt Relief manages their affiliate program with ShareASale and provides access to creatives and tracking tools. Affiliates can promote their services on their websites, PPC campaigns, display ads, newsletters, and affiliate directories.
Why Should You Promote Guardian Debt Relief: Certified and trusted debt relief company, high commissions for closed deals, referral commissions
Affiliates also earn 15% referral commissions on any commissions your referred affiliates earn.
CuraDebt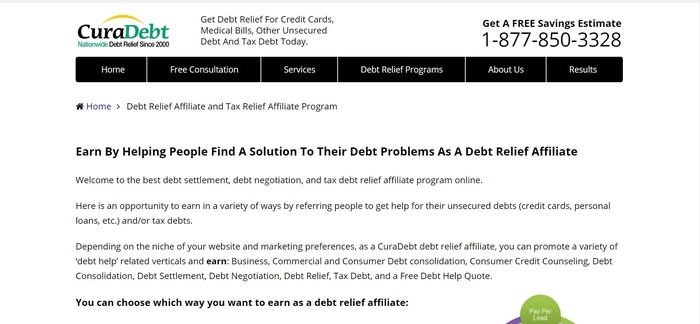 Curadebt is a top-rated debt settlement, negotiation, consolidation, and tax debt relief company. They have over 16 years of experience nationwide and more than 100 years of combined tax debt relief experience. They use their knowledge and experience to ensure you get the best possible results.
They have a high conversion rate because their application only takes 1 minute to complete and it's only a request for a free consultation so there is no risk. CuraDebt uses ShareASale to manage their affiliate program. They have been running their business and affiliate program since 1998 and understand how important it is to build long term relationships with their affiliates.
Why Should You Promote CuraDebt: Top rated debt relief company, they strive to build lasting relationships with their affiliates, cookies never expire
Affiliates can also join with Commission Junction and earn bonuses for higher sales but their cookie life is only 45 days instead of having never expiring cookies.
Payoff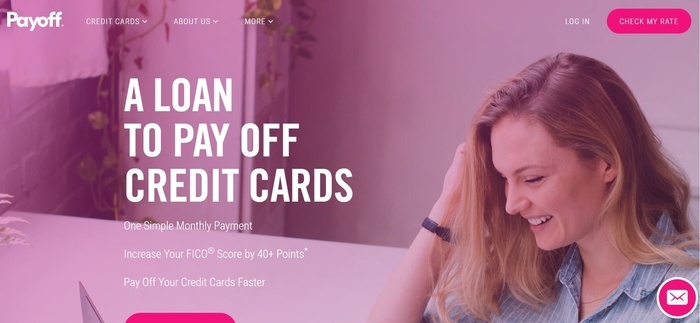 Payoff offers credit card consolidation loans to pay off credit card debt faster with one simple monthly payment. This can increase your FICO credit score by more than 40 points. Payoff is a good fit for anyone looking to consolidate over $5,000 in credit card debt and eliminate their credit card debt.
They offer their affiliates one of the most competitive payout structures in the industry. Payoff uses Commission Junction to manage their affiliate program. Affiliates have access to creatives and tracking tools along with help from their dedicated affiliate support team.
Why Should You Promote Payoff: Pay off credit cards faster, increase FICO score, great commission fee
Payoff helps their customers get out of credit card debt faster and gives their affiliate a very generous $150 per funded loan.
Credible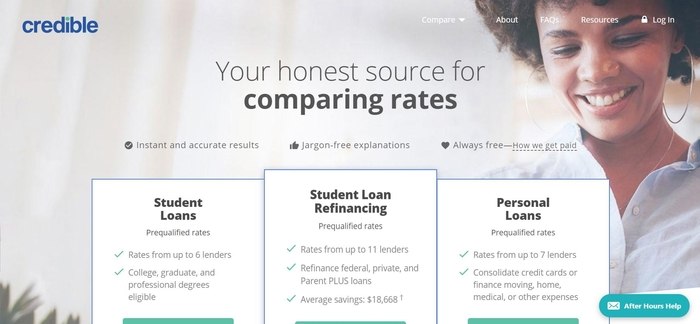 Credible provides honest unbiased support for all of life's important financial decisions. They provide instant personalized, pre-qualified results for student loans, student loan refinancing, and personal loans with jargon-free explanations that are always free. Their mission is to make saving money on loans quick and painless.
Their student loan refinances program has an average savings of $18,668 to get their customers out of debt faster. Affiliates have access to high-quality banner ads and text links along with tracking tools and monthly commissions payouts through Commission Junction. To apply, search for Credible in the advertiser's section of Commission Junction.
Why Should You Promote Credible: Honest unbiased loan comparison, save money with student loan refinancing, high commission flat fees
Credible's student loan refinancing program saves customers an average of $18,668 and earns their affiliates $200 for every closed loan.
Education Loan Finance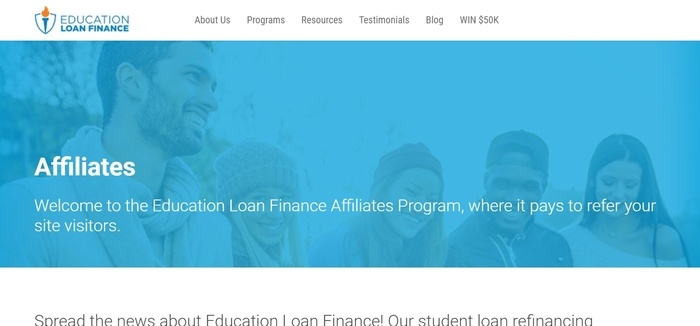 Education Loan Finance offers student loan refinancing programs with affordable rates, flexible terms, and manageable payments. Refinancing can help you to pay off students faster so you can use the savings to invest in your dreams. They work with their customers to find the best repayment strategy for your situation and goals and do not charge application fees or have prepayment penalties.
Affiliates get rewarded for referring their friends and viewers to Education Loan Finance. You can share your referral links on your blog, websites, social media pages, and emails. There is no limit on the number of customers you can refer.
Why Should You Promote Education Loan Finance: Save money by refinancing student loans, no limits on the number of referrals, extremely high commission fee
When a customer refinances an education loan with your referral link, you'll get $400 and they will get $100.
Your Sunny Money Method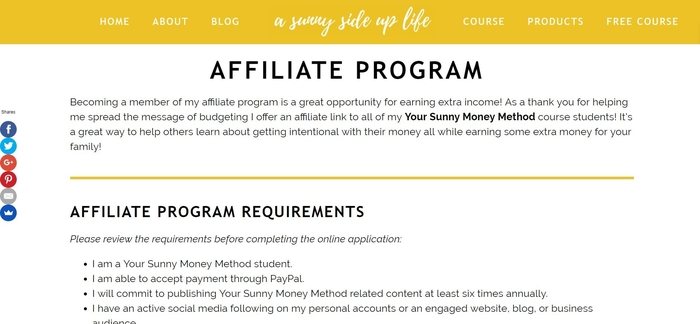 Your Sunny Money Method is an online budgeting course designed to help families break free from financial survival mode. The course includes 30 lessons and budget worksheets that you can work on at your own pace from anywhere. You also receive lifetime access, free upgrades, live monthly group coaching, live workshops, and more.
Affiliates must be Your Sunny Money Method students to apply and commit to publishing content about the course at least six times a year. Once approved, you'll have access to graphics and social media prompts to help promote the course. Teachable, their course platform takes care of all the affiliate tracking, reporting, and payments.
Why Should You Promote Your Sunny Money Method: Money budgeting course to help people gain financial freedom, very high commission rate, $10 off coupons to help increase conversions
Affiliates earn 40% on every student registration. To help increase conversion rates, affiliates can offer their audience a $10 off coupon.
Freedom Financial Network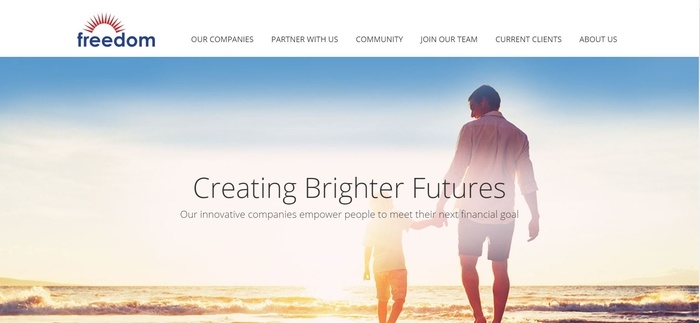 Freedom Financial Network helps their customers reduce debt, build wealth, achieve financial freedom through their financial services and education. They offer low rates with no collateral required and no prepayment penalties. They started in a spare bedroom in Silicon Valley and have grown into a leader in online financial services that has helped millions of customers.
They've partnered with Commission Junction to run their affiliate program. Freedom Financial Network provides their affiliates with a great selection of banner ads and text links along with access to tracking and reporting tools to monitor and optimize their success.
Why Should You Promote Freedom Financial Network: Leader in the online financial services industry, no collateral or prepayment penalties, good commissions on leads
While Freedom Financial Network has the shortest cookie life, they are still worth checking out because of their high earnings per click and commission rates.
LendingTree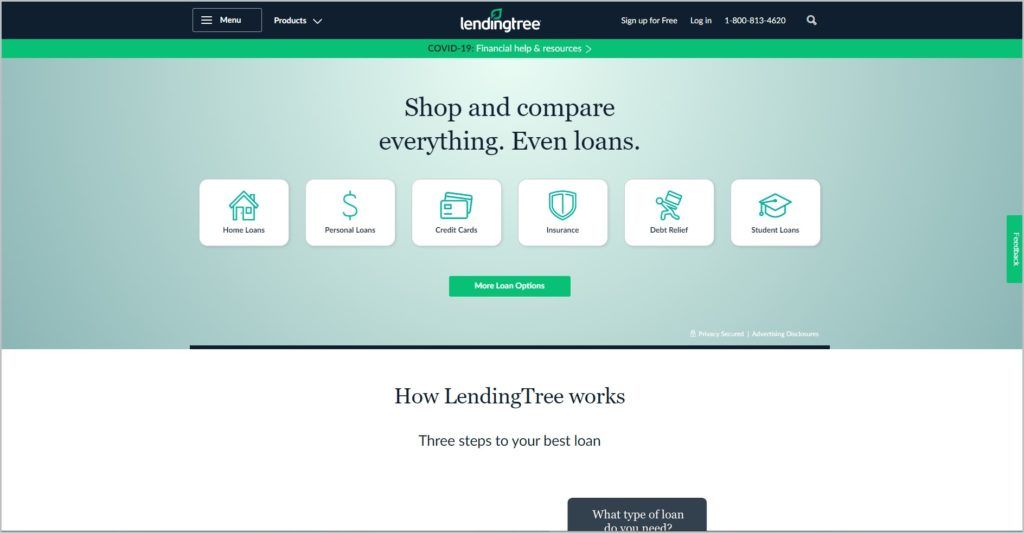 Lending Tree offers different financial products, from personal loans to student loans, or home loans to debt relief. Nearly 75% of your audience already knows them. They're one of the most trusted and established brands. In addition to low-cost home refinance, home purchase loans, and home equity loans, they also provide a number of mortgage tools like home affordability and mortgage payment calculator, and tips on mortgage negotiation.
Lending Tree affiliates get up to $60 per lead. As an affiliate, you can make buying decisions with analytics through the lender portal as well as view real-time data for effective capacity. Their affiliate program is being run by VigLink.
Why Should You Promote Lending Tree: One of the most trusted and established companies, decent commission per lead, support, and training
Lending Tree is well known thereby easy to market to your audience, they'll more likely check out their offers.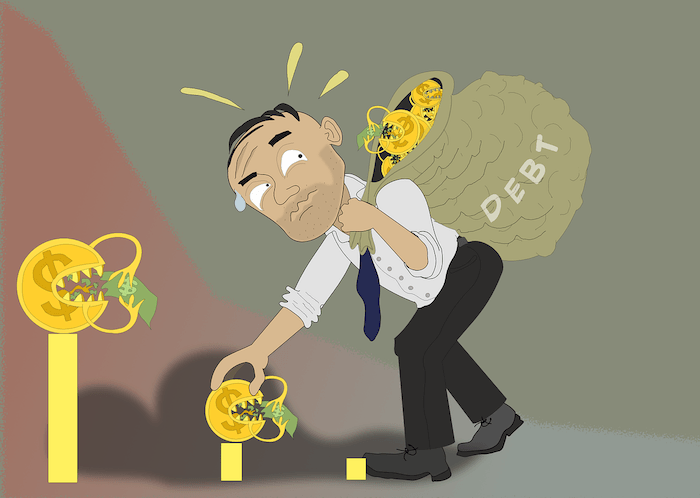 Affiliate Website Ideas
Now that you've read about 10 great debt relief affiliate programs, it's time to decide what niche you want to target. You could focus on debt settlement. National Debt Relief is one of the top debt settlement companies in the US. Affiliates can earn $27.50 per lead and $300 per sale.
Student loan refinancing can save people thousands of dollars each year and help them get out of student debt sooner. Education Loan Finance offers affiliates $400 when your referrals refinance their student loans.
Money budgeting courses are another great niche to target for families looking to take control of their expenses and learn how to gain financial freedom. Your Sunny Money offers their affiliates a very high 40% commission rate with a 30-day cookie life.
Boost Your Affiliate Earnings
These 10 affiliate programs are just the beginning of what's possible. There are hundreds of ways to earn affiliate commissions with your website, including product reviews, top 10 lists, how-to guides, and more
But what about traffic and conversions? How do you make sure your affiliate links get clicked?
I used the affiliate training here to turn my brand new website into a six-figure income generator in less than two years. Build a business, not just a pocket-money side project!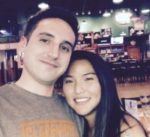 Nathaniell
What's up ladies and dudes! Great to finally meet you, and I hope you enjoyed this post. My name is Nathaniell and I'm the owner of One More Cup of Coffee. I started my first online business in 2010 promoting computer software and now I help newbies start their own businesses. Sign up for my #1 recommended training course and learn how to start your business for FREE!