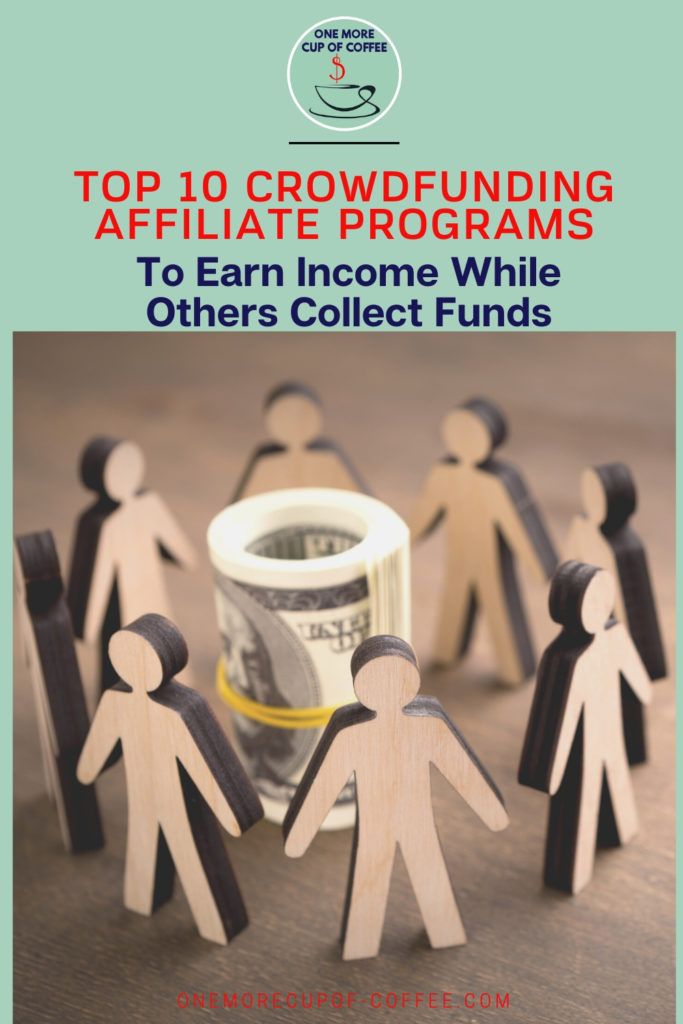 Crowdfunding is a very interesting niche that I wouldn't have guessed would yield so many options for affiliate programs. Not every company here is exactly like Kickstarter or Indigogo though, and that works to your advantage.
For example, Future College Fund allows you to collect money for a child's college fund instead of getting junky toys throughout their childhood. Custom Ink is a website for selling clothing to raise money for events or causes.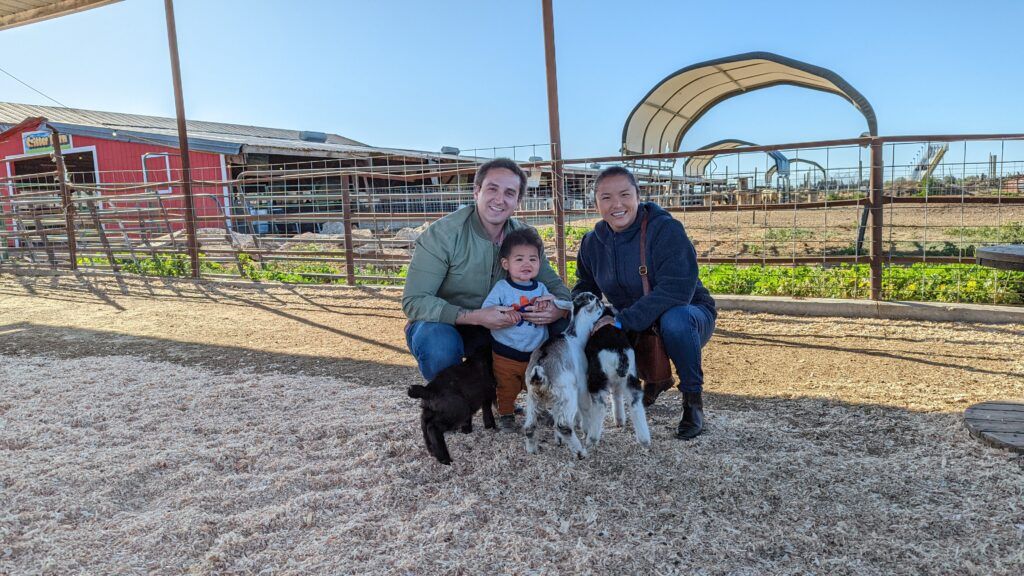 Are You Ready To Work Your Ass Off to Earn Your Lifestyle?
Are you tired of the daily grind? With a laptop and an internet connection I built a small website to generate income, and my life completely changed. Let me show you exactly how I've been doing it for more than 13 years.
Just reading about the crowdfunding affiliate programs on this page should spark some really interesting niche website ideas, or get you some new areas to explore with your current website.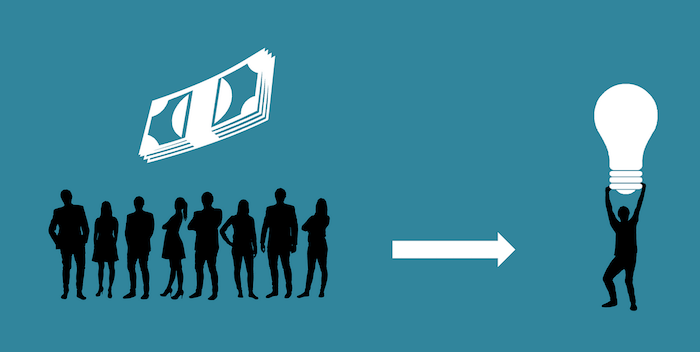 Crowdfunding Affiliate Programs
Kickbooster
Krowdster
Honeyfund
Easyship
Crowd Funding Exposure
CustomInk
Future College Fund
GoGetFunding
Udemy
My Crowdfunding
Kickbooster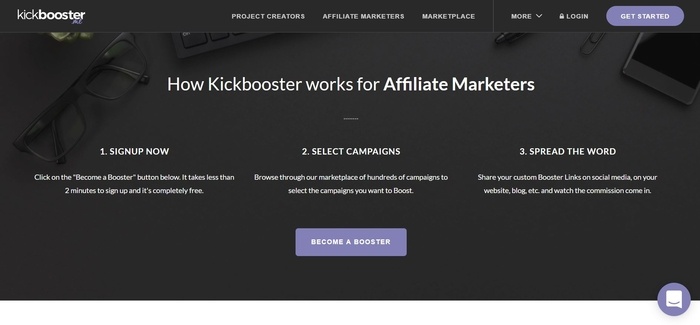 URL:
Commission: Based on campaign
Cookie: Based on campaign
Kickbooster allows you to earn commissions on funds you help raise. Affiliates known as Boosters get access to hundreds of crowdfunding campaigns that offer rewards for helping to spread the word about their campaign. You can promote the campaigns on your website, blogs, and social media pages.
The commission rate and cookie life is different for each campaign and is set by the campaign manager. So unlike other affiliate programs, you can to pick and choose which campaigns work best for you. Everything is managed in the Kickbooster dashboard where you can track your clicks, pledges, and commission. You can also see where your traffic is coming from so you know where to focus your marketing efforts.
Why Should You Promote Kickbooster: Unique platform, commissions vary on each campaign, lots of tracking tools
Another great feature about Kickbooster is that the affiliate links are just KickStarter short links so they don't traditional affiliate links.
Krowdster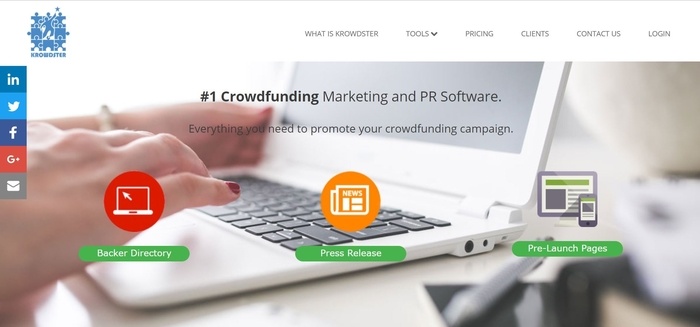 Commission: 20%
Cookie: As long as the subscription is active
Krowdster is the #1 crowdfunding marketing & PR software. It was designed to promote Kickstarter and Indiegogo campaigns or any other rewards or equity-based crowdfunding campaigns. They have the world's largest crowdfunding backer directory with over 1 million backers. Other features include a twitter marketing tool to build a targeted audience, press release services, and more to help run a successful crowdfunding campaign.
Krowdster allows you to generate passive income just by recommending Krowdster. Affiliates earn 20% of sales and any recurring sales you refer to. The cookie life is as long as the subscription is active. Their program is open to affiliates from all countries who have a verified Paypal account which is also how you receive payouts. They use a proprietary affiliate tracking reporting system with customizable landing pages. You can generate unlimited tracking codes and track different traffic sources to see where traffic is coming from.
Why Should You Promote Krowdster: #1 crowdfunding marketing software, large backer database, very high commission rate.
Krowdster helps campaign managers run a successful crowdfunding campaign and rewards affiliates with 20% of sales they refer to.
Honeyfund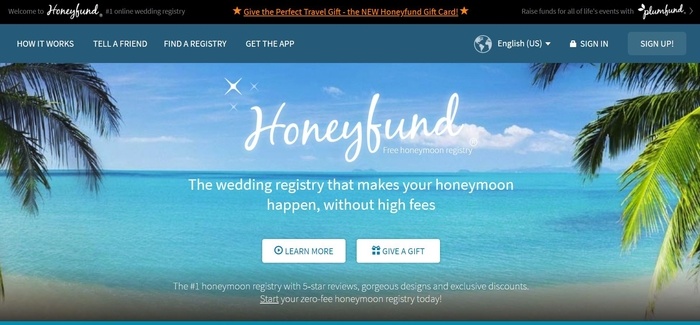 Commission: $3 CPL on new sign-ups, 3.5% commissions on gift cards
Cookie: 90 days
Honeyfund is the #1 online wedding gift registry and one of the world's most popular crowdfunding sites for weddings, honeymoons, down payments, and more. They have helped hundreds of thousands of couples make their newlywed dreams come true. Their fundraising platform makes it easy for couples to set up and manage their campaign and for their friends and families to donate.
Affiliates earn $3 CPL for new Honeyfund sign-ups and 3.5% commissions on Honeyfund gift cards. The average order value on gift cards is $100. The cookie duration period is 90 days. Honeyfund uses ShareASale to manage their affiliate program. They provide affiliates with access to their data feed, gorgeous creative, links and content, and personalized strategy tips.
Why Should You Promote HoneyFund: #1 online wedding gift registry, two ways to earn commissions, long cookie life
HoneyFund is a top wedding crowdfunding site that gained a lot of exposure after their successful funding on ABC's Shark Tank. Affiliates can capitalize on their brand recognition when they promote new sign ups and gift cards.
Easyship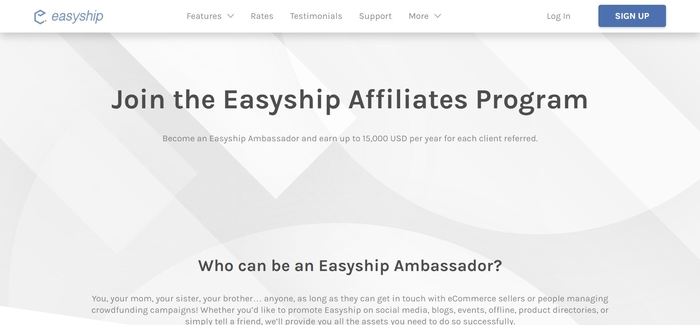 Commission: 5%
Cookie: 12 months
Easyship is a one-stop solution for product warehousing, shipping, and tracking needs. They are the best choice for crowdfunding campaigns and eCommerce sellers to ship their orders all over the world. They were the first company to provide an end to end infrastructure that connects sellers directly to all UPS, FedEx, DHL, and TNT with over 100 shipping options.
Affiliates receive a 5% commission on the total shipping cost from each referral. You earn recurring commissions too every time they ship for up to 12 months. There are no limits on how much you can earn. Affiliates can promote Easyship on their blogs, social media pages, product directories, or even offline. They provide you with all the marketing tools and materials you need. Each month, you will also receive reports and materials to help you improve your performance
Why Should You Promote Easyship: Generous commission rate, very long cookie life, recurring commissions on every shipment
Easyship is a great affiliate program to offer as a shipping solution for any crowdfunding platform you are promoting.
Crowd Funding Exposure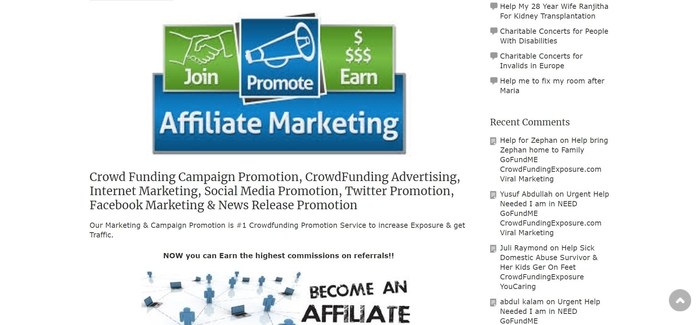 Commission: up to 30%
Cookie: 30 days
Crowd Funding Exposure offers marketing and campaign promotion and is the #1 crowdfunding promotion service to increase exposure and get traffic. They have helped over 80,000 satisfied clients since 2004. Promotion includes social media, targeted ads, personal consulting services, and state of the art newswire services with over 400+ news websites.
Affiliates earn up to 30% commissions per sale/customer. You can share your affiliate link on your blogs, website, social media pages, even through an ad. Crowd Funding Exposure provides you with text and graphic ads along with marketing tools and training on their affiliate platform. You can also track your performance and earnings.
Why Should You Promote Crowd Funding Exposure: Very high commission rates, #1 crowdfunding promotion service, lots of marketing training and tools
Not all products are included in the commissions. Be sure to check out their terms and conditions for more details.
CustomInk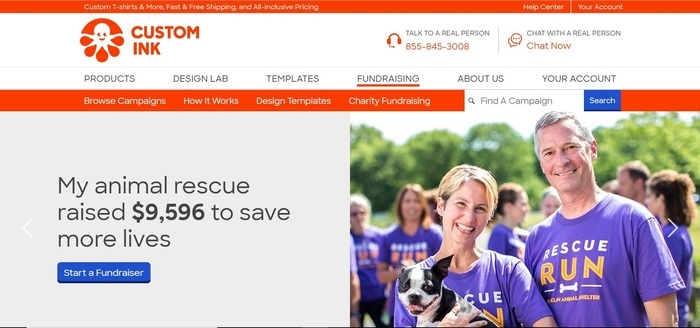 Commission: 5-7%
Cookie: 30 days
CustomInk takes out the hassle of setting up a crowdfunding campaign then having to spend money on apparel for rewards. They allow schools, small businesses, charities, and more to set up campaigns on their site. That way they can raise funds by selling apparel with no risk or cost to them. Plus the custom-designed apparel boosts spirits, inspires a sense of community, and brings people together.
Affiliates earn 7% commissions per sale except on licensed products which earn 5%. You can also earn $10 for every partner you refer to that gets approved for their affiliate program. The cookie life is 30 days. CustomInk uses CJ to run their affiliate program. They send out a weekly newsletter with updates on strategies and opportunities to grow your partnership.
Why Should You Promote CustomInk: Apparel fundraising campaigns, generous commissions, partner referral bonus
It's important to note that they don't accept applications for all states. So make sure to check if they approve your state before you apply.
Future College Fund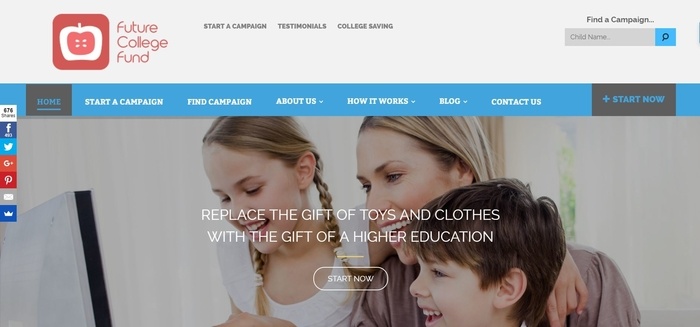 Commission: 2%
Cookie: 45 days
Future College Fund allows friends and family to replace the gift of toys and clothes with the gift of higher education. They can donate to your child's college fund using Future College Fund's crowdfunding platform. They can even set up direct deposits to make contributions with ease on birthdays, holidays, or other special occasions.
Affiliates earn a 2% commission rate. The cookie duration period is 45 days. Future College Fund uses Impact Radius to manage their affiliate program. They provide affiliates with free tutorials, state of the art technology, a suite of creatives, and real-time reporting.
Why Should You Promote Future College Funds: Gift alternative for kids, long cookie life, Lots of marketing tools and materials
Future College Funds offers friends and family a clever children's gift alternative to help pay for higher education. Affiliate receive a generous 2% commission rate with a 45-day cookie life.
GoGetFunding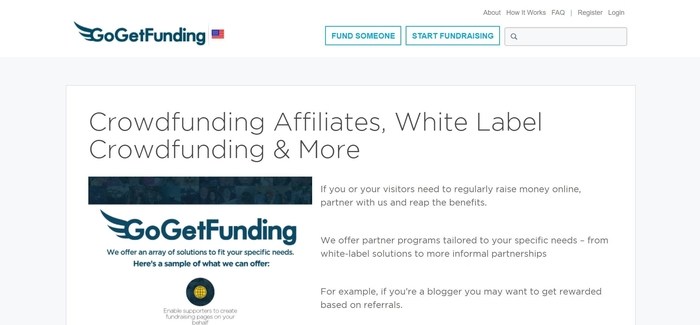 Commission: 2%
Cookie: 14 days
GoGetFunding has helped people from all around the world raise money through crowdfunding. You can raise money for anything that matters to you including personal causes, special events, projects, and more. They have been recognized as one of the top 6 crowdfunding websites in the world by Forbes.
They offer partner programs tailored to your specific needs. So bloggers can be rewarded based on referrals and a non-profit organization can have a white-labeled solution that allows fundraisers to create donation pages on their behalf. GoGetFundng offers their affiliates 50% of their commission share, so you will earn 2% of every donation a referred fundraiser receives. For example, if you refer someone and they raise $5000, you'll earn $100. The cookie life is 14 days. To learn more about their program and find the program right for you, fill out the form on their contact page.
Why Should You Promote GoGetFunding: Top crowdfunding site, custom affiliate programs, generous commission structure
GoGetFunding offers their affiliates half of their commission share with a 14-day cookie life.
Udemy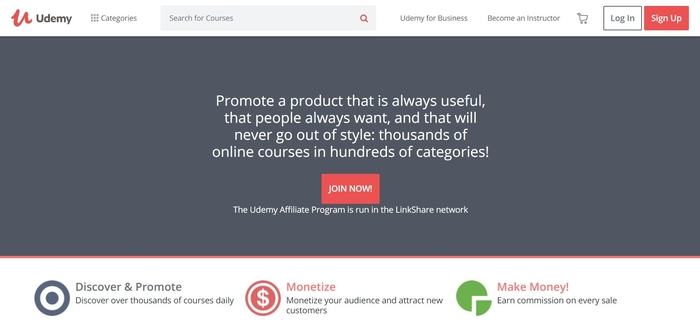 Commission: 25%
Cookie: 7 days
Udemy is the world's largest online learning marketplace. They have thousands of courses in hundreds of categories created by the world's top experts. You can even take courses on how to run a successful crowdfunding campaign. There are specific courses like crowdfunding for artists, businesses, and real estate that go into greater depth on the best practices for marketing for their industry. They have lots of helpful courses like how to create a website and online marketing tips for businesses that would also be useful for running a crowdfunding campaign.
Affiliates earn 25% commissions on sales on their exclusive content. The cookie life is 7 days. Udemy uses Rakuten Marketing to run their affiliate program and give access to dozens of text links and hundreds of banners. They have lots of promotional assets and tools to help you drive sales and a dedicated affiliate manager to help with questions you might have. You will also receive affiliate exclusive coupons and discounts.
Why Should You Promote Udemy: Great commission rate, crowdfunding courses, lots of marketing materials
Udemy is a great resource for your viewers to learn more about crowdfunding and how to run a successful campaign. Affiliates earn 25% commissions with lots of promotional resources to help increase sales.
My Crowdfunding
Commission: 10%
Cookie: 7unknown
My Crowdfunding helps individuals and organizations raise funds online to make their ideas a reality through crowdfunding. They basically connect people, inspire creative projects, and have fun helping raise funds from the community. Individuals or organizations simply have to put their goal amount, choose a particular cause, and upload a photo or video with their fundraising story – My Crowfunding of course gives help and advice in the process.
A successful crowdfunding project pays a 10% fee. They share that fee with the affiliate, making it a great opportunity for these individuals to help their respective community and earn some extra money in the process. Affiliates are given unlimited earning potential, support, analytics and reports, and sources of content.
Why Should You Promote My Crowdfunding: Generous commission rate, affiliate support, unlimited earning potential
As an affiliated crowdfunder agent you will be rewarded on a result basis for each successful project – that is up to 10% commission on campaigns. Mycrowdfunding uses a revenue share structure for its Affiliate Program, contact them for more information.
Affiliate Website Ideas
Now that you've read about 10 great crowdfunding affiliate programs, it's time to find an interest group to target. You could focus on crowdfunding for weddings. Honeyfund would be a great affiliate program for this. They are the #1 online wedding gift registry and a top wedding crowdfunding site. Affiliates earn 3.5% commissions on gift cards and $3 on new sign-ups.
Crowdfunding for business ideas would be good for people searching for a more specific type of crowdfunding platform. Patronomy offers more business help that traditional crowdfunding sites. Affiliates earn $25 per qualified lead and their project affiliate program is different for on each campaign but is usually 7-10% commissions on the funds pledged by your backers.
Crowdfunding for college is another idea you could promote. Future College Fund offers a great alternative to gifts for kids. Instead, you can crowdfund their higher education costs. Affiliates earn 2% commission with a 45-day cookie life.
Boost Your Affiliate Earnings
These 10 affiliate programs are just the beginning of what's possible. There are hundreds of ways to earn affiliate commissions with your website, including product reviews, top 10 lists, how-to guides, and more
But what about traffic and conversions? How do you make sure your affiliate links get clicked?
I used the affiliate training here to turn my brand new website into a six-figure income generator in less than two years. Build a business, not just a pocket-money side project!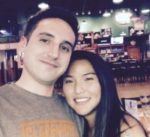 Nathaniell
What's up ladies and dudes! Great to finally meet you, and I hope you enjoyed this post. My name is Nathaniell and I'm the owner of One More Cup of Coffee. I started my first online business in 2010 promoting computer software and now I help newbies start their own businesses. Sign up for my #1 recommended training course and learn how to start your business for FREE!