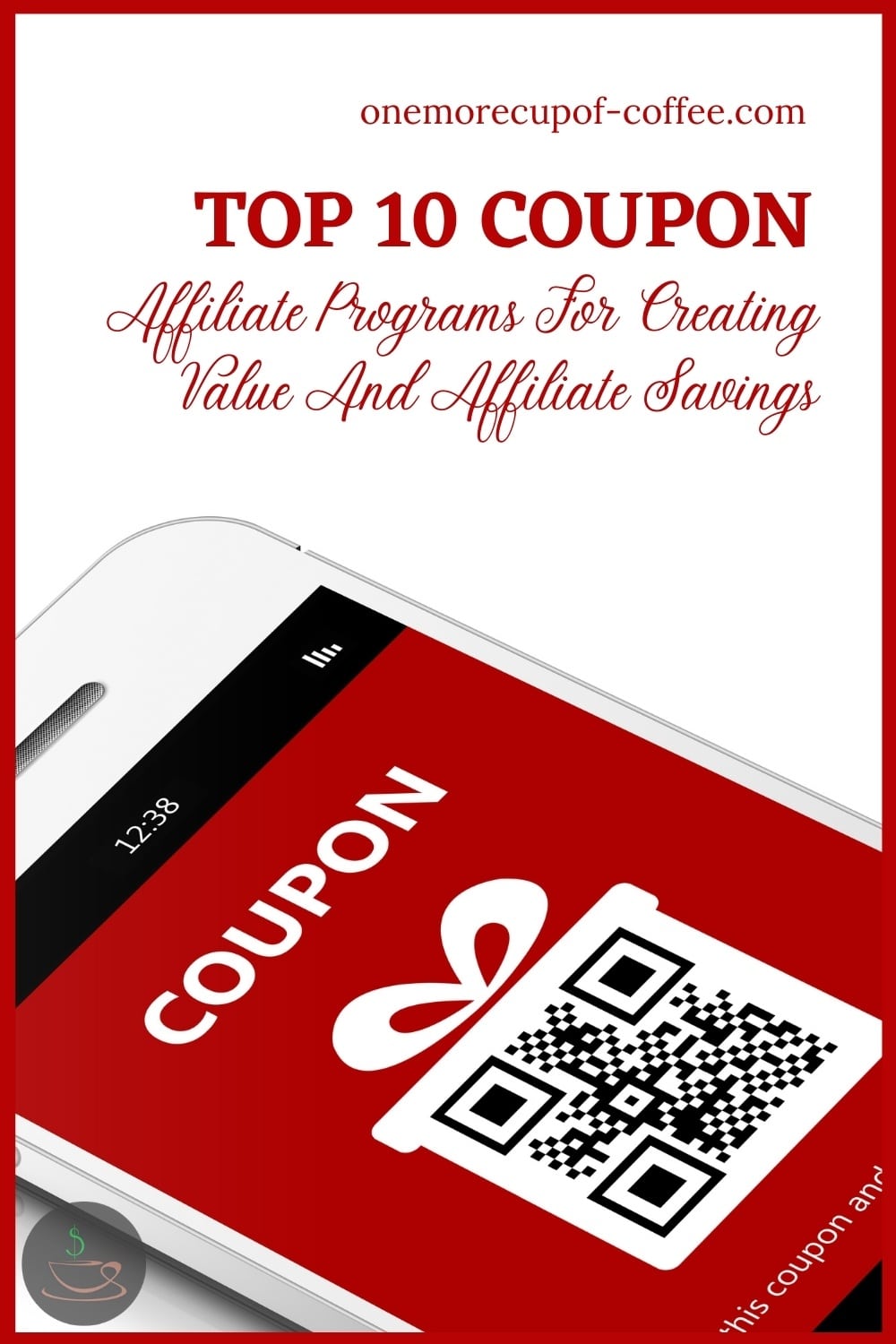 If you could save $2 on your favorite shampoo, would you do it? What if you could get $3 off a package of dog food or even $1 off a package of cookies?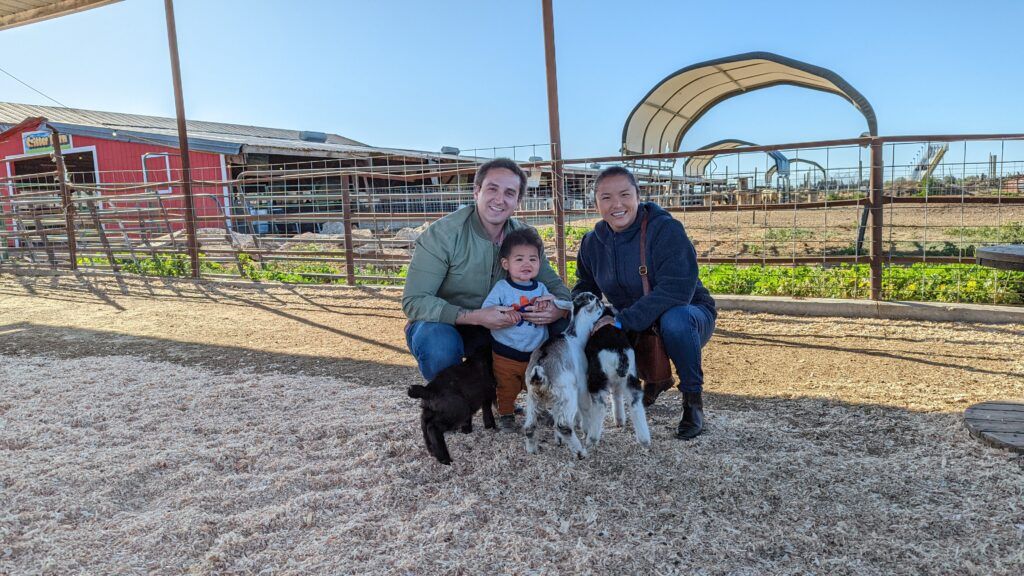 Are You Ready To Work Your Ass Off to Earn Your Lifestyle?
Are you tired of the daily grind? With a laptop and an internet connection I built a small website to generate income, and my life completely changed. Let me show you exactly how I've been doing it for more than 13 years.
Many people save money on groceries and other shopping experiences by using coupons. It's a win-win situation because companies providing the coupons get to add to their customer base, while customers themselves save money on products and services they already use.
Affiliate marketers can get involved by offering coupons on their websites, which could increase the click-through and conversion rate. However, affiliates aren't limited to just offering coupons. They can also promote software for handling coupons and even services that coupon companies themselves can use. The best coupon affiliate programs cover printable coupons, online coupons, coupon codes, deals and discounts, and even graphics editing packages that coupon sites could take advantage of.
If you're interested in getting involved, read through this list of the top 10 coupon affiliate programs and decide which programs would best fit your affiliate websites. I'll share some ideas at the end of this article for ways you can incorporate them into different types of websites.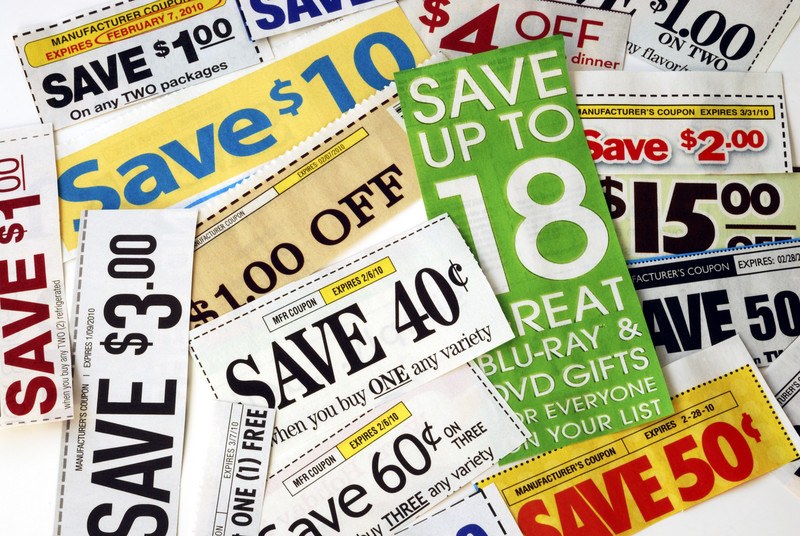 Coupon Affiliate Programs
Brandcaster
CouponSurfer
Advanced Coupons
Sunday Coupon Inserts
Affiliate Coupons
Entertainment
InkyDeals
SavingStar
Coupons.com
Groupon
1. Brandcaster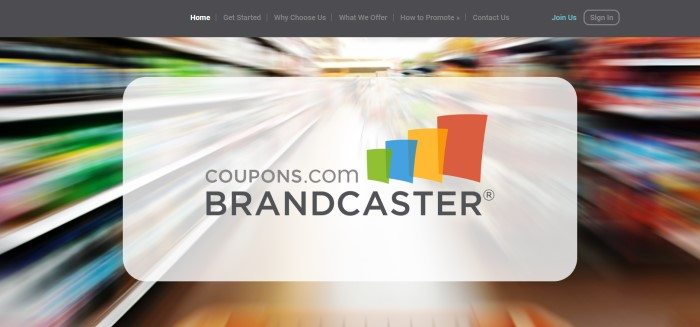 Brandcaster promotes coupons and digital offers from top brands such as Cheerios, Glade, Crest, Pillsbury, Ziploc, Heinz, Kleenex, and more. The company represents more than 2,000 brands and partners with more than 700 packaged goods companies.
Brandcaster provides thousands of digital coupons. The program works with grocery coupons, coupon codes, and card-linked offers. The promoted items are specifically for grocers, specialty retailers, and restaurants.
Affiliate marketers have access to a coupon gallery, widgets, and links that they can use to promote brands and coupons in a variety of ways. Affiliates must have a website and a U.S. address, and sign-up is quick and easy.
Why You Should Promote Brandcaster: This company represents top name brands and is one of the best platforms for digital coupons.
2. CouponSurfer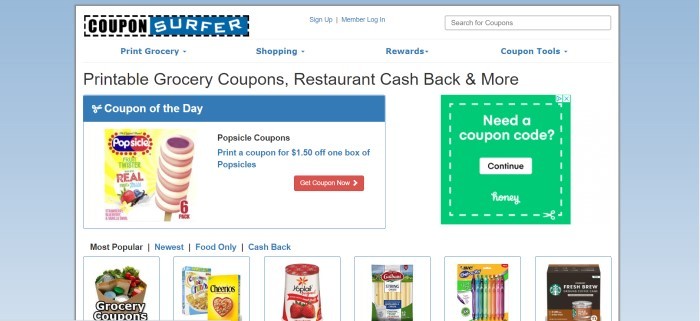 CouponSurfer is a coupon service that connects shoppers who want to save money with companies providing discounts as they broaden their customer base. This program offers both printable coupons and online shopping promotions.
The coupons, offers, and discounts provided through CouponSurfer include well-known stores, such as Gap, JCPenney, and PetSmart. Customers can also take advantage of a cash-back program, which gives them up to 10% back when they shop at local stores and restaurants.
Affiliate marketers have access to a robust coupon data feed, and the average conversion rate is around 16%. The base commission is $0.20 for a new customer, with another $0.20 added on if that customer links a debit or credit card. High-performing affiliates can also get higher rates and receive bonuses.
CouponSurfer partnered with ShareASale to administer its affiliate program.
Why You Should promote CouponSurfer: CouponSurfer offers both printable and online coupons, works with name-brand companies, and provides a cash-back program for customers.
3. Advanced Coupons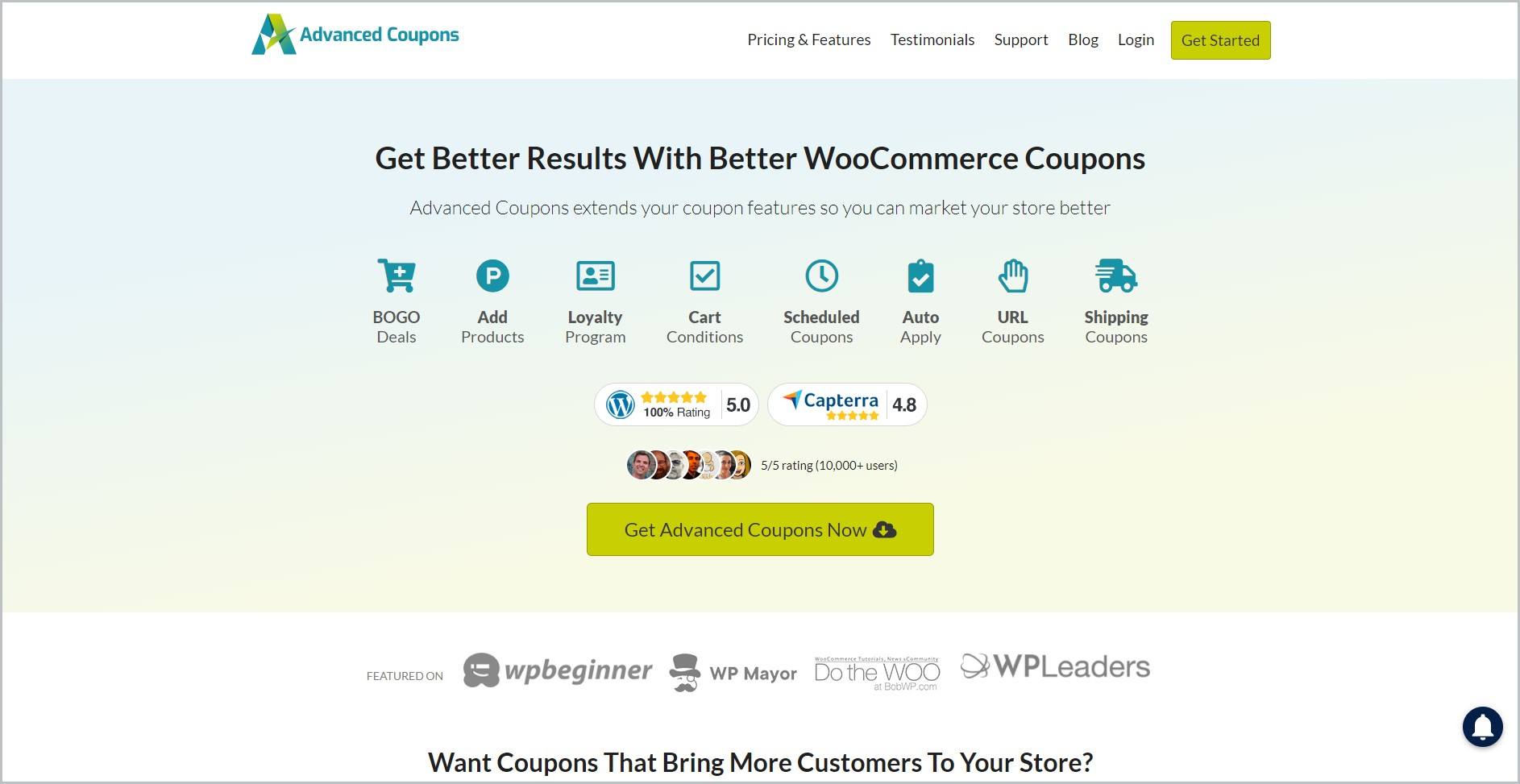 Advanced Coupons is a coupon extension plugin for WooCommerce. It has coupon features that will bring more people and boost revenue to your store. It basically makes store marketing better. Features include advance BOGO deals, auto-apply coupons, coupon scheduling, coupon priority sorting, one-click apply coupons, loyalty programs, and more.
They offer a special introductory price of $49.50 per year for the Growth subscription (single site license) and $99.50 per year for the Business subscription (unlimited sites license), renewals are at the full price of $99 and $199 respectively. They also offer a 100% no-risk money-back guarantee,
Affiliates can earn a commission rate of 20% for any sales referred. There is no minimum required for payout and can easily withdraw it thru PayPal.
Why Advanced Coupons: It is designed to be used by ordinary store owners with no coding skills whatsoever. The plugin can be used without any assistance but of course, they have a support team that is readily available should you need help.
4. Sunday Coupon Inserts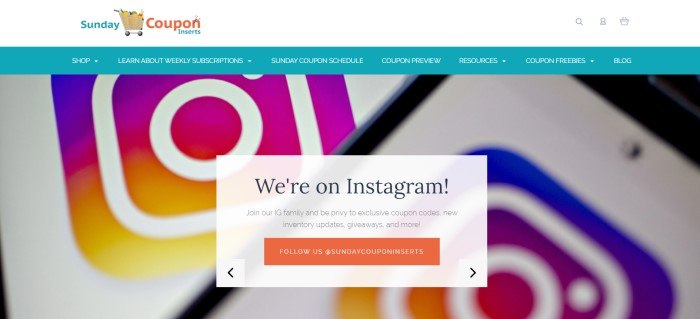 Sunday Coupon Inserts is a coupon website that focuses mostly on helping customers save money at the grocery store. This company offers both Sunday coupon inserts, which often show up in Sunday newspapers, as well as weekly subscriptions.
The website has a landing page where customers can preview coupons coming up in the Sunday inserts so they can plan their shopping lists accordingly. This can be helpful when it's combined with the weekly coupon subscriptions, which allows customers to purchase more than one Sunday insert at a time.
With the weekly subscriptions, customers can order combo packs of inserts, starting at two inserts and going up to ten inserts.
Why You Should Promote Sunday Coupon Inserts: The commission rate is decent. The ability to preview coupons and plan ahead is nice, and the weekly subscription option allows customers to get more of the coupons they'll use a lot of.
5. Affiliate Coupons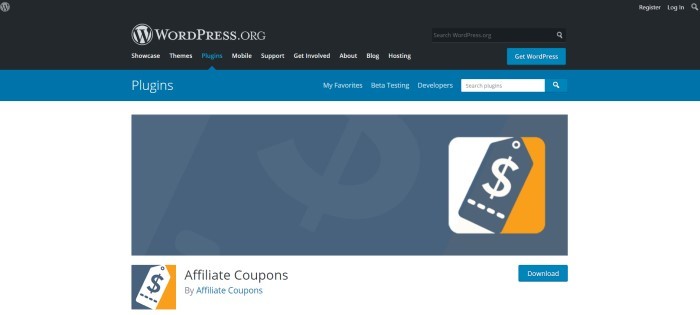 Affiliate Coupons is a WordPress plugin for affiliate marketers who want to use coupons to help increase their click-through rates and conversions. The website offers several tools and articles covering topics such as how to install or update the program and how to get started with it. The plugin comes with a 30-day money-back guarantee.
There are three annual license options, starting at $29 for one site and topping out at $199 for unlimited sites. Renewing an annual license is rewarded with a 50% discount.
Affiliate marketers automatically receive a monthly newsletter that contains information about upcoming special promotions.
Why You Should Promote Affiliate Coupons: The plugin is a great option to help promote click-through ratios, the prices for licenses are reasonable, and the commission rate is terrific. The affiliate marketer newsletter could be helpful, too.
6. Entertainment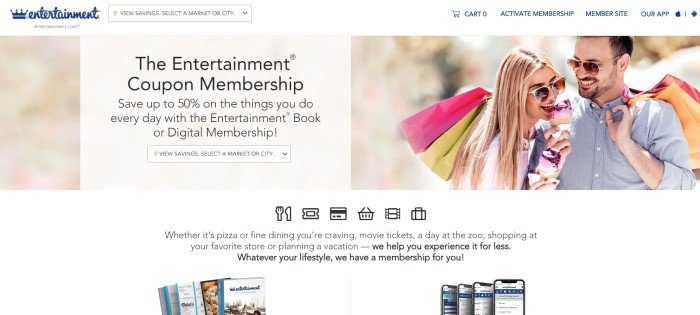 Entertainment is a coupon and deals site that provides discounts for targeted geographical areas, allowing local merchants to offer their coupons to local people and broaden their customer base. This company works with 75 major metropolitan areas in the United States and Canada.
Products include the Entertainment Membership Book, custom local discount products, specialized promotions for corporate clients, home-baked cookie products for local fundraisers, and more. This company offers a wide range of discounts, including 50% off coupons for local restaurants, discounted memberships to zoos, deals on golf and ski rentals, and movie tickets.
Entertainment also provides a travel planner and a coupon app.
They have partnered with CJ Affiliate to run their affiliate program.
Why You Should Promote Entertainment: Entertainment provides localized deals and discounts in several metropolitan areas, offers a travel planner and a coupon app, and works with corporations for special promotions. The commission rate is great, but the cookie length is on the short side.
7. InkyDeals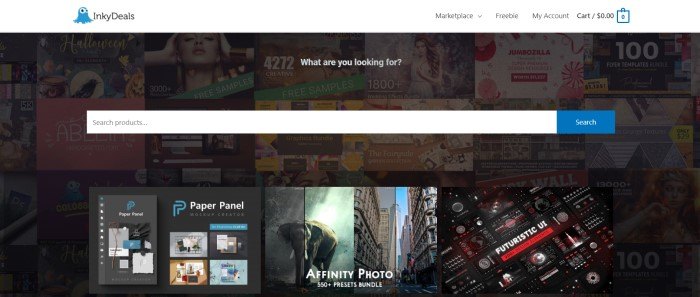 InkyDeals provides digital design assets, including photo editing, for graphic designers, coupon websites, photographers, and other online entrepreneurs. The affiliate website is geared toward selling this service to coupon sites that could use it rather than promoting the coupons themselves.
Products include line art, fonts, graphics, templates, and more. Many of the products are sold in bundles that customers can use to create unique coupons and discount ads.
Affiliates earn a base commission rate of 25%, with a 50% commission rate for sales of selected deals. Affiliates are provided with affiliate-only discount codes and coupons that they can share with their website visitors. The affiliate program is administered through ShareASale.
Why You Should Promote InkyDeals: The commission rate and cookie length are both great. This company is geared toward selling services and products to coupon sites rather than promoting them.
8. SavingStar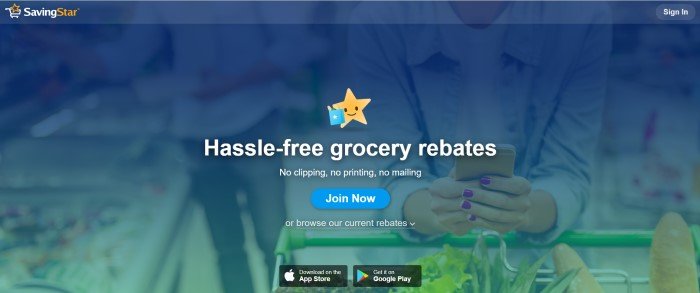 SavingStar offers cashback rebates on groceries through the use of coupons and deals. This company offers promotions through large companies such as Target, Walgreens, CVS Pharmacy, Walmart, and Kroger. SavingStar works with more than 70,000 different locations.
Customers link their store cards or scan their store receipts into the SavingStar app or website and select the rebates they want to use. If they use a linked store card when they're checking out, they get savings added to their SavingStar account.
This company stands out because it offers savings on fresh produce rather than just boxed or canned groceries. This company has been featured on Wall Street Journal, Time, NBC News, Mashable, and other media outlets.
The affiliate program is administered through FlexOffers.
Why You Should Promote SavingStar: SavingStar provides grocery rebates at a large selection of shopping locations across the United States.
9. Coupons.com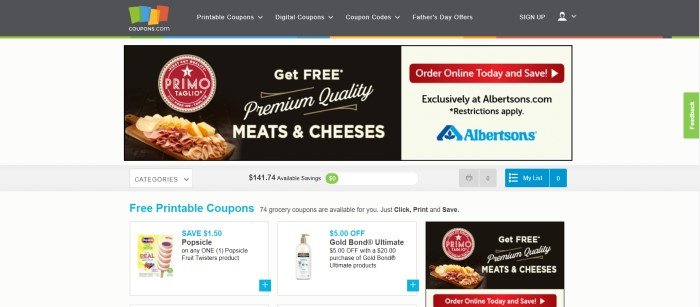 Coupons.com is a well-known coupon website offering printable coupons, online coupons, and coupon codes. The website allows customers to shop for printable coupons in a variety of categories, including food, personal care, and baby products.
Digital coupons can be store-specific. This includes deals found at Walgreens, Target, Costco, Walmart, and other participating stores. Digital coupons also include cash-back coupons for select products such as Allegra, Yoplait, and Larabar.
The affiliate program is administered through FlexOffers. Coupons are free for customers to print and use, but affiliates earn a commission every time a customer successfully prints at least one coupon.
Why You Should Promote Coupons.com: Coupons.com offers a variety of different coupons in both print and digital formats. Customers can sign up to have coupons emailed to them. This program appears to be a sister affiliate program to Brandcaster, which offers digital coupons provided through Coupons.com.
10. Groupon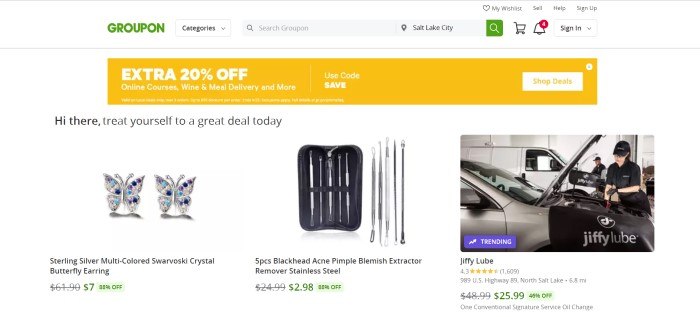 Groupon is a top coupon website that offers more than 425,000 active deals across the globe. One nice thing about these coupons is that they're tailored to local searches, so customers can find what they're looking for near them.
Groupon also offers store-specific deals, coupons for goods like groceries or baby products, and discounts for travel and hotels. Customers can find deals on entertainment venues such as waterpark passes, too.
There are separate affiliate programs for affiliates in North American and affiliates from other parts of the world. Affiliate marketers are provided with banners, deep links, and widgets to help them promote the deals.
Why You Should Promote Groupon: The localized coupons, large worldwide selection, and travel options could attract and convert shoppers. The commission rate is great, too.
Affiliate Website Ideas
Now that you've read through this list of the top 10 coupon affiliate programs, do you know how you're going to apply them to your websites? I'm going to share some ideas with you here to help you get started.
I think the most obvious could be the coupon-clipping lifestyle blog, where you talk about how to be frugal, save money, find deals, and have a budget.
You could also get more niche focused, helping new moms find deals on baby products, maternity clothes, and other things you need as a young family on a budget. This type of website could also promote post-maternity clothing, at-home workouts, baby furniture, baby clothing and accessories, parenting classes, and photography equipment for capturing sweet and tender moments.
Boost Your Affiliate Earnings
These 10 affiliate programs are just the beginning of what's possible. There are hundreds of ways to earn affiliate commissions with your website, including product reviews, top 10 lists, how-to guides, and more
But what about traffic and conversions? How do you make sure your affiliate links get clicked?
I used the affiliate training here to turn my brand new website into a six-figure income generator in less than two years. Build a business, not just a pocket-money side project!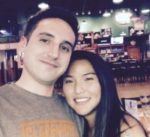 Nathaniell
What's up ladies and dudes! Great to finally meet you, and I hope you enjoyed this post. My name is Nathaniell and I'm the owner of One More Cup of Coffee. I started my first online business in 2010 promoting computer software and now I help newbies start their own businesses. Sign up for my #1 recommended training course and learn how to start your business for FREE!