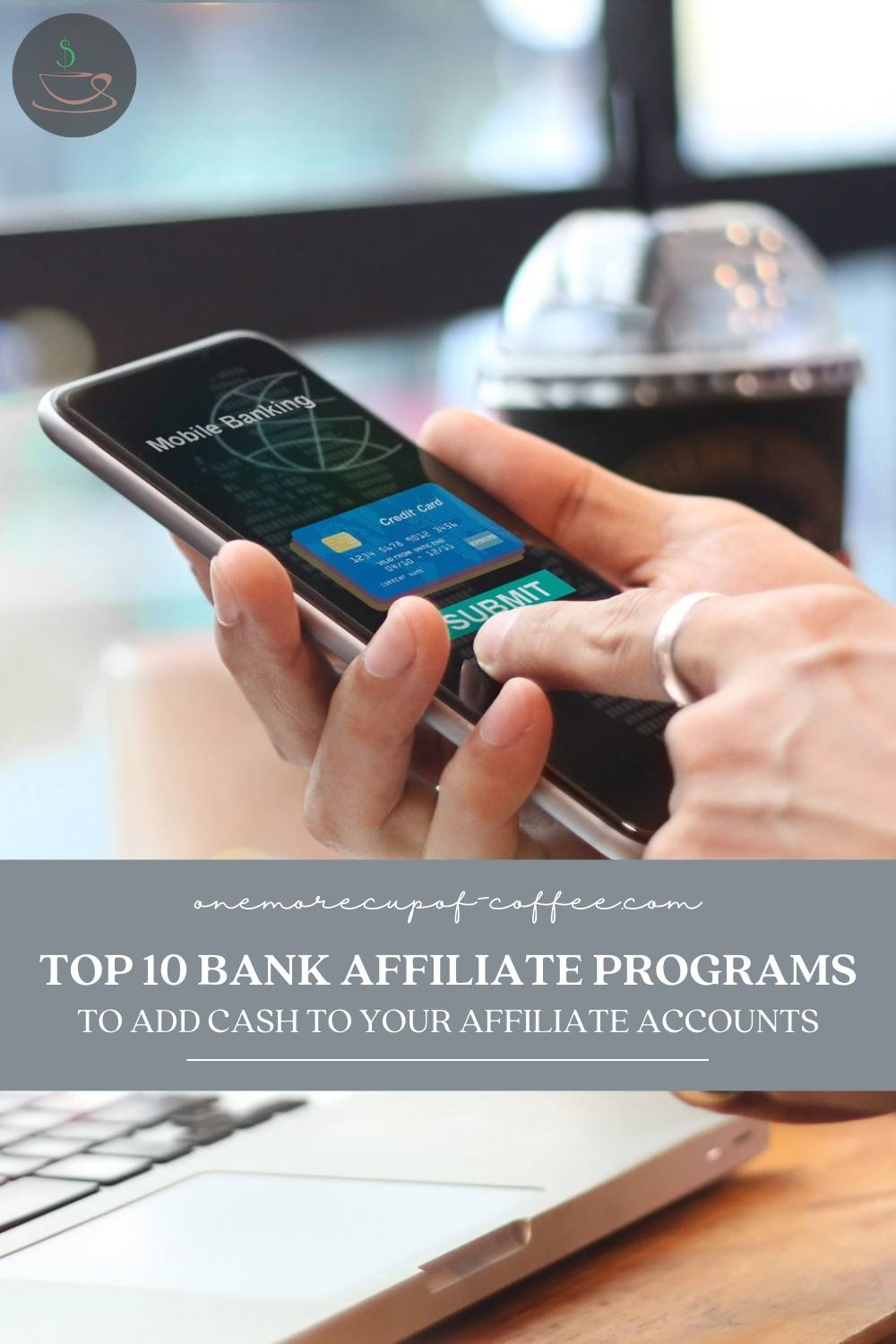 Chipped debit cards and online banking apps have changed the world of banking. As the financial world continually becomes more digital, products like paper checks are being replaced by electronic checks that can be e-mailed. Services like loans and investments are handled online more than ever before.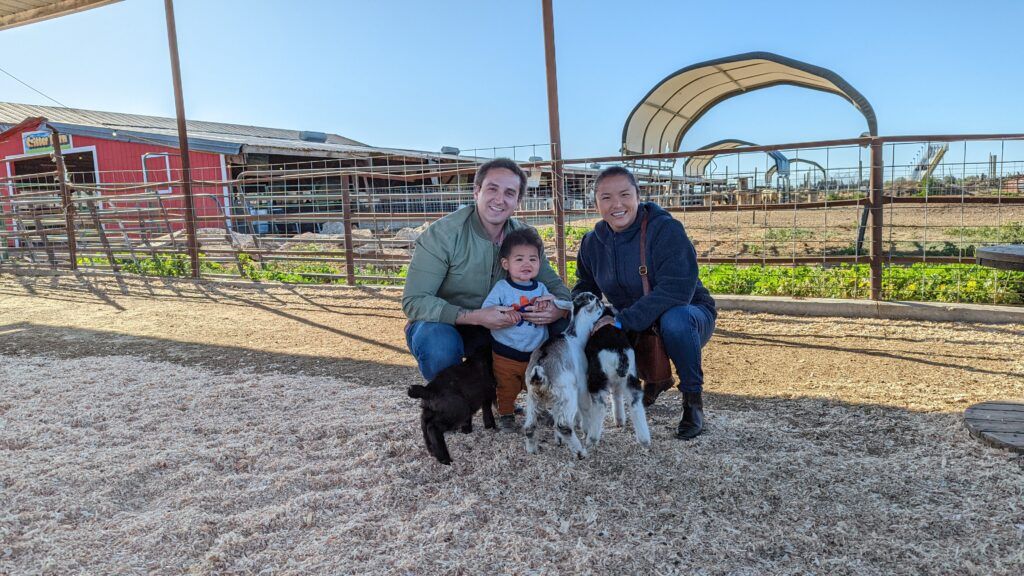 Are You Ready To Work Your Ass Off to Earn Your Lifestyle?
Are you tired of the daily grind? With a laptop and an internet connection I built a small website to generate income, and my life completely changed. Let me show you exactly how I've been doing it for more than 13 years.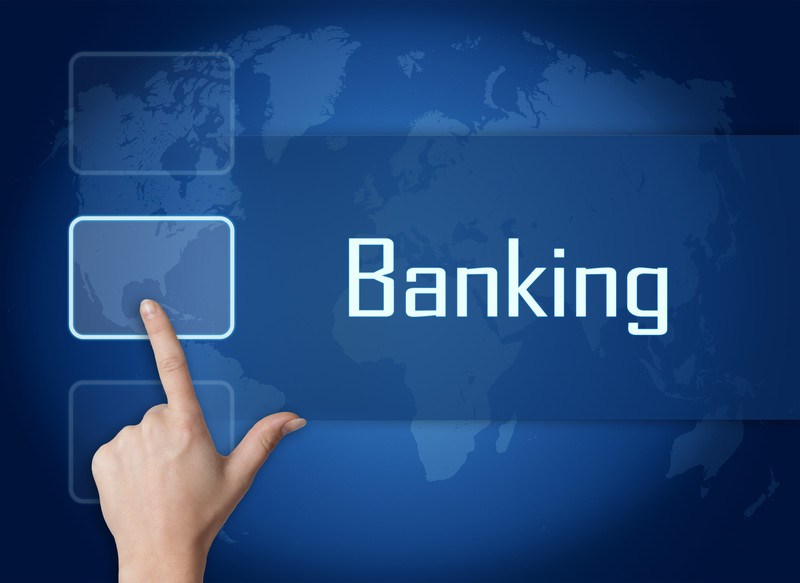 This online banking scene includes companies relate to banking by providing similar services and products. These companies help customers manage financial accounts or provide loans. Affiliate marketers can claim their spot in the financial world by helping shoppers find online banking services and similar products that will help them most.
This list of the top 10 Bank affiliate programs gives an overview of several bank-related companies. If you're an affiliate marketer with a desire to make money from financial programs, this is a great place to begin.
Bank Affiliate Programs
Prosper
CIT Bank
Checks Unlimited
Lending Club
Banktivity
Count About
Deluxe Business Products
StarMoney
BBVA Compass
Personal Capital
1. Prosper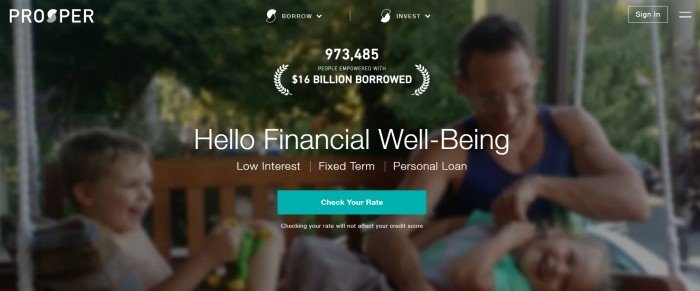 Prosper isn't a traditional bank—rather, it's the first online peer-to-peer lending marketplace in the United States. However, it offers some attractive loan options in the place of traditional bank loans.
The program works by allowing individuals and institutions to invest in the loans of people who want to borrow money. The loans are term loans between $2,000 and $40,000 and generally lasting three to five years. Prosper matches the borrowers and investors and handles all the loan servicing. Investors earn attractive returns, and borrowers can get good interest rates.
Borrows can apply for loans for debt consolidation, home improvement, or other personal use as well as for business start-ups and more.
Why You Should Promote Prosper: While it's not a traditional bank, Prosper is an interesting option for people who would like to borrow money at good rates. It's also an intriguing option for investors who want to get returns on the money they have to invest while helping people.
Prosper is backed by some big-name investors, including Credit Suisse NEXT Fund, Institutional Venture Partners, Sequoia Capital, and Francisco Partners.
2. CIT Bank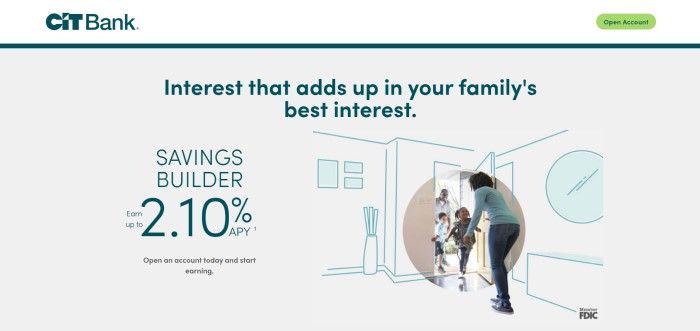 CIT Bank is a lending service that provides small business loans. The system is set up to approve loans quickly so that small businesses can get the financing they need as soon as possible. The loans can cover money for equipment leases, equipment purchases, or working capital to help small businesses get up on their feet.
Loans can also include financing for technology investments, costs for printing and graphics, franchise fees, and systems for handling materials.
The affiliate program is geared toward marketers who already work with small businesses in some way and can bring them to CIT Bank for financing. People who are interested in being an affiliate marketer for CIT Bank contact the company and explain the type of financing options they want to provide. CIT Bank then sets up a customized program that allows affiliates to offer uniquely tailored loan options.
Why You Should Promote CIT Bank: The ability to access financing quickly could be a draw for many potential customers, especially since the loan options can be customized to fit the affiliate marketer's niche websites.
3. Checks Unlimited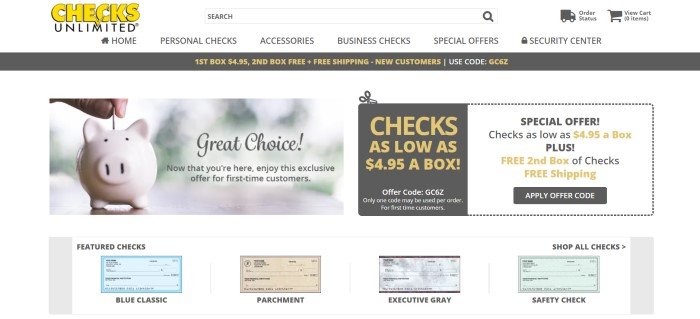 Checks Unlimited isn't a borrowing or investment service, but it relates to the banking industry because it provides checks and accessories to more than 50 million customers. The checks are provided directly to the consumer.
Checks Unlimited administers its affiliate program through ShareASale. Affiliate marketers are provided with all the marketing materials they need to promote the products.
Why You Should Promote Checks Unlimited: This company has a conversion rate that can reach as high as 25%. Checks Unlimited also provides contests and bonus opportunities for affiliate marketers, and the commission rate and cookie length are both great.
4. Lending Club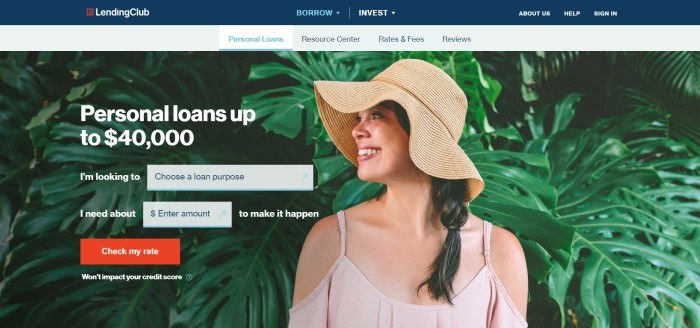 Like Prosper, Lending Club is a peer-to-peer lending service. This company can provide personal loans of up to $40,000 for issues like home improvement or debt and credit card consolidation. Loans can be approved in as little as four days.
So far, Lending Club has helped more than $3 million customers and provided more than $50 billion in loans. The average customer rating is 4.82 out of five stars.
Why You Should Promote Lending Club: The high customer rating could be a converting factor for some shoppers. However, borrowers need a good to excellent credit score in order to get their loans funded. The affiliate program link may also be paused, which means affiliate marketers may have to contact the company directly to find out more about the affiliate program.
5. Banktivity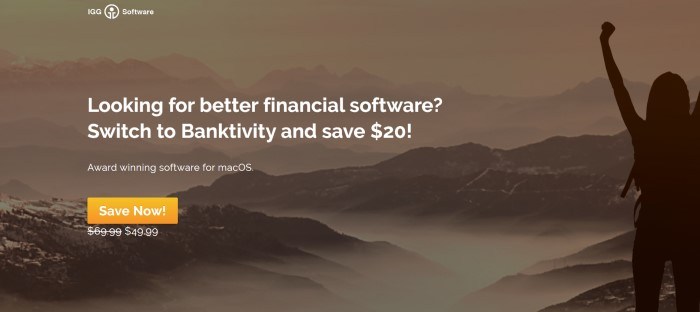 Banktivity is a personal financial management software app that can be used with Apple products, including the Mac, iPad, and iPhone. The program has a one-time fee of about $65, but there's a free 30-day trial period for customers who want to try it out first.
The program focuses on budgeting, growing wealth, and gaining financial clarity. This company can save customers about 40 hours and $500 each year.
Why You Should Promote Banktivity: The software can save customers both money and time, and that could convert some shoppers. The commission rate is decent, too. However, this product is only developed for Apple product users, and that might limit the number of sales an affiliate marketer could refer to the company.
6. Count About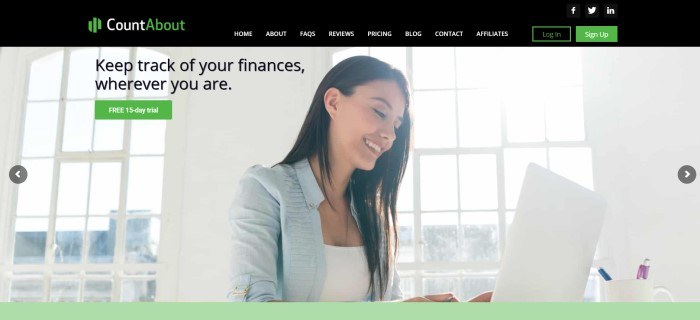 Count About is a budgeting and account management software alternative to big companies like Quicken and Mint. Customers who are switching over can import their data from both Quicken and Mint, and they can download data directly from bank accounts and credit cards.
Count About also provides apps for several devices so that customers can manage their accounts on the go. The software provides financial reports, running balances, and invoices for small businesses. There's a 15-day free trial. Ordinarily, the software subscription costs around $10-40 per year.
Why You Should Promote Count About: This company is a great alternative to both Quicken and Mint, and it's the only software that currently allows imports from both companies. For affiliates, the commission rate and cookie length are both great.
7. Deluxe Business Products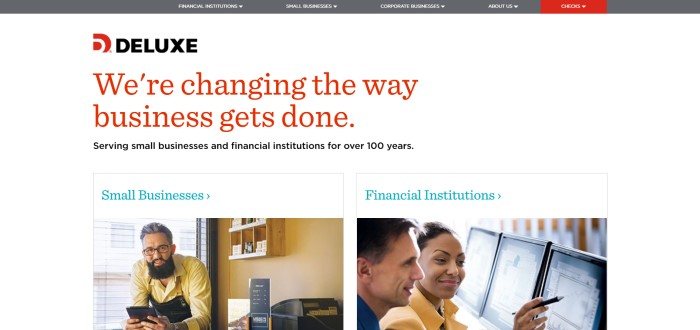 Deluxe Business Products provides a variety of business solutions for businesses and financial institutions, including checks and emailable checks as well as marketing services and products. This company relates to the banking industry mostly through its check programs, although there are several ways to make money as an affiliate marketer with this company.
This company provides five separate affiliate programs, all of which are administered through ShareASale. Three of them are also listed on Commission Junction.
The Deluxe Business Products affiliate program provides a commission rate of up to 30%, with an average revenue for each qualified click of more than $350. Business products include checks and promotional products.
The affiliate program for Deluxe Business Services brings in $10 per lead and $250 for each closed sale. This program focuses on services such as administering payrolls and filing taxes for businesses. The PsPrint affiliate program has a commission rate of 8% and an EPC of over $65. This segment provides items like brochures and business cards. The Bags & Bows affiliate program and Free Logo Services program both provide a commission rate of 15%.
Why You Should Promote Deluxe Business Products: Besides banking products like checks, this company offers affiliate programs for a variety of business needs, which could fit well with a niche marketing strategy. The commission rates and cookie length are competitive.
8. StarMoney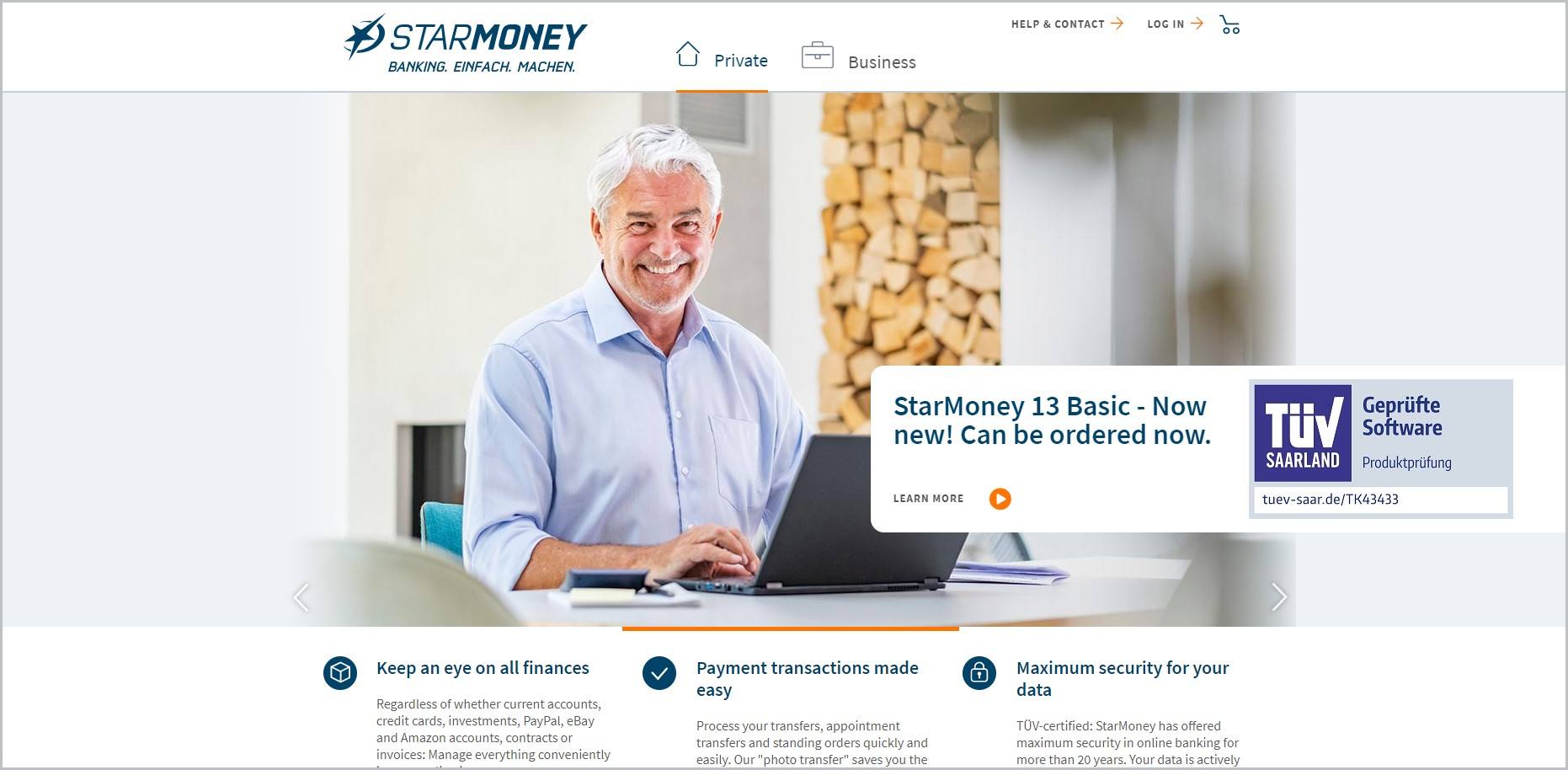 StarMoney offers market-leading software for more convenient and secured banking. You can manage all your accounts securely in one place no matter which bank or savings bank the accounts are with. You can analyze, understand, and plan finances in detail, never miss a notice period again, and active protection for your data.
The software is easy to use and very intuitive, from evaluation to planning to forecasts. Its many functions will ensure that you'll not miss a single detail and will always know exactly the status of your finances and banking.
With their StarMoney Flat you can do your banking online whenever and wherever you want and on any devices for just one price. You can synchronize them across all devices and also benefit from numerous exclusive convenience functions.
The StarMoney affiliate program is being administered by FlexOffers.
Why You Should Promote StarMoney: They have been TÜV-certified for 20 years. All data are locally and actively protected on any device – PC, Mac, tablet, or smartphone.
9. BBVA Compass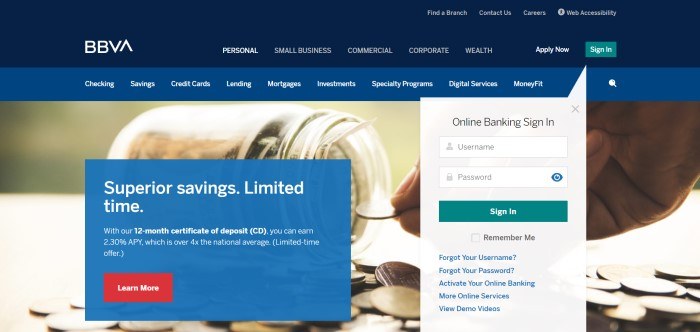 BBVA Compass is a leading banking franchise in the United States that has been included on the list of the best banks in America by Money Market. The affiliate program includes products like free checking, Clear Connect checking, money market accounts, and certificates of deposit.
Affiliates are accepted in the United States. Program approval is open for both BBVAcompass.com and BBVAusa.com, and the affiliate program is administered through VigLink or Commission Junction. Interested affiliate marketers can apply by searching the advertiser's section on Commission Junction. This company provides affiliate marketers with all the promotional materials they need.
Why You Should Promote BBVA Compass: This company has an award-winning mobile app, which could be a converting factor for some tech-savvy shoppers.
10. Personal Capital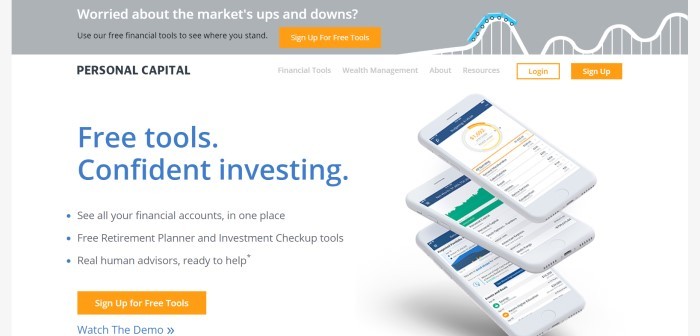 While Personal Capital isn't a bank, it does provide the ability to monitor bank accounts as well as managing investments, planning for retirement, and avoiding hidden fees.
This set of award-winning tools allows customers the ability to see their net worth, minus what they owe, at a glance. Customers can also use this program to create and administer a detailed budget based on dates, categories, or specific merchants. The planning tools can be used to prepare for retirement or education goals, too.
Why You Should Promote Personal Capital: Personal Capital provides an all-in-one set of tools that can help customers manage their bank accounts, investment portfolios, and other financial accounts from one dashboard. While the commission rate isn't listed on the affiliate information page, some affiliate marketers make up to $50,000 per month with this company.
Affiliate Website Ideas
Now that you've read through this list of the top 10 banks' affiliate programs, do you know how you'll use them in your niche market strategies?
You could use some of them with a website that targets small business owners in a particular niche, such as family-owned restaurants. A website like this could also promote restaurant equipment and supplies, delivery services, and insurance programs.
A website for hobbyist investors could be another great niche. Besides the programs listed above, this type of website could also feature luxury home furnishings, identity protection software, credit score tracking, and vacation packages for investors who make enough from their hobby to be able to travel.
A website focusing on money matters for Millennials could be another great niche to try. A website like this could promote budget-priced home furnishings, fashions, and entertainment options. Banking options, retirement planning, funding for continued education, and budgeting software could also be featured here.
Boost Your Affiliate Earnings
These 10 affiliate programs are just the beginning of what's possible. There are hundreds of ways to earn affiliate commissions with your website, including product reviews, top 10 lists, how-to guides, and more
But what about traffic and conversions? How do you make sure your affiliate links get clicked?
I used the affiliate training here to turn my brand new website into a six-figure income generator in less than two years. Build a business, not just a pocket-money side project!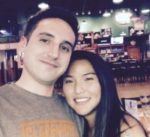 Nathaniell
What's up ladies and dudes! Great to finally meet you, and I hope you enjoyed this post. My name is Nathaniell and I'm the owner of One More Cup of Coffee. I started my first online business in 2010 promoting computer software and now I help newbies start their own businesses. Sign up for my #1 recommended training course and learn how to start your business for FREE!