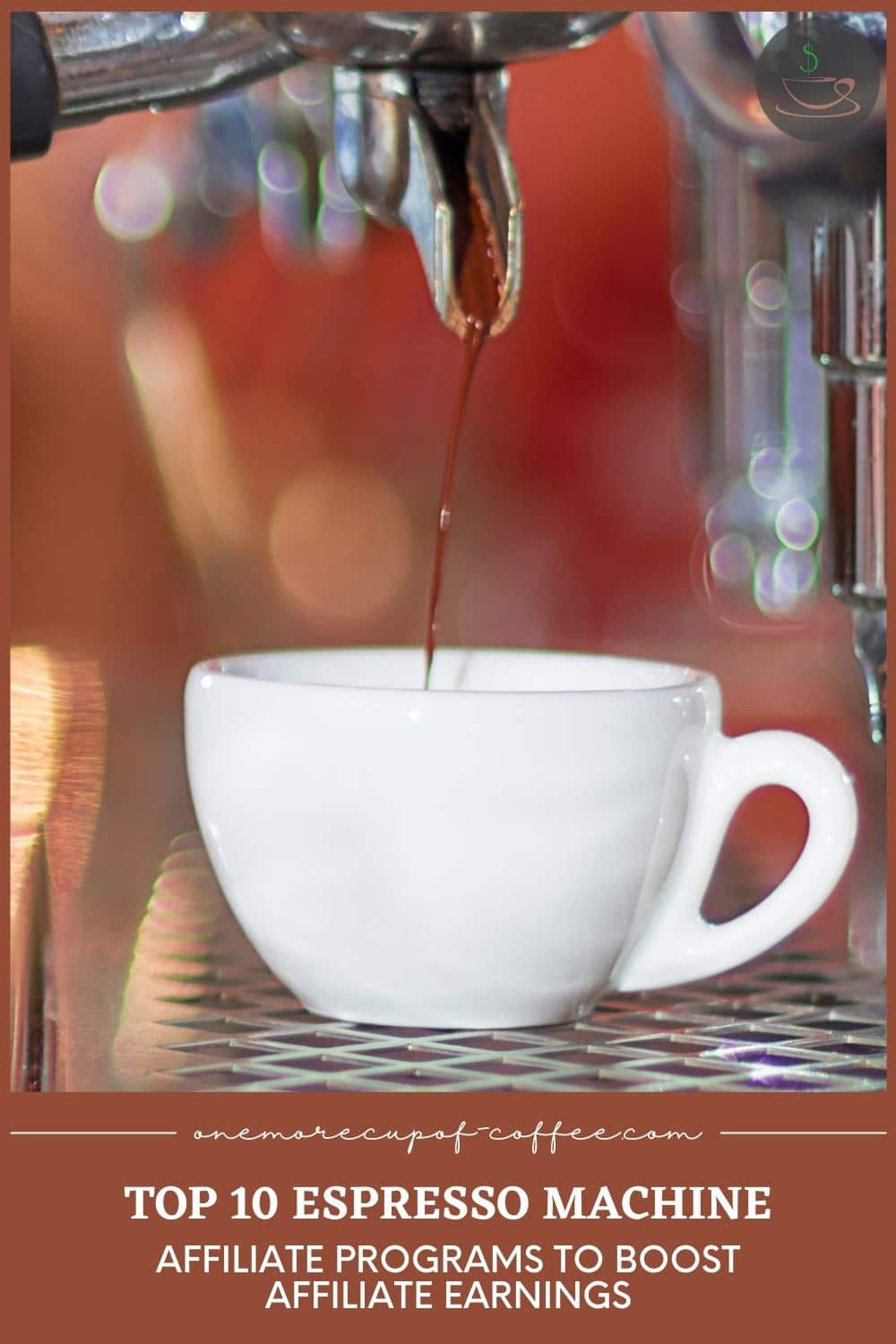 On a cold Autumn morning, what's better than an espresso? It's flavorful, hot, and provides a luxurious caffeine boost that can get your day off to a great start. It's generally thicker than other coffees, and it has a layer of froth on the top called crema.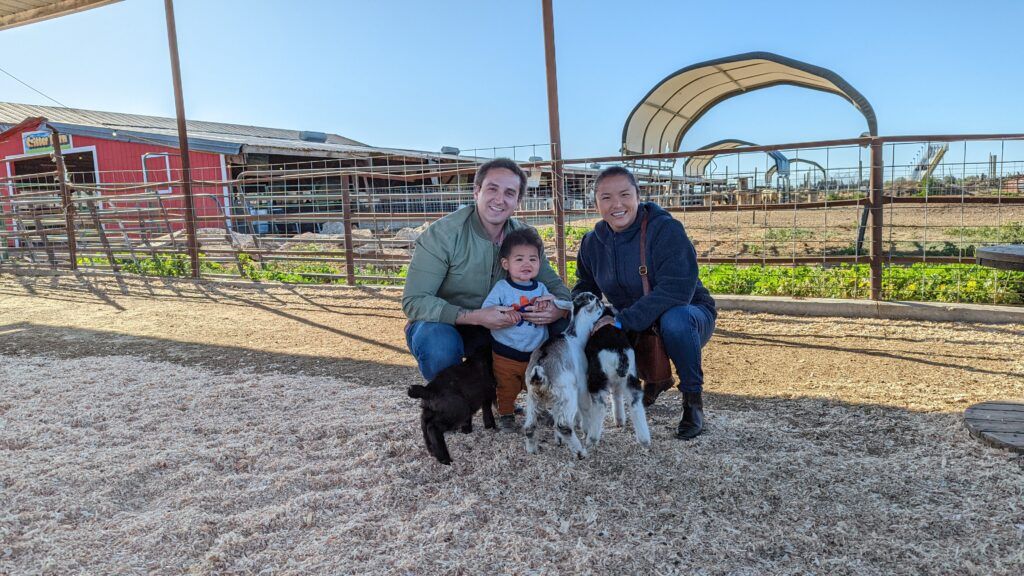 Are You Ready To Work Your Ass Off to Earn Your Lifestyle?
Are you tired of the daily grind? With a laptop and an internet connection I built a small website to generate income, and my life completely changed. Let me show you exactly how I've been doing it for more than 13 years.
The big difference between espresso and other coffees is in the preparation process. Instead of using a slow filtering process through course-ground coffee beans, Espresso is made by forcing hot pressurized water (think 130 pounds per square inch) through fine-ground coffee beans that are packed into capsules or cakes. It takes around 30 seconds to make a cup of Espresso.
It makes sense that espressos are best made with a specialized machine, but these can be expensive to buy or hard to find. Affiliate marketers with a love for coffee can make a little extra money as they connect other coffee-lovers with companies that sell espresso machines.
This list of the top 10 espresso machine affiliate programs can help you get started promoting espresso makers on your coffee or food blog. These programs fit well with niche marketing websites, too, so you may be able to use these to break into new markets.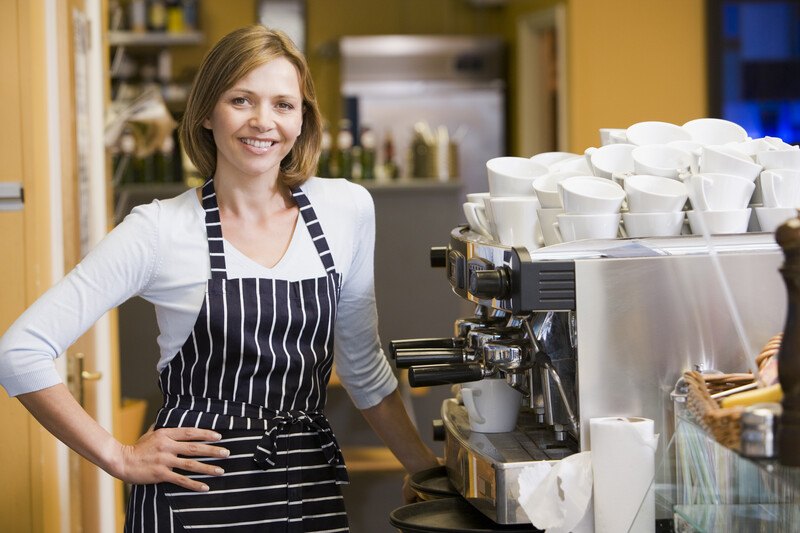 Espresso Machine Affiliate Programs
1st In Coffee
Sur La Table
Gourmesso
My Espresso Shop
Coffee Wholesale
Anthony's Espresso
Wacaco
Best Buy
Tundra Restaurant supply
A Best Kitchen
1. 1st In Coffee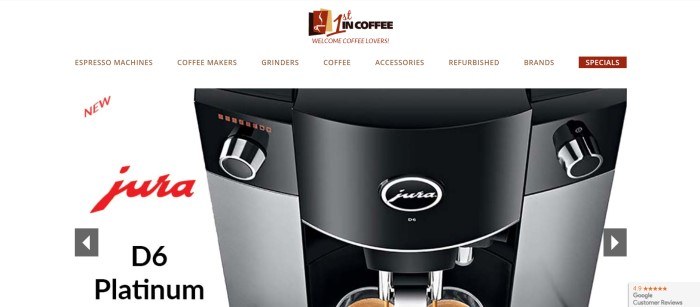 1st in Coffee is a well-known coffee company that sells fine expresso and gourmet coffee beans. This company also sells a wide variety of coffee machines, French press coffee machines, pods, grinders, accessories, coffee capsules, and espresso machines.
Customers can save money by searching through the refurbished machine section for deals, but all of the inventory is competitively priced.
The commission rate is 7%, and the cookie length is 90 days, which is nice. The average order value is $735, which can create a nice bump in affiliate earnings. The average commission is $40.
1st in Coffee administers its affiliate program through ShareASale. Affiliate promotional products are provided, as well as a data feed that's updated daily.
Why Should You Promote 1st in Coffee: This company offers affiliate-only promotions as well as a two-tiered bonus program. It also has a high average order and a long 90-day cookie length.
2. Sur La Table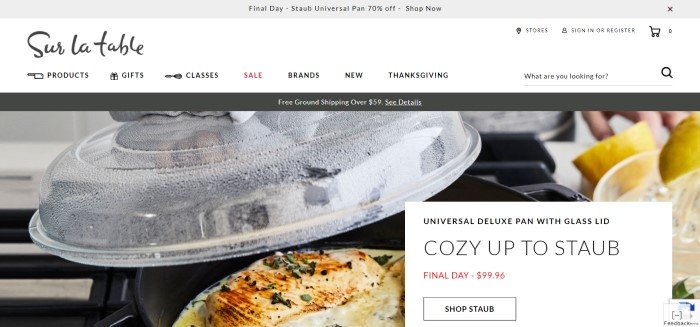 Sur La Table sells fine kitchenware, including specialty items like Dutch ovens, crepe sets, and fondue sets, as well as several espresso machines. These include the Nespresso VertuoPlus Deluxe, the Breville Barista Express, and others. Some of the professional espresso machines cost thousands of dollars.
Sur La Table also carries side items, including espresso cups, saucers, spoons, and coffee capsules for use in the espresso machines.
Why You Should Promote Sur La Table: There's a wide range of espresso machines and accessories to choose from, with products to fit both small and large budgets. However, Sur La Table doesn't list its commission rate or cookie length on the affiliate information page, and that makes it difficult to tell how much you could make as an affiliate marketer with this company.
3. Gourmesso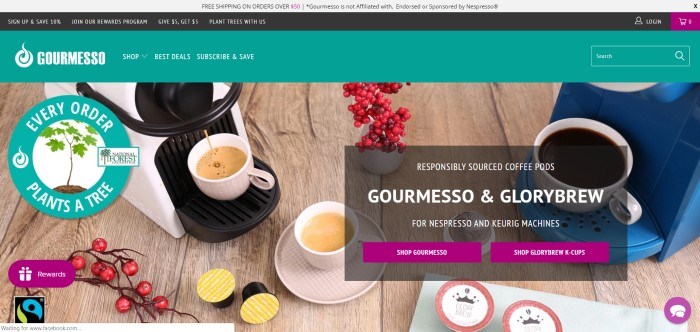 Gourmesso sells 20 different varieties of compatible coffee capsules for Nespresso® machines. The costs for these capsules are 30% less than the original options. Gourmesso also has a Glorybrew brand that provides 100% compostable coffee pods for Keurig® machines.
The average order value is $55, with a conversion rate of 5-9%. This company offers free shipping for orders costing $50 or more.
Gourmesso provides affiliate marketers with special promotions and promotional materials such as banners. The company runs its affiliate program through ShareASale and Commission Junction.
Why Should You Promote Gourmesso: Both the conversion rate and the commission rate are high, which is great for affiliate marketers. The less expensive coffee pods and free shipping options can draw in and convert shoppers, too.
4. My Espresso Shop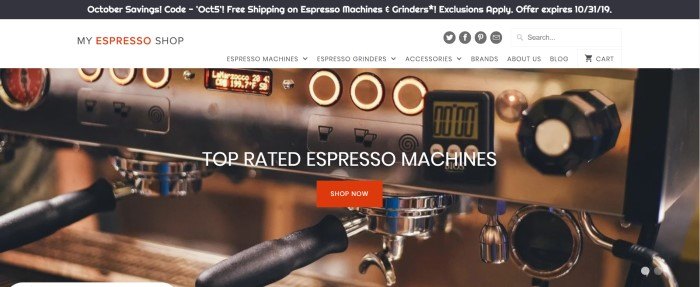 My Espresso Shop sells espresso machines, grinders, and accessories. There are three full pages of espresso machines to browse through, including automatic, semi-automatic, and manual lever versions. Many of the machines are industrial versions. A few of them cost more than $20,000.
The company also carries small espresso machines that can be used at home. The prices for these still reach hundreds of dollars for most products. One nice thing about this company is that it shows monthly payments for people who want to finance their purchases.
Why You Should Promote My Espresso Shop: The wide range of espresso machines could be one of the draws for customers, and the financing options could be a converting factor. The cookie length is nice, too.
5. Coffee Wholesale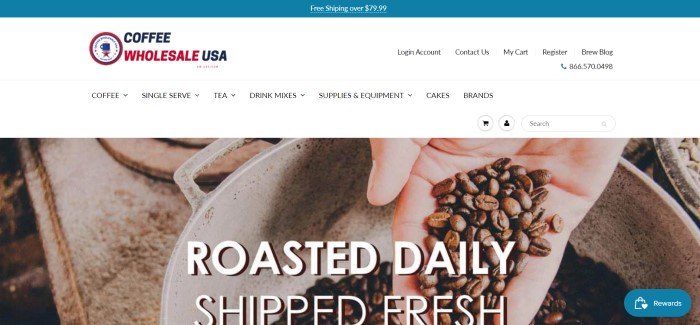 While Coffee Wholesale doesn't sell espresso machines, it does sell grinders for espresso machines and pre-ground coffee beans for espresso making. It also sells coffee makers, coffee, tea, and instant beverages.
Coffee Wholesale has some nice perks for customers, including a price match guarantee, lose-out specials, and a 30-day money-back guarantee. The company is also accredited through the Better Business Bureau, so it's got a positive reputation.
Affiliates are provided with marketing materials, and they can access and link to more than 1300 products. Coffee Wholesale administers its affiliate program through Commission Junction. Commissions start at 5%, but with performance incentives, the commission rate can reach 9%.
Why Should You Promote Coffee Wholesale USA: The affiliate performance incentives are a big plus, and there's a large number of products that affiliate marketers can promote.
6. Anthony's Espresso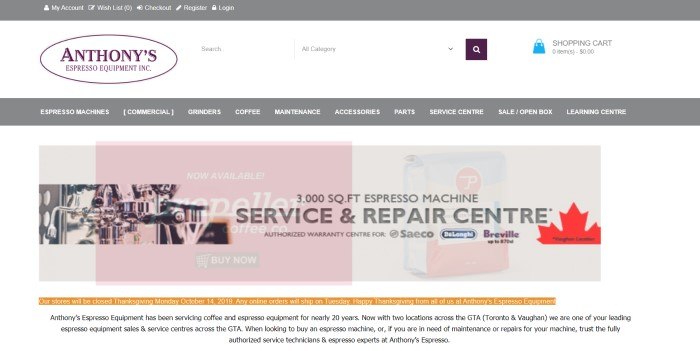 Rather than selling both gourmet coffees and espresso, Anthony's Espresso focuses solely on espressos. It sells automatic and manual espresso machines, as well as grinders, whole-bean and pre-ground coffee beans, coffee capsules, and a variety of accessories.
One interesting thing about this company is that it also provides parts and repair services to people who need help fixing their espresso machines. Anthony's Espresso also offers three of its own roasted coffee blends, along with several name brands, including Illy, Rufino, Moak, and Ara Azzurro.
Why You Should Promote Anthony's Espresso: It's nice to find a company that repairs espresso machines as well as sells them. The house espresso coffee blends are nice, too.
7. Wacaco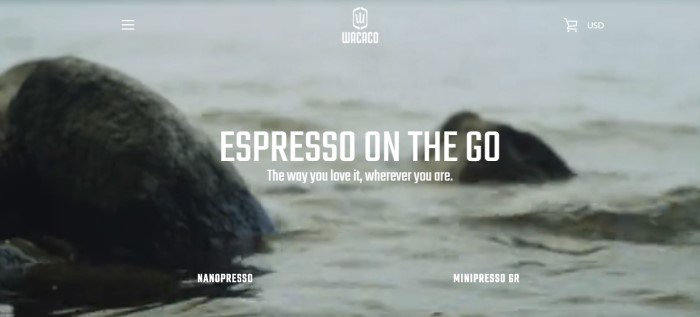 Wacaco specializes in espressos on the go, which means it sells compact, easy-to-pack espresso machines. The products include items like the Nanopresso and the Minipresso GR. These espresso machines are about the size of water bottles and can be easily carried in luggage or in backpacks for road trips.
Because they're smaller, they're also relatively inexpensive. The espresso machines range in price from around $50 to about $80. This company also sells insulated, sealed tumblers to carry espresso in, barista towels, and hats with the Wacaco label on them.
Why You Should Promote Wacaco: The smaller-sized espresso machines are a unique idea that could draw and convert shoppers. However, it's difficult to know how much you could make with this company. The product prices are relatively low, and there's no information on the affiliate sign-up page to share what the commission rate is.
8. Best Buy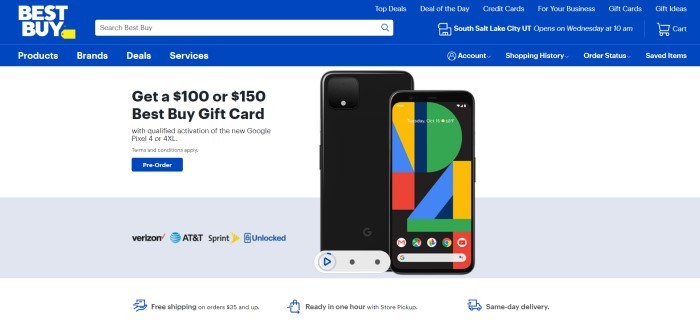 You might not think about shopping for an espresso machine at Best Buy. This electronics company has both brick-and-mortar stores and online shopping options, and it sells items like televisions, tablets, computers, and video game systems.
It also carries baby gear and furniture, fitness equipment, and surprise—a large selection of espresso machines. The espresso machines range from simple at-home equipment that can cost less than $100 to full-size commercial pieces that cost around $2,400.
For affiliate marketers, the commission structure might look a little intimidating at first. Most items bring in a commission of 1%, but some earn rates as high as 7%.
Why You Should Promote Best Buy: Best Buy is a well-known company, so it could be easy for shoppers to trust the name and click through to purchase their espresso machines.
9. Tundra Restaurant Supply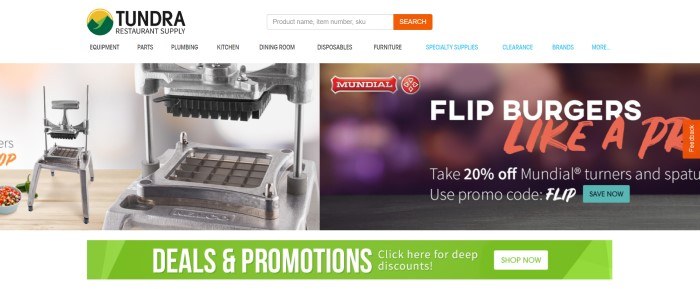 Tundra Restaurant Supply carries around 50,000 products for restaurants and cafes, including a selection of commercial espresso machines through the brand name Grindmaster. All of the espresso machines listed on this website come with free shipping.
The average order size is more than $150.
Affiliate marketers are provided with banners and promotional materials, as well as exclusive offers. Tundra Restaurant Supply uses Rakuten LinkShare to administer its affiliate program.
Why You Should Promote Tundra Restaurant Supply: This company stocks more products than many of its competitors. It also holds periodic free shipping promos and seasonal sales, which can bring in more shoppers.
Also, because these are commercial espresso machines, the price tags are in the thousands of dollars. With a 7% commission, even one sale could mean a nice income boost for affiliate marketers.
10. A Best Kitchen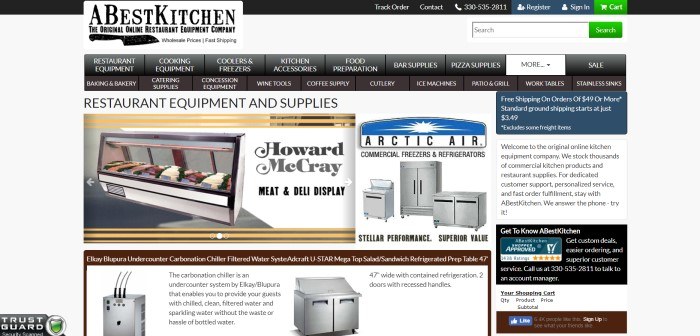 A Best Kitchen sells restaurant supplies and equipment, as well as some kitchen pieces that can be used in the home. Customers can shop for baking supplies, catering supplies, concession equipment, ice machines, and more.
When it comes to espresso machines, there are a few espresso machines that could fit well in the home or the office, but most are automatic or semiautomatic machines that are meant to be used in coffee shops or cafes. This company also carries items like coffee grinders, milk pitchers, water filters, and other supplies for use with espresso machines.
A Best Kitchen administers its affiliate program through ShareASale.
Why You Should Promote ABest Kitchen: The espresso machines this company sells are all high-end, mostly commercial pieces of equipment, so they're high-ticket items that can bring in significant commissions.
Affiliate Website Ideas
Now that you've read about the top 10 espresso machine affiliate programs, do you have any ideas about how you'd like to use them to start making some extra cash? I have a few ideas to help you get started.
For example, you could set up a website that focuses on the lifestyles of people who like to backpack. Camping equipment, outdoor apparel, and online magazine subscriptions could be promoted here. You could also feature something like the Wacaco on-the-go espresso machines that can be taken out on excursions.
A website focusing on food truck owners could include items like signs, sound systems, and even tires. A website like this could also promote small business insurance and loan products, as well as espresso machines and other food equipment needed for inside the food truck.
What about a website that focuses on helping senior citizens live amazing lives? At-home health care equipment could be featured here, along with luxury kitchen items such as espresso machines and comfy furniture for the living room.
Boost Your Affiliate Earnings
These 10 affiliate programs are just the beginning of what's possible. There are hundreds of ways to earn affiliate commissions with your website, including product reviews, top 10 lists, how-to guides, and more
But what about traffic and conversions? How do you make sure your affiliate links get clicked?
I used the affiliate training here to turn my brand new website into a six-figure income generator in less than two years. Build a business, not just a pocket-money side project!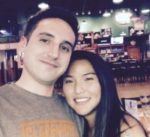 Nathaniell
What's up ladies and dudes! Great to finally meet you, and I hope you enjoyed this post. My name is Nathaniell and I'm the owner of One More Cup of Coffee. I started my first online business in 2010 promoting computer software and now I help newbies start their own businesses. Sign up for my #1 recommended training course and learn how to start your business for FREE!