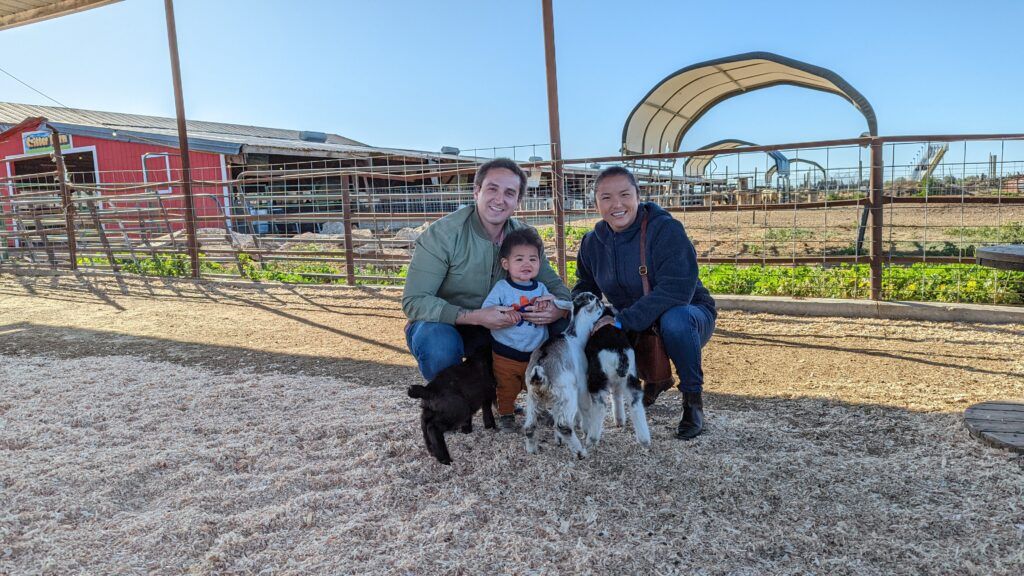 Are You Ready To Work Your Ass Off to Earn Your Lifestyle?
Are you tired of the daily grind? With a laptop and an internet connection I built a small website to generate income, and my life completely changed. Let me show you exactly how I've been doing it for more than 13 years.
In my review of Your First 10,000 Readers, I want to help you figure out if this product is worth your money. There are a lot of products on the market claiming to help you make money in the self publishing industry, but is this the one that you need?
As a writer and business owner that's reviewed hundreds of products on how to make money online, there's a hard lesson to be learned; spending money won't always make you money. But sometimes, trading cash for information can be an incredible investment in your future.
Just for example, I spent $97 for a PDF that taught me about one particular ad-service service for my website. Though it was something as simple as "go to this website", that $97 one time fee has now created almost $4,000 in monthly income that I didn't have before.
Will Your First 10,000 Readers have the same effect for your self-published books? Could the cost of $597 (or $59/month for 12 months) buy you the tools you need to actually earn an income publishing indie books?
Well, you don't have to risk any money to find out. I dug into the lessons of Your First 10,000 Readers to find out for you. Let's get started!
Introduction To Your First 10,000 Readers
Making Money In Self Publishing
My specialty, how I make money online, is through affiliate marketing. Though I have a book I published on Kindle, I pretty much "set and forget" it. It brings in less than $50 per month now, although it was almost triple that when I first released it.
My goal is not to become a "writer", although I do see a huge potential in the industry. The same as with websites, there's an infinite number of "niches" you could write about, both fiction and non-fiction. 20 years ago, who would have guessed that zombie romance novels would be a niche fiction book, or that drone wedding photography would be a non-fiction niche. There's enough room for any authors make money writing about their passion.
That's why my brain clicked when Nick Stephenson's asserted near the beginning of the training that, "Amazon isn't a bookstore, it's a search engine". YES!
Why is that important?
Well, it lays out pretty much how this course approaches growing your income from self publishing.
Your First 10,000 Readers looks at books as a product, and then breaks down step by step how to market that product to make money.
I think lots of writers get bogged down with being "popular" or being involved with the writing community to market their books. It's fun, but it's not a business at that point.
However, making money in the self publishing industry is not about doing your best and hoping you get noticed. It's about getting your books into the hands of readers with INTENT!
Your First 10,000 Readers shows you the at the exact steps you can take to give you a clear advantage over 90% of other writers publishing in the same space. I have seen this in the affiliate marketing industry as well. With consistent, methodical steps, you can do better than the vast majority of other players in the space.

Inside The Members Area
In short, inside the members area of Your First10,000 Readers, you'll find an introduction video, the main course, some interviews, and a bonus course on how to publish your first book. You'll also get access to the private Facebook community, where you can ask questions related to the course material and exchange ideas with other indie authors.
Module 1 Rule the Retailers: 1 hr 38 min
Module 2 Drive Endless Traffic: 1 hr 32 min
Module 3 Convert Traffic into Subscribers: 1 hr 13 min
Module 4 Engage Your Audience: 2 hrs 1 min
Module 5 The Ultimate Launch Template: 42 min
Module 6 Facebook: Profit on Autopilot: 4 hrs 37 min
As you can see, there is tons of material to go through. That's over 10 hours of video!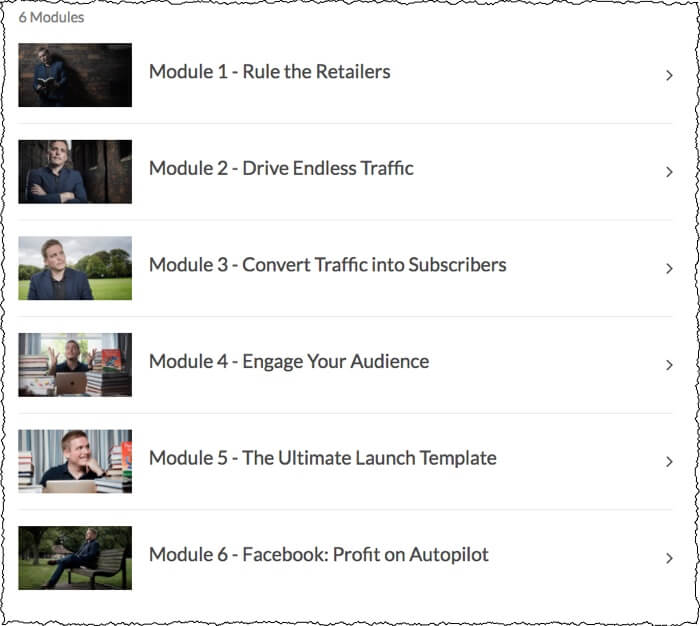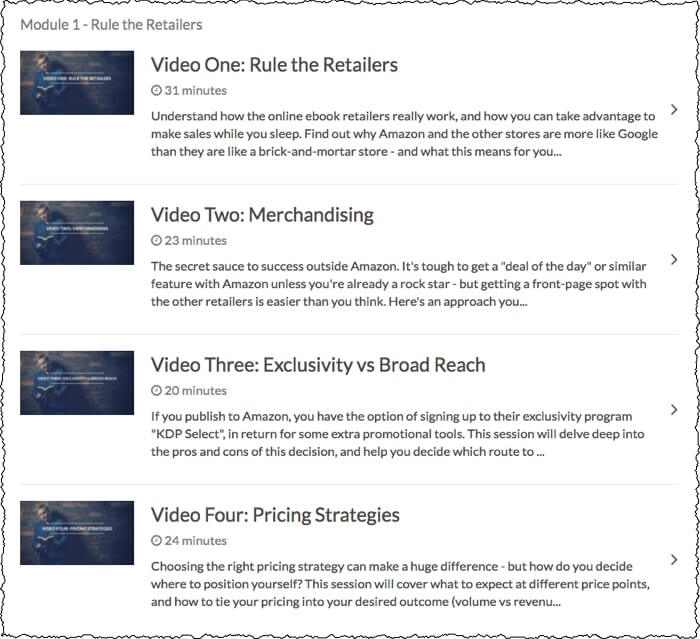 The nice thing is that each recording also comes with a downloadable video, slides, and audio file. This means you can listen and re-listen as necessary.
One thing to keep in mind about this course is that it's a how to make money from self publishing course. You might even call it a marketing course in many respects since it does cover ad copy, cover creation, and audience reach.
However, it's not a "how to write a successful book" course. If you haven't written your book yet, and need help with that, you may want to check out some alternative products [LINK] I've listed here. You might be able to get some good advice in the Facebook group, and Nick does have lots of great writing advice peppered through the lessons (especially the interviews), but that's not the main goal.
We're trying to get written books published properly, and increase traffic to currently published books.

What I Liked About YF 10k Readers
High Quality Production
First and foremost, I need to emphasize that this is not a "home produced" product you find anywhere online.
Your First 10,000 Readers is a high quality production, in all aspects. The audio is clear and crips, video is HD and there's music too!
The lessons are structured, and as Nick speaks there's very few mess-ups, or re-do's while he's speaking. Honestly, it sounds like he does every video in one take, although I'm sure there had to be some editing.
Either way, it all sounds very natural and casual, which helps the learning experience.
All Formats, All Downloadable
When learning online, all formats have upsides and downsides. Videos are great because you can follow along, but they are hard to search through for information.
PDF guides are easy to skim and absorb faster, but hard to follow picture by picture, or sometimes do what the written text asks you do.
Audio is great to listen casually while you learn, but leaves out image details.
Luckily, this course includes ALL formats, and they are all downloadable so you don't have to always rely on a steady internet connection to learn.
Humorous & Interesting Content
Though 95% of the course is all about work and getting stuff done, Nick was a pretty funny and interesting guy, which made learning easier. He has a very confident, casual and humorous tone while speaking, so the entire course sounded like you were listening to a friend.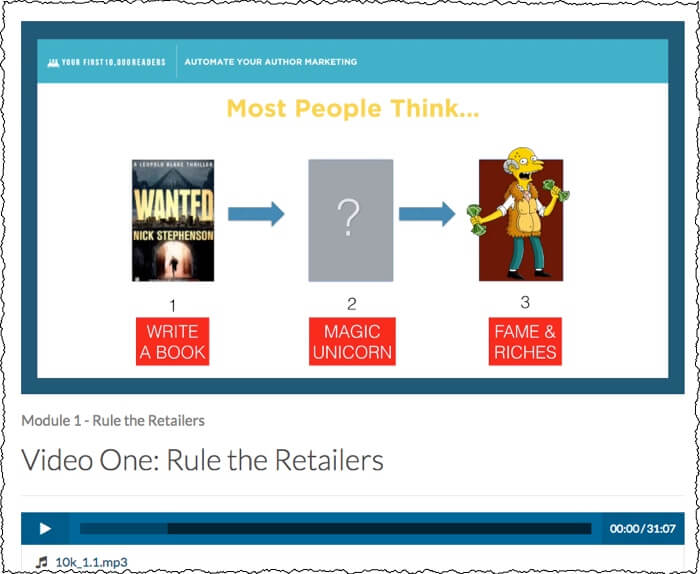 Honestly, after reviewing over 200 products on my site having a presenter/teacher that's easy to listen to and follow is definitely a positive worth mentioning.
Realistic, Concrete Goals & Clear Steps
Perhaps the most important thing to mention about Your First 10,000 Readers is that there are clear, concrete tasks to get done within the lessons.
In each lesson, Nick basically says goes over what he's done with his own business, shows proof, then explains how you can do the same.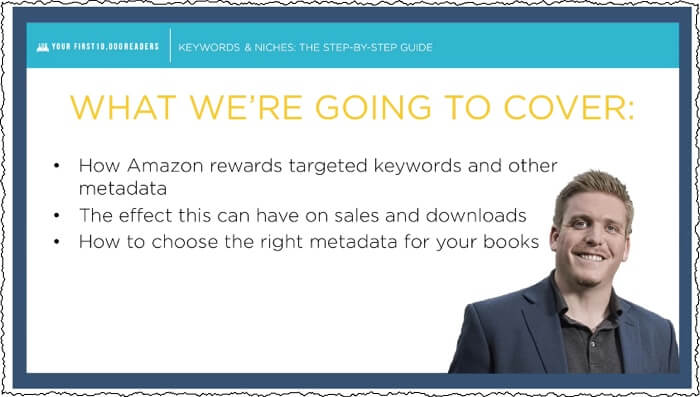 One example is talking about SEO (search engine optimization) for Amazon listings. He details what meta data is, how to use it to your advantage, and shows examples of how he's done this with his own books.
As someone that understands Google SEO, I can confirm that Nick knows his stuff! This was the most interesting part of the lessons for me.
Branches Out Beyond Kindle
At a few points during the course, Nick emphasized that he wanted to diversify his income away from being 90% Amazon Kindle, and I think that's a smart move. So don't worry about this course being just a "how to sell on Kindle" course.
He covers other platforms like Nook and Kobo, as well as places like Smashwords and Draft 2 Digital.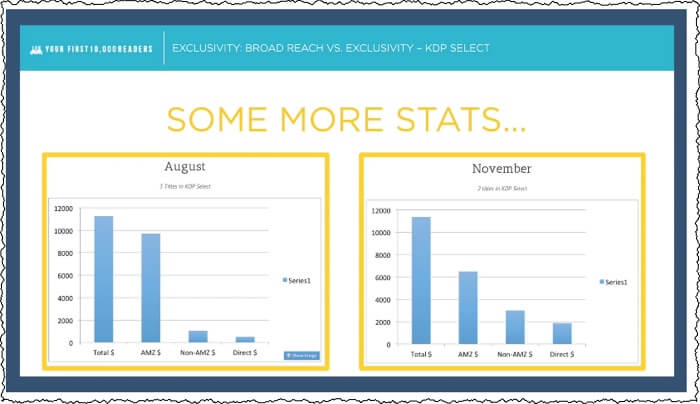 If you follow the lesson, you can expect to have a well rounded self publishing business, not just a book that sells on Amazon.
Real World Examples From Nick Stephenson
Another stellar part of this course was seeing real world examples from the product creator. Too many times, we are "told" what to do without a lot of proof. However, Nick actually shows us the books he's written, and shows how he applied the lesson to his books.

We can even see his sales stats, and how they change over time when he starts implementing these tactics.
It's very, very clear that these lessons were built off of years of testing various tactics and making thousands of sales of books.
Facebook Group For Community Help
In my opinion a support community is one of the main reasons to purchase any product. As a newbie, or a struggling writer, just being able to have contact with successful writers (or peers) can be invaluable.
Imagine having trouble trying to do something on Scrivener, and instead of searching the internet for hours you just pop a question into Facebook and get an answer within the hour? What if instead of wondering "Is this good? Is that right?", you could just post a link and get some feedback over the course of a week.
Those are powerful learning tools for anyone, no matter what you're learning. Please join and make use of the private Facebook group!
Progression From Simple To Difficult
It was very clear that the course was laid out to start out simple, and get more difficult in later lessons. This is good because you start out thinking everything is pretty easy, to build your confidence.
By the time lessons start to get harder, you are already in too far to quit! LOL. But seriously, the last few lessons started to get a bit confusing, so I'll have to go over them again. Challenges are good though, and I suspect the challenging stuff will yield the best results.

Negatives To Consider
I'm Not So Hot Facebook Messenger Marketing
I was surprised that there were three lengthy videos on Facebook Messenger marketing. Apparently, it's a very effective tactic, and can be used kind of like an email list.
However, I'm not sure I'd personally like to be contacted via Facebook to purchase products. I already get annoyed enough at promotional emails in my inbox!
So my critique here is not about the effectiveness of this tactic, since it sounds like it really does work, but just in general the ethics of using Facebook messenger to market your books.
Doesn't Teach Details On How To Write A Book
YF10R does not go into great details about how to write a book, so if you are starting from scratch, you may want to spend your money on a "how to write a book" course. It depends on what your'e writing though!
For fiction, you may want some writing training to get through your first few novels/stories. If you're writing non-fiction, you could probably figure out how to organize your ideas effectively because you should already be an expert in your field.
Nick does have a "bonus" course included in your membership called The 60 Day Author.
About The 60 Day Author
This portion of the training does cover some general concept of how to write, so Nick does provide at least some guidance in this area.
Here are the topics covered:
Planning, Plotting, and Structure – oh my!
Cover Design and Book Page Teardown
Tool Up! How to plan, edit, format, and export your books with Scrivener
Game Time! How to Upload your Manuscript to the Retailers
How to Create Beautiful Paperbacks and Hardcovers Part 1: Unboxing!
How to Create Beautiful Paperbacks and Hardcovers Part 2: The Process
The $450k Book Launch – with John Lee Dumas
How To Team Up and Network with any VIP
These are not in-depth, step by step lessons. They are more generalized information, mostly in interview format, talking with people about the process of writing and publishing a book.
It's great material, don't get me wrong, but it's not a step by step writing course.
Completeness of Information Means Long Term Commitment
This is not a critique of the lessons, per se, but it's just a reminder that there's a lot of information to go through in this course. That's part of what makes Your First 10,000Readers so valuable – the extensiveness of the information – but it can be a bit daunting to get through.
At some points, it can even feel downright demoralizing to see how much more you have ahead of yourself!
So don't buy this course thinking it's going to be a magic bullet to fix your income and skyrocket your popularity. But like with many excellent courses such as YF 10K Readers, if you stick with it, I have no doubt that you will see good, if not, excellent results.

Who Is Your First 10,000 Readers Best For?
If you have your book idea, or have written your book already, then this course is simply THE best for learning how to market and sell your book effectively from day 1.
If you published a book or two already and are wondering why you aren't making consistent income, while others are making hundreds of dollars per day self publishing, then this course will help you reach your next level of income.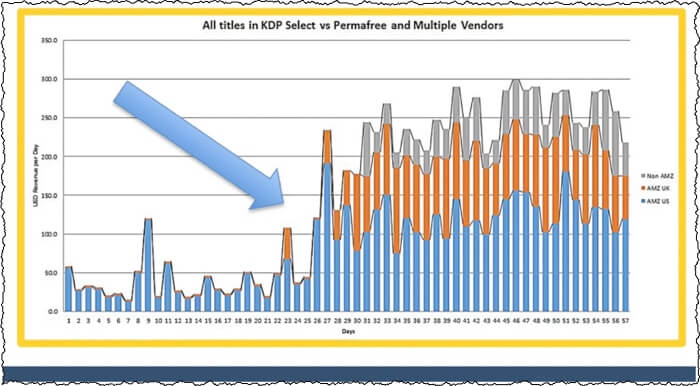 If you are already making sales, but want to look for areas to improve, stabilize, or diversify your income, then this would be worth your money.

Final Review
So, can Your First 10,000 Readers help you make money in self publishing? Absolutely! This is a well structured, high quality product that's worth every penny. If you have quality content in your books, fiction or non-fiction, then the strategies laid out in this product will help you grow your online business.
A lot of money and time went into producing Your First 10,000 Readers, and it shows. Nick Stephenson has extensive experience in self publishing. He has made, and continues to make a lot of money doing it.
This course uses candid, simple language to describe very clear steps of how to grow traffic and sales for your own books, and start making money doing what you love.
I highly recommend it!
Alternative Products For Self Publishing
There are lots of products teaching how to self publish online, but there are surprisingly few excellent products. I'm still reviewing a few in the background (a single review might take a week or two!), but so far, here's what I gather.
The "main players" are the following products:
Your First 10,000 Readers (obviously)
Self Publishing School
Proven Self Publishing
Authority Pub Academy
K Money Mastery
I've already finished my review of K Money Mastery and it was good! Stefan Pylarinos is a very successful author, and the product he's put together is good. However, it's a very basic product, and there's a lot of other stuff he tries to sell you along the way. It's your typical info-product. But it is the cheapest way to get started, since it's only $67.
I'm still working on my review of Self Publishing School, but so far, this is going to be your best choices for a "how to write an ebook" type of course. There are definitely some marketing tactics discussed within the training, but they are more basic compared to YF 10k Readers. It's also one of the more pricey courses, going for $997 for the basic course.
Your First 10,000 Readers is definitely the most advanced marketing course, and best for established authors, or new authors that are confident in their writing skills. The price is right in the middle, at $597.
I don't know much about Authority Pub Academy or Proven Self Publishing yet. I do know that Jim Cockrum, owner of Proven Self Publishing, has other very popular products in the online world, and this is a cheaper alternative since it's only $297. I'll update the page with more links to reviews as I add them, and eventually write a full comparison page!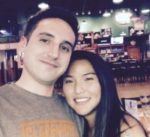 Nathaniell
What's up ladies and dudes! Great to finally meet you, and I hope you enjoyed this post. My name is Nathaniell and I'm the owner of One More Cup of Coffee. I started my first online business in 2010 promoting computer software and now I help newbies start their own businesses. Sign up for my #1 recommended training course and learn how to start your business for FREE!