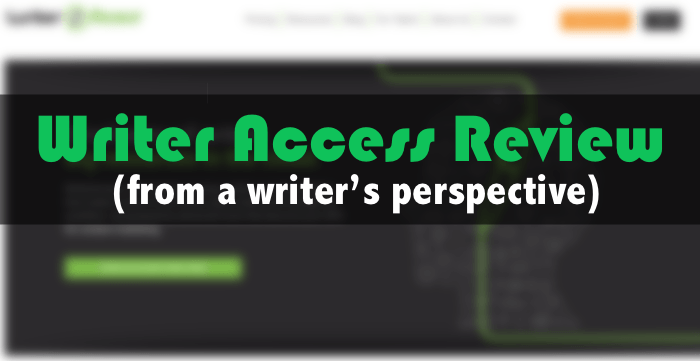 Introduction to WriterAccess
Web site: WriterAccess.com
This is a successful content mill. It has: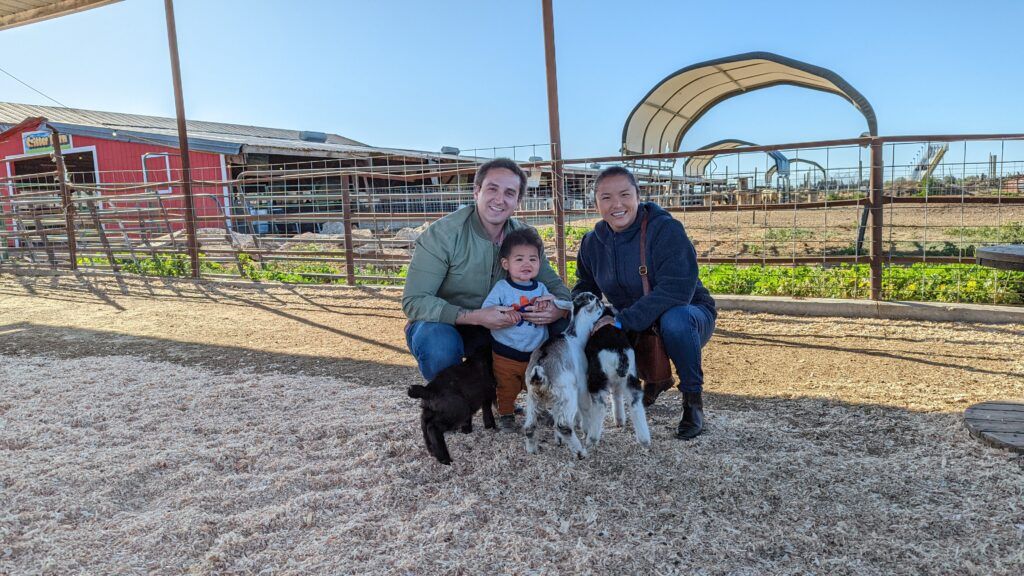 Are You Ready To Work Your Ass Off to Earn Your Lifestyle?
Are you tired of the daily grind? With a laptop and an internet connection I built a small website to generate income, and my life completely changed. Let me show you exactly how I've been doing it for more than 13 years.
Strong graphics
the messages on each of its pages is convincing
the functionality is spot on
The site is growing and is among the top content mills in the nation
But, does this Boston-based site provide paying work for freelance writers?
Yes. Acceptance was not a foregone conclusion, but I was added to the crew and got access to jobs. But before getting into the nitty-gritty, let's look at how it all started.
Getting Started with WriterAccess
Much of the WriterAccess opening page is dedicated to customers of content, rather than the creators. However, WriterAccess does a bit better than most, by at least allowing us our own top menu item. To access information about writing for the site, select "For Talent" in the top menu bar or talk to the "Wabot" messenger that pops up on the screen.
But when you get to the section for freelance writers, a large amount of content and questions awaits.
Join Our Liberated Workforce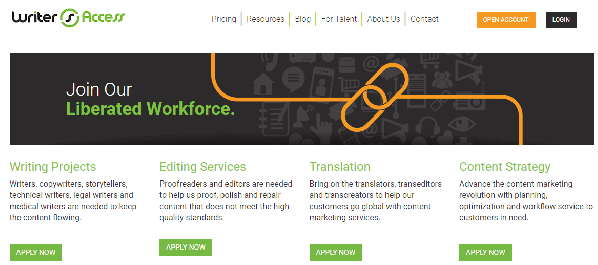 This includes whether you want to join:
Writing Projects
Editing Services
Translation
Content Strategy
After selecting writing projects, the focus of this review, I was asked to fill out a number of biographical items:
Education
Summaries of Experiences
Headshot
Short Summary
Full Summary
Interests
Specialties Industry
Summary Content
Type Summary
W-9 and PayPal information
The next stop was the writing test. Normally, content mill tests are kind of a throw-away item. It takes about a third-grade education to pass most of them.
But WriterAccess's test is a little scary. The site says questions are not meant to "trick" a prospective writer, but there is a "subtle" "logic" that is meant to help test takers learn and help discern the rating a writer deserves. And "(w)e do not allow re-takes under any circumstances," the site says. So if you plan to apply, learn from my experience below:
What are my views after taking the test?
It was hard. AP test hard.
Most questions involved rare grammatical or word usage situations.
Most questions involved writing quandaries writers wouldn't entertain in the first place.
I kind of imagined a bunch of really smart English majors in a Boston coffee shop to creating the test. I see them trying to one-up each other, living up to the standards of town with 35 colleges. I think the aim of the exercise was to create a really hard test that weeds out writers, which it does, and maybe provide test creators with a serving of highbrow pie.
Needless to say, I didn't do very well, about average really, which explains my sarcasm. (Was that the best use of grammar? What would WriterAccess editor say?)
It took me about three hours to finish the test and preliminary items in order to get work. They said they would get back to me in a week or so with a rating based on the test and information submitted. Spoiler alert! They took much longer.
Other Reviews of WriterAccess
Reviews of WriterAccess are mostly positive. Like me, many are impressed with the design and confident money can be made at the site.
Probably the most consistent complaint was the lack of work. According to some, the number of jobs was low and those that arrived in the work queue were quickly snapped up. One complained that if you weren't a morning person than the site could be a problem. The list of jobs arrive at 5 a.m. and they are gone soon.
This indicated to me that WriterAccess already has a full stable of writers, making me question whether it makes sense to even try my hand at this freelance writing gig.
Reviewers said communication with WriterAccess staff was impressive, and that was my finding as well. Although not yet accepted, the staff did answer my pestering queries very promptly.
How WriterAccess Works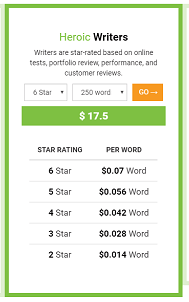 Writers are given a rating between two and six stars based on the test and evaluation of the sign-up stage info. The higher the rating, the more money a writer can make:
6-star: minimum 7.0-cents per word
5-star: minimum 5.6-cents per word
4-star: minimum 4.2-cents per word
3-star: minimum 2.8-cents per word
2-star: minimum 1.4-cents per word
The site has an open queue with available work. But it is not the only queue. Three areas pair clients with writers based on resumes and summaries provided in the sign-up section:
Casting Calls
Love lists
Solos
Freelancers make proposals for projects in the Casting Calls section. This is a competitive area where clients choose the writer that best fits their needs. That client offers compensation that's usually higher than the advertised amounts.
Love Lists include the names of freelance writers chosen by clients for doing a good job on other projects, because of the information in the summaries and samples, or by applying for Casting Calls. Being on a Love List does provide exclusivity, but the size of a list depends on how much love a client wants in his or her stable.
Solos are arrangements between a client and certain freelancer.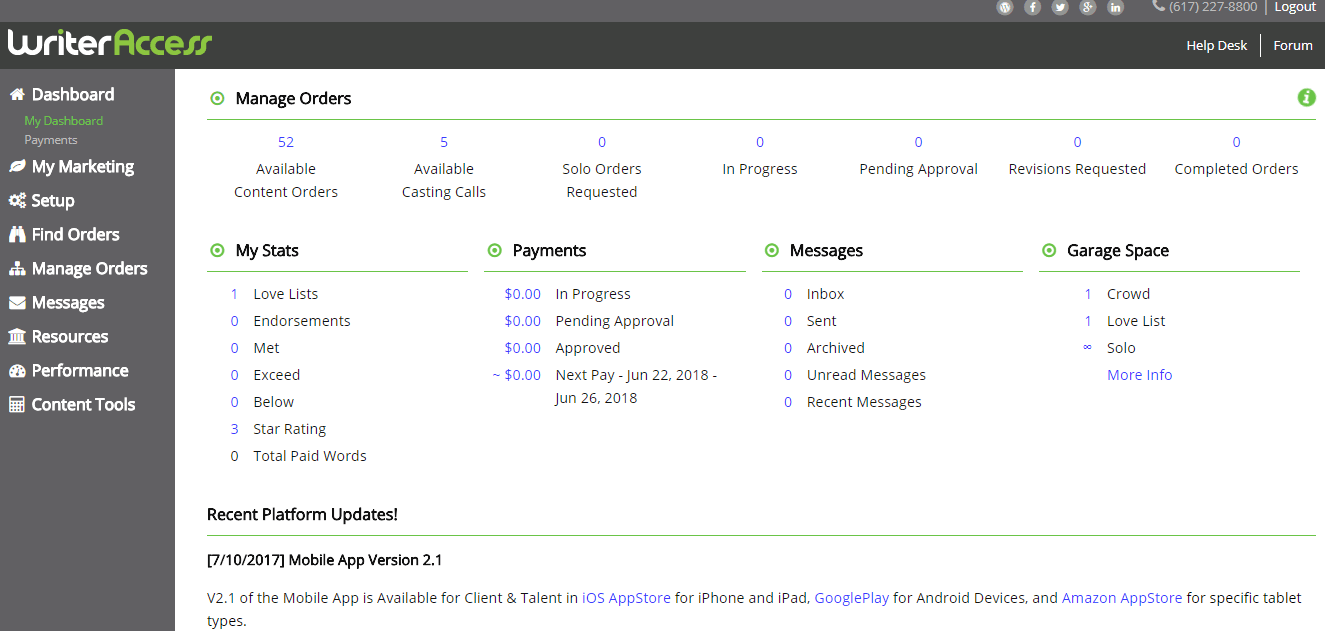 Working for WriterAccess
As an accepted writer, I get access to an amazing dashboard. It's robust, sophisticated and perfectly organized. If I had to compare the dashboard, it's like the "Insert Post" dashboard in WordPress with all the functional items to the right and links to pages of all sorts on the left column.
It really has everything.
You can see:
Pay and when it will be available.
Number of jobs available based on different categories of work.
Personal status updates.
Links to messages.
Messages show up in my personal email daily alerting me to new jobs in the "Content Orders" queue and others. These job emails are sent at 5 a.m. and the queue indeed shrinks pretty quick, so jumping on projects early helps. These emails often alert you to empty queues as well, of which there were more than a few.
Speaking of those job in the queue…
Instructions describing these projects are more than a page long, discussing everything from the audience to the client site to content ideas. It's all very good for a writer, in my opinion. There are few questions about the product a client expects.
And the pay is OK. I, like most beginning writers according to WritersAccess, started out at a 3-star rating and the jobs available pay about 1.3 cents a word. Though, after WriterAccess takes its cut the price drops to about 1 cent a word.
Three-star writers access some pretty simple projects, usually product descriptions from companies offering items from shoes to adult products on the day I looked.
This was the first time I got a chance to write about X-rated merchandise. What will I tell my children?
A Brief History of WriterAccess
The Boston-based company was started in 2010, without VC capital as they often mention. The company says their focus has always been content and matching talent with the needs of its customers. They also keep up with changes in the marketplace, such as providing analytics tools to help customers know that content is working and providing different content styles.
WriterAccess joined the elite content bandwagon and started conferences in 2015. Conferences are the content mills' "social media" strategy to prove they are experts in the field. The company has been at it for three years and clearly, the event is a highlight.
It was selected as an INC5000 company and is continuing to explore new avenues, such as "psychometric matchmaking" and "expansion of an influencer marketplace."
These moments in company history are notable. In my opinion, it shows the blueprint of success for a content creation company. I was actually a fan of their blog as well, and there's one post I liked that concentrates on content expectations. It was very informative and pro-writer!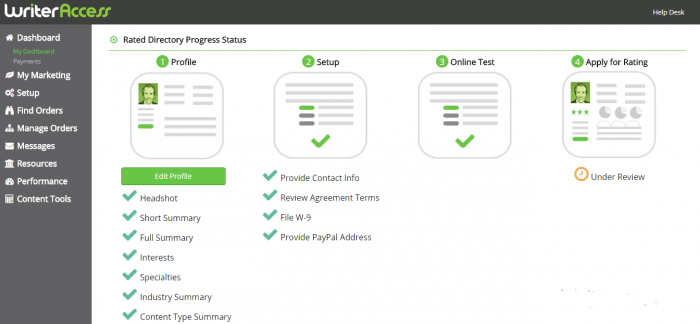 Landing Jobs and Pay at WriterAccess
I didn't get a job yet. Pay is done through Paypal twice a month, according to the site. An account must have at least $10 before money can be withdrawn.
In general, jobs completed and submitted for payment at the end of the month will be paid between the 7th and 9th of the following month. Those submitted for pay halfway through the month, the 15th, will be paid between the 22nd and 24th.
Pros and Cons of WriterAccess
Pros
They know what they are doing.
They are growing and have a good reputation.
Pay seems reliable.
They ask for proof of strong English skills, beyond that of a native speaker.
One of the best, if not the best, dashboard for writers on the market.
Cons
Despite the level of writing, pay is still low.
Getting started can be a daunting task.
The site can be seen as snobby.
No byline.
Possibly already has enough writers.
Would I recommend WriterAccess?
WriterAccess sets a pretty high bar.
Their screening process is meant for strong writers who are serious about freelancing. And being demoralized by not doing well on the test or not having a hefty biography can take the steam out of a writer new to freelancing.
Is it worth it given the rather lackluster pay rates? I think yes.
WriterAccess is successful and being accepted as a writer means being associated with a venerable brand. And now that I've been accepted, my bias for the site only increases.
WriterAccess is also a good place to see where a freelance writer stands. The creators of the site did their homework and have the apparatus to identify effective content creators.
If I were in the market for content, I would actually trust WriterAccess to provide decent copy.
The pay rates, however, are a bit low compared to the three-plus hours spent setting up an account. The creators of the site can get all the information they need about a writer without the robust requirements, in my opinion.
Being accepted to the site does give me a different outlook on the site, however. I am happy I tried my hand and impressed by the super robust dashboard that leaves no questions about what is available to you as a freelance writer.
None of my previous comments, mostly negatives, about the site changed much. The barrier to entry is still there and it can be cumbersome. And, again, the pay is still a little light as is the number of available jobs.
As a writer, you have an in-demand talent that can be used to earn you TONS of money online. You can earn money freelance writing, for sure, but it's still just trading dollars for hours. Personally, I recommend starting your own website! Information is the currency of the internet, so why not leverage your talents to build yourself a serious online income! Learn how to create your own blog-style website and make money through advertising.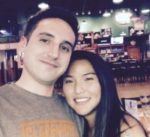 Nathaniell
What's up ladies and dudes! Great to finally meet you, and I hope you enjoyed this post. My name is Nathaniell and I'm the owner of One More Cup of Coffee. I started my first online business in 2010 promoting computer software and now I help newbies start their own businesses. Sign up for my #1 recommended training course and learn how to start your business for FREE!