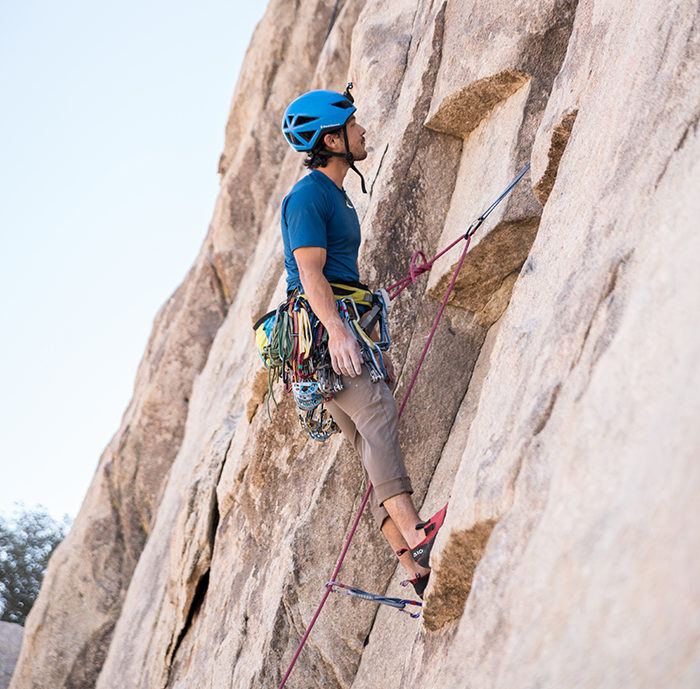 Search engines have become the #1 source of website traffic on the web. Every online business owner wants to optimize for and appease them, but SEO is a mystery box many haven't opened yet (actually, it's pretty easy). That's why I often recommend beginners to get a plugin when they ask me about SEO. But what plugins do you need for SEO? I'll be covering all that in this article!
In general, SEO is a long process that can take months to start seeing tangible results, but SEO plugins can speed things up a little by simplifying certain aspects of your work for you. There are tons of WordPress and browser SEO plugins to choose from. Some do a specific task, while others are good for general SEO. Which ones do you need?
Selecting what plugins you need for SEO can be difficult if you're a newbie! Thankfully, I've simplified the process for you. So here're the best SEO plugins that are worth considering. But ultimately, whichever one you choose is going to come down to your preference. Let's get started.
Answer: There are four basic plugins you need
For basic, easy SEO, I recommend four types of plugins
Technical SEO Plugin
Image Optimization Plugin
Caching Plugin
Spam Blocker
Just those four types of plugins will take care of most of the heavy optimization load. Your site structure will be correct, your images won't drag down your speed, the caching will also help with website speed, and the spam blocker will prevent the millions of spammy links headed your way.
I've got more suggestions though, so keep reading, and don't hesitate to add your own 2 cents in the comments for what you use to help your SEO.
The All In One SEO Plugins for WordPress
We'll start with all-in-one solutions that are available for WordPress. SEO plugins are useful because you gain greater control over how you want search engines to rank your WordPress pages. An all-in-one SEO solution works behind the scenes to take care of common tasks which every website needs.
For example, a plugin can do something like "canonicalize your pages", meaning that when you publish an article, the original page is counted as the only page with that content. WordPress will list your content on category pages, tag pages, the home page (temporarily), and maybe other areas. This function tells search engines that those snippets of content come from the original page, and are not duplicate, spam, errors, etc.
Another function could be to automatically turn your page titles (h1) into meta titles, and automatically use snippets from your text for meta a meta description. These settings can be overridden manually on each page, but are nice to have as a fallback for when you drop the ball.
1. Yoast SEO Plugin
Yoast is a well-known plugin in the SEO community and arguably the best, including most suitable for new website owners. But there's value to be had by installing this plugin even if you're an expert.
The simplicity and intuitiveness of the plugin is what makes it a preferred choice. It's highly recommended if you want an SEO plugin that covers pretty much everything. The main downside (and why I don't use it), is that I think it goes too far in terms of calculating your SEO score. Newbies get caught up in hitting all of Yoast requirements, as if it's a formula for success, and they forget to write awesome, engaging content.
Focusing too much on optimization and not enough on quality can be detrimental to your ranking!
2. SEO Framework
SEO framework is another great plugin with a clean interface. It comes with minimal additional features, which makes it more efficient and less cluttered than other WordPress SEO plugins.
However, you may need decent SEO knowledge to get the most out of this plugin because it's not as simple to set up, compared to something like Yoast.
Also, SEO framework is an unbranded plugin. This makes it advantageous for web developers and SEO professionals who have clients that publish content on their own. They can appear more professional to clients.
3. All In One SEO Pack
This plugin is as popular, if not more popular than Yoast. It's my preferred plugin because it's so simple. The features are basic, un-intrusive, let you get to work creating awesome content instead of constantly reminding you about target keyword densities and other rote SEO metrics. and The ability to generate Metadata automatically is a highlighted feature in this plugin, which can be ideal for new bloggers.
4. SEOPress
SEOPress is a new player in the industry of WordPress SEO plugins. So far, it's proven to be just as powerful as any of the plugins we've just discussed and includes white labeling.
Every one of these plugins has optional premium features that you can purchase but SEOPress is cheaper than all of them.
The Make Your Life Easier WordPress Plugins
The following SEO plugins will help you avoid some common SEO issues and make you more efficient.
1. Anti-Spam Plugins
Comment spam is a big issue for websites so it requires constant attention. Anti-Spam helps you say good riddance to at least 90 percent of comment spam!
Spammy links that are posted on your site can be harmful to your SEO efforts. For instance, URLs from questionable or unrelated industries, test sites with gibberish text, phishing websites etc. The quality of external links coming from your site is just as important as internal links.
You should always moderate your own comments but a good spam filter will reduce the likelihood that you'll miss something. Akismet is quite popular as well, but they are starting to charge money so I don't recommend them any more.
2. Schema Plugins
Schema is a lightweight structured data plugin for WordPress. Structured data is an HTML Markup language that's used to generate rich snippets or additional data that shows up on the SERPs (search engine results pages).

These snippets let search engines show more information about your site and provide them with additional details that can also be used internally. Installing the Schema plugin will create properly formatted structured data code for your WordPress site automatically.
In my research, I didn't find a perfectAll In One Rich Snippets plugin to manage schema. Some were out of date. Some didn't have great reviews. You'll have to investigate and research to see which one you like. Another one I've used before is .
3. Redirection Plugins
Ever changed a post or page URL, only to realize that you forgot to redirect it later? You may even completely forget it and lose any link equity you've gained over time.
If you've been in this situation before, then you know how annoying it can be. Not to mention that broken links are bad for SEO.
Redirection helps you manage all your redirects in one place. It's able to monitor your site for URL changes and automatically redirects old web addresses to new ones. Neat, huh? I use StudioPress themes, which come with redirection as part of their in-house SEO, so check your theme to see if it has this feature as well.
You can also do manual 301 redirection by editing your .htaccess file, but you'll need to have access to and be comfortable with logging into FTP.
4. Caching Plugins
W3 Total Cache is one of those plugins that have earned mixed feelings among website owners. On the good side, it's a great plugin for increasing the speed of your website and can be linked up with a CDN (content delivery network). CDN refers to a group of servers that work together to provide data to your website visitors in order to improve performance.
The only caveat is that it's a server resource hog. So make sure you've got a great website hosting package that is without or with reasonable resource limitations.
I wouldn't recommend this plugin for anyone that is on a shared hosting plan. Nevertheless, when it comes to improving your site's performance, it gets the job done amazingly well.
A more lightweight alternative to this plugin is Autoptimize, which optimizes your CSS and JavaScript resources. It can also cache scripts. I use this one, and love it.
Many times, hosts will use their own proprietary caching system, meaning you don't need (or cannot use) your own caching plugin. Check with your host!
5. Image Compression And Optimization
As its name implies, WP-Smushit compresses and resizes all your images. Best of all, it can do everything on autopilot. I mean, imagine having to manually compress every new image you upload. That approach wouldn't be efficient.
Ewww image optimizer is another popular image optimization plugin.
6. Broken Link Checker
Broken Link Checker does exactly what it says in its name, it checks for broken links! Over time, everyone ends up with a bunch of broken links that they've missed. This plugin lets you find them easily so that you can take appropriate steps.
Broken links can lead users to 404 errors! Though a 404 won't hurt your SEO by default, users leaving your site and never coming back will!
Also, you may be missing out on important traffic funneled to money pages, or losing internal-linking power to non-existent pages.
7. AMP For WordPress (Maybe)
AMP (accelerated mobile pages) is an open initiative by Google to speed up web pages on mobile devices. The search engine started rolling out mobile-first indexing on March 26, 2018. So it has become (somewhat) critical to have a mobile-friendly website moving forward.
If you find that you're running into trouble reducing the load time of your web pages, then AMP is definitely a viable option. There's only so much you can do to your site for speed optimization without stripping some code away. AMP for WordPress is definitely a quick way of doing this.
NOT EVERYONE NEEDS AMP!
In fact, I don't use it. AMP can make certain ad companies lower your RPM, meaning less revenue. Depending on how you install AMP, you may also need to redesign your mobile site. AMP is still gaining popularity, but many sites do not use it!
Overall, at this point, if you have a time-sensitive site like news, then you should really research how to get AMP working on your site. If not, and if you're a newbie, then I think you can skip this one (for now). It's very hard to uninstall if you change your mind!
Must Have Plugins (Addons) For Your Chrome or Firefox Browser
The simplest of programs can make the most difference in your SEO game. Whether you're checking performance, broken links or domain authority, browser plugins such as SEO toolbars are fantastic additions to your arsenal.
1. Moz Bar
The Moz SEO toolbar is the fastest way to check how powerful a domain or web page is. It provides DA (Domain Authority) and PA (Page Authority) metrics for SEO. Additionally, you can view the spam score of websites. This primarily indicates the quality of their link profile and the higher the score, the greater the risk of associating with the given site.
2. SEOquake
SEOquake functions similarly to Moz's toolbar but provides more insights into SEO. It detects parameters such as social signals, number of indexed pages, website age and much more!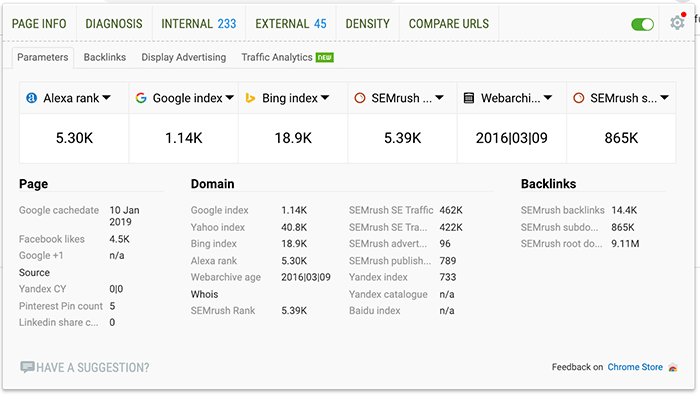 There's plenty of data to look at as evident on the above screenshot.
3. Keywords Everywhere
There's no better plugin than Keywords Everywhere out there to help you identify search volume. Once you install the plugin, you can see the search volume of any keyword you query on Google and it's free! I use this one. It's not very intrusive into your search experience (unlike SEO Quake), and it'll give thousands of content ideas, search volumes, and keyword results while you're doing research for your niche.
Going Beyond Basic, Technical SEO
SEO plugins can tremendously simplify your work by helping you do SEO faster. The trick is knowing the best ones to use and I've just listed them all here for you. You won't need all of them so pick the SEO plugins that are most important for your site. At the end of the day, it all comes down to your preference and situation.
Beyond these, you'll still need to optimize your content! Make sure you're writing search engine optimized content, and finding great, low competition keywords.
With plugins taking care of technical optimization in the background, and you writing keyword optimized content, you are in the top 20% of websites on the internet, no matter your niche.
What makes up that last 20%?
In my opinion, consistency in creating content, curiosity for doing original research, and passion for engaging with your audience are the missing ingredients that separate the $10k per month guys and the $10mil per year guys.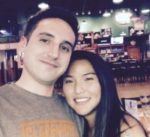 Nathaniell
What's up ladies and dudes! Great to finally meet you, and I hope you enjoyed this post. My name is Nathaniell and I'm the owner of One More Cup of Coffee. I started my first online business in 2010 promoting computer software and now I help newbies start their own businesses. Sign up for my #1 recommended training course and learn how to start your business for FREE!