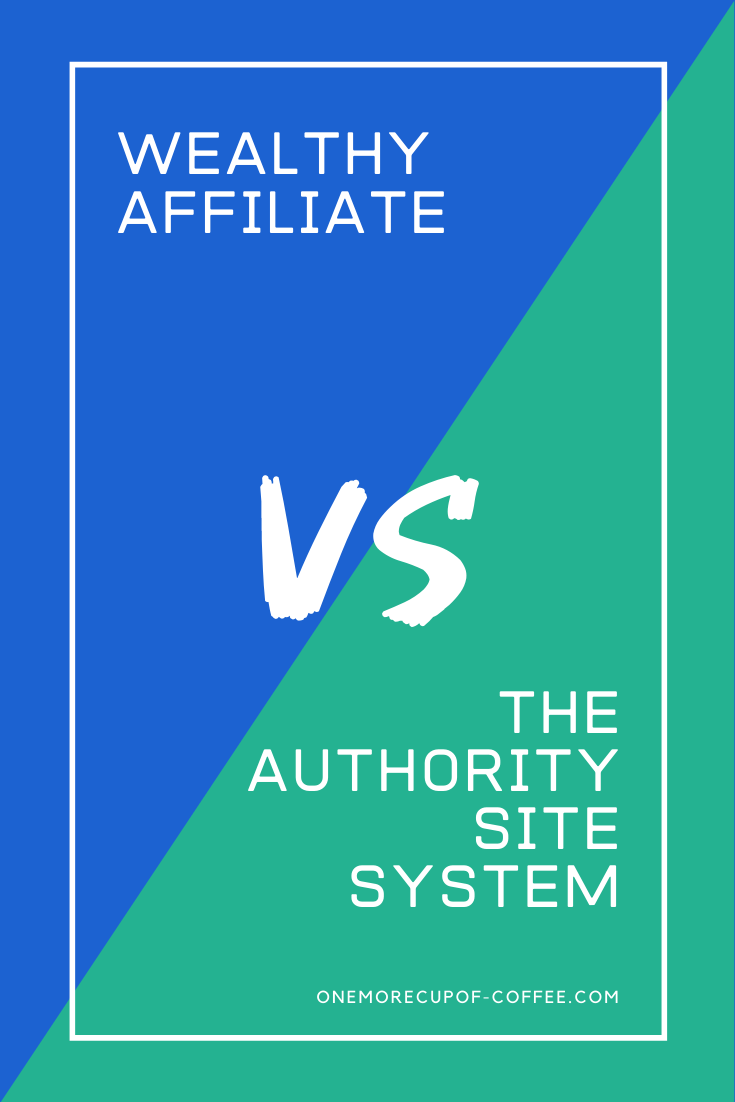 Wealthy Affiliate has been around for over 15 years now. Authority Hacker is one of the most trusted names in the world of profitable website building. Comparing these two training products is bound to be explosive!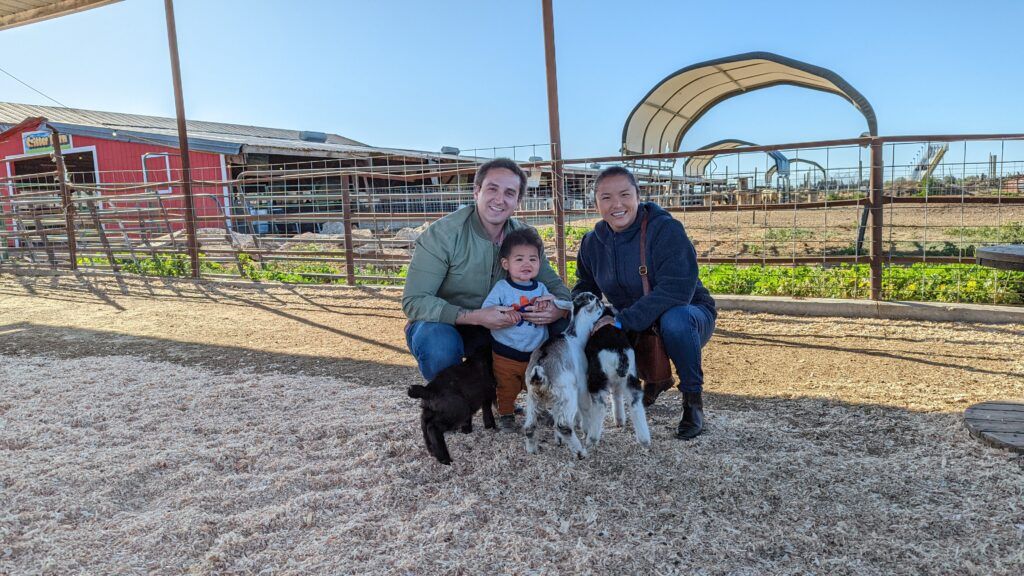 Are You Ready To Work Your Ass Off to Earn Your Lifestyle?
Are you tired of the daily grind? With a laptop and an internet connection I built a small website to generate income, and my life completely changed. Let me show you exactly how I've been doing it for more than 13 years.
No doubt you've heard positive things about both Wealthy Affiliate and The Authority Site System, but which one is the best? Though I've done individual reviews for each, I figured it would be helpful to do a quick look at how they compare. If you've whittled down your potential prospects for how you're going to learn to make money online by building websites from the thousands of options out there, to just these final two, then this post should help you figure out which one to get.
Full Reviews
Those in-depth reviews are just that – in depth, so the comparison on this page is going to cover just three main items I think you should consider.
Of course, what would a comparison be without some final thoughts on both products, with some advice on which product you might like better. Spoiler Alert! Both courses are awesome, and which one I recommend depends on your goals, expectations, and available cash to spend.
Cost
Wealthy Affiliate: $49/month or $359/year
The Authority Site System: $997
Wealthy Affiliate and The Authority Site System are on two very different sides of the spectrum with regards to pricing! While WA is a relatively inexpensive monthly, recurring fee, TASS is a relatively large sticker shock, one time fee.
Wealthy Affiliate is free to join the Starter Membership. In fact, you can join without a credit card, so there's no chance of accidental billing! Then your first month is $19 (discounted), and the normal price is $49/month. You can also prepay for a Yearly Membership for $359, which means you pay about $1 per day to run your entire business since that cost also includes hosting for 25 websites on your account.
The Authority Site System is $997, and you get lifetime access to the entire product. Keep in mind though, you'll also need hosting ($10/month), and some other tools are recommended (like Ahrefs, $99/month), so there will be some recurring costs as well. I was able to join during a promotional period, so my cost was actually only $599.
Strictly comparing the standard pricing ($49 v $997), you could be a member of Wealthy Affiliate for 20 months (1.7 years) until the cost would equal out. Of course, this doesn't compare the recommended tools for each product!
Wealthy Affiliate will recommend that you become a Jaaxy member for keyword research, which would cost $19/month. The Authority Site system recommends a variety of tools which cost a one-time fee, but the main recurring costs would be hosting and keyword research. Since Ahrefs costs $99 for the basic plan, if you remain a member and continue to use their service to do keyword research, then that $99/month fee would supersede any costs associated with WA.
When you buy The Authority Site System, Authority Hacker (the company behind TASS), will also have an upsell for their product Authority Hacker Pro, which has been advertised at a variety of price points, but I signed up under the 12-month, $197/month package ($2,364 total). There is no upgrade available inside Wealthy Affiliate, but you're generally encouraged to "go Yearly", which would be the $359/year price point I mentioned above.
One difference to consider is that TASS has a 30-day money back guarantee, while WA does not. There are no refunds for WA, but the cost risk is lower. You're going to spend a LOT more with Authority Hacker up front, and long term if you opt into their recommendations.
Training
Training Quality
In terms of quality, both courses are pretty similar. Videos are done in "over the shoulder" tutorials, and complimented with unique text and images (not just a transcript). Video is HD, and audio quality is good. Since I've done both courses multiple times though, there are a few small differences!
The Authority Site System has done more work to create custom graphics and templates. They've done a really good job of creating a comprehensive, start-to-finish course on building authority sites. I like that they took the effort to include custom infographics for the training modules, and even give us access to their niche research and content writing templates.
The niche research spreadsheets were extremely helpful. Their niche research process is pretty involved and specific, so have a copy of my own in my Google docs was amazing.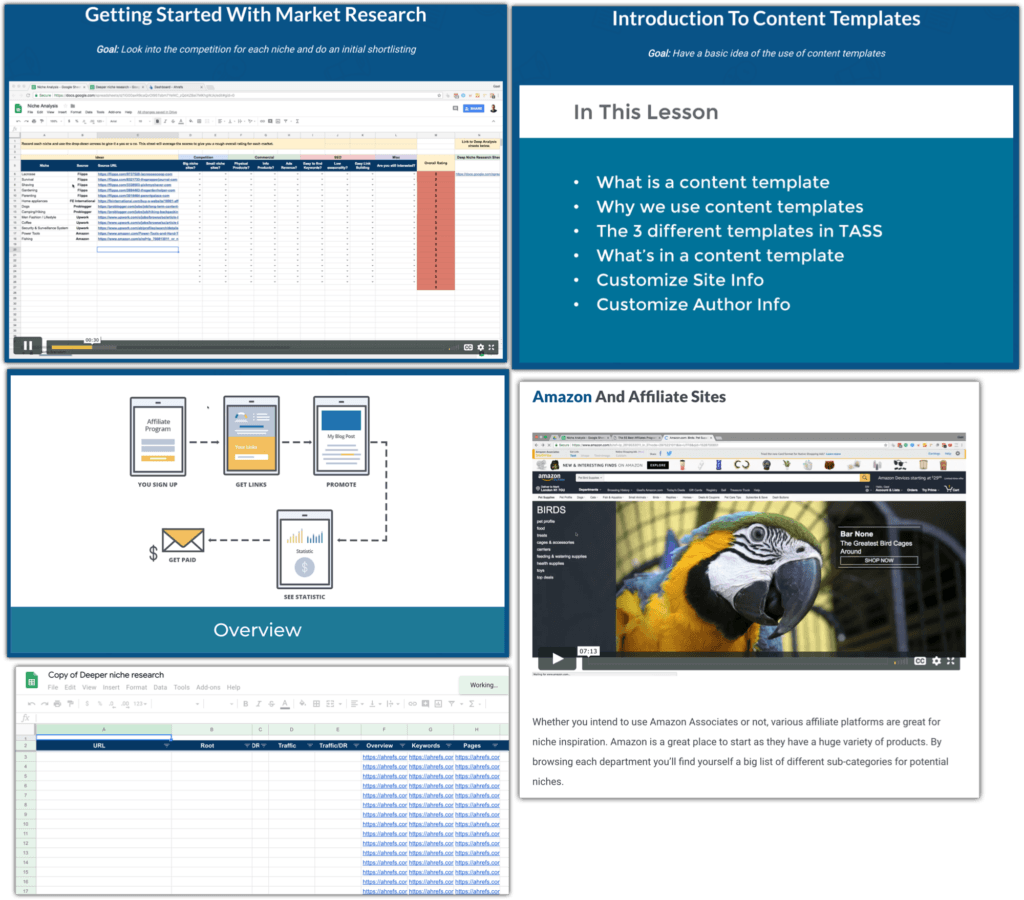 Wealthy Affiliate also incorporates many of those elements. Integrated video, text, and image-based tutorials means you get a full "multimedia" training experience. However, some of the graphics are a bit grainy, and there aren't as many custom infographics as with TASS. With the exception of a privacy policy template, there's also no templates for you to download for your site. I've created a couple of my own content templates you can access for free on the platform (as have other members), but they are not part of the core training.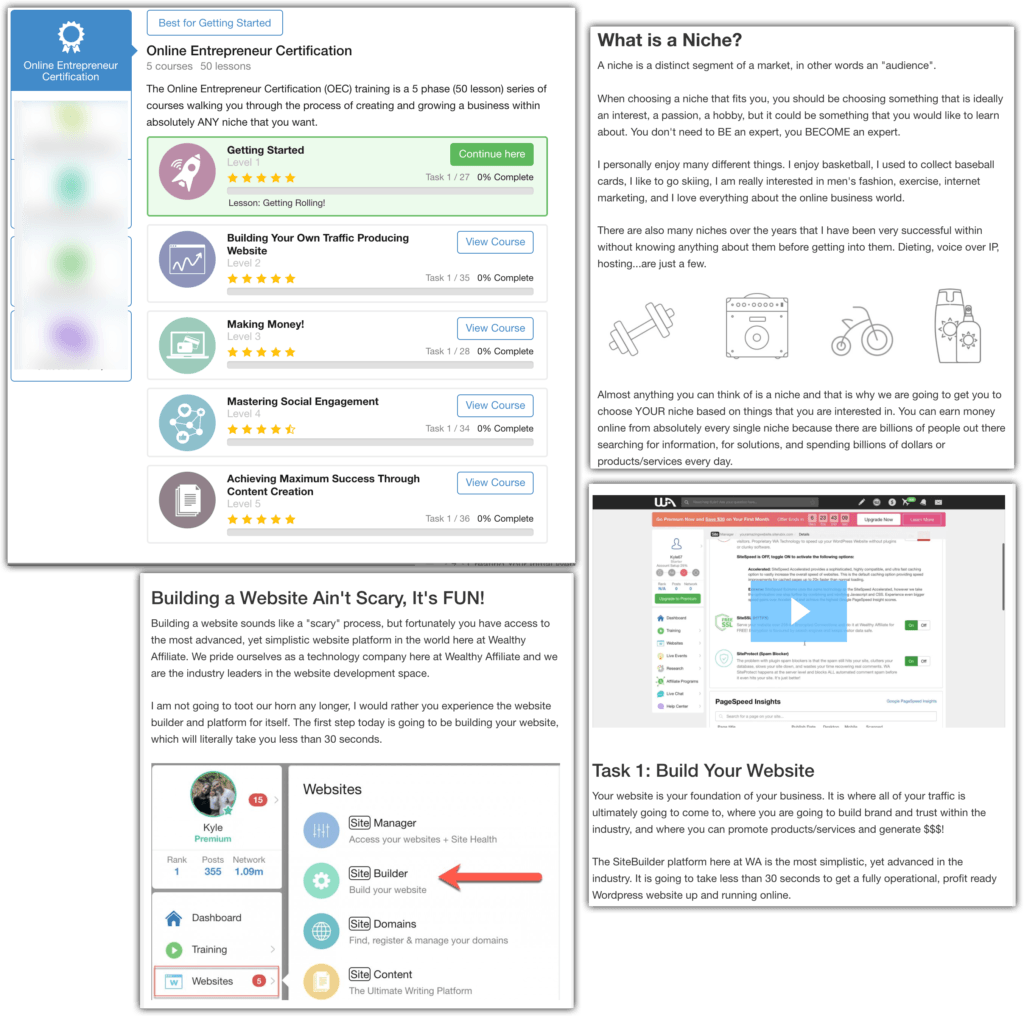 Is one better than the other? It depends on how you rate them. In terms of what they teach, then I think they're pretty much equal in that respect. They teach slightly different methods (discussed below, in the next section), but the both hit it out of the park in terms of accomplishing their goal. I'd say however, that TASS has a slight edge over WA in terms of quality of images.
Training Focus
Authority Hacker's TASS is very simple to define. Here are your goals:
Create "Pillar" or "Skyscraper" content (large, ultimate guide pages)
Add informational articles (shorter posts on keyword-based topics)
Add product reviews
Build backlinks to your larger pages to gain authority
In general, what you're learning is how to create a website, then build backlinks to grow your site. As part of this process, they have a very in-depth niche research phase. In fact, 40% of the course is niche research. Only a small part of the training is about content creation, and then they focus on backlinking to grow traffic. They do say that continual content creation is important, but don't give a ton of guidance beyond the templates and some examples.
Building backlinks is very important to the training here. You'll be doing things like broken link building, email outreach, and guest posting to get other websites to link to yours. This is a very common way to signal to Google and other search engines that what you're publishing to your website is getting the attention of other webmasters in the world!
In contrast, Wealthy Affiliate has you pick a niche and build your (free) website by Lesson 4 as part of the free Starter Membership. They really want you to jump in and take action. You can tweak or change your site as you build. If you start off too broad, narrow your niche down later. If you start out too focused, do the opposite. Nothing is set in stone, and any website can make money so why delay?
Also, WA doesn't do any backlink training at all. In fact, they discourage it! Backlink will come naturally with time, as you create content that ranks and catches people's attention. The reason they do this is because backlinks are easily manipulated, and they say that Google is moving away from backlinks as a top ranking metric.
Though I know a lot of you will think that's crazy, just consider the backlink building methods of 10 years ago vs today. If you built links according to "guru advice" in 2010, your site more than likely was penalized in 2012 with the Panda and Penguin updates! So what's to say that won't happen again in the future?
Instead, they focus more on visitor engagement. That means getting visitor comments and shares. It means strategizing how to help people. There's also social media training, and more content idea generation training, so you always have something to write about, and something to add to the conversation in your niche. When you dig deep in a niche, there's always something to write about, even if it doesn't show up on a keyword tool!
Support
There are definitely some big differences in terms of support here!
Wealthy Affiliate is second to none when it comes to support. Firstly, their hosting is in-house and they have their own managed hosting support system which is tailored to newbies. In other words, they are used to basic questions, and used to helping out with stuff which a normal, basic host wouldn't do. For example, if your plugin breaks and makes your site unaccessible, they'll remove the plugin for you. If you need to move your website from an external host to WA hosting, they'll do it for you. Site running slow? They'll run a speed test and make a recommendation.
Hosting support is fast and helpful, but that's just the technical side of things.
They also have multiple channels to get help building your website, and growing your business.
Ask questions on each training module for help with specific tasks
Ask questions in live chat for instant responses
Ask questions in "Classrooms" (forums) based on topics (SEO, WordPress, Email Marketing, etc)
Ask questions via Private Message for a more personal response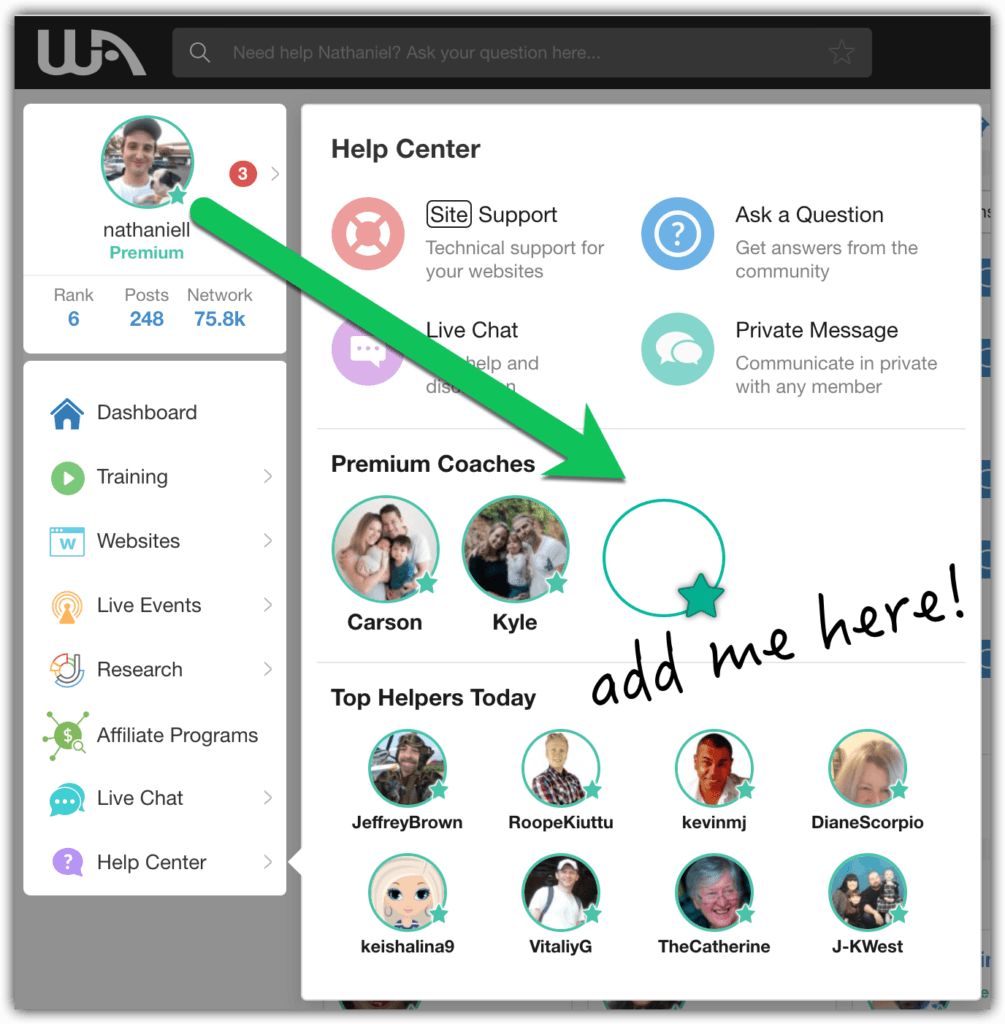 Plus, you get access to a personal coach, or mentor. The quality of your mentor will vary. Some people are non-responsive, or give quick answers to the best of their ability. Others, like myself, are successful affiliate marketers, and you basically get a mentorship with a six-figure affiliate for free included with your membership. I'm on Wealthy Affiliate daily (multiple times) answering questions for my referrals, so they really get their money's worth!
Also, you have access via the search bar, to years of collective knowledge of the community. Just about every question you've asked has been asked before, so you can browse those questions and community responses too.
Though not as developed and robust, The Authority Site System has also has a really good support system. You've got two options. One, is via email. You'll have a chat box pop up in your members' area, and when you ask a question about the training there, you'll receive an email response within a couple hours.
The other option is the Facebook group. This is where the discussions happen. There are a couple thousand members in the group, and daily activity you can participate in! Each post usually has a couple of helpful responses, so the community is engaged!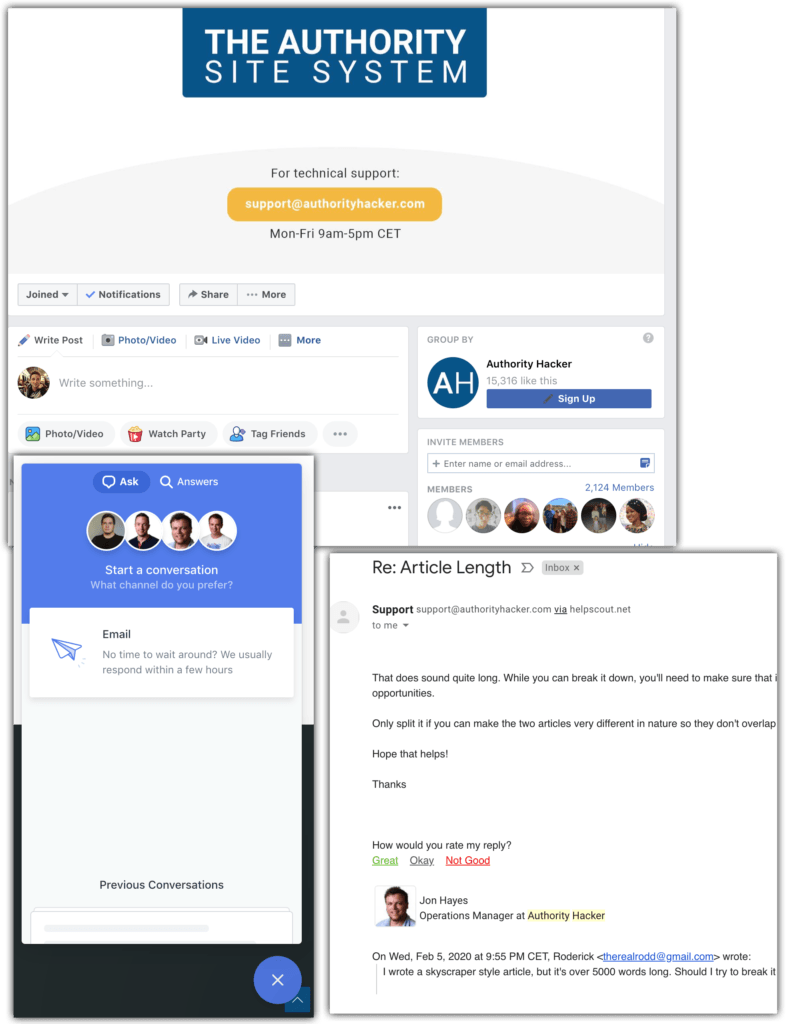 My issue with Facebook groups is that they are disorganized. When I jump in the group, I'll see a mix of questions from a couple hour ago and yesterday, and they are not categorized. Perhaps I just don't know how to use Facebook enough, but if I wanted to look at all questions related to SEO plugins, could I do that?
If you are an independent learner and can figure out how to YouTube or Google all of your questions, then this probably won't make a difference to you. If you're a fresh newbie though and need extra help, then you can't beat the WA support system.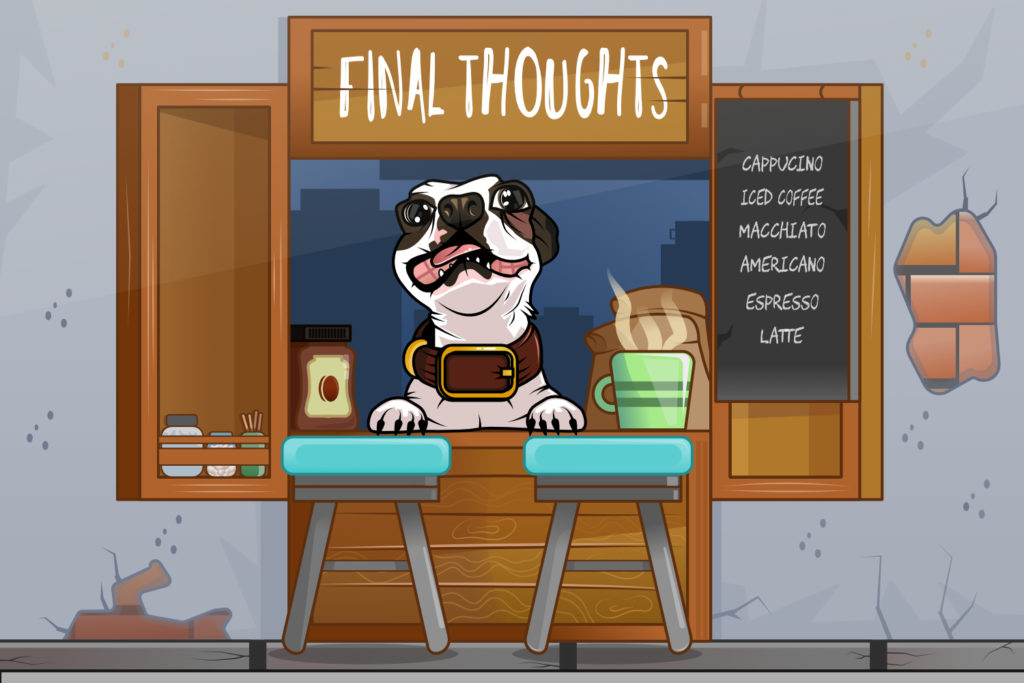 Should You Get The Authority Site System Or Wealthy Affiliate?
I think both The Authority Site System and Wealthy Affiliate are equally good products, teaching slightly different things which will appeal to different audiences. Which product is best for you?
Wealthy Affiliate is best for newbies, straight up. You'll get more done, faster, and probably even see some rankings before you even finish the niche research phase of TASS. There's a more robust support network, and a more engaged community where you can learn from others, forge beneficial relationships, and generally be encouraged to continue your online business efforts, even in the face of challenges! Their philosophy is that any website can make money (it's true!), so let's just build the site first, and figure out the money part later. Taking action gets results.
It's also cheaper to start, and cheaper long term. Following their training, my first year cost me a total of $600 and I made $4,000. You can really bootstrap your business and spend next to nothing, but still make money. Free to join then $1.50/day is hard to beat for running a successful online business!
On top of all that, anyone who joins through my link gets daily access to me for questions and advice.
The Authority Site System is a little more technical in nature, and some people prefer that. You'll spend more time researching your niche, so you are more confident that your website can make money. You'll plan out your entire content strategy, including a list of products to review and promote right at the beginning. Plus, you'll do plenty of competition research so you can envision what your final product will look like, and how your work will actually make a profit.
Then, when all that's done, you have a clear set of goals to gain authority. There's a solid, white hat, backlink strategy you can leverage to get your content to page 1 of search results. This type of course is very appealing… if you can stomach the large upfront cost. In reality, spending a thousand dollars one time to learn how to generate $10,000+ per month is a small price to pay. Just make sure to get the work done! And though the support system here didn't score as high as WA in my eyes, it's still one of the best support systems out there for when you need help with the training.
Get The Authority Site System Here!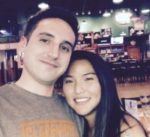 Nathaniell
What's up ladies and dudes! Great to finally meet you, and I hope you enjoyed this post. My name is Nathaniell and I'm the owner of One More Cup of Coffee. I started my first online business in 2010 promoting computer software and now I help newbies start their own businesses. Sign up for my #1 recommended training course and learn how to start your business for FREE!