There are many WordPress companies out there, but the one thats best known for having excellent themes and a fully optimized WordPress platform designed for performance, security, SEO, and support is StudioPress. My website and SEO are all done by StudioPress. In fact, my hosting is StudioPress right now, but I have to move now that they got bought out by WP Engine. WP Engine has great hosting, but it's way too expensive compared to other companies that offer similar things for a cheaper price. (Note: Many people say WP Engine is the best out there, so it's still a great affiliate program to promote)
Since 2010, StudioPress has offered it's website users world-class themes that utilize their specialized Genesis Framework which makes your site work faster and more secure than any others on the market today.
Whats great about StudioPress is they offer an incredible affiliate program which makes working with them that much greater!
How do affiliate programs work and how can you benefit? 
In general, affiliate programs are created to reward you for referring potential new customers to the products and services that sites offer. In the case of StudioPress if you refer visitors to purchase themes, the Genesis framework, or to purchase their own WordPress site, you get a commission if they successfully sign up.
There's nothing needed to sign up, but if you're already a StudioPress user then there's nothing stopping you from getting started making money! I'll use this article to show you everything about the StudioPress company and it's affiliate program details.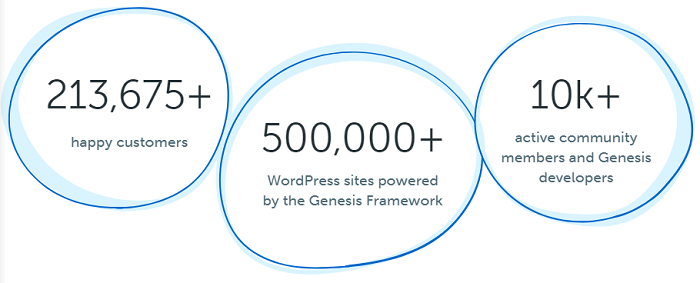 StudioPress hosts their affiliate program at Shareasale.  Watch how to set up your account and sign up:
What Type Of Products Are Featured?
StudioPress offers quite a few different products/services, but it's important to first explain how WordPress sites, frameworks, and themes work because it can often be confusing what you're really purchasing when you get started with some of these WordPress support companies.
Lets start with the basic terminology so you know what you're buying or referring customers to buy. Here are the 3 different  levels:
WordPress Site
Framework
Themes
StudioPress explains this perfectly when they give the example of a car. WordPress acts as the engine of the car which makes it run. The Framework is like the body of the car and is the basic frame, security, performance, and SEO foundation. The Framework helps to ensure your site will be easy to use in the future when updates/changes/customization happens so you dont lose anything in the future. The Theme then is simply the design (or that car's fire engine red paint job) which can get changed at anytime.
So what does StudioPress's offer?
StudioPress offers all 3 different parts discussed above, but there are some important points which I will make on each below:
Genesis Framework: The Genesis framework was developed specifically for Search Engine Optimization in mind to make sure you are ranked well so your readers and customers can find you easily. With the Genesis you get unlimited everything. Unlimited websites, support, updates, domains, and more.

Themes: More than 40 perfectly designed themes for your WordPress site that are both desktop and mobile optimized each with the ability to demo it prior to applying it to your website.
WordPress Website: StudioPress is now owned by WPEngine which is a well known WordPress hosting platform that you can host and build your website on. While this isn't a part of the StudioPress affiliate program, there is a separate program that you can get on for WPEngine to utilize as well.

What Is The Commission Rate?
Affiliates who use the StudioPress affiliate program get a flat 35% commission on all sales completed. Specifically, you get 35% of the sale that customers make on either their Genesis Framework or WordPress Themes that are purchased when you refer customers using your affiliate links. This is a huge commission considering you are only the referrer!
It's important to note that you will only get commission on sales if it is done within 60 days of you referring those customers. After 60 days, you no longer receive commission unless you refer that customer again using your affiliate links.
I do want to point out again that when you are using the StudioPress site, if you click the link to get a new WordPress site you will be taken to the WPEngine website which is not a part of the StudioPress affiliate program. You can sign up for their affiliate program as well which I will discuss below more.
In general the commission percentage for StudioPress is fairly consistent with other sites offering theme type programs which offer between 30-50% commission on sales as well.
Alternative WordPress Affiliate Programs
Lets take a look at some of the other WordPress affiliate programs which offer both Themes and WordPress site services.
Elegant Themes: The Elegant Themes company offers you incredibly beautiful WordPress themes that can be added to your site to make it stand out from the rest by having the perfect design. The great thing about Elegant Themes is that any customer you refer you get 50% of that sale and any future sale made by that customer. That means for the lifetime of that customer you get 50% of the sales!
WP Engine: The WP Engine program offers WordPress website hosting which gives you a beautiful website with all of the great speed, performance, and security you expect. The affiliate program attached gives it's partners either $200 or 100% of the first monthly payment (whichever is higher) which is a really great affiliate program to get started up on!  There are so many other great companies which offer both WordPress hosting, framework, security, and themes that it can be hard to decide which to choose. Do your research first and determine which seems the best fit for you both as a user and an affiliate. I suggest to look at both cost and benefits to see which one you feel is best suited for the customers you will be working with.

Website Ideas
The great thing about working with WordPress affiliate programs is that you can utilize it on literally any website (as long as you are using WordPress yourself – which most all of us do). Maybe you're writing about antique cars, tips on being a mommy, travel writing, or anything else, you can use the StudioPress affiliate program on it.
Whether you're just getting started or you've had a WordPress site for a long time, everyone loves having a beautiful website that is fully optimized and secure. Simply add the banner for StudioPress on your home page today and let it do the work for you. People will want to emulate your success, and may build their own website, inspired by you. I see this with foodie blogs all the time!
Another really important way that others have gotten these affiliate programs to work great for them is by writing about your experience to help others to get their own WordPress site up and running. In other words, you can start a WordPress tutorial website, or maybe a WordPress product review site, like theme reviews.
Discuss step by step your experience and help them to have an easier ride to getting their own website. Adding in your different affiliate program links throughout the way is how you'll be able to attract those potential sales.
Can You Make Money With The StudioPress Affiliate Program?
Yes! You can always make money if you have the right approach, content, and tools. So lets take a look at those tools so you can learn how to get it working on your site. First step is getting signed up by utilizing their affiliate portal managed by the ShareSale company by signing up here.
Once signed up, you'll just search for StudioPress in the merchants list and apply. It is a manual approval process but once approved you're all set.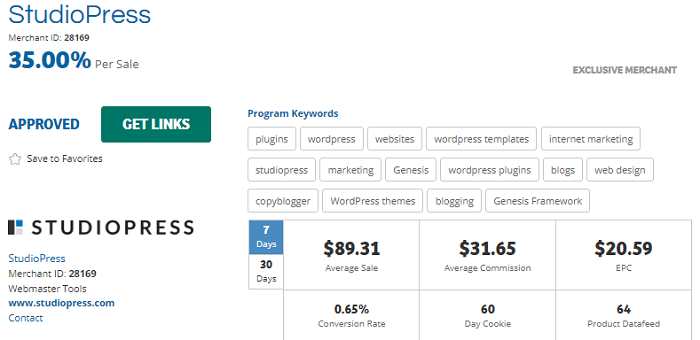 The screenshot above shows the program's portal which shows some statistic information about the program's performance. To use their affiliate tools, click the "Get Links" button to be taken to their text links, banners, and datafeed.
Text Links: When you're looking to start referring customers to StudioPress, the Text Links are the first place to go. You can utilize the text links both to hyperlink text, link photo/banners, and share on your social media site. All HTML text links from the ShareSale site have your affiliate partner ID embedded into it to ensure you get credit for the sale.
Banners: These are the most widely used and loved tools by affiliates as they are easy to use and are graphically pleasing. You can utilize these by clicking the "get code" button and simply paste it into your sidebar, header, footer, or in the body of your posts.
Datafeed: If you want to refer a customer to a specific product (theme, package, or Genesis framework) on ShareSale's site, you can use the Datafeed tab to get those specific links. This is best used when you're discussing a specific product.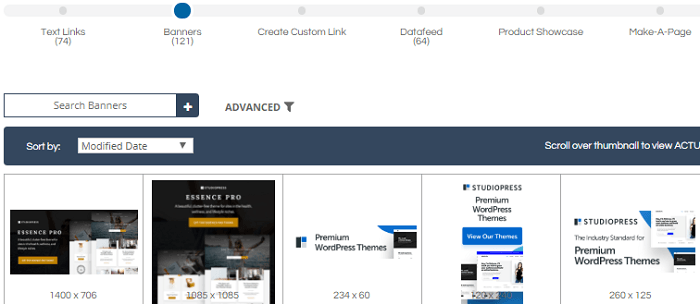 Pros/Cons of Working With Affiliate Program Review
Lets look at some of the benefits and shortcomings that this affiliate program has so you can get a feel for if it's the right one for you.
Pros
This program has got one of the most solid framework platforms on the market today with a reputation to back it up.
Now owned and partnered with WP Engine, this is a company worth investing your money in if you're serious about having a great website.
Over 40+ beautiful themes to choose from to make your site just for you
Cons
while the overall commission of 35% is great, there are other programs offering up to 50% of the sale and others who offer up to $200 commission which is far greater than StudioPress
Hope you enjoyed another one of our WordPress affiliate reviews. If there's one that we've missed, let me know so I can review the program as well by posting it in the comments below.
The Internet's #1 Affiliate Training
It sounds like you're pretty familiar with the basics of how affiliate marketing works. Awesome! But is your website profitable yet? Are you stuck spending hours wondering why you aren't seeing results yet?
You aren't alone. Most newbie affiliate marketers are a little lost, jumping from one "how to" guide to the next, hoping to learn the secret sauce of how to make money with affiliate marketing
I was able to turn my basic niche blog into a six-figure earner in 18 months following the training from this company. They focus on building a sustainable business that will earn for years, not just a website that will "game" search engines for temporary rankings. That's why 8 years later my websites are still earning and still growing.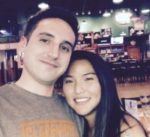 Nathaniell
What's up ladies and dudes! Great to finally meet you, and I hope you enjoyed this post. My name is Nathaniell and I'm the owner of One More Cup of Coffee. I started my first online business in 2010 promoting computer software and now I help newbies start their own businesses. Sign up for my #1 recommended training course and learn how to start your business for FREE!