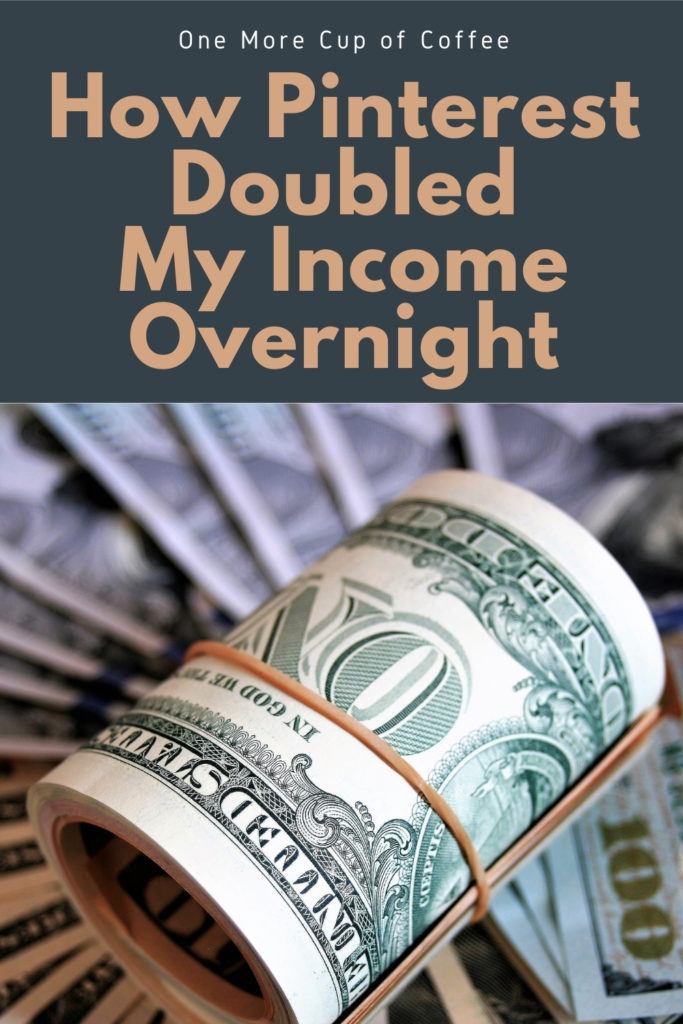 Pinterest is a powerful social media platform. In fact, it's more than that, it's actually a search engine in my view. Not all niches lend themselves to the visual nature of Pinterest, but if you think you could make it work for your niche, I think it's absolutely worth a try.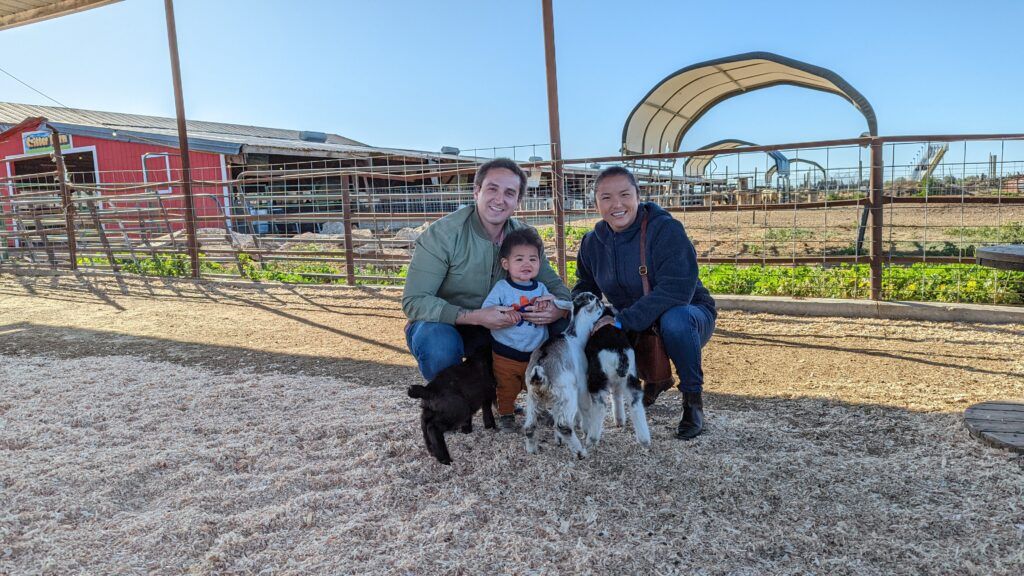 Are You Ready To Work Your Ass Off to Earn Your Lifestyle?
Are you tired of the daily grind? With a laptop and an internet connection I built a small website to generate income, and my life completely changed. Let me show you exactly how I've been doing it for more than 13 years.
How Pinterest Doubled My Income Overnight
While Pinterest didn't double the income for my entire website in a single day, it did double my Mediavine ad revenue. It doubled from $40 to $90 over night!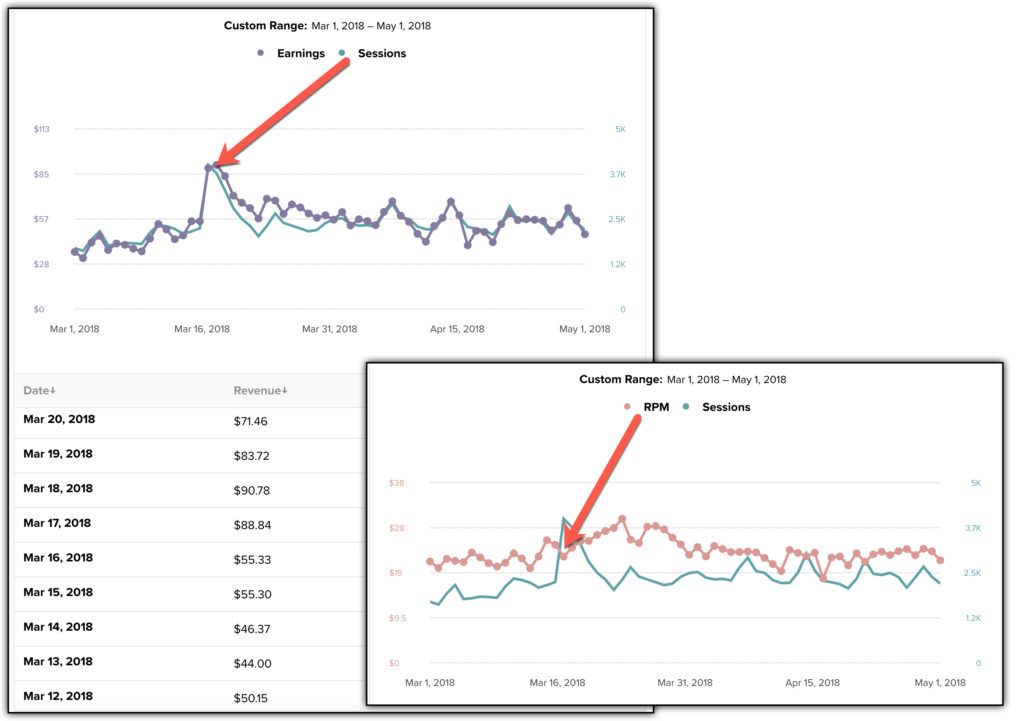 Although $90 per day doesn't seem like much, it's not the precise dollar value that's important. It's the action. Pinterest delivered so much traffic to my website from a single pin that it doubled my revenue. Like that first affiliate sale gives you an "aha" moment where you finally get it, in this moment, I finally "got it". I could see why people like Pinterest.
This was back in 2018. My ad revenue from this website has since grown from $40/day to $200/day. If my revenue were to double now, that would be $400 per day.
To make an even more exciting future projection, around December last year, I was knocking out $350 per day, up from around $85 a month earlier.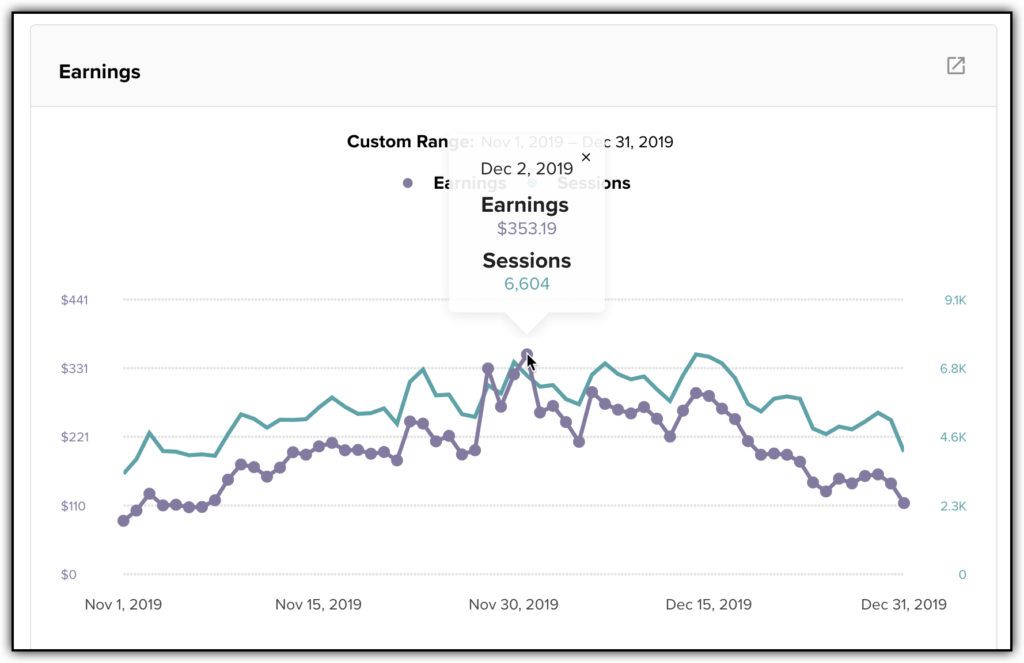 That's a jump of 4x. Looking at this year, that would mean $200 x 4. Around $800. This is all speculation, but it's to show you that with a very simple blog-style website monetized with display ads and a Pinterest-only social media presence, you can make $1,000 per day or more. Amazing. right?
What Happened After?
The virality of this single pin didn't stop with the overnight success. That viral moment (counting for the month), got me over 4000 page views on that single page. That was in 2018. Two years later, I have not even made the effort to create more pins for that piece of content, and it's still generating thousands of visits per month. In fact, in April 2020, it reached an all time high of over 5,000 page views.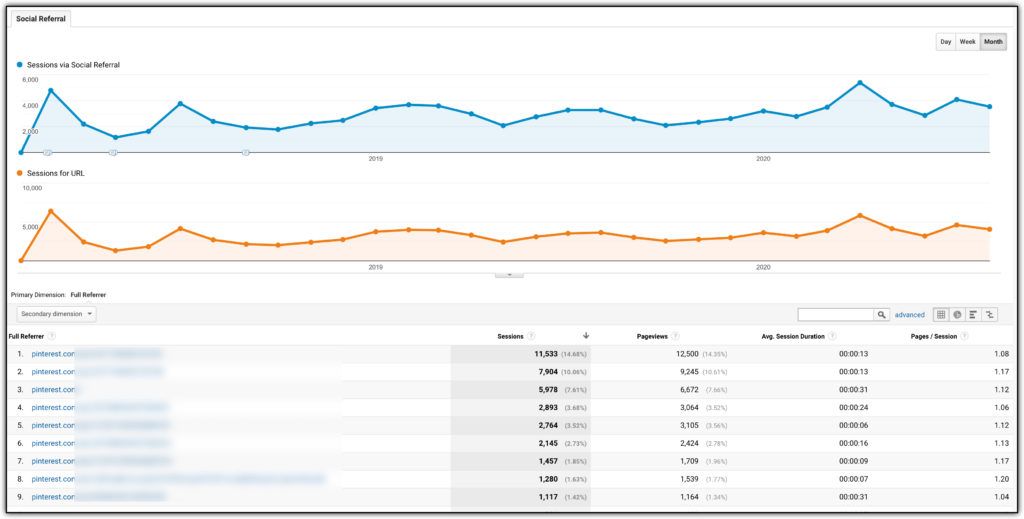 Though multiple URLs are shown above, that's all data for a single image, going to one blog post. Isn't that crazy that an image that took about 10 minutes to create could be generating almost six thousand page views per month? Insane!
To be honest, this is the best pin on my site, and the best example I have. No other pin even comes close. Even so, I like to image that I'll get one viral pin like this every couple of years. After a decade, that's tens of thousands of daily visitors on autopilot.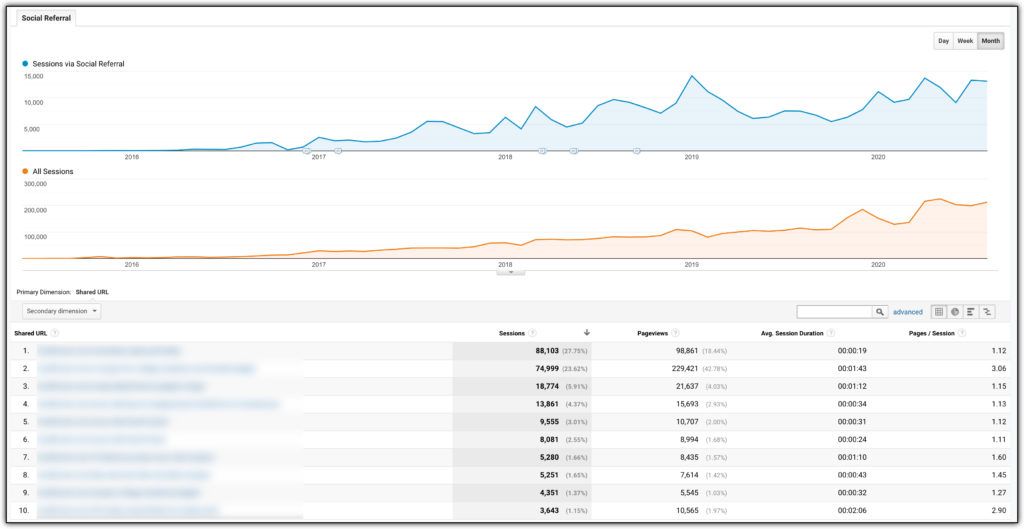 That's just assuming the worst, that I only get lucky every couple of years. If I keep at it, and double down on Pinterest efforts, results could get even more crazy. There are strong Pinterest profiles in my niche that generate tens of millions of views per month. Though Pinterest views don't always translate to clicks to the site, it's still a good indication of what's possible. I'm still under a million views per month on Pinterest (about 700k), so that's at least a 10x improvement possible from where I'm at right now.
10x-ing my Pinterest presence could be 50,000-100,000 page views per month, recurring, on autopilot.
What's My Pinterest Strategy For This Website?
To be honest, I can't say I have a unique strategy here. That viral pin was certainly an accident that I haven't been able to replicate in any defined way. My Pinterest traffic is growing though, so how am I doing it?
Same old stuff as everyone else really:
Create topic-specific boards
Fill out all meta information for pins and boards
Only pin to relevant boards (2-3 boards)
Follow relevant people in your niche
Pin and follow consistently
It takes a looooooong time to see results in my experience. I never focused intensely on Pinterest, so it's always kind of been a side project, or background work, so maybe that's what I was doing wrong, but there are sets of pins which I pinned about a year ago which are only now gaining traction. I do not know why this happened!

So I can't say that I have a specific strategy which is working better or worse than anything else, but I've purchased a couple of Pinterest guides within the last year, and this process seems to be the consensus of how the big pinners are getting good traffic. Relevant boards. Consistent pinning. Consistent following. Pretty simple.
How To Automate Pinterest
Usually I'm not into automation tools, but Tailwind is pretty awesome. They work closely with Pinterest, so you know that this is an automation tool which will not adversely affect your standing on the site.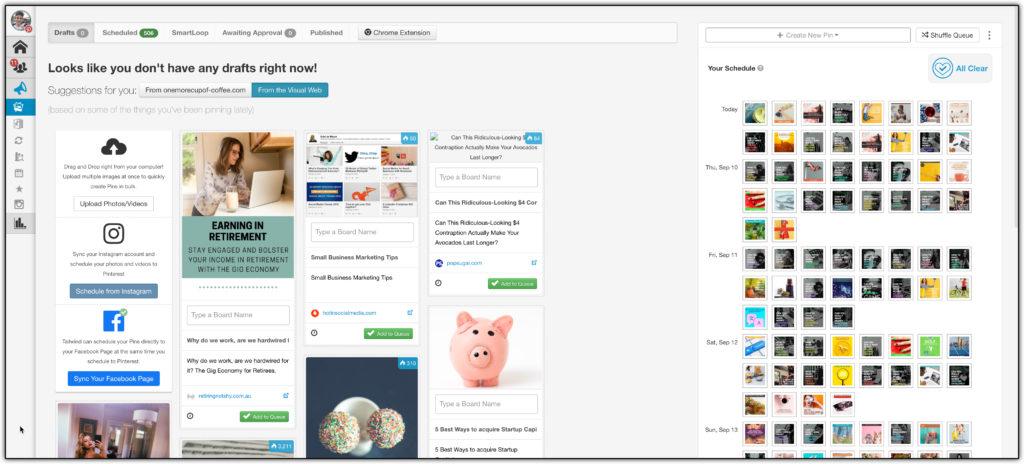 There's two ways to operate Tailwind. One, you can schedule pins via a browser extension. This works in the same way as a Pinterest extension or the Pinterest button you install via WordPress plugin. Assuming you have the Tailwind browser extension installed, a small button will appear as you hover over images on a website, or you can click the browser button to schedule an image to be pinned to your profile.
The second way to schedule pins would be directly in Tailwind. Upload images, fill out the meta data, select a board, and schedule.
Tailwind allows you to set how many pins you want to go out per day, and will even offer suggestions of the best time to Pin. I'm not sure if that's really very effective, but it's something they emphasize, so I do it according to their plan.
One thing I like is that you can create "board lists", so if you have some related boards, you can click a board list to be added to the pin so you don't have to continually manually add each board for each pin. One click and you can add three boards at the same time.
They also have something called "Tribes", which I don't use very much. It's basically a community thing where you can pin each other's pins within relevant categories. It's set up pretty well to track and make things fair. I just haven't used it because I haven't allotted the time to see if it's effective or not. For now, I just want the automation to pin as much as possible as I publish.
Final Thoughts
Pinterest has a lot of potential for traffic and earnings. It takes a lot of work to get it moving, but the traffic seems to have some evergreen elements, and with potential to grow even if you take your foot off the gas.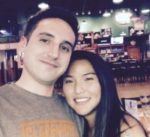 Nathaniell
What's up ladies and dudes! Great to finally meet you, and I hope you enjoyed this post. My name is Nathaniell and I'm the owner of One More Cup of Coffee. I started my first online business in 2010 promoting computer software and now I help newbies start their own businesses. Sign up for my #1 recommended training course and learn how to start your business for FREE!