NeoLife Review
Company Name: NeoLife
Costs: $49 and up for a kit
Rating:
27/100
What Is NeoLife?
A MLM with a focus on health and nutrition products.
Short Review
The products at NeoLife look great on paper, but they seem to be quite expensive and many have much more sugar than any health product should have. The opportunity itself is complex and the company provides as little information as possible on its site, forcing people to talk to reps to even find out whether the company is worth the effort. While making money might be possible, it would certainly be challenging.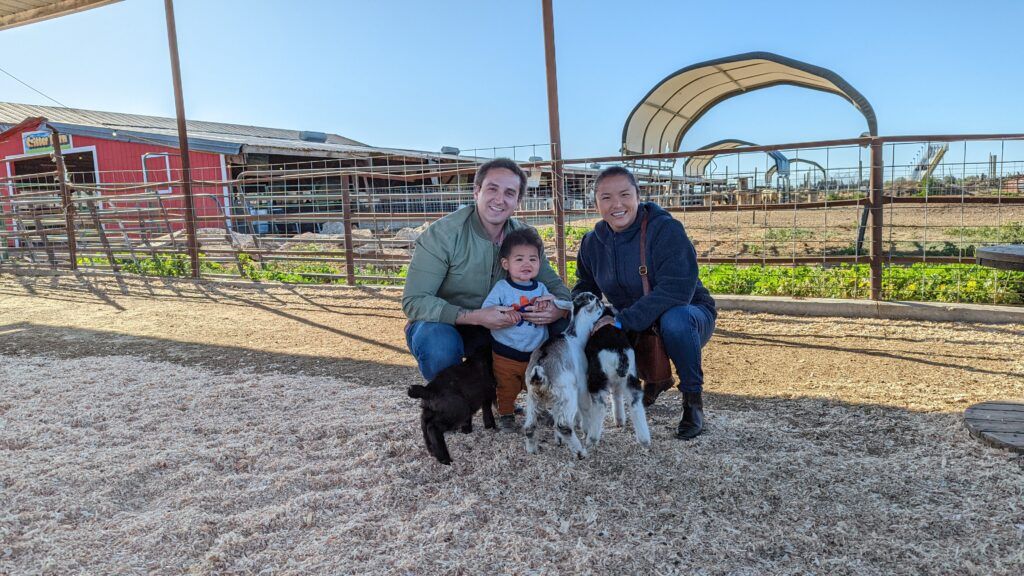 Are You Ready To Work Your Ass Off to Earn Your Lifestyle?
Are you tired of the daily grind? With a laptop and an internet connection I built a small website to generate income, and my life completely changed. Let me show you exactly how I've been doing it for more than 13 years.
Product Breakdown
NeoLife's products are focused on the health and nutrition market, although the company does also offer handful of home care items (cleaners basically) and a range of personal care items (moisturizer etc.). The product selection is decent, which important for any MLM.
I do like the selection. Additionally, the site hosts nutritional labels for its products, so you can compare the products to other ones out there (at least in theory).
Are The Products Any Good?
There are a lot of MLMs in the health and nutrition field, and with good reason. Products in this field are popular, and it's also very hard to directly compare them. For example, the image below is the ingredients label from vitamin C supplements.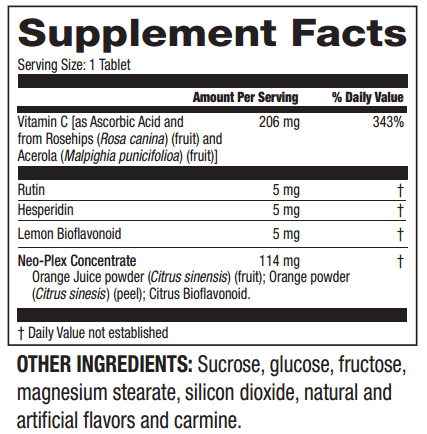 That's a surprising amount of ingredients for a vitamin C tablet. However, it's hard to tell whether many of the added ingredients (like rutin or the Neo-Plex concentrate) are actually beneficial.
For the sake of comparison, here's an ingredients label from a Nature's Way bottle of vitamin C.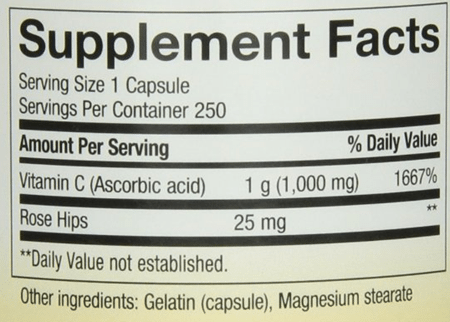 For that product, the ingredients are much fewer and the actual amount of vitamin C is much higher. In fact, a serving of 206mg vitamin C in NeoLife's product is lower than most the vitamin C supplements out there. However, at the same time, the Neolife product is a chewable, which might affect the ingredients they have to include.
As you can see, comparing products gets challenging fast, and that was just for vitamin C, which is simpler than many other products.
Another example I want to touch on is the shake range that the company offers. The range is targeted at weight loss, and makes the following claims: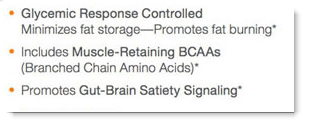 Those claims are probably true. However, they are also true of pretty much any protein shake out there – so, that doesn't mean all that much.
The product uses a blend of protein from different sources, which is unusual. This could potentially result in more health benefits (it's hard to know), but it also means that more people will be sensitive to the product.
The marketing for the product is also a bit misleading. It is promoted as having 18g of protein, which is impressive for a protein powder. However, the serving size is close to double that of most protein shakes. So, the amount of protein for a normal-sized serving is 9g, which isn't that great.
The biggest turnoff with the products from this company is the sugar. Many of their products have added sugar, including the protein powder and the vitamin C that I talked about. If you're taking products to improve your health or lose weight, added sugar is the last thing you want.
For example, the protein powder has 17g of sugar per serving. That's really high and contradicts the idea of the shake being used for weight loss.
Product Reviews
As is often the case, many of NeoLife's products are available on Amazon. Most of them have very little in the way of ratings. This suggests that either they aren't popular, or that they don't sell well on Amazon.
The reviews that were present didn't give much indication of whether the products were any good or not. For example, this was the only review for the Vitamin A (fish oil) that the company produces:
Most online reviews focused on the opportunity, rather than the individual products that the company produces. I did find one review on the shake that I mentioned earlier.
The site gave the product three out of five stars, and has the same complaints about it that I do. The review also noted that the product works out relatively expensive per serving, particularly when compared to competing products.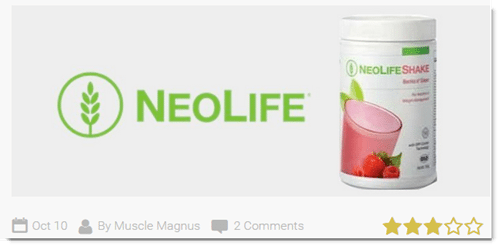 The limited number of reviews for the products really is a problem. This makes it hard to know whether the products are actually worth buying and whether other people will want to buy them.
Price Comparison
Normally I compare the price of the products compared to the market, but this is tricky to do with NeoLife. The site doesn't offer any price information on its site at all. Instead, you have to fill out a form to get a distributor to contact you.
The products that are sold on Amazon are pretty high compared to their competitors, like $63.99 for the shake. However, Amazon prices do tend to be different that the prices distributors offer, so the Amazon prices can never be more than just a general guideline.

Opportunity Breakdown
Unlike many MLMs, the site for NeoLife does emphasize products over the opportunity. However, their approach to the opportunity isn't very helpful. The site only really has one or two pages that talk about the opportunity, and these just present it in very general terms, like this: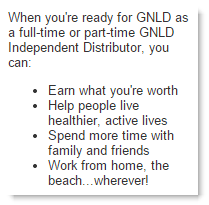 To get specific information about the opportunity, you have to fill out a form to get a rep to contact you. The form gives them your phone number and email address, and you don't have any way of knowing how they will contact. However, the form asks for the best time to contact, so that means they will probably call.
So, to find out about the opportunity, you have to learn from someone with a vested interest in getting you to join? That's not fun. Personally, I like learning about things on my own, not having someone try to convince me about what I should do.
In fact, the site doesn't even tell you how much it costs to sign up as a distributor. I am sooooo not into high pressure sales tactics, and would rather investigate the information myself, and purchase in my own time.
Compensation Plan
Despite this, I was able to find bits and pieces of the company's compensation plan through other sites online. To start off with, joining means that you have to buy a kit, which start at $49 and go up dramatically from there.

With this company, the overall aim is to create a network of club members and distributors. The club members are the people who buy from you, while distributors are other people trying to make money from the company.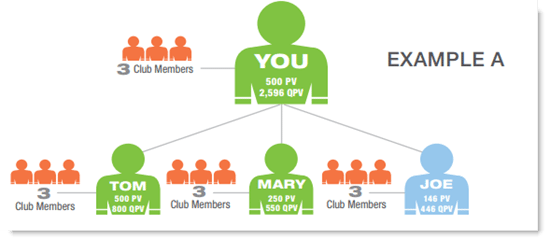 That looks like a fairly typical pyramid structure to me.
The letters on the diagram above (PV and QPV) are indications of some of the more complex parts of the compensation plans. Both of these are indications of minimum sales volume. Hitting certain levels lets distributors earn bonuses and hitting a certain sales volume is necessary just to make money.
One of the challenges with this business type is that growing your income is challenging and complex. For example, hitting higher levels in the business (which results in more bonuses and more commissions) involves getting more members under you and getting the other distributors to meet a certain level of success.
For example, this is the company's diagram for reaching the director level.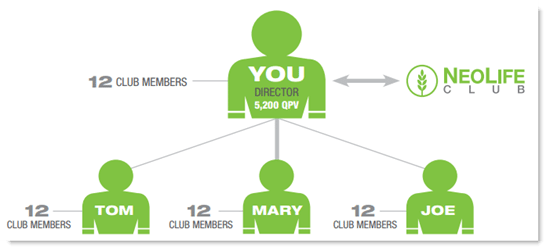 The term club member is interesting. Basically, it is referring to a specific type of customer. Club members buy a health pack on autoship. The packs on offer are as follows: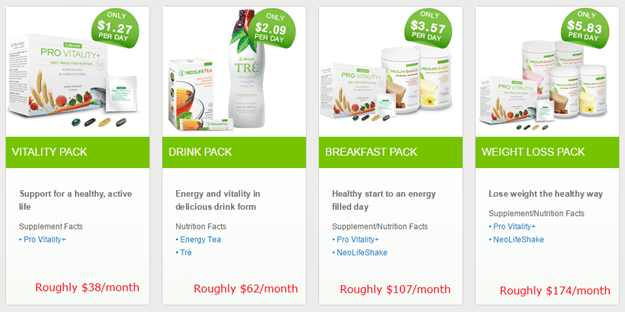 The site only gives the cost in terms of cost per day, rather than how much people actually pay per month (which I added in red). This tactic makes the packs look less expensive than they actually are. Are you going to pay $40-$200/month for health shakes and vitamin c?
As a distributor, it would be very challenging to convince members to buy one of these very specific packs every single month. Many people couldn't afford to do that, or simply wouldn't want the products that often. Friends and family might order one time to support you, but after that, very few continue to purchase on a regular basis.
The products are also odd combinations. If someone wanted to lose weight, the last two packs (the most expensive ones) would be the most relevant, but the included vitamins aren't all that relevant.
Yet, many aspects of the commission scheme talk about getting a certain number of club members (like 3 or 12). These packs and the autoship approach mean that doing so would be a very challenging task in my opinion, especially if this is your first MLM style business.
How Realistic Is It?
If you wanted to make money through NeoLife, you have to be able to successfully sell the products, recruit other people and get people to join as club members. All of these tasks require much more work than the company implies.
For example, to get others to join the biz op portion, you have to convince them that the company has a wonderful opportunity. However, as far as I can see, the opportunity isn't actually that different than any other MLM out there (join, recruit, sell, build a team, etc)
Speaking about the products specifically, there are so many different brands of health and nutrition products out there already, and there is little about NeoLife's products that makes them stand out. In fact, the added sugar makes them a little worse than other products.
Realistically, you are fighting an uphill battle to recruit for a biz op and sell sub-par products.
Other Comments
Making money through NeoLife is possible, but it's also challenging. You are promoting products to a crowded market and competing against other distributors and companies. Because you have to order a certain amount to even be able to make money, NeoLife might just end up costing you money and not actually being a way to make profit at all. This happens a lot with MLM opportunities.
MLM VS Affiliate Marketing
MLMs look like good opportunities because they offer so many different bonuses and tiers. All these really do is make the system much more complicated. You just end up jumping through hoops to make money.
In contrast, you can make money through your own website without any of this hassle or stress. Plus, using a website to make money lets you scale it up and grow it over time without having to recruit people. In fact, you don't need to directly sell to anyone with your own site.
Making money through a website, especially through affiliate marketing, is something that just about anyone can do. I'll even help you along the way.
Final Review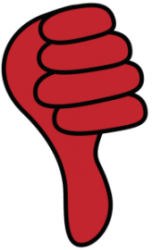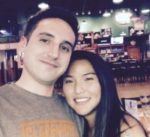 MLM Critic & Author: Nathaniell
What's up ladies and dudes! Great to finally meet you, and I hope you enjoyed this post. I have to be honest though. I'm not a big fan of MLM. Tried it. Hated it.
Affiliate marketing is cheaper, faster, and easier. See for yourself and join millions of other successful affiliates generating income from their blogs!
No inventory. No fees. No recruiting. 3 BILLION potential buyers online.
Reader Interactions