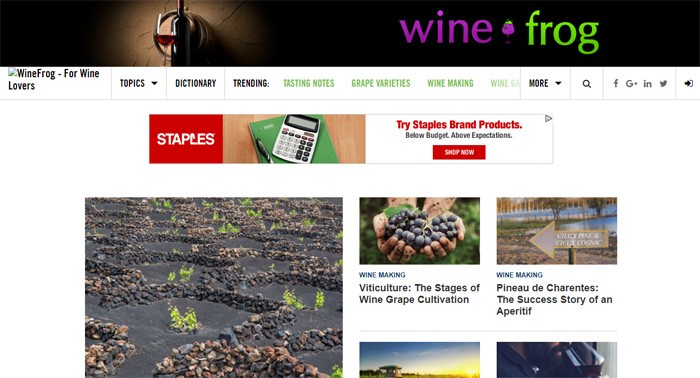 This is a website dedicated to all things wine-related. But what excited me about it was the fact that they will actually pay freelancers to write for them.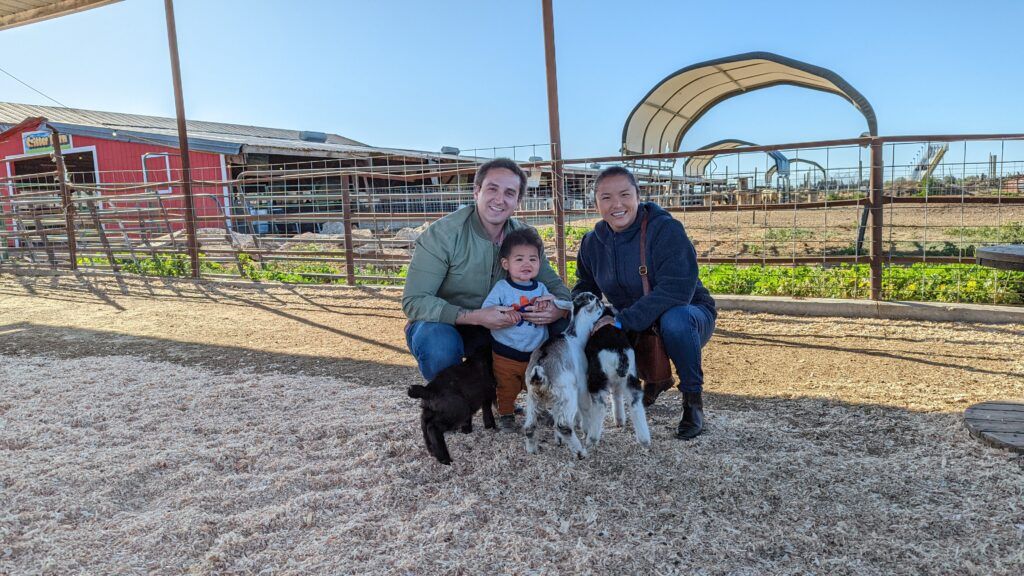 Are You Ready To Work Your Ass Off to Earn Your Lifestyle?
Are you tired of the daily grind? With a laptop and an internet connection I built a small website to generate income, and my life completely changed. Let me show you exactly how I've been doing it for more than 13 years.
Of course, anyone pitching content to such a site will need to meet some basic requirements—but we will also talk about those. The big question, though, is this… can you really make money writing for WineFrog.com?
Let's talk about it.
Making Money Writing For WineFrog.com
So, what is WineFrog.com?
According to their 'About' page, WineFrog.com is "a resource for wine lovers who want to understand the basics of wine." They also say that they will "educate and enlighten you about the wonderful world of "vino."
Their website also says that it was formed by a father and son team who "have a passion for good wines."
Of course, the entire reason that I got into this site to begin with was to pursue my newest side-hustle idea—freelance writing for websites. As it turns out, freelance writing for websites can be a pretty lucrative side-hustle.
If you have any skills as a writer, then you can absolutely market and leverage them to make a pretty decent penny on websites that pay writers for blogs, articles, reviews, etc.
The only problem is that not all websites are equal—and finding the right websites to pitch to can sometimes be quite a challenge.
And that is why I am doing what I am doing. I go website to website, looking for the best opportunities for writers—and then I write about them after doing my research. Hopefully, I will find great opportunities not just for me, but also for my readership.
At least, that's the plan.
But what about WineFrog.com? Do they offer a beneficial opportunity for freelance writers who are hoping to earn some side-hustle cash with their craft? Or is this more of another 'dead end' for writers that will only serve to frustrate and waste time?
This is what I was determined to find out, so let's take a look at the 'write for us' section to see exactly what WineFrog.com has to offer.
Writing For WineFrog.com
As a writer, I am always on the lookout for websites that basically meet two basic standards. First, I want to find websites that pay competitively. And second, I want to find websites that at least kind of match up with my passions, likes, and interests.
As a writer, I tend to do my best work when I care about what I am writing about.
So obviously, this is what I wanted to discover about WineFrog.com. Does this website fit into this mold?
Here is a screen shot of the 'write for us' page.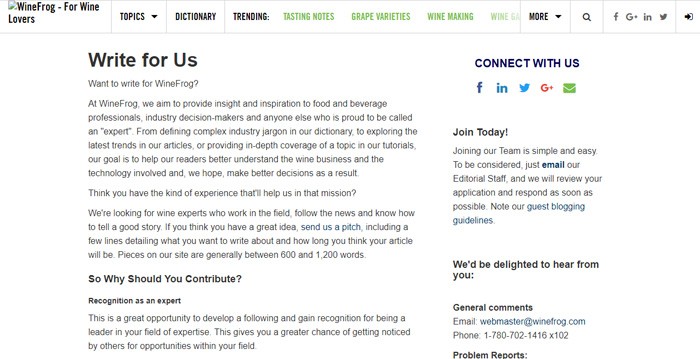 So here is a quick look at some of the more important details on the page.
They aim to provide insight and inspiration to food and beverage professionals
They also aim to help their readers to better understand the wine business
They are looking for 'wine experts' in the field who also know how to tell a good story
You can send them a pitch if you think you have a good idea for a story
The pitch should include a few lines detailing what you wish to write about
You should also include an article length with your post
Pieces published on this site are generally between 600 and 1,200 words long
Getting published on the site will give you recognition as an expert
They double check your work to make sure that it is perfect
And they pay, though they do not say how much
Ok, so this pretty much told me everything there was to know about WineFrog.com from the perspective of a writer looking to pitch to them. But now, it was time to look at some of the content that they had already published.
One of the best ways to get a feel for what a website likes to publish is to read through different things they have put out in the past. So my next step was to do some reading on their blog. Here is what I discovered.
Reading Through Some Content On WineFrog.com
I took a look at some of the content on the site and even read through a few of the posts. Here are the details that I noticed right away.
The posts were pretty up-to-date. This site seems to keep their postings current
I noticed that the posts seemed a bit 'brief and to-the-point.' In other words, there was not much 'beating about the bush' with blogs on this site—which I liked.
I noticed that the posts were quite well-written, and dealt with a pretty wide array of topics related to wine. Growing the plants, cultivating the ground, wine-making, etc. were all examples of different topics that were discussed.
I will also say that I was surprised to learn quite a bit about wine from reading through this site. I know a little bit about wine as it is, but I am no expert—and I quickly found out that there was quite a bit that I could learn from reading through winefrog.com. This was a good sign, though. I feel like this meant that the website was actually really informative, and that it probably has a large readership as well.
After reading through all of this, I realized that this is probably a website that I would consider writing for, for a few reasons. I realize that they were not exactly forthcoming about how much money they pay out… but I also know that a lot of the more professional websites do not advertise information like this.
So, to be completely honest, this website shows definite signs of being a bit more professional than some that I've run across—and I would not be surprised if they end up paying out very well.
I also like wine, and though I would probably have to do some research before pitching any articles about it, I feel like this could be a fun and rewarding experience.
I also get the sense that I could have a chance of getting published here, because they do make it a point to say that they are accepting pitches—which is pretty awesome.
And I also have a feeling that if you were able to write content that was high enough in quality and engaging enough to entertain readers, you could absolutely get your foot in the door in a website like this.
So with that being said, I rather liked WineFrog.com.
My Personal Feelings About Writing For WineFrog.com
Personally, I felt like this was a pretty awesome website—and I actually think that I am going to end up pitching to them in the future. I will have to do a bit of research to make sure that I am choosing a unique topic that will fit with their niche, but that is all part of the game.
Remember that pitching articles requires quite a bit of research. It is also important that you do your 'due diligence' by being mindful of the website's target audience.
You will greatly increase your odds of getting published if you pay careful attention to what a particular website's target audience probably wants to read/see, and then craft your content to give them information that will not just help them, but also entertain them as well.
Based on my experience, I feel like the best approach to writing a pitch for this site would be to figure out what hasn't been said on their site before… something that would also be of great value to their audience.
There is actually an art to thinking this way, and if you pitch to enough websites, you will start to pick up on it.
I am also always careful to keep my 'inspired-mind' open, and am quick to jot down ideas on the notepad in my phone when they pop up. Sometimes, it takes a day or two to come up with a good pitch… but a bit of extra time and effort spent to make it better are almost always worth it!
But when it comes to writing as a side hustle, remember that you probably won't get rich pitching to websites like this—or any other site, for that matter. Writing can be an excellent source of extra money… and if you are particularly good and work particularly hard, you may even be able to make a full time living doing it.
But don't be too hard on yourself if it takes some time to earn some money. These things take time, and there is most definitely a learning curve.
What you accomplish in the first year will seem small in comparison to what you can manage to accomplish after doing it for 3 or 4 years… so just stick with it, keep pitching, and don't be afraid to be yourself and put a bit of your own unique 'flair' into every article you write!
Our Final Opinion About WineFrog.com
Should you pitch to them and try to make a little extra money as a freelance writer?
There are a lot of ways to make money online. Some are good, some not, but ALL of them are still just trading hours for dollars.
Starting your own affiliate website really is the best way to build passive income and "make money while you sleep". Affiliate websites earn income in every timezone, and can be instantly accessed by billions of smartphones across the globe!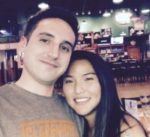 Nathaniell
What's up ladies and dudes! Great to finally meet you, and I hope you enjoyed this post. My name is Nathaniell and I'm the owner of One More Cup of Coffee. I started my first online business in 2010 promoting computer software and now I help newbies start their own businesses. Sign up for my #1 recommended training course and learn how to start your business for FREE!