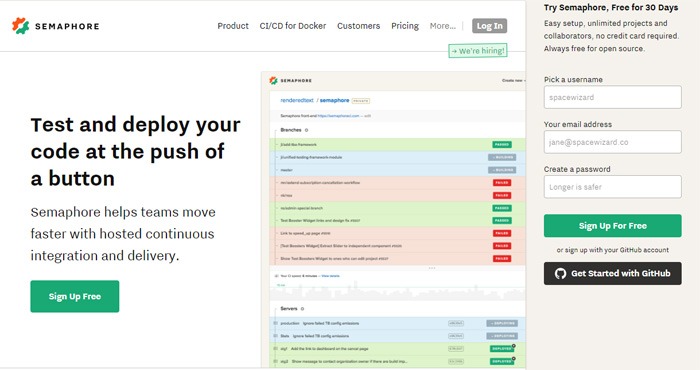 This is another website that is rumored to pay freelancers to contribute with new content. But will it really pay? Can you really make money writing for Semaphoreci.com?
These were the questions that I was most interested in answering, but as always, I needed to start at the beginning. What is the site? What is it about?
Any writer worth a teaspoon of salt will know that you need to understand a site's core values, mission, and customer base before you could ever hope to write for them… and that is what I was setting out to figure out about this one.
So here is what I found.
Making Money Writing For Semaphoreci.com
Let's begin with the basics, what exactly is Semaphoreci.com?
Semaphore is said to be a website that will help you to 'test and deploy your code at the push of a button.' They also say that they help teams to 'move faster with hosted continuous integration and delivery.'
Basically, they claim to be the world's fastest CI/CD platform, and their reputation seems to back this up.
For those of you who are not familiar with what this means (I didn't know what this meant at first, to be honest), CI/CD stands for 'Continuous Integration / Continuous Deployment,' which is basically referring to the process of software testing and integration.
This is admittedly a pretty complex topic, and it is not one that I am going to take a long time explaining in this post… but it is important to understand how this all works if you want to be able to write for Semaphoreci.com.
This site is basically a website that offers a cloud-based solution to this conundrum of testing and shipping code down the pipeline… and they offer a lot of tools to help developers to achieve their goals.
Some of these tools involve a fully flexible environment with over 100 pre-installed languages and tools, Native support for Docker, CI speed insights, and SSH access for debugging… among a host of other tools, features, and nuggets designed to make this process as easy and as scalable as possible for developers.
But what about the freelancing side of this? Of course, our post is intended to focus on the prospect of writing freelance content for Semaphoreci.com… so what are we looking at in terms of an opportunity for that?
Well first, I am going to talk a little bit about the content that has already been published to the site.
Taking A Closer Look At The Content On Semaphoreci.com
At first glance, the content on the landing page is no less than pristine. It is very, very well done. The graphics and layout is also top-notch. I literally didn't see anything about this site that I didn't like.
They obviously take content and site-design very seriously, so if you want to have any hope of writing for them (they do hire freelancers, we will get to that in just a moment…), you better plan on bringing your A-game to the party!
The next thing I took a look at was their blog.
As expected, it was very well done. But it also seemed to be the predominant place where they published their press releases related to updates and new products… so I was not sure if they actually used freelancers for this part of the site.
This is what led me to looking into the actual 'write for us' page hosted on the site. But on my way there, I found out something else pretty awesome. Take a look at this.
Remote Work On Semaphoreci.com
This site actually provides some pretty awesome opportunities for remote work, as evidenced in their 'Join Us' page. Take a look at this.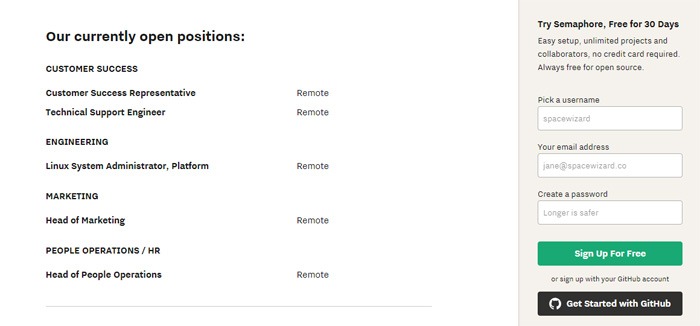 These are obviously more like 'employee' type positions, but they are pretty cool… and if you are looking for awesome remote work, then this could be a company to check out. This was not something I was expecting, but it turned out to be kind of a bonus.
Remote work isn't always the best side hustle if you are scheduled and need to work at a certain time, unless you can work it around your other projects… so these opportunities may not quite fill that 'side hustle' role.
Instead, remote work like this seems to be better suited as actual work-work, which is what you find side hustles to build around, and then you go from there.
But I was still pretty interested in learning about the freelancing, so I continued my search for that.
Freelancing On Semaphoreci.com
It is actually a little bit difficult to track down the part of this website that deals with hiring freelance writers, but you can find it here… https://semaphoreci.com/community/write-for-us.
Here is a screenshot of the top part of this page as well.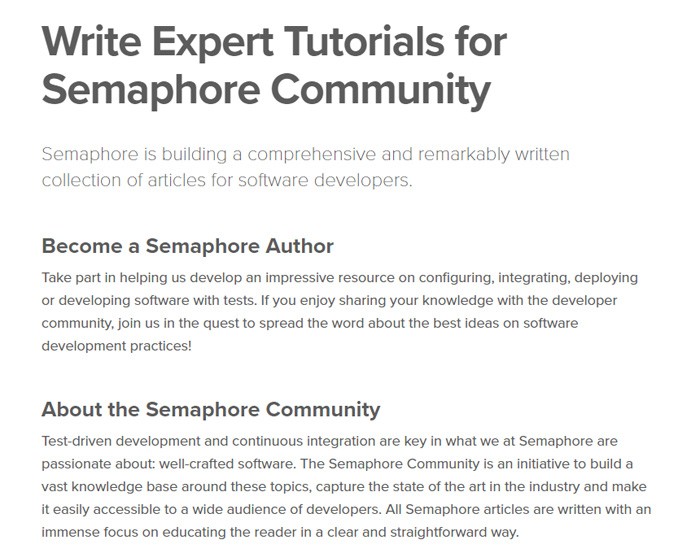 So here we learn quite a few things about Semaphore and what they offer and expect in terms of the freelancers that they hire. For one, they say that their goal is to build a comprehensive and remarkably written collection of articles for software developers, so that is kind of what they are looking for as an end-goal.
To become a Semaphore author, you obviously need to know a lot about configuring, integrating, and deploying/developing software with tests.
But if you can write about this topic with knowledge and authority, it sounds like there could definitely be some opportunity for you at Semaphoreci.com.
Here are a few more facts that we learned while browsing this page.
They wish to build a vast knowledge base, and need writers to help them do it
Any articles written for this initiative must focus on educating the reader in a clear and straightforward way
If you plan to contribute, your articles should cover 'test-driven development tools and practices, build automation, application deployment and devops automation.'
They should also be based on using free and open-source software like Linux
There are also a variety of reasons to consider contributing. For one, you will get noticed because a lot of the more popular articles on this site get read up to 150,000 times, which will help you to get your name noticed. They also promote their articles on social media, which is awesome.
But they also pay you, which is a super-awesome incentive, if you ask me. Their payout ranges from $100 to $300 for 1,500-word posts to 3,000-word posts. You are supposed to take a very narrow-focus approach to topics in the shorter posts, but write full-length tutorials for the longer ones (like with the site Tutorials Point).
Any code you use is not included in the word count, and they pay their writers through PayPal.
How Do You Get The Job?
The best way to get started trying to be an author on this site is to use the author form, located on the freelancing page, to tell them a bit about your background, to explain what you hope to write about, and to send them a sample of something you have written in the past.
There are also links on that page where you can view other successful Semaphore tutorials if you need some inspiration or extra direction while creating the perfect post.
My Personal Feelings About Writing For Semaphore
Semaphore is a pretty cool site, really. Obviously, the site is very specifically focused, so if you do not know much about this topic then this is probably not a site that would be good for you to pitch to. This site pays well above average for articles, but in order to earn it and do well, you need to know what you are writing about.
That is probably the most important thing to keep in mind about this one.
This site also promotes the articles written on social media, and you could absolutely help to grow your name by writing even one article for them.
That will likely always be a piece that you can refer back to to show future clients what you have written in the past. And Semaphore is a pretty prestigious company… so this would look very good on your authorship resume.
I think that most writers would not be able to make the cut on this site, simply because the topics are pretty technical. But if you are a good writer, enjoy writing technical content, and know about the topics that this site wants you to write about, then you could make some very decent side-hustle cash here.
If you are technically minded, there are other sites that you could consider too, like Techopedia, Site Point, Linode and perhaps eCommerce Insiders.
You won't get rich writing for Semaphoreci.com, but getting published on this site can certainly do great things for not only your wallet, but also for your name as a writer—and that is pretty awesome.
Our Final Opinion About Writing For Semaphoreci.com
Should you try to make some extra money by freelancing for this site?
There are a lot of ways to make money online. Some are good, some not, but ALL of them are still just trading hours for dollars.
Starting your own affiliate website really is the best way to build passive income and "make money while you sleep". Affiliate websites earn income in every timezone, and can be instantly accessed by billions of smartphones across the globe!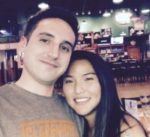 Nathaniell
What's up ladies and dudes! Great to finally meet you, and I hope you enjoyed this post. My name is Nathaniell and I'm the owner of One More Cup of Coffee. I started my first online business in 2010 promoting computer software and now I help newbies start their own businesses. Sign up for my #1 recommended training course and learn how to start your business for FREE!