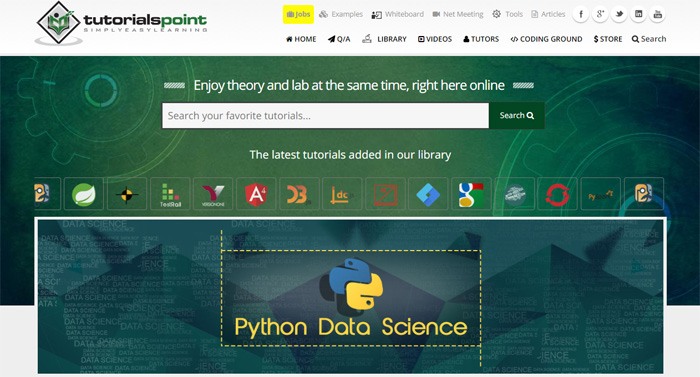 I found this website while looking online for sites that pay freelancers to write content for them—though this admittedly was a bit different from anything that I had come across before.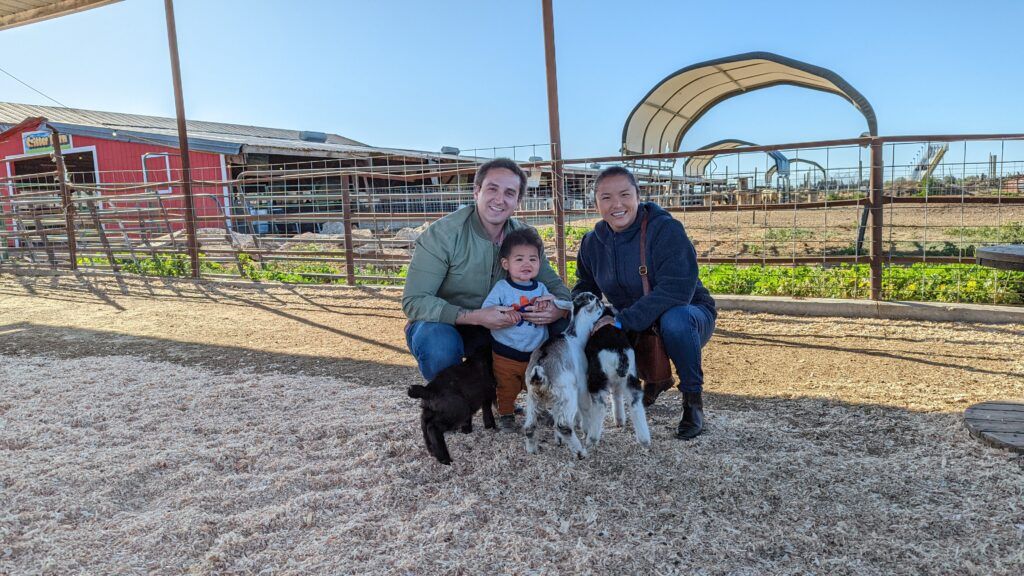 Are You Ready To Work Your Ass Off to Earn Your Lifestyle?
Are you tired of the daily grind? With a laptop and an internet connection I built a small website to generate income, and my life completely changed. Let me show you exactly how I've been doing it for more than 13 years.
Word on the street was that this site paid out really well, but that it also demanded very technical and quality content. Can you really make money writing for TutorialsPoint.com?
Here is what I discovered.
Making Money Writing For TutorialsPoint.com
The first thing we need to talk about is TutorialsPoint.com itself. The site operates with the mantra 'Simply Easy Learning.' And to put it simply, this is a website that hosts a LOT of tutorials.
The gig here is pretty obvious. This website will pay freelance writers to write tutorials for them—so they are absolutely a website that could qualify as a side-hustle opportunity.
But as of yet, I still had a lot of questions about it.
Upon arriving at the landing page, I immediately saw that there were quite a few tabs along the top of the page to look into. Just some of the tab options available along the main menu bar included: Home, Q/A, Library, Videos, Tutors, Coding Ground Store, Net Meeting, Whiteboard, Jobs, etc.
The jobs button was what caught my attention the most, but I wanted to keep looking at the landing page for now, because I still didn't really have any idea what the purpose behind TutorialsPoint.com was, other than to create tutorials.
Scrolling down, I discovered quite a few different buttons that would take you to different parts of the site. Here is just one example of a part of the landing screen that gives you options.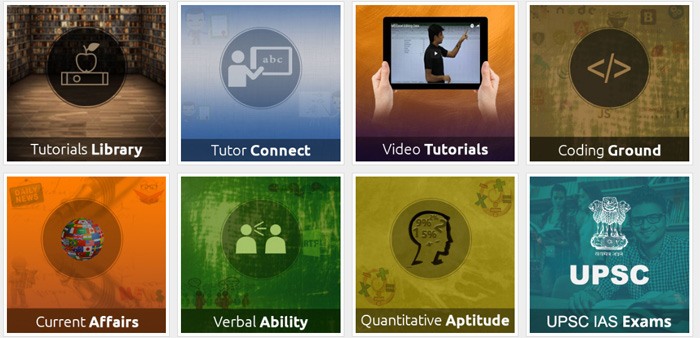 As you can see, these tabs give you access to parts of the site like the Tutorials Library, the Tutor Connect, Video Tutorials, etc. And if you scroll even further down, you find a list of what seems to be all of the different options offered in the Tutorials Library.
There were literally so many. Soooo many!!! They are all arranged in alphabetical order, and they all seem to be tutorials for different programs. Everything from Apache Ant and Apache Common Collection, to Awk, to Angular4, to Lua, to HTML5, to JavaScript, etc. There are literally so many different tutorials here!
You can scroll down so far that it is surprising they even put the entire library on the landing page. It makes the landing page huge, and all that they even display are the links.
But this also made me curious. With such a huge variety of different tutorials, did they charge users to view them? Did they sell them?
This is what I wanted to learn next, so I clicked on the tutorial for JavaScript.
Here is what happened.
Taking A Closer Look At The Tutorials On TutorialsPoint.com
I opened up the tutorial, and was able to access it without a problem. This is what the top part of it looked like. This was a little introduction, and it was pretty brief. There was a sort of table of contents along the left side, as well as a big banner ad to the right.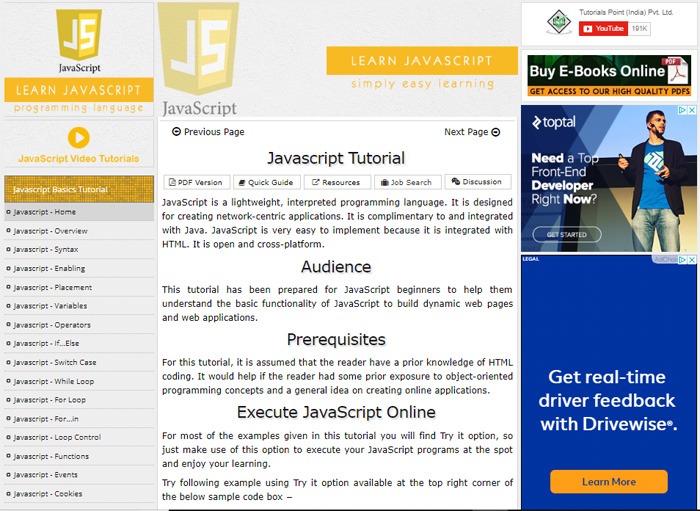 With the tutorials being free, I can absolutely understand why they included a banner ad! I am usually pretty understanding of ads, as long as they are placed tactfully.
Obviously, websites that offer real value need to pay the bills as well, and I would rather have my favorite sites making money than for them to close down! But I wasn't quite sure yet about whether you got access to the entire tutorial, so my next step was just to browse through it and take a look.
And as I browsed through, I noticed and learned a few different things.
The tutorial was extremely basic and easy to understand. I even felt like I got a better understanding of JavaScript after reading this—which is saying something because I am pretty illiterate about such things.
The tutorial was very well written.
It was VERY technical. Whoever wrote this seemed to have a mastery of what JavaScript is. I could not ever imagine writing something like this about something I did not know a lot about.
You apparently do not have to pay for these tutorials. They seem to be free, which is actually really awesome to me.
At this point, I was beginning to wonder how this site made its money. Yes, it has banner ads on the site, but do they really make enough money to pay the site's bills?
But much to my pleasant surprise, this question was actually answered on their FAQ page. They say that they are primarily funded by the founder of the site, though they also earn plenty of revenue from the sale of ebooks and through ads published on the site.
They also say that they look forward to the day when they can have trusted investors to join hands with… so it would definitely seem like this is a website with big goals for the future. And as far as I could see, they were well on their way!
Writing For TutorialsPoint.com
Finding the 'Write For Us' page was pretty easy. In fact, the link could be found on the left-hand side of the site along the main menu bar. Here is what the top part of this page looked like.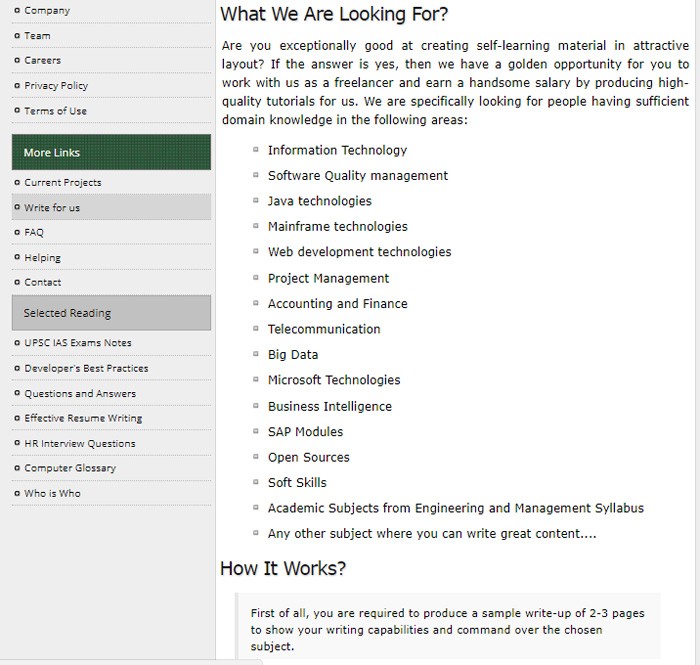 As you can see, they are looking for people who have sufficient knowledge in at least one of the listed areas. Basically, the process goes like this.
First, you produce a sample write-up for them that is 2 to 3 pages long, to show them your writing capabilities. If you qualify based on this, then you will get to move on to the process in which you start on the actual tutorial.
They actually work quite closely with their writers, but the process is still intense. These are not just short little tutorials. They are very in-depth and very technical.
They work with you to create a table of contents to start off with. Then, based on that, you (as the author) will give them a proposal which indicates both a plan for delivery and the total cost of the tutorial.
But the two greatest things about all of this are as follows. For one, you can earn anywhere from $250 to $500 per tutorial, depending on how long it will be and on how much time it will take.
But if you are good at your job, and you deliver as per the standards that the website demands, then you will be assigned another tutorial immediately upon completing the last one.
They say that not only is there no waiting time, but they also say that there is no limit to how much you can earn.
This means that TutorialsPoint.com is literally a veritable harvest ground for freelance side-hustle cash just waiting to the earned.
The hard part? Well, you need to not only be really skilled as a writer, but also incredibly knowledgeable about the topic. And this will eliminate a lot of writers from the running, because to be super honest, a lot of writers may not be knowledgeable about a lot of topics like these.
I know that this would keep me from being able to write for the site—otherwise I would jump on it without question!
My Personal feelings About Writing For TutorialsPoint.com
If you are looking for a freelance-writing side hustle that could actually give you the opportunity to make some serious money, then TutorialsPoint.com is a fantastic candidate.
The only thing is that this is a challenging gig. You need to be not only a very skilled writer, but also very technically knowledgeable about your topic if you want to have any hope of getting a paying gig here.
But if you do happen to meet these prerequisites, then you could actually make some very good money. It sounds like they have plenty of work, and it also sounds like they are willing to pay for quality content—so that is definitely a plus.
Freelance writing as a side hustle isn't always easy. You are going to face some rejections along the way, and you are going to learn some tough lessons.
But it is really important that you not give up. It is also really important that you continue to study, practice, and make yourself better if you want to succeed.
Freelance writing for websites like this can be an awesome way to get your feet wet in a more 'serious' writing gig. And succeeding here could give you skills and confidence to pitch to even bigger sites.
Writing for TutorialsPoint.com isn't going to make you rich. But if you can make the cut, it will give you the opportunity to make some sweet extra side cash. And that's pretty awesome!
Our Final Opinion About TutorialsPoint.com
Should you pitch to them and try to make some extra money?
There are a lot of ways to make money online. Some are good, some not, but ALL of them are still just trading hours for dollars.
Starting your own affiliate website really is the best way to build passive income and "make money while you sleep". Affiliate websites earn income in every timezone, and can be instantly accessed by billions of smartphones across the globe!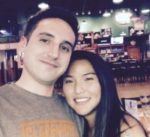 Nathaniell
What's up ladies and dudes! Great to finally meet you, and I hope you enjoyed this post. My name is Nathaniell and I'm the owner of One More Cup of Coffee. I started my first online business in 2010 promoting computer software and now I help newbies start their own businesses. Sign up for my #1 recommended training course and learn how to start your business for FREE!