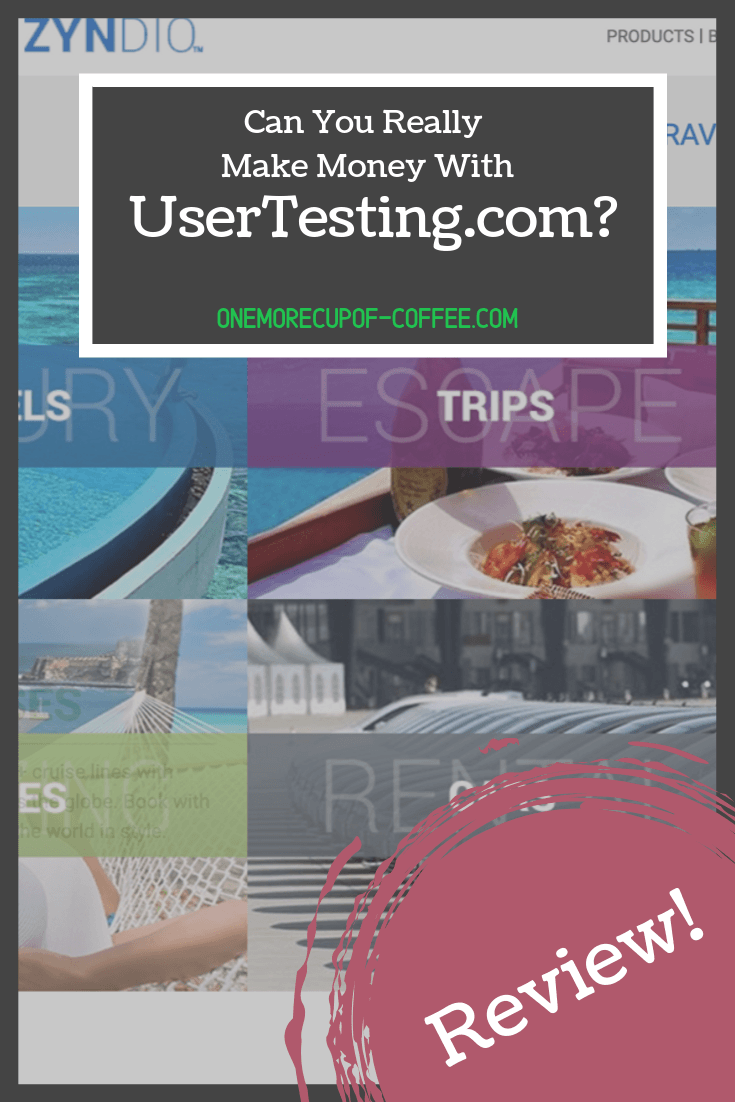 UserTesting says that it can help companies to increase their conversion rates, user testing, and advertising ROI. But in order to do this, they need people who are willing to share their opinion… and will pay you to share yours. But can you really make money with the UserTesting website?
I was honestly surprised that I had not heard of this site sooner. From my very first look at the home page, I was actually really impressed with it. The graphics looked cool, it seemed extremely popular, and it looked like it had a lot of things going for it.
Plus, it seemed like a website that a lot of very popular and well-known sites were using. It seemed like there was a LOT of reputable traffic on this page. And that usually means good things!
But… I was also not completely sure how it worked. The reason why I started looking into UserTesting.com was because I am on a mission to find the best side-hustle websites online. For some folks, these types of projects to make extra money are the best solution because they are far more flexible than just taking on a second job.
After all, you can work from home (or any place), put in hours as you have extra time, and the type of work is easy for newbies to pick up. The trouble is, there's also a lot of scams online.
So can you actually earn money with the UserTesting.com website?
How To Earn Money With UserTesting.com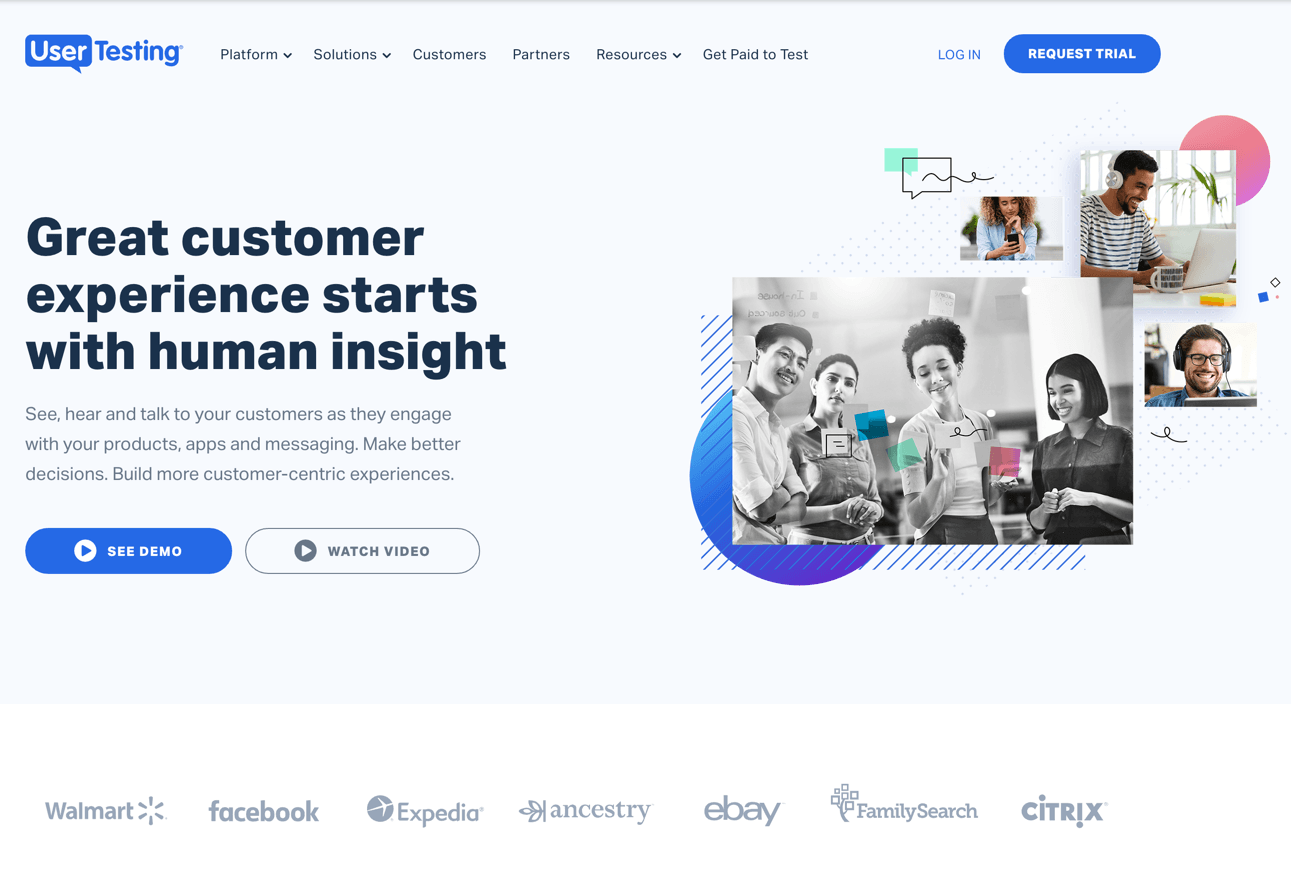 As far as I could tell from my first impression, UserTesting makes money by collecting real videos of people speaking their thoughts on different prototypes, websites, mobile apps, and products.
So, if a company builds a website, and wants some real feedback on it, they can pay UserTesting to provide them with real-life reaction videos, recorded by real people who are really using the site.
This could provide a lot of very useful feedback for the companies involved. The only problem, however, is that UserTesting obviously needs people to record the videos… and that, in my mind, was where you could possibly earn some money.
UserTesting must have to hire people to do these videos, right?
I wasn't sure how they went about finding people to pay for these videos (or rather, for the testing that has to be done in order to produce this content), but that is what I decided to look around for next. Awesome enough, I found a link at the top-right-hand-side of the landing page that said 'Get Paid To Test.' This seemed to be the place to get started.
I clicked on it, and was promptly taken to this page.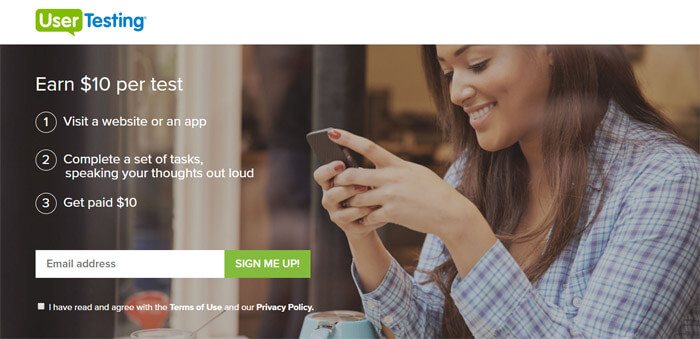 This page actually gave me quite a bit of information. Here is what I learned just based on this one part of the page.
Earn $10 per test
Visit an app or a website, and complete a set of tasks while speaking your thoughts out loud
Signing up starts with you just sharing your email address
A bit further down, I found a more comprehensive description of how it all works. Here is a screen shot.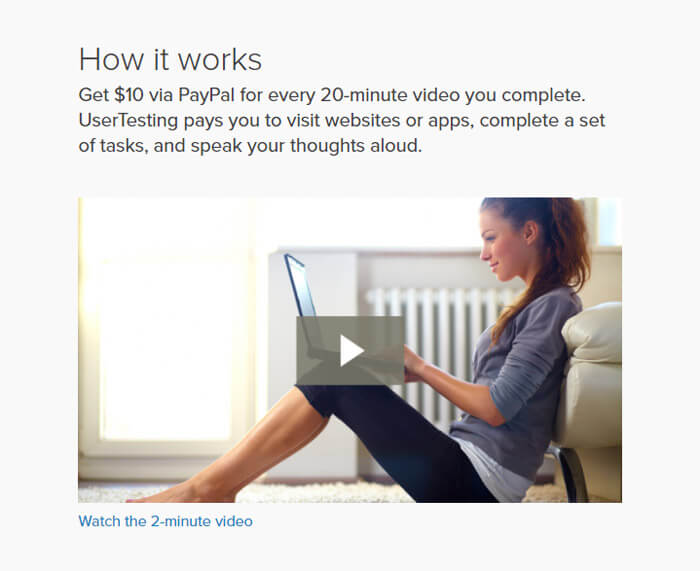 So here, we learn even more about this process. Apparently, these videos that you make are 20 minutes each, and you get paid $10 for making them. It sounds like a fairly simple process, to be honest.
You just have to perform some basic tasks while speaking your thoughts out loud, so that the company can hear your honest and first-impression feedback. However, I've tried a couple other app & product testing websites before, and things didn't work out too well.
I scrolled down a bit more, and found out that there was a brief FAQ located on this page as well.
What I Learned In The UserTesting FAQs
First, I learned what you need to get started.
PC or laptop
internet connection
iphone / ipad / tablet
18 years old
able to speak English
As long as you can meet these requirements, you can sign up!

As for how much money you can make, UserTesting makes it very clear that this site will not make you rich. Rather, it is intended as an opportunity that will allow users to make 'a few extra dollars on the side.'
​I appreciated this sentiment, as there is nothing more annoying than a cheap survey site advertising their 'offer wall' as something that will make you heaps of cash!
The number of cash-making opportunities that you will receive after signing up for this site will depend on a number of factors. Your demographic will play a role, as will your quality rating—which I assume is based on the quality of your work.
So, with that being said, I would think that the better you get at making these videos, the more work you can probably expect!
Signing up with the site is pretty easy. You need to enter your email address, then complete a 'sample test.' Once you get approved, you can start taking real tests and earning money in the process.
The company pays out with PayPal, which is pretty awesome. You receive payouts exactly 7 days after completing the test. This waiting period is said to help them verify the quality of all of the recordings they receive. This makes sense to me. I didn't have a problem with it.
How Did UserTesting.com Perform Technically?
From a technical standpoint, this site was pretty awesome. I actually really liked how it looked. It had a clean-cut, professional look that really made me feel like the designers took it seriously. It was also arranged in that modern minimalistic-style that a lot of these new apps/business sites sport… and that, to me, is pretty awesome as well.
Signing up for the site was also pretty easy. You do need to download a screen recorder right after verifying your email address. Here is a picture of what the download screen looks like…

This seems to be a program that allows you to film the video of you using the website or app, which I liked. I really like how they supply you with the software! That cuts out so many problems, but at the same time, I could easily see how a lot of companies might not go this extra mile. So to see that UserTesting is so committed to making this work is a pretty positive detail for me.
Further adding to the legitimacy of this side hustle, they have high quality videos showing you how to actually perform your job well.
Since they have quality standards for participants, that's a good sign they are actually providing a service for companies, and will be able to reliably pay you!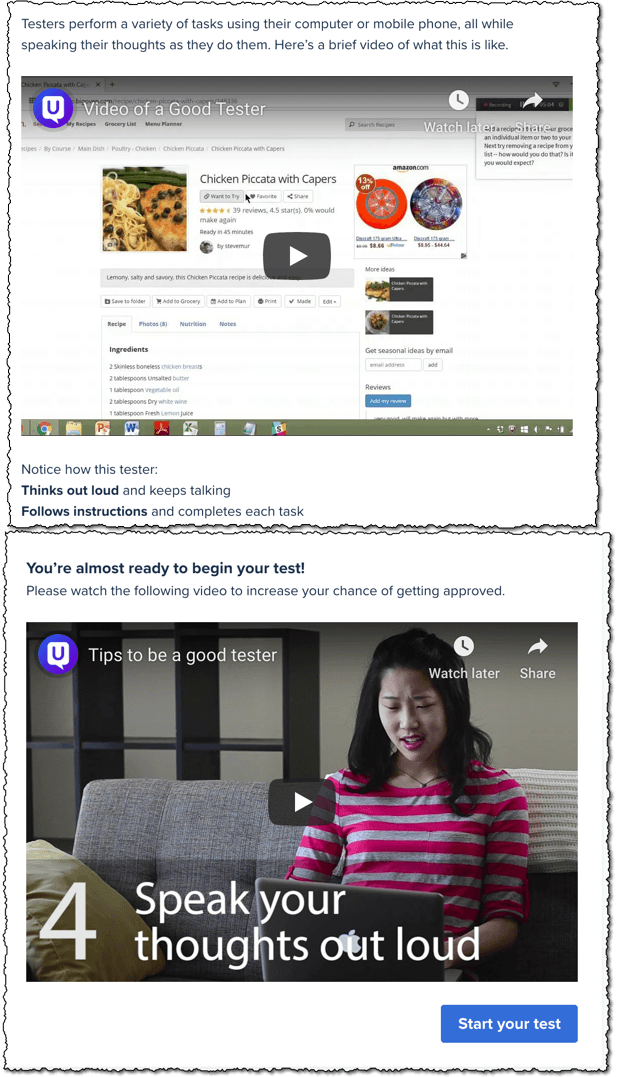 UserTesting Reviews
This site is definitely not going to make you rich, but, $10 for less than an hour of work is not too shabby, really. You could easily bring in an extra $50 a month with this website, as long as the work was available… and that would be a pretty cool amount of money.
What are actual side-hustlers saying though?
It's real easy to make promises, and not deliver, like we've often seen with other testing programs.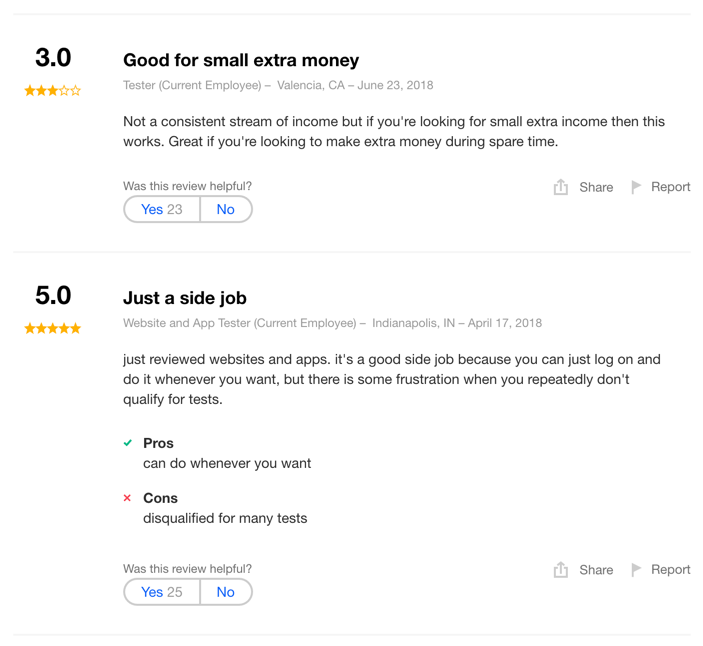 At Indeed.com, a workplace review portal, there are quite a few satisfied people. In fact, most of the reviews skew to 3-5/5 stars. Some of the reviews seemed a bit "fake", saying that a large portion of their yearly income comes from UserTesting, but most honest-sounding reviews.
The main complain? Not enough work to actually make it a reliable source of money for the household.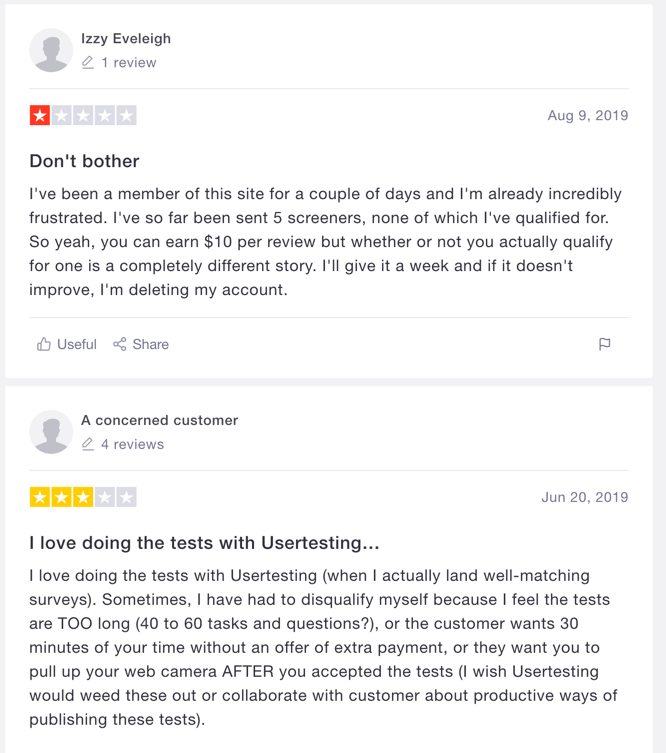 On TrustPilot.com, a general "scam or not" style website, the reviews are not as good. In fact, at the time of writing this, 50% of reviews gave it a 1-star review.
The #1 complaint? Not enough work to make reliable income.
It sounds like this is going to be the main issue with UserTesting, and it's a common problem with many of these style websites. There are TENS OF THOUSANDS of people competing for this style of work online. It's just going to be tough finding reliable, easy, location-independent work.
Final Thoughts On UserTesting
This is a legit website that actually pays money, and people are earning $10, $20, $30, or even $40-$50 per month regularly. The trouble is, that's a pretty small group of people.
If you want to try out and see if you can "get in the club" of satisfied workers here, go for it!
If you want to really make some serious money online, then I recommend this site instead. It's not a "test" or "survey" site, so I don't know if you'll be into it, but long term, you can generate $1,000's of dollars online instead of $10/month.