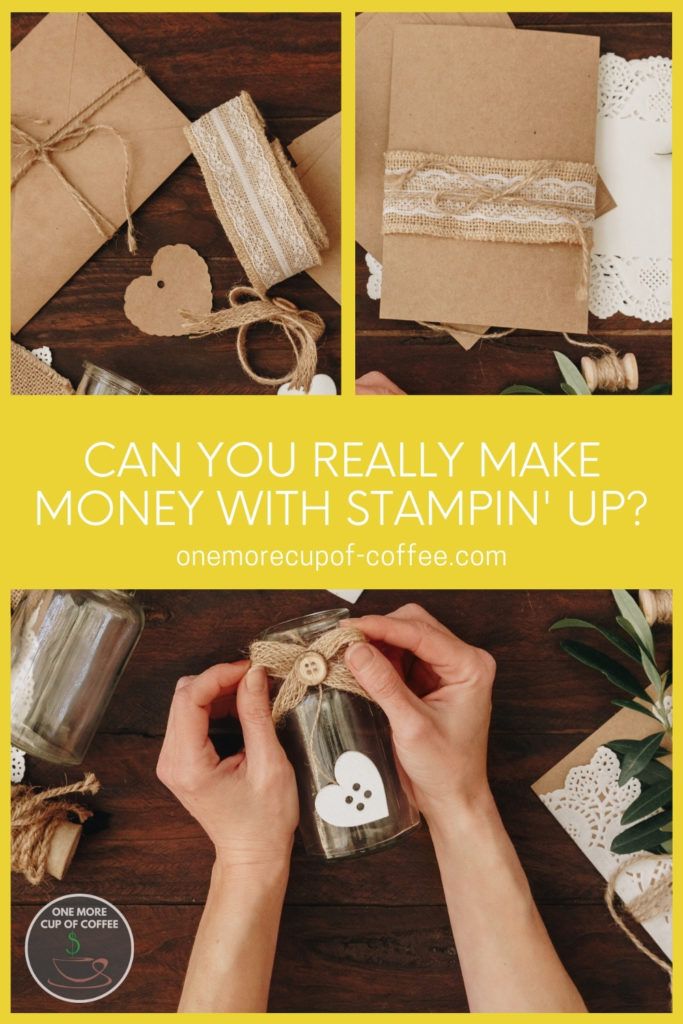 Stampin' Up Review
Company Name: Stampin' Up
Costs: $199
Rating:
43/100
What Is It?
Essentially, the products from Stampin' Up play into the appeal of making crafts, particularly cards, invitations, and other paper products.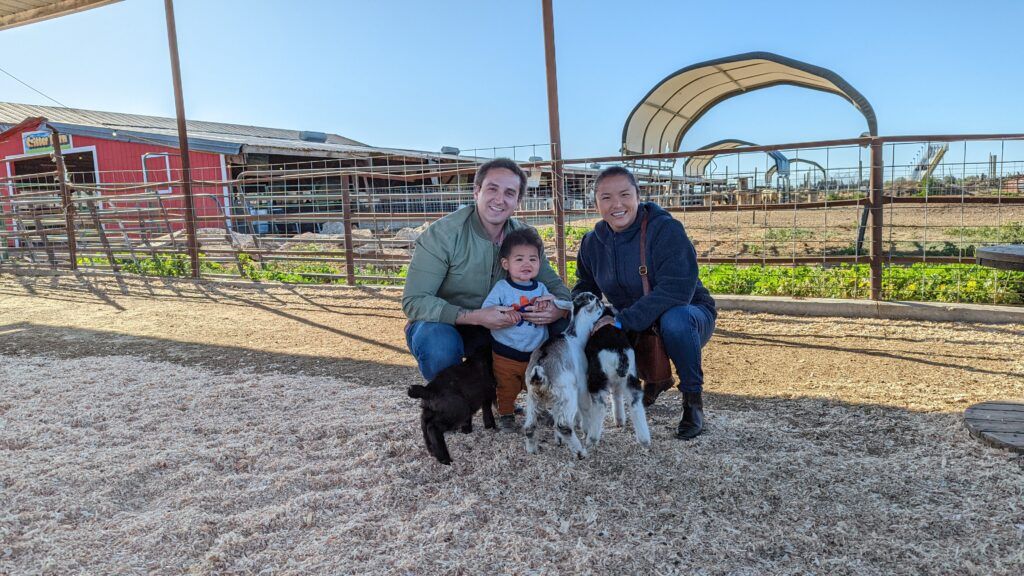 Are You Ready To Work Your Ass Off to Earn Your Lifestyle?
Are you tired of the daily grind? With a laptop and an internet connection I built a small website to generate income, and my life completely changed. Let me show you exactly how I've been doing it for more than 13 years.
Short Review
Stampin' Up does have the advantage of offering pretty neat products. Those products would probably be relevant to people with a passion for crafts and might even be enough to get people excited. Despite this, I simply don't see the potential for long-term success with the company, especially as people often don't have the time they need to craft, regardless of their passion. At the same time, the MLM model places a huge emphasis on recruitment and on your team, which makes the money earning process that much more complex.
Product Breakdown
The product selection from Stampin' Up strongly revolves around crafts. This includes things like paper and envelopes, as well as stamps, ink, embellishments and various other related products. There are also some sets that combine multiple areas along with products to make the processes easier.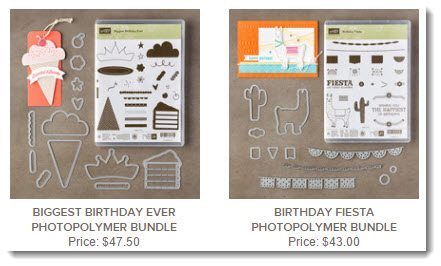 The basic idea seems to be that people create cards and other similar items using the various products.

It's easy to see how this would appeal to people who enjoy crafts. From looking at the site, I imagine that many of the products are unique, although you can certainly find similar approaches in craft stores and other similar places.
In terms of price and quality, it's a little hard to know where this company falls – as craft products like these come in a wide range of prices anyway. But, one appealing thing is that the company offers pretty much everything people would need to make the products, so there wouldn't be a need to shop around.
Now, the products from Stampin' Up are fairly interesting but I still find that I'm hesitant about them. Despite how fun the products look, it's difficult to imagine many people having the item or inclination to use them on a regular basis. For example, many of the products are geared around occasions, like this kit which might be used for birthday cards.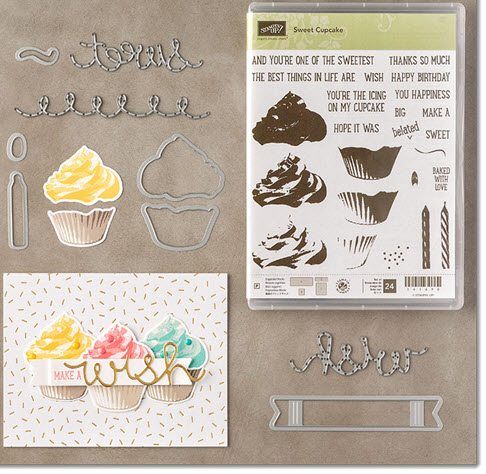 Realistically, most people barely have the time and energy to find a suitable present or buy a card before a person's birthday. Finding the time to make a card like this seems ambitious. I guess that people might do it for some specific birthdays or other occasions but in most situations, this is probably far too much work.
Likewise, the whole product selection feels like a novelty. So, you might find that people are interested in the products and the idea at first but as time goes on, that interest is likely to wane.
I would guess that the products would appeal best to people who are very creative and who have a decent amount of time (and money) on their hands. Now, that's a pretty limited audience. Plus, most people in this category will probably know good places to get similar products (like Hobby Lobby) at a more reasonable price.
Opportunity Breakdown
Thankfully, Stampin' Up is an MLM where people order products using order forms, which are submitted to the company. The distributor gets their commission (20%) out of the money the customer pays.
The good thing about this setup is that you don't have to manage stock on hand and you don't have to buy product and then sell it. The only time that you need to handle physical stock (aside from products you buy for yourself) is in cases where it is delivered to you and you pass it on to the customer.
This method works well for the distributor because there is much less risk of losing money.
In terms of making an income, the most basic aspect is just what I described. If you go through that process, you earn around 20% commission on sales. How much that calculates out to depends entirely on the sales that you make.
In theory, you can earn money in this way alone.
But, unless you can make a lot of sales, this doesn't tend to be a good approach for making money, especially as you will be spending some money on products yourself because of the party model (which I'll come back to shortly).
The way around this is recruitment. The idea with recruitment is that you get other people to join the company as distributors under you. You are then supposed to help train and guide them, helping them to make money. In turn, they recruit others (who become your third generation) and this pattern continues. The company depicts the setup like this: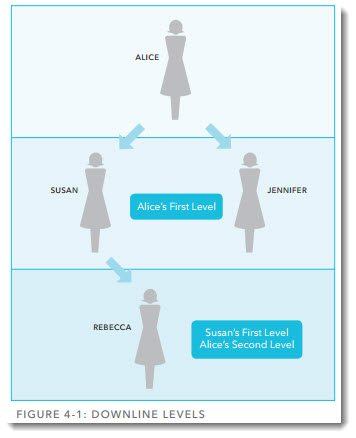 In this system, the distributor is sometimes referred to as a team leader, while the people below the distributor are considered their team or their downline. The approach is supposed to be powerful because a distributor earns commissions and bonuses based on the way that their downline performs. In theory, this means that you can earn a large amount of money because your team performs well.
However, theory and reality aren't always the same.
One of the key aspects of this model is the idea of ranks (which are called titles in Stampin' Up). To earn more commissions, you need to increase in rank. But, each rank has its own requirements, including the sales you make, the number of people in your downline and their ranks. The table below shows the various requirements for Stampin' Up.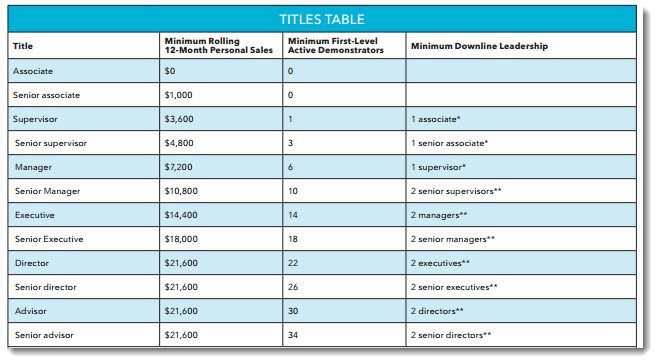 While the requirements start off simple, you end up needing a large number of people in your downline and some of them need to be successful as well. This means that ranking up gets progressively harder as you go along.
Now, if you can successfully build a team under you then yes, this is a way to make money. However, most people find it hard to recruit even a couple of individuals into the company. How many people do you know that are interested in selling stamps? At the same time, recruiting people who are actually going to be successful is even harder.
How many potentially successful businesswomen do you know?
How many people do you know with the time, money and work ethic to be successful in this type of business?
Probably not many.
In theory, you could train people but that often won't be practice. I mean, it's pretty hard to make people be effective in a business (or in anything, for that matter). If they want to they will, if they don't, they won't. If this is your first time doing this type of selling, then you'll have to make sure you're good at it first, before training anyone else.
The network marketing model also means that you are going to constantly rely on how well your team does and you could even lose money because someone quits or underperforms. The truth is that people tend to be unreliable and basing your income potential on others isn't really a good plan. This is the most frustrating part of direct sales or network marketing to me.
The Party Component
Like many similar companies, Stampin' Up is a party-based version of an MLM. This means that the emphasis is on having parties where distributors show off the various products. A party offers distributors the chance to show off the items in person and potentially get more sales but it also creates a lot of work.
In many cases, people find that it gets progressively more difficult to get people to come to the parties and over time it gets harder to make sales too. A girlfriend may show up to the first time for support, but the second time it becomes an "Oh no, this again" type of situation.
To make the process work, it seems to be important to find new people to bring along and make sales to so they can spread the word and so on.
There is also an additional issue in the case of Stampin' Up.
The parties are supposed to actually involve doing crafts, using the products from the company. This can make them fairly expensive for the distributor, as they have to buy the product that gets used. Because of this, if you end up with a party that doesn't make many sales there is a risk that you would actually lose money. At the very least, you have to count on party products, snacks, drinks, etc expenses in your profit/loss projections.
In fairness, the party model does make sense for a craft-based product and it would be a good way to get people to join the company. However, the cost involved is certainly something to be aware of.
Other Comments
As part of their marketing, Stampin' Up talks about how direct sales is a low-risk way of earning money. They even link to a site that provides this graphic: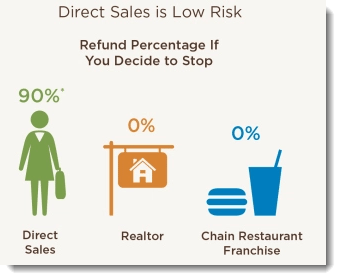 The low-risk idea is true, to a degree, but it's also misleading. One of the issues with this type of company is that it promotes you buying product. For example, if you host a party, you would want to have products to show off. In many cases, you'd want people to be able to open and possibly use the products, so they could see what's involved. The company even says this in the description for parties.

Likewise, promoting the products would involve using them yourself, such as sending out cards or invitations.
Now, you probably can get a refund on products that you buy and don't sell, providing they were never used. But, you're not going to get a refund on products that you used to try and be successful with the company. As such, it's fairly easy to incur a lot of costs that you simply don't get back.
Realistically, the end result is that an MLM is not a risk-free venture. Not only do you end up spending money on products that are used but there is also pressure to buy products on a regular basis, especially as the idea is to keep having parties. This doesn't necessarily make the model invalid but it's critical that people are aware of the risks and the costs of the approach before they get involved.
As with the other examples, of course you can't get a refund. A realtor does services – who would you get a refund from? What did you buy to become a realtor?
MLM VS Affiliate Marketing
When it comes down to it, earning money in an MLM is possible but the process is much harder than the company implies. In most cases, people tend to get stuck in the early ranks of Stampin' Up and may be spending more money on the company than they are even earning.
Despite what distributors might claim, that pattern of getting stuck early in the model isn't really because people aren't trying hard enough. Most people just don't have a large enough network of friends to be able to find 1) Enough friends that want to buy stuff and 2) A good number of those that want to then sell that stuff to their friends.
The problem of recruitment is one of the main reasons that I prefer affiliate marketing as a way of making money.
Affiliate marketing is an online technique and it focuses on selling products, rather than recruiting others. The product sales part alone is an advantage because people tend to be more willing to buy a product than they are to work for a company. With affiliate marketing, you also get to pick the products that you promote. As such, you can promote things that people actually want to buy.
Because this is an online method of selling as well, there are no parties or anything like that to worry about. You don't have to buy the product yourself or a starter kit, so the initial investment is much lower. All you really have to worry about are a domain, hosting and some basic training to get started. In my first year of operating my website I made $4k and spent about $600 in training and hosting fees. But I started with spending just $19 for a month of online training courses.
Can You Generate Reliable Income With Stampin' Up?
The Stampin' Up Review
Offering pretty neat products can play to your advantage. However, I simply don't see the potential for long-term success with Stampin' Up. The money earning process is much more complex with MLM model which rely heavily on recruitment and on your team.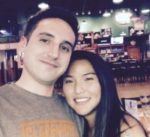 MLM Critic & Author: Nathaniell
What's up ladies and dudes! Great to finally meet you, and I hope you enjoyed this post. I have to be honest though. I'm not a big fan of MLM. Tried it. Hated it.
Affiliate marketing is cheaper, faster, and easier. See for yourself and join millions of other successful affiliates generating income from their blogs!
No inventory. No fees. No recruiting. 3 BILLION potential buyers online.
Reader Interactions