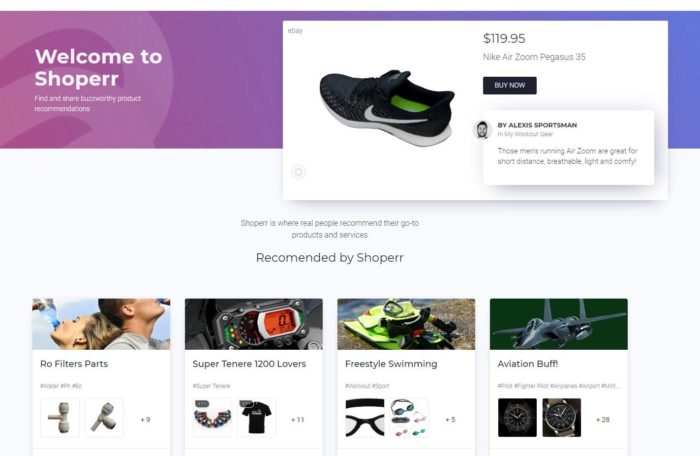 Shoperr.com is a website that has recently come across our radar as a place where you can earn some pretty serious side-hustle cash. Word on the street is that they make it easy to earn affiliate commissions on products. But can you really make money with Shoperr.com?
How Can You Make Money With Shoperr.com?
Shoperr.com appears to follow an affiliate marketing angle, which means that you earn money by promoting products. However, the approach is a little different than what you might do with your own website.
Let's take a look.
The tagline on the landing page is pretty straightforward.
"Find and share buzzworthy product recommendations."
This could mean a lot of things, though!
But further down, we see some website copy that gives us a bit more information.
"Shoperr is where real people recommend their go-to products and services."
Shopper is basically a platform that allows influencers, creators, and any social media users to…
create their own shop
buy and sell items from their favorite e-commerce websites
and collect a fee from each item sold
Shoperr.com is completely free to use, and anyone can create an account.
Nowadays, everyone is looking for a side hustle. And a lot of people are wondering how to monetize their blogs, social media, and other followings without posting cheesy ads or doing anything that would compromise the 'integrity' of their online business.
Well, Shoperr.com makes it possible to easily share affiliate links on your site. You can even create a store and share collections of products!
But does it actually work? And is it a quality service?
And perhaps most importantly… can you actually make money with it?
Let's talk about it.
The Basic Concepts Of Shoperr.com
So, making money with this site is pretty simple (at least, in theory). They provide affiliate links which can be posted online, on your website, on your social media… pretty much anywhere.
You can get links to products from many different businesses online… Amazon, eBay, and other leading brands and retailers.
Shoperr essentially makes it incredibly easy to become an affiliate marketer… kind of!
It would be more accurate to say that they make it much easier to get affiliate links to post on your sites.
But you still need the 'web traffic' part of this to make it work.
That is where you come in as a blogger, influencer, etc.
Without web traffic, this isn't going to do much for you.
Who Can (And Should) Consider Using Shoperr?
Content creators, social media influencers, and pretty much anyone else who has a fairly large audience online could benefit from using Shoperr.
The main theme of the site seems to be to promote products that you actually like. So, it stands to reason that the larger your audience is, the better your odds of success would be with something like this.
If you regularly…
Post to social media
Make YouTube videos
Blog
Podcast
Or have an audience for some other reason
… then this could be a way for you to monetize your following online and make some extra cash.
One thing that I liked about the site was the emphasis they put on 'recommended' products.
I love the idea of endorsing actual high-quality products and earning affiliate commissions on them.
So, one of the things I like the most about Shoperr, at least at first glance, is that they make this process relatively easy.
A Closer Look At Shoperr's Features
As I was getting into this site, I wanted to take a closer look at some of their features.
Yes, they give you affiliate links. But what else do they have to offer?
Here are a few answers to that question.
Mobile Friendly
You can build your shop and track your data all on-the-go from a mobile device, which is pretty cool!
Link To All Kinds Of Products
Shoperr gives you access to virtually any product offered by a major retailer.
Create Your Own Online Shop
Shoperr will let you create your own online shop for your product recommendations. The site is great looking, easy to create, and can even by 'styled' to look and feel unique. Plus, you can share it with one easy link.
Getting Paid Is Easy
Getting paid is really easy. All you have to do is enter your payment info, and you are on your way to earning commissions.

How Much Does Shoperr Cost?
Shoperr is actually completely free. Anyone can create an account.
In fact, even if you are a company with products on Shoperr, you can even promote your own products in your shop… though Shoperr does say something about 'limiting' this behavior a bit.
"It's okay to endorse your own products or businesses, but to an extent. Make sure it's not excessive, it's in context, and it's done in a genuine spirit of helping others."
I liked it. I think that shameless promotion is a bad thing. So kudos to Shoperr for this!
How Much Can You Earn With Shoperr.com?
There is the potential to earn some pretty good money on this site. You can earn between 5% and 15% on every purchase made, depending on the product.
As far as affiliate commissions go, that is pretty decent!
They pay out about 3 to 7 days after you make a commission. And once you reach a total of $50 or more, you can cash out using PayPal.
What Do The Stores Look Like?
I browsed a few of the stores that were linked to from the Shoperr landing page.
And to be honest, I was genuinely surprised by what I found!
You could tell which ones had been customized the most. But the best ones were so well done that you would never expect them to be an affiliate market link store!
There obviously seems to be a limitation on what you can do creatively with your store… but that is a given. It is, after all, a free platform… and one that will actually let you earn money with affiliate links.
Of course, you don't necessarily need to keep your linking restricted to your store, either. You can share links on social media, on your own website, in your blog, etc.
What Are People Saying About Shoperr.com Online?
I took some time to look around online for reviews of the website… and was not disappointed by what I found. At this point, I was starting to wonder if there were any hidden downsides to this service that I was unaware of.
So I took to reading through some reviews to find out.
Here's what I found.
As far as upsides go, here are some of the things that reviewers who had used Shoperr had to say about it.
Intuitive
Time-saving
Easy to use
Interface is very smooth
Supported retailers are very good
Great way to make extra cash
Great way to recommend products to your audience
No technical knowledge required
Customer support is awesome
And here are the downsides that I found…
More referral providers from the tech world would be nice
It would also be nice to see more stores supported in-general
Searching through tags can be problematic
Accessing shops can be a bit troublesome
For the most part, people seem to love this site. I have also noticed that their team seams to be very active in the forums online.
They seem to do a great job of replying to comments about their service, even on more obscure websites.
To be really honest, all of this painted a very good picture of the service.
I also checked their Facebook page. It was surprisingly quiet in terms of likes and comments. They post content regularly, but there isn't a ton of follower engagement.
This tells me that their social media presence may not be the strongest. But at the same time, that isn't really such a bad thing. It doesn't affect the quality of their affiliate links or storefronts… and that is really the main thing that matters here.
My Personal Feelings About Shoperr.com As A Side Hustle
The main thing to keep in mind about this is that it is only going to profit you if you already have an online audience to monetize. If you don't, then Shoperr.com isn't going to help you earn anything.
But… for what it is, I think that they have done a great job of building this service. I love the platform, and I think that the idea is very, very valid.
If you are looking for ways to monetize your site, and like the idea of earning affiliate commissions on products, then this could certainly be a platform to take a look at.
They make the process user friendly, have great reviews, and don't charge you anything to use it.
You may not get rich off of it, but you could leverage your affiliate earnings to make pretty decent money if your following were large enough!
Our Final Opinion About Shoperr.com
Should you sign up for it, create a store, and try to earn money on affiliate commissions?
There are a lot of ways to make money online. Some are good, some not, but ALL of them are still just trading hours for dollars.
Starting your own affiliate website really is the best way to build passive income and "make money while you sleep". Affiliate websites earn income in every timezone, and can be instantly accessed by billions of smartphones across the globe!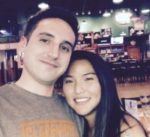 Nathaniell
What's up ladies and dudes! Great to finally meet you, and I hope you enjoyed this post. My name is Nathaniell and I'm the owner of One More Cup of Coffee. I started my first online business in 2010 promoting computer software and now I help newbies start their own businesses. Sign up for my #1 recommended training course and learn how to start your business for FREE!
Reader Interactions