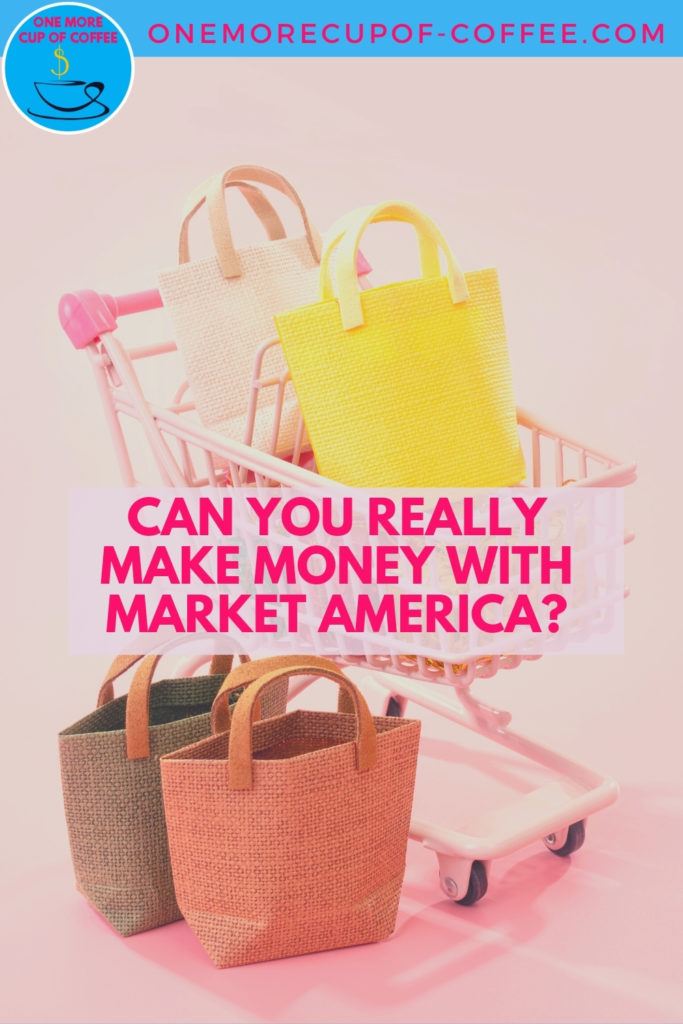 Market America is an unusual MLM, simply because they have so many products that you can promote. The products don't just fall in a single category either. Market America has clothes, beauty products, health and nutrition, groceries, and more.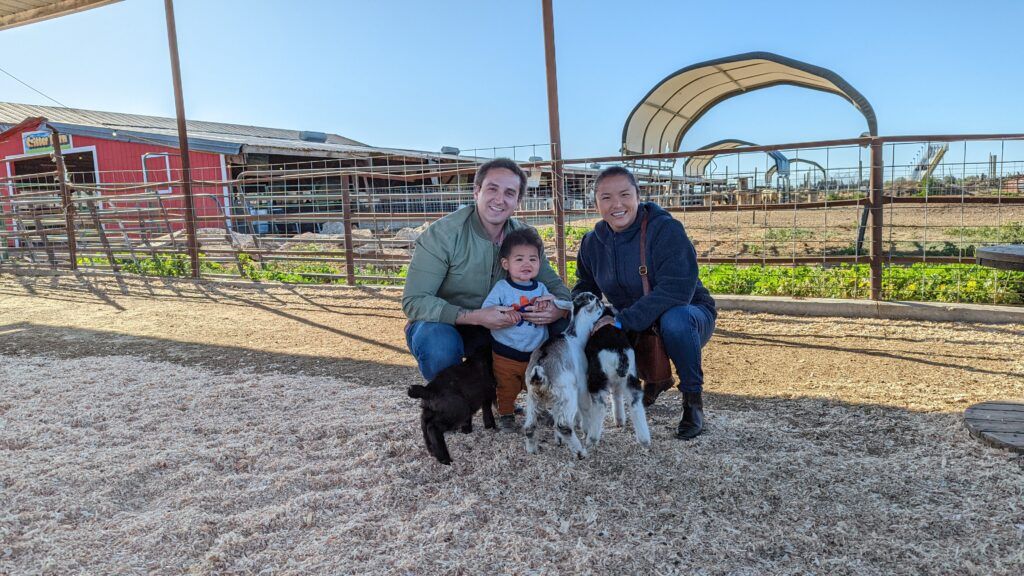 Are You Ready To Work Your Ass Off to Earn Your Lifestyle?
Are you tired of the daily grind? With a laptop and an internet connection I built a small website to generate income, and my life completely changed. Let me show you exactly how I've been doing it for more than 13 years.
This is possible because Market America runs a brokerage model. As such, the products that you're promoting weren't created by Market America. They come from a variety of different sources.
Some of the products are part of recognizable brands and can be easily found elsewhere (like Gillette, Vicks, and Estee Lauder). Others come from brands that can only be found through Market America (such as Motives Cosmetics).
The style has some advantages and some disadvantages. Many of the products come from evergreen industries, so there will always be demand. You're also promoting reputable brands, which could make it easier to promote sales. On the flip side, neither the products nor the prices are particularly unusual.
It's also worth mentioning that Market America isn't as unusual as its marketing suggests. The company promotes its opportunity as 'The Unfranchise Business'. In practice, the system is a fairly conventional MLM, with similar advantages and disadvantages to the other MLMs out there.
Two Ways To Make Money With Market America
As an MLM, Market America offers two classic ways to make money. The first is simple – promote the products. This can be done in person and/or online. The other approach is team building. Market America calls this an Unfranchise Model, but the company just follows a fairly typical binary approach.
Both ways to earn can work, but how good are they? In this post, I examine the options in detail and consider whether Market America is a realistic way to earn income.
Make Money From Product Sales
Market America's brokerage model leads to a very impressive selection of products. We're not going to talk much about the specific items for two reasons. First, there are simply too many products to consider. Second (and most importantly), many of the products are pretty typical.

You can buy many of the brands at your local store. While Market America does have some exclusive products too, these still follow the same general styles as their branded counterparts. The base prices on Market America's websites aren't that different than you'd find elsewhere.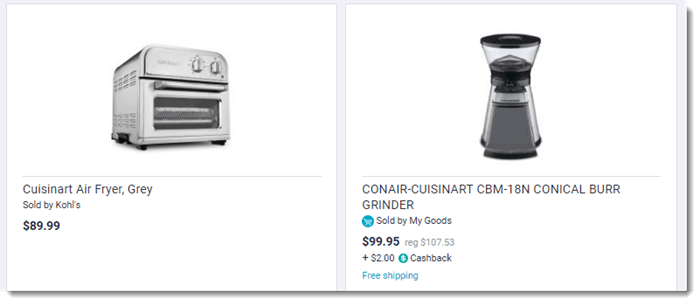 That being said, Market America does claim to have the 'best price' on some products and significant sales on their Daily Deals (for products sold through their websites). One advantage of ordering through them is the convenience of buying online. Another is the Cashback program for customers.
Even so, there aren't many advantages of buying from Market America, regardless of whether customers do so in-person or online through a distributor. This isn't good news when it comes to making sales.
It's also worth mentioning that customers can buy from the Market America sites directly. There is no need for them to go through a distributor. Processes like this undermine distributors and make it more difficult to consistently earn money.
Earning Money
Market America doesn't just offer two different ways to earn, it has two entirely different models. If you're only interested in product sales, then you can join as a Sales Representative. Representatives buy products at a discounted price and can then sell it on for a retail profit. There is no subscription fee to joining as a Sales Representative.
While this process might sound appealing, it has limitations too.
One problem is the buying and reselling approach. This involves investing your own money in products and then trying to make a profit. If you can sell everything that you buy – great! If not, you could be seriously out of pocket.
Reselling is a particular problem with Market America because the company has so many different products. How are members going to work out which ones to buy? The main way would be to order only when customers say that they want you to, but that doesn't work well either, as convenience is a key reason why customers would order from you to begin with.
The second problem is that you don't get a website. Your only way to earn is by reselling physical products. That's no good.
Alternatively, you can become an Unfranchise Owner. Despite the marketing, the benefits you get are the same as most other MLMs. Oh and there's a $129.95 subscription fee.

The subscription fee provides you with various websites that you can sell products through (including shop.com and motivescosmetics.com), along with some training. Even so, you're not getting any physical products, making the subscription fee a pretty expensive one.
As for the websites, they're simply replicated versions of what Market America offers. You get the same sites as every other member. The main difference is that you're considered the referrer for your sites. This means that if anyone makes a purchase, you can earn money.
While replicated websites aren't amazing, they do have their place. If you can't sell online, you can only ever target a local audience. Selling to friends and family members gets old fast and there simply isn't enough demand. You need to expand your reach and being online is the most powerful way to do so.
Even so, Market America doesn't strongly focus on making money online. This means that you probably won't get the training that you need to fully take advantage of the websites.
There's one other thing to mention, the amount of money that you earn. Market America doesn't provide many details here. They simply state that members earn between 30% and 50% in gross retail profit. This figure applies to in-person sales and it isn't clear how much you earn by making sales online.
Make Money Building A Team
As with most MLMs, the team aspect of Market America is where the main income potential lies. Even if you make a large number of sales, you'll never access all of the bonuses that can be found through team building.
Interestingly, Market America distributors often say that the company isn't an MLM, it's something better. The most common explanation is that Market America doesn't use the typical pyramid-like compensation plan that you see in many MLMs. They use a binary model instead.
The comparison is even shown on some of the marketing from Market America (although the company itself has stopped saying that they're not an MLM). Market America uses the structure on the right and claims that it is better.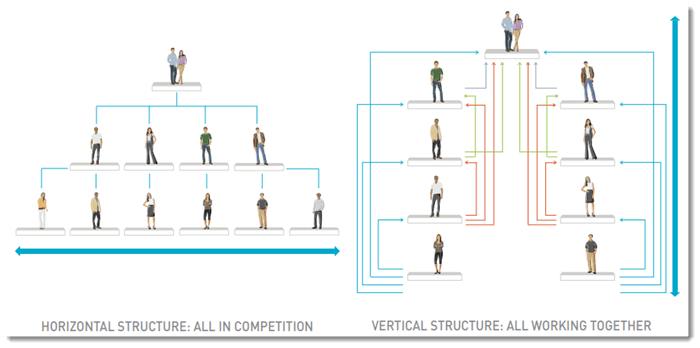 The two approaches are different, that much is true. The left-hand structure is a unilevel plan, where a person's position in the downline determines commission percentage. The right-hand structure is a binary model, where the position of recruits isn't nearly as significant. Most MLMs use either a unilevel or a binary structure, while some use both.
Market America depicts their binary system like this: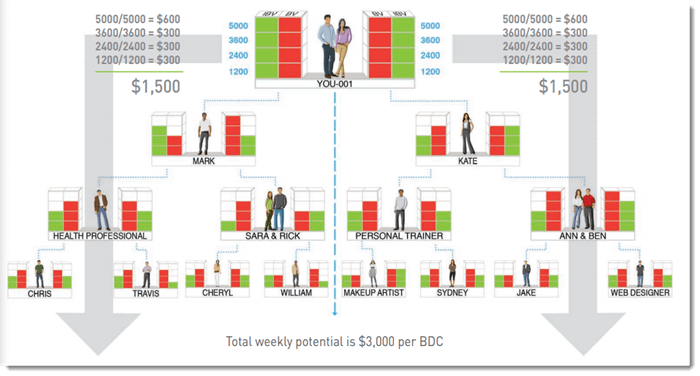 The style is fairly typical. The main difference is that Market America tracks BV and IBV separately. BV stands for Business Volume and refers to the sales of products that are exclusive to the company. IBV stands for Internet Business Volume and is for any products from partner stores.
It's difficult to know what the two types mean in practice, as Market America doesn't provide the information on their website. However, you would likely need to hit specific BV requirements to hit new ranks or obtain some bonuses.
As for the binary structure, it does have some advantages. It simplifies your earnings calculations and allows you to focus on growing the two legs of your downline. This can be less confusing and you don't have to worry about who recruited who.
There are some disadvantages too. With a binary model, your income isn't based on the performance of your team as a whole. Instead, it is connected to how the two legs perform compared to one another.
You are only paid 'team earnings' based on whichever leg does not perform as well. This seems very unnatural to me. In an ideal world, we would be compensated for the total sales of the team, not based on some arbitrary rule designed to make growing our business difficult.
This approach to earning creates an odd situation. If one of your team dramatically outperforms the other, you could end up with a relatively high number of sales, but low income.
Market America Marketing
One final area to mention is that Market America tends to use some odd and hyped up phrasing. One example is their shopping annuity idea, which is described like this:
When you get down to it, Market America is actually talking about the time that people save and changes to their shopping habits. This has nothing at all to do with the concept of annuity, yet Market America seems to be in love with the phrase.
They also make this absurd statement:

Here's the thing. Even if Market America was fantastic as a way to earn money, the company isn't revolutionizing anything. They're offering the chance for customers to shop online and earn cashback, while giving representatives the ability to earn money. None of those processes are even unusual these days.
Can You Generate Reliable Income With Market America?
The Market America Review
While Market America isn't as amazing as the company's marketing suggests, it could still be a reliable way to make money. They do have a wide selection of products and the ability to sell online is a key advantage. Earning 30% to 50% for in-person sales isn't horrible either, as long as you choose products that will actually sell.
The most important point is to do your due diligence. Make sure you carefully consider your audience and whether the products are likely to sell. Think about the way that you want to make sales too. Are you planning to rely on in-person sales and use the purchase and resell model? Or, will you mostly focus on online sales?
The online angle is certainly more powerful, especially these days. If you plan on this approach, you may need to find extra training elsewhere so that you can get the traffic and interest that you need.
While we're talking about online sales, it's worth mentioning that Market America feels a little old fashioned. The company isn't nearly as popular as Amazon and some customers may hesitate about using it. To me, it feels like there just aren't enough reasons for customers to purchase from Market America.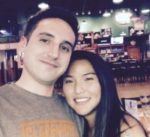 MLM Critic & Author: Nathaniell
What's up ladies and dudes! Great to finally meet you, and I hope you enjoyed this post. I have to be honest though. I'm not a big fan of MLM. Tried it. Hated it.
Affiliate marketing is cheaper, faster, and easier. See for yourself and join millions of other successful affiliates generating income from their blogs!
No inventory. No fees. No recruiting. 3 BILLION potential buyers online.
Reader Interactions