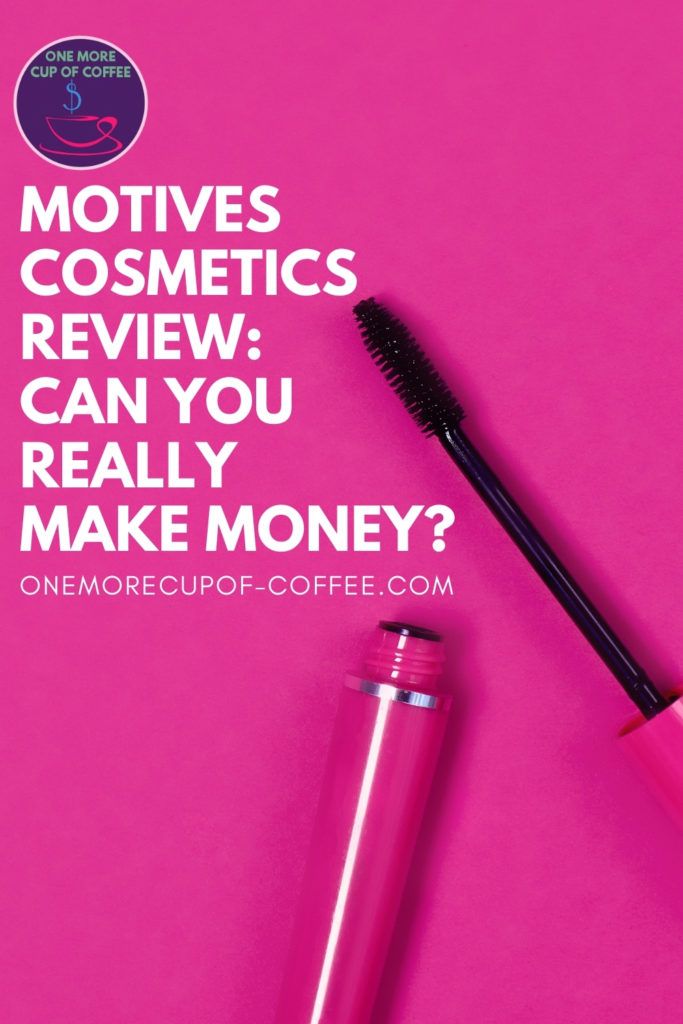 As the name suggests, Motives Cosmetics is a cosmetics network marketing company. While the products are fairly typical for the industry, Motives Cosmetics excels in presenting these well and offering a considerable range to choose from.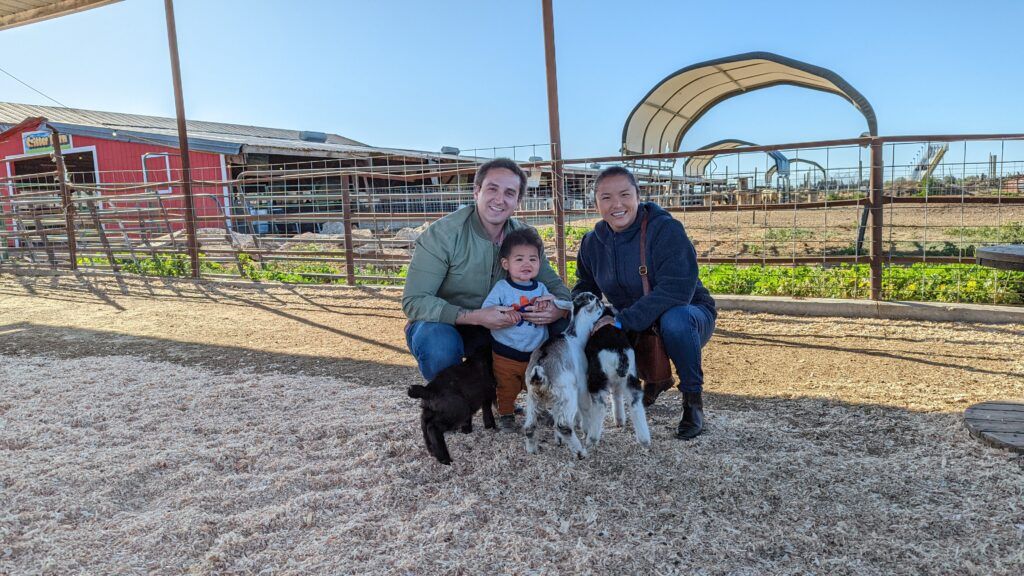 Are You Ready To Work Your Ass Off to Earn Your Lifestyle?
Are you tired of the daily grind? With a laptop and an internet connection I built a small website to generate income, and my life completely changed. Let me show you exactly how I've been doing it for more than 13 years.
Cosmetics is also a powerful industry, with a global estimated value of around $532 billion USD. While famous brands like Estee Lauder and Unilever control large chunks of the market, smaller companies are beginning to get a foot in as well, partly because customers are looking for specific outcomes from their cosmetics.
The industry is also an evergreen one. This means that products always tend to sell, regardless of shifts in the economy (although spending patterns may change).
That being said, selling makeup does come with challenges. There are plenty of competitors in the field and customers are frequently loyal to their favorite brands. Motives Cosmetics isn't an especially well-known brand either, which could make sales more difficult.
Convincing people to purchase may require an angle and some salesmanship. Of course, that doesn't make the idea impossible. Motives Cosmetics has remained in the market and it seems likely that some people love the products.
There is one more thing to mention before we launch into an examination about earning money. While this isn't very obvious on the Motives Cosmetics website, the company is actually part of Market America. The connection to Market America means the products are more widely available than you may expect. Still, being a part of Market America may also help stabilize Motives Cosmetics and help it to compete in the market.
Two Ways To Make Money With Motives Cosmetics
Motives Cosmetics offers the same general income approaches that you'll see time and time again. You can earn money by selling the products to customers and you can increase your income potential by building a team as well.
In this post, I'm going to talk about both of these areas and how they work for Motives Cosmetics. After all, MLMs might all be similar, but they do have their own individual characteristics too. I'm also going to consider whether you can earn sustainable income as a Motives Cosmetics distributor.
Make Money From Product Sales
Motives Cosmetics (which seems to be called that or just Motives) is a cosmetics company, so the products they provide are exactly what you would expect them to be. Some of the main categories of products include nails, eyes, face, skincare, sun protection, and accessories.
One major advantage is that the company has a pretty large selection of products. For example, there are more than 50 different eyeshadow products, and that's just one subsection of the eye category.
The site is also really easy to navigate, making it a simple process for people to find the products they want on there. That's actually a really important feature because the company lets distributors sell products online.
The prices for cosmetics aren't horrible either. For example, here are some of the eyeshadow options:

Yes, you can find it cheaper in some places. But, that price range is fairly standard for a relatively high-quality example of eyeshadow.
That pattern was consistent across the site. In some cases, products might be more expensive than you would find in stores, but not excessively so. For example, many of the prices were in line with what you might find with Avon, and a considerable number of people do buy Avon makeup regularly.
One issue is that you can't know anything about the quality of the products just by looking at the website. If the makeup is of good quality, then the pricing is probably about right. But, if it's low quality, then the products are overpriced.
There isn't a lot of objective information online offering many details about product quality. I did find one positive review at a site called My Eyeshadow Consultant and there are some other positive reviews online. Still, most of them come from blog writers, so it's hard to be certain.
Perhaps the most important part to mention is that there aren't many scathing negative reviews to be found. Annoyed customers do tend to make a fuss, so if there were serious problems with the makeup quality, I'd expect to find negative reviews online.
Even so, I would suggest finding a way to try out the products before even considering becoming a consultant. Making money through this company would only be remotely viable if the products were worth the money that the company charges. Though you may snag a few initial customers, the key to making good money with anything is repeat customers.
As it is, the brand is pretty unknown, which makes selling more difficult. Think about how skeptical you are of unknown brands versus the ones you know from TV. Some folks do go for the lesser-known, companies, especially if they are 'boutique', or unique in some way, but you certainly don't want to be trying to sell a poor quality product while trying to get someone to switch brands.
Starter Kit Costs
This kind of counts as a product and kind of don't, but I wanted to mention it briefly anyway. There are two ways to join Motives Cosmetics. The first is the basic application, which includes a subscription kit and costs $149.95. This price is on the high end for an MLM, but some of the cost comes from the fact that members are paying for a starter kit, rather than just the right to sell products.

In this case, the kit comes with a range of different makeup, along with catalogs, order forms, and some samples. A kit like that would make starting up a bit easier because you don't have to buy products yourself just to show them off. It's still a lot of money though, especially if you aren't certain about the company.
There is also a Motives Fast Start Kit. This one is designed to give members a larger variety of products. The items are carefully chosen so that members can use them to host a hands-on party. This type of event can be powerful for generating enthusiasm about the products from Motives Cosmetics and can promote sales too.
The catch is that you'll be using some of your products at each party of this kind, so the costs can add up. In fact, the Motives Fast Start Kit itself costs $399 (before tax), which is a substantial investment).
Selling The Products
Most MLMs strongly focus on the opportunity, often to the point that the products are secondary. That's not the case here. Instead, Motives Cosmetics places most of its emphasis on the products themselves. It's a fantastic approach, and it lets the company recruit people that are passionate about the company and its products, rather than people focused on the making money side of things.
To start off with, distributors (or 'beauty advisors') earn around 30% profit from the sales that they make. This is probably the result of buying them at members' prices and selling the products at a higher price, but the commission plan doesn't elaborate. That profit margin is also shown in this basic table the company offers.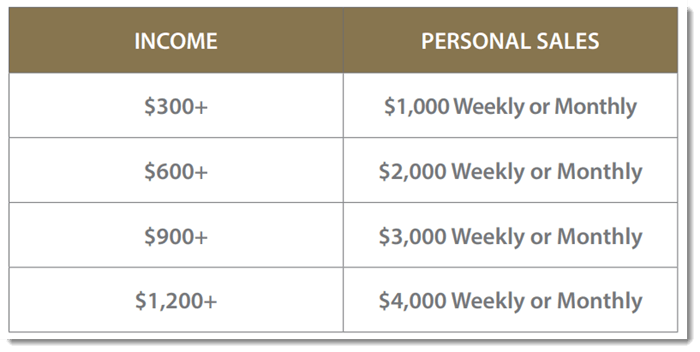 The site also says that members can earn up to 40% in retail profit. Again, the details simply aren't provided. It's always frustrating when a company provides so little information about how you earn money. There really is no need for that these days.
That information applies just too basic retail sales, which are the sales that members make themselves. But, let's not forget that the company is an MLM, and much of the income potential comes from that side of things.
Selling Through Parties
One area of emphasis with Motives Cosmetics is the idea of holding Beauty Parties and selling products through them. This isn't an uncommon approach, and MLMs like Origami Owl and Clever Containers have a similar focus.
Parties give distributors a chance to get a group of people together and show off how the products work. They also create a bit of peer pressure, so if one person buys products from the party, others generally follow suit.
The company estimates that members can earn $300 or more from a party, which means you would have to make around $1,000 or more in sales at a party.
How easy or difficult that probably depends on who comes and what their budget is.
Parties certainly aren't as easy as the company suggests. But, they can be an interesting tool. In the case of makeup, giving makeovers or mini-makeovers can provide a good way to show off the products. So, the approach can work.
The company also lets people sell products through catalogs and online. That means there are a lot of options, more than many MLM companies offer. Selling online is the most powerful approach, as you can target a wider audience. However, it's likely that the training from Motives Cosmetics does not provide in-depth information about being successful in this area.
Make Money Building A Team
Building a team is the key way that you would increase income with Motives Cosmetics. Once again, the company provides barely any specifics about the processes, so it's difficult to know what to expect.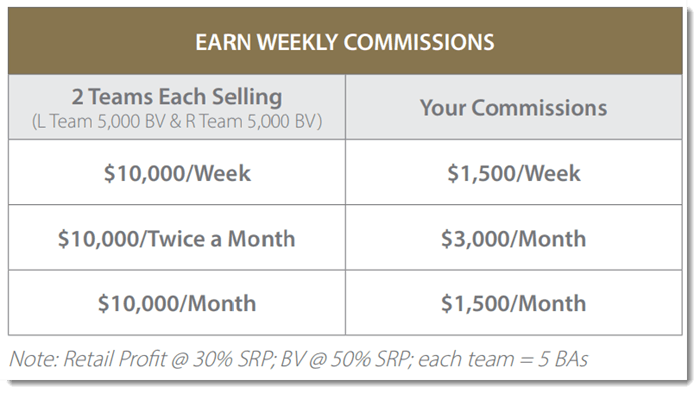 This table is actually most of the explanation the company provides about the team aspect. Like some other MLMs, it seems that Motives Cosmetics requires members to have two teams (a left and a right team), and these both have to meet a certain amount of performance.
A two-team structure like this tends to be more complicated than a basic unilevel MLM. Your income is typically based on how the performance of the teams compares to one another. Your success often ends up being limited if one team performs well and the other does not.
The table uses terms like BV and BA to describe the requirements that you need to meet (in small print no less), but those values are actually not described on the commission plan itself. In fact, I couldn't find a description of the terms anywhere on the site.
To me, that's a pretty concerning issue. It means that people don't fully know what they are signing up for when they join the company, and many may have unrealistic expectations. It also seems likely that the details on the commission plan are intentionally kept simple so that the information doesn't scare off potential new members.
I can see an advantage and disadvantage to presenting facts in this method, so am undecided on whether it's good or bad to do it this way. Sometimes, it's just simpler to jump in and figure out the details later. Sometimes, too little information can get you to start things you otherwise wouldn't do. What do you think?
Can You Generate Reliable Income With Motives Cosmetics?
The Motives Cosmetics Review
If you have a passion for beauty and makeup, Motives Cosmetics could be a viable option for making money, especially if you've tried and enjoyed their products.
Personally, though, I wouldn't recommend this company to anyone wanting to earn significant long-term income. Because of the MLM structure, you have to rely on building teams, making sales yourself, and ensuring that sales are made within your teams. Without a strong team or a large number of sales, the amount you earn from the company is likely to be low.
Relying on teams can also be frustrating. You never really know how other people are going to perform under pressure. Some of your recruits could be good at sales, others may not be. After all, you're asking people to sell products and recruit others. Neither of those processes is easy, especially at the beginning.
Like Avon and some other MLMs, this is a company that some people might get involved in to offset the cost of their own products. If you just relied on commissions (rather than building a team) and largely sold to friends and their friends, you could make a little money from the company without an insane amount of networking.
For some people that approach might be appealing.
But, trying to earn a full-time or even a part-time income with Motives Cosmetics would be very tough if you don't have an existing network, and do not have the leadership skills to run a team. Still, if you are going to try an MLM or if you are really into cosmetics, Motives Cosmetics isn't too bad – not when you compare it to what else is out there.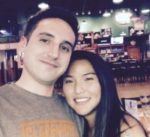 MLM Critic & Author: Nathaniell
What's up ladies and dudes! Great to finally meet you, and I hope you enjoyed this post. I have to be honest though. I'm not a big fan of MLM. Tried it. Hated it.
Affiliate marketing is cheaper, faster, and easier. See for yourself and join millions of other successful affiliates generating income from their blogs!
No inventory. No fees. No recruiting. 3 BILLION potential buyers online.
Reader Interactions