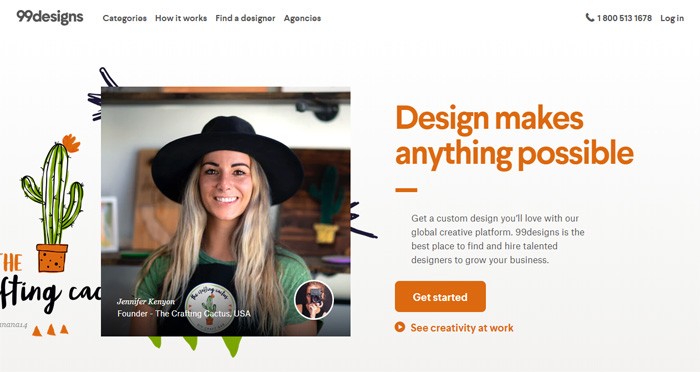 Graphic design can be a tough business to get into. But thankfully, there are now websites designed specifically to pair graphic design specialists with people who may want to hire them. 99Designs.com is one such site. But can you really make money with 99Designs.com?
Making Money With 99Designs.com
To look at the potential of 99Designs.com, we first have to consider how it compares to other sites and precisely what it has to offer.
There are a number of sites online that let freelance graphic artists compete for business… but 99Designs is unique in that it is specifically designed for graphic designers.
It seems as though it is a busy site with a lot of opportunities. But, it also costs a little bit more than some marketplaces I've looked at.
It is free to create a profile, but you will have to pay fees if you want to complete (and get paid for) contracts!
But is it worth it?
Let's get into it and figure out if this may actually be the right place for you, as a graphic artist, to make some serious side-hustle cash.
What Is 99Designs.com?
99Designs.com is a 'global community of professional designers.' There are two different ways for clients to work with designers on this website.
They can either…
Work one-on-one with a designer to collaborate and complete the 'brief' (project description/instructions)
Start a contest, and open the brief to the entire design community. Designers then submit their ideas, and the client picks their favorite design and pays for it
While both options are technically available on 99Designs.com, the contest feature is what they are most known for. This delivers HUGE value for clients… though it also forces creatives to compete directly for business.
But at the same time, it is also a great opportunity to create visibility and get yourself into the game as a graphic artist. If you are talented, you can really shine and make some sweet money with this gig… though it does come at a risk.
There is no guarantee that you are going to earn anything by participating in contests, as there is no guarantee that your designs will be picked. But the idea is still pretty cool.
How To Use 99Designs.com
First off, let's go over some of the reasons why clients choose to use this website in the first place.
Here's a screen shot.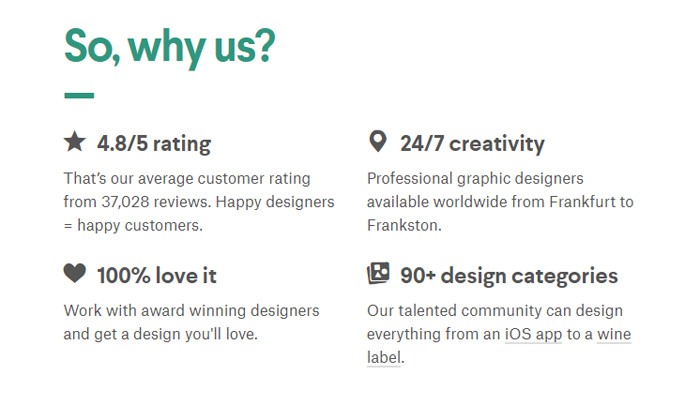 As you can see, their average customer rating is 4.8 out of 5 stars, which is pretty awesome. There are graphic designers at work 24/7, thanks to the worldwide scope of the site's user base.
There are also 90+ different design categories featured, ranging from iOS apps to wine labels!
But one thing that I noticed right away was that, so far, what I had seen of the site was designed from the standpoint of hiring a designer. So I scrolled to the footer, and found the 'Become A Designer' link.
Here is what I learned after clicking on it.
Here, I found a very cool landing page that greeted freelancers with the following text.
"Fire up your freelance career – You design. We'll handle the rest."
Below this, there was also a small blurb that contained the following quote.
"Do what you love, and get paid for it on 99designs. Find awesome clients and become a part of our global community of talented designers – all in a safe, secure workspace."
Then, there was a button you could click to sign up, which led to this page.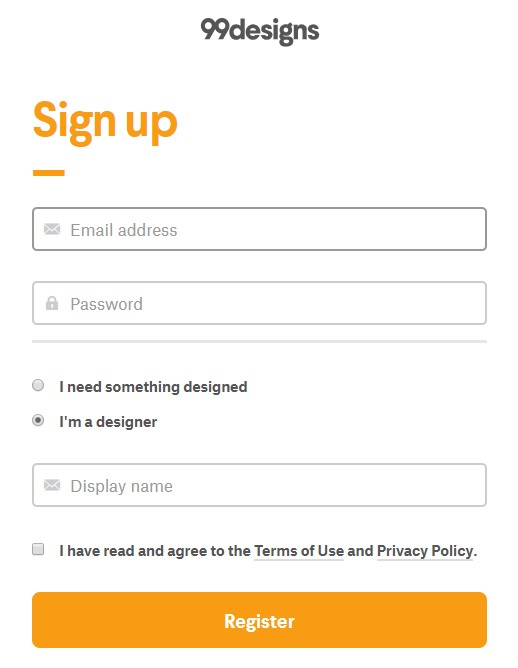 Once you sign up, you can start browsing for jobs. As far as the contests are concerned, you can choose to enter only the ones that really inspire you. If you don't win, you still get to keep the full rights to any work you did… and 99Designs encourages you to put both winning and non-winning graphics and designs into your portfolio, to show the world what you can do.
As far as payment is concerned, the website collects the full payment for the design from the client before the project is even started. Then, when the winner is chosen, the correct designer gets paid in-full for their work.
Of course, from the sound of it, it would seem that contests are more of a way to showcase your talent than they are a way to make a full-time living.
The best thing about this site seems to be that contest winners usually go on to become a more 'regular' designer for the company or person who held the contest. If a company likes your work well enough to hire you over the dozens of other applicants all vying for the same project, then odds are good that you are going to find repeat business with them!
How Much Can You Earn On 99Designs.com?
According to the designers section of the website, it is free to sign up and start freelancing. They also say that rates and rewards vary, depending on the type of design work.
There is one spot in the 'How It Works' section, however, that says that logo design starts at $299.
They also say that designers get paid within three business days, though it actually becomes faster than this if you level up to being a top-level designer.
Does 99Designs.com Charge Any Fees?
Actually, they do… and to be super-honest, they are not cheap!
Here is what you can expect to pay on 99Designs as a designer.
First of all, when you start working with a new client, they charge a $100 introduction fee that is spread out over that client's first $500-worth of charges.
This is to cover 'the cost of matching you with clients.'
They also charge a platform fee on every project. Your designer level dictates exactly what you will pay in fees.
Top Level Designers: 5%
Mid Level Designers: 10%
Entry Level Designers: 15%
We have seen higher fees than this on other websites. But, it is still following a trend that we are seeing more and more on freelancing platforms.
High fees. That is the trend. Freelancing sites seem to be charging more and more, and 99Designs certainly seems to be right up there in price.
Now, with that being said, it is understandable that they need to earn a cut as well. They are, after all, providing a platform that designers and companies can use to find each other and engage in creative projects.
They also facilitate the transaction by holding the fees and releasing them after the project is done.
But… the fees are still pretty high. It would definitely be better to find clients off-site. But therein lies the problem.
The graphics game is pretty convoluted right now. Everybody and his brother wants to be a graphic design artist or to sell graphics online. So sites like this give people the chance to compete and show off their work without requiring them to spend huge amounts of money on advertising.
And when you put it that way, it probably also seems likely that the top tier designers on 99Designs.com make quite a bit… more than enough to make the fees worth it.
So maybe the goal is not necessarily to find a way to NOT pay the fees, but to find a way to make so much on the platform that the fees don't matter!
This is what I've come to learn about other freelancing platforms as well.
They are extremely useful, though they do come at a bit of a price.
My Personal Feelings About 99Designs.com
Personally, if I were a graphic artist who was interested in earning some more money with my graphic design talent, then I would probably take a closer look at the site and give it a try.
It is free to sign up and start a profile. You don't have to pay anything until you start earning… which is pretty cool!
Granted, it is a bit expensive at first. But if you can make your way to the top and become a Top Level earner, you can really mitigate a lot of the costs.
Plus, you stand to earn quite a bit if your designs are well done!
If you don't yet have a lot of experience or a portfolio to show for your vocation, this could be an awesome platform to use as you build up your samples and create a portfolio of work.
It is also a site that will give you plenty of experience!
Will you get rich using 99Designs.com? Probably not.
Will you gain valuable experience that you can use to move on and acquire bigger, better projects with if you use 99Designs.com?
Absolutely!
There are more lucrative side hustles out there for people who do not have a passion for graphic design.
But if you like this type of work and feel that it could be something that you want to earn a living with in the future, 99Designs.com could be the ideal place to get your foot in the door!
Our Final Opinion Of 99Designs.com
Should you join the site and try to get some freelance graphic design work as a side hustle?
There are a lot of ways to make money online. Some are good, some not, but ALL of them are still just trading hours for dollars.
Starting your own affiliate website really is the best way to build passive income and "make money while you sleep". Affiliate websites earn income in every timezone, and can be instantly accessed by billions of smartphones across the globe!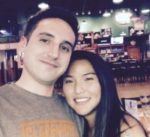 Nathaniell
What's up ladies and dudes! Great to finally meet you, and I hope you enjoyed this post. My name is Nathaniell and I'm the owner of One More Cup of Coffee. I started my first online business in 2010 promoting computer software and now I help newbies start their own businesses. Sign up for my #1 recommended training course and learn how to start your business for FREE!