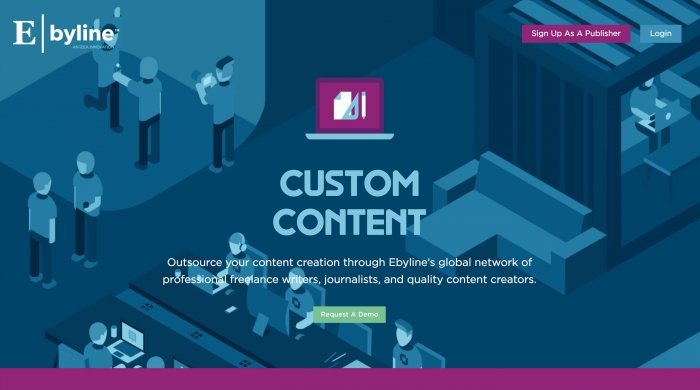 If you're an experienced journalist looking for another platform to showcase your work and expand your circle, Ebyline may be the place for you. If you haven't been published in a known national or international publication you're out of luck unless you want to pitch editors on spec…which you can do on your own without using the Ebyline platform.
GENERAL LOOK OF WEBSITE
The landing page is high tech, clean and simple with graphics not photos and is geared to publishers: "Outsource your content creation through Ebyline's global network of professional freelance writers, journalists, and quality content creators."
Were you Successful Landing a Job in your Trial Period (one month)?
No, however, I'm not technically qualified for this platform. The Ebyline team evaluates the quality of your work and the prominence of the publication and says: We prefer to see 2-3 clips from 4-5 different, nationally recognized organizations.
How was the User Experience?
The user experience was confusing at first because there is no button or info for 'Creators' (AKA freelancers) on the Ebyline landing page or anywhere on the site, including the bottom part of the last page. If you click the 'Sign up as a Publisher' button you land on the Publisher page BUT on the top right it asks 'Are you a Creator' and a button to 'Sign up free' or 'login'.
How to Sign Up on Ebyline
After determining you are a creator (freelancer), you can complete a profile OR submit a pitch/project idea to an editor, though there are no real details on what it means to submit a pitch at first (stay tuned).
After further investigation it appears that there are two ways to get work on Ebyline:
Submit a proposal to jobs that show up on your 'Pitch Board' but only if you are an approved freelancer.
NOTE: I had two proposals show up on my Pitch Board after my trial period of one month. I clicked the 'Submit Proposal' button and was told I could not submit because I was not an approved freelancer…which begs the question of why I would have two proposals to respond to in the first place.

Proposals on the Pitch Board

The second option, which is technically available to anyone even if you're not an approved freelancer, is to submit a project idea. This can be an pitch/query or completed work. The trick is that you must submit to an editor via email (which you must source) or use an editor of a known publication that is on their list. You must include your fee, kill fee and date the project will be available. The editor may, or may not, get back to you.

First stage of submitting a project.
How was the Mobile Platform?
For the most part, the mobile platform was exactly the same though, after signing in, I was unable to access the drop down menu on the right hand side which allows you to: Manage Account, View Profile, Help or Log Out. The most significant loss is being unable to access the Help function.
What Type of Verifications were Needed to Get Started?
Page One
Photo or gravatar
Links to both social networks and websites
Location
Page Two
Career Summary (up to 1500 words detailing: accomplishments, availability, expertise, publications, awards, education, etc.)
Mini Bio (150 words: short form of the above information)
Select tags for specialties/skills
Page Three
What publications have you worked for? Publications in this section will populate the 'Worked With' column in your profile. This section comprises a searchable list which means any URL you add will only be accepted if it is for a known and significant publication and published under your name.
NOTE: My personal blog did not show up and the URL was not accepted as a link.
You can choose to have one of your pieces featured on your profile, even if it does not show up in the 'Worked With' section.
Note that there is no ability to add PDF work.
Profile Privacy: checkbox to allow other users to view profile, email, phone and mobile.
After completing the information, you submit your profile for review. My profile was not accepted even though I did have three clips and my career summary completed. I sent an email querying why it was not accepted and received this reply within 10 minutes.
"….At this time your profile doesn't demonstrate the right combination of experience and clips for you to be granted Ebyline Approved status.
Many of Ebyline's working freelancers provide clips from well-known national publishers like the New York Times, Los Angeles Times, Washington Post and the Christian Science Monitor, to name a few examples, and either have 10+ years of experience as professional freelancers or have degrees in and extensive knowledge about specific subject matter. Most of the publishers using the Ebyline platform are looking to work with freelancers with those credentials and work experience…."
How Long did it Take to Set Up a Profile?
One hour and ten minutes. Fifteen minutes to submit a project.
What Types of Jobs were Available?
You can't apply or search for jobs unless you are an approved freelancer; however, several did show up on my Pitch Board (see above) which gave me an idea of the jobs available and the pay. The first was for a 500-1000 word blog post for a large American bank with a rate of $750USD; the second was for a number of 400-500 word articles (style guide provided) for a food, wine and tourism site with a rate of $17USD per article.
Was there Competition? Regular Work?
In their literature, Ebyline claims they have 2000+ creatives, which doesn't seem like very many which may indicate that their standards are high and/or it is not a large platform at this time. So the completion might be light if you did manage to be approved. I think it would take a great deal of time and luck to secure regular work.
What was the Range of Job Rates Available?
Because you are only able to access the search feature if you are an accepted freelancer, the only rates I could see for comparison were the two previously mentioned jobs which ranged from quite low ($17USD) to reasonable ($750USD).
OVERALL COMMUNICATION & CLIENT EXPERIENCE
Were you Able to Find and Complete a Job in a Reasonable Amount of Time?
I was not able to get a job during the trial period because I didn't have 2-3 clips published in national or international publications.
Commission Structure
There appears to be no membership fee or commission payable by freelancers, only a membership fee for clients.
Membership Options
Membership is free for 'Creators' (aka freelancers).
What were the Payment Options?
You are responsible for negotiating the rate and any expenses incurred as well as invoicing the client. Freelancers are paid in USD by PayPal and are paid on the terms stated by the client (i.e. 60 days etc)
Could You Make a Full-Time Income with This Website?
I think it would be very difficult EVEN if you had the relevant experience unless you had an established relationship with an editor or publication. Ebyline does allow you to work for the client OUTSIDE the platform as long as the job was never posted on Ebyline.
Would This be Good for Part-Time Work?
Yes, if you had the requisite experience and published work.
PROS, CONS, + UNIQUE ASPECTS OF EBYLINE
What Made This Website Unique?
The fact that you could pitch an article to any editor via the platform makes Ebyline unique. Of course, there is no guarantee that you would get work this way, or even a reply. Also, freelancers are able to negotiate with clients for expenses which may be useful if you were doing a travel, dining or wine article.
What Were the Good and Bad Points of This Platform?
GOOD
According to Ebyline, it is not a large network which could work in your favour if you did get accepted; you may be noticed by a publisher faster than on one of the larger platforms like Upwork or Freelancer.
There is no membership fee or commission charged to the freelancer.
Paid via Paypal in USD.
Email response was prompt.
Freelancers are able to work outside the platform with the same client if the job was not previously posted on Ebyline.
BAD
Not a viable option for new freelancers or even for skilled and experienced writers without a journalism background and the clips to prove it.
With such a small number of accepted freelancers, the network itself may be quite small which means a small number of jobs. It's impossible to tell without access.
You must invoice the client and be paid on their terms (typically 30-60 days).
WOULD I RECOMMEND THIS WEBSITE FOR FREELANCE WRITERS?
General Opinion Based on Your Experience
Ebyline is a niche platform geared to experienced journalists who have worked in national/international newsrooms or publications.
Would You Recommend this Website? Why?
If you have the necessary experience, Ebyline could be a useful tool to boost your network and introduce your work to a wider audience, particularly if they only have a relatively small number of freelancers ('2000+') using their platform. However, it is impossible to determine how many clients actually use the platform–meaning it is difficult to get a definitive idea of how much exposure you would have as an accepted freelancer. If you do not have the requisite experience, you can still post a profile and try and pitch a project to an editor, though the likelihood of success would be extremely small.
What Type of Writer is This Website Best Suited For?
Experienced journalists with published work in national or international publications and/or a working relationship with an editor in an eligible publication. .
As a writer, you have an in-demand talent that can be used to earn you TONS of money online. You can earn money freelance writing, for sure, but it's still just trading dollars for hours. Personally, I recommend starting your own website! Information is the currency of the internet, so why not leverage your talents to build yourself a serious online income! Learn how to create your own blog-style website and make money through advertising.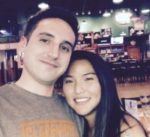 Nathaniell
What's up ladies and dudes! Great to finally meet you, and I hope you enjoyed this post. My name is Nathaniell and I'm the owner of One More Cup of Coffee. I started my first online business in 2010 promoting computer software and now I help newbies start their own businesses. Sign up for my #1 recommended training course and learn how to start your business for FREE!