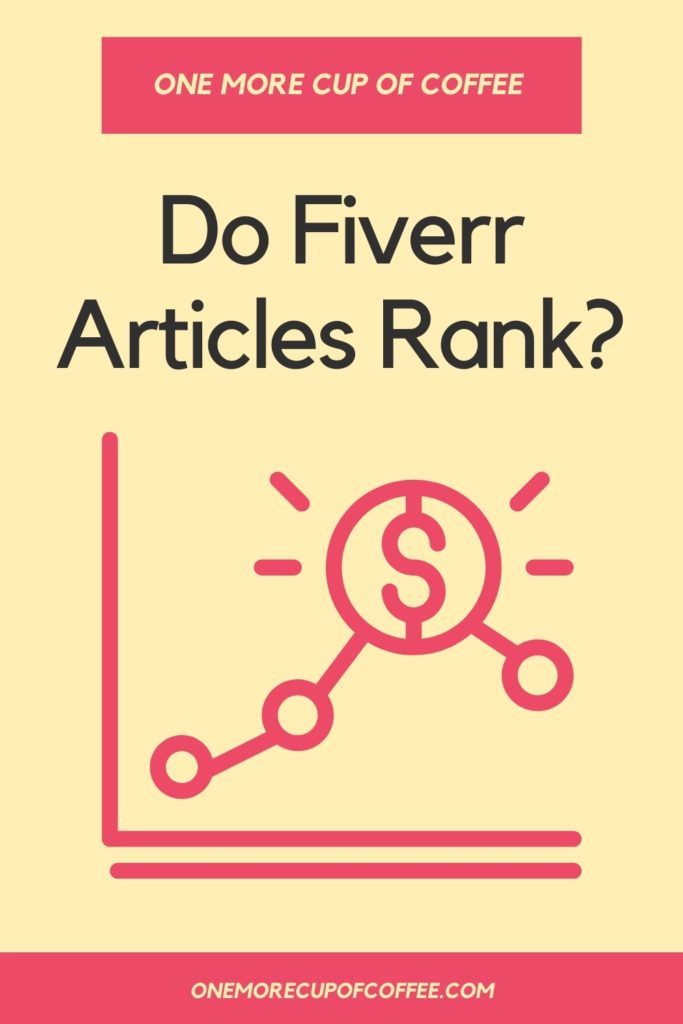 Fiverr is one of the most popular places talked about for outsourcing various parts of your online business. It's where I outsourced my first logo, and my first article back in 2010. There are many plates to outsource articles online these days though, so should Fiverr still be on your radar?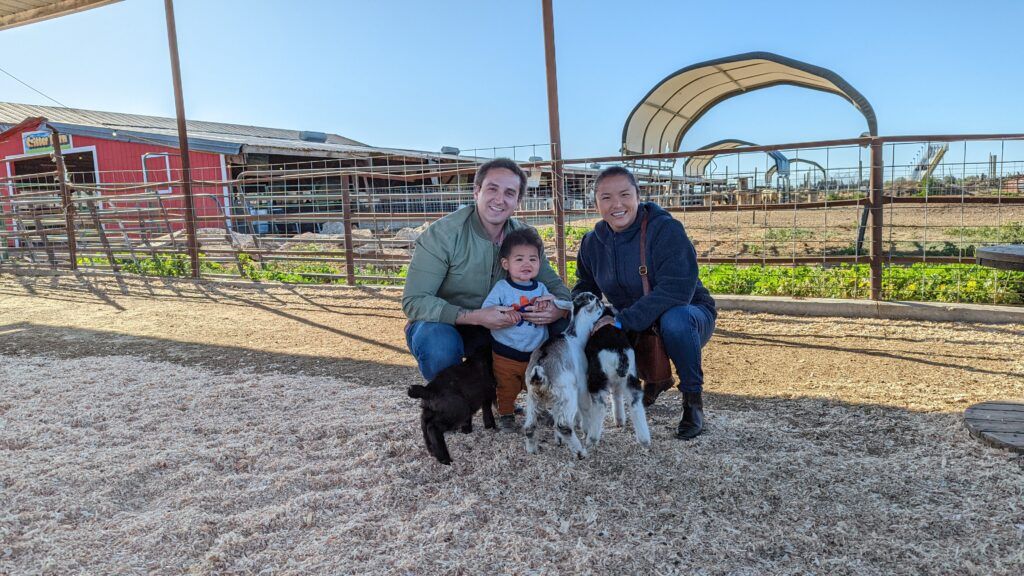 Are You Ready To Work Your Ass Off to Earn Your Lifestyle?
Are you tired of the daily grind? With a laptop and an internet connection I built a small website to generate income, and my life completely changed. Let me show you exactly how I've been doing it for more than 13 years.
Fiverr is not usually in my affiliate marketing bag of tricks, but I did do a couple of test articles to see what happened. Two years later, I have some interesting results to share with you.
Do Fiverr Articles Rank?
How Much Do Fiverr Articles Cost?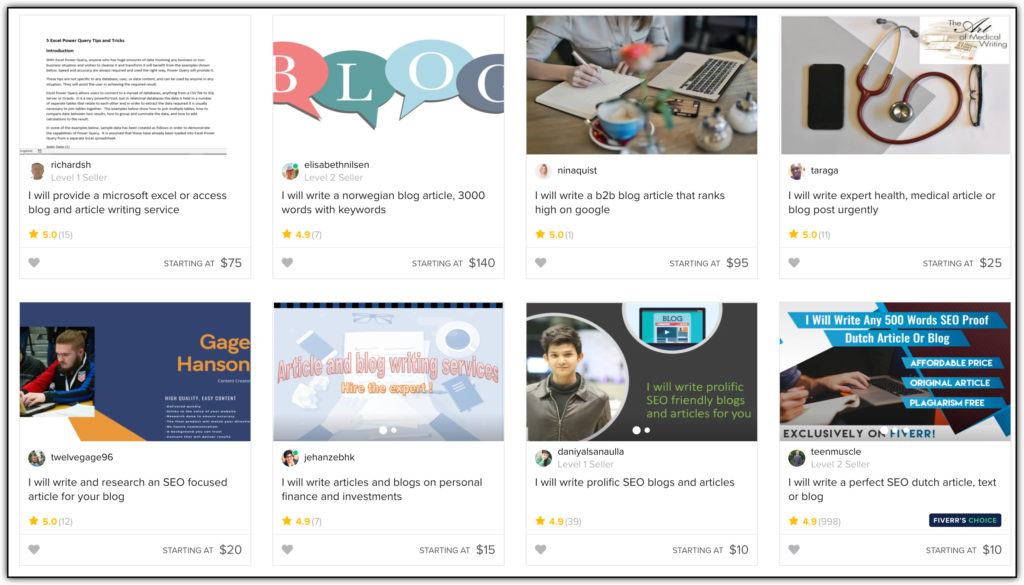 How To Set Up Your Fiverr Writer For Success
I've ordered a ton of different things from Fiverr over the years: logos, video intros, voiceovers, image edits, coding, and even content. I've had the best luck with images, especially with turning low-quality drawn images into high quality vectors. Video intros have been pretty good too. With everything else though, quality has been an issue. Fiverr is not known as a place where you should regularly outsource work for your business.
Of course, shitty online courses constantly point to Fiverr as a way to get cheap work done, but to me, it's pretty obvious that they rarely use the service themselves. This kind of disconnect is common, since online gurus are just selling a dream, and outsourcing your entire business for just $5 a pop sounds very attractive.
That being said, if you still want to go ahead and hire a writer on Fiverr, my advice is to try to set them up for success. One of my top mistakes as an early affiliate blog owner trying to outsource content was to assume that writers know what you're looking for. I'd skim a writer's past work, assign them a group of topics, and say, "See you in a couple weeks". Upon delivery, I was almost always disappointed, and I burned a lot of cash doing this.
How do you set up your writer for success?
Have a specific set of low competition keywords to target
Create a detailed template to follow, including article formatting and SEO elements
Give examples of your own content, or other published content they should emulate
Hire for a "series" of articles so that each article uses the same template
Start off with a small work load, and make detailed corrections to each article

Provide plenty of examples of why what they did was incorrect, and the correct way to do it

Add more articles as your writer gains confidence and can consistently delivery articles which require few edits
By giving your write a clear vision of what they need to accomplish and how they can get there, plus added support along the way, you'll ensure that you get an article you want to publish on your website, and get the most value for your money.
Could You Outsource An Entire Website This Way?
If you do follow the plan above and set your writers up for success, could you essentially build a website by getting other people to write all the content for cheap? Potentially, yes. However, as I found out with these affiliate blogs, starting a site is going to take more involvement in the beginning than you might be hoping for.
Although a "4-hour work week" is the goal for a lot of budding internet entrepreneurs, keep in mind that you can't solve a problem by just throwing money at it. You need a bit of strategy. In my opinion, that strategy is hard to execute on an article-by-article basis, and that's basically how Fiverr is set up.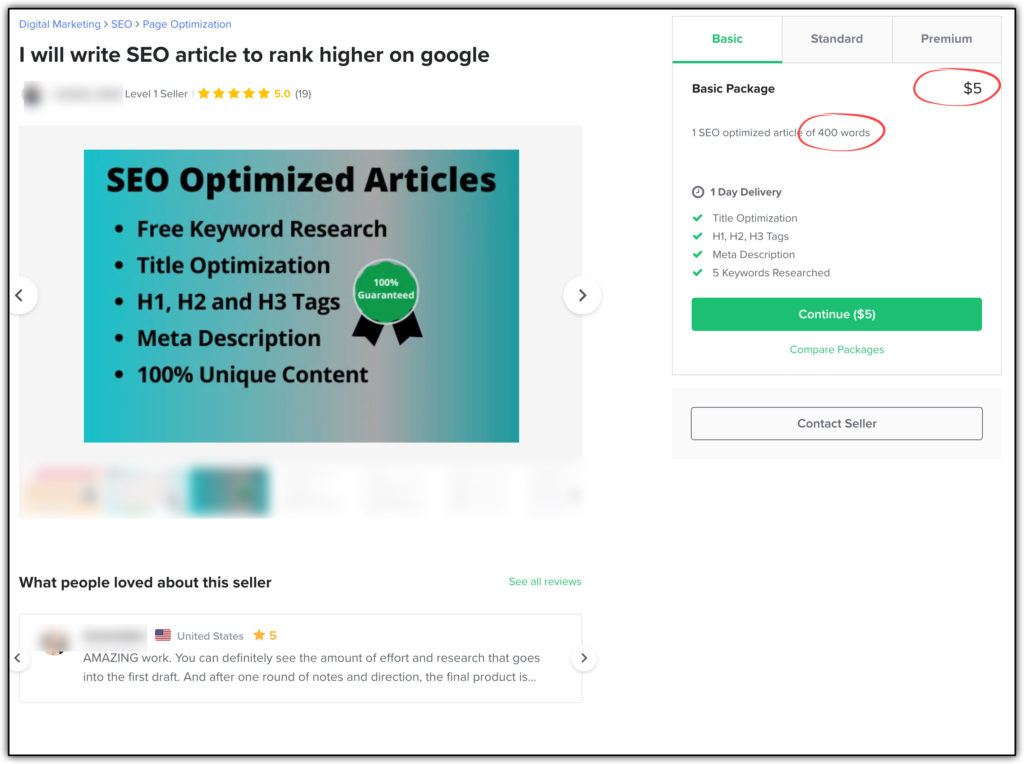 Yes, Fiverr Articles Can Rank, But Consider This
Fiverr is one of the most popular places to start outsourcing, so I bought a couple of articles on Fiverr to see how they ranked. I tried a listicle style article as well as a beginner's guide style article. I didn't give detailed outlines of how the articles should be written, but I did give general guidance on what the format should look like. Writers delivered the content, and I uploaded the content to WordPress.
I paid about $30-$40 for each article, which ended up being about $0.03-$0.04 per word. This is inexpensive, but not "discount price" in my opinion. I work with many writers who write great content for $0.03-$0.04 per word, and that includes uploading to WordPress, adding images, doing image SEO, and content formatting.
I ended up not publishing one article because there were so many mistakes that it was unfixable. Because this was not a long term project, guiding the writer through how to fix the article was not worth my time, so that's just a cost I'll have to eat.
Surprisingly, the second article, the listicle style one, is still ranking after two years. In fact, over that time period, the rank has been as high as the #1 position for its keyword!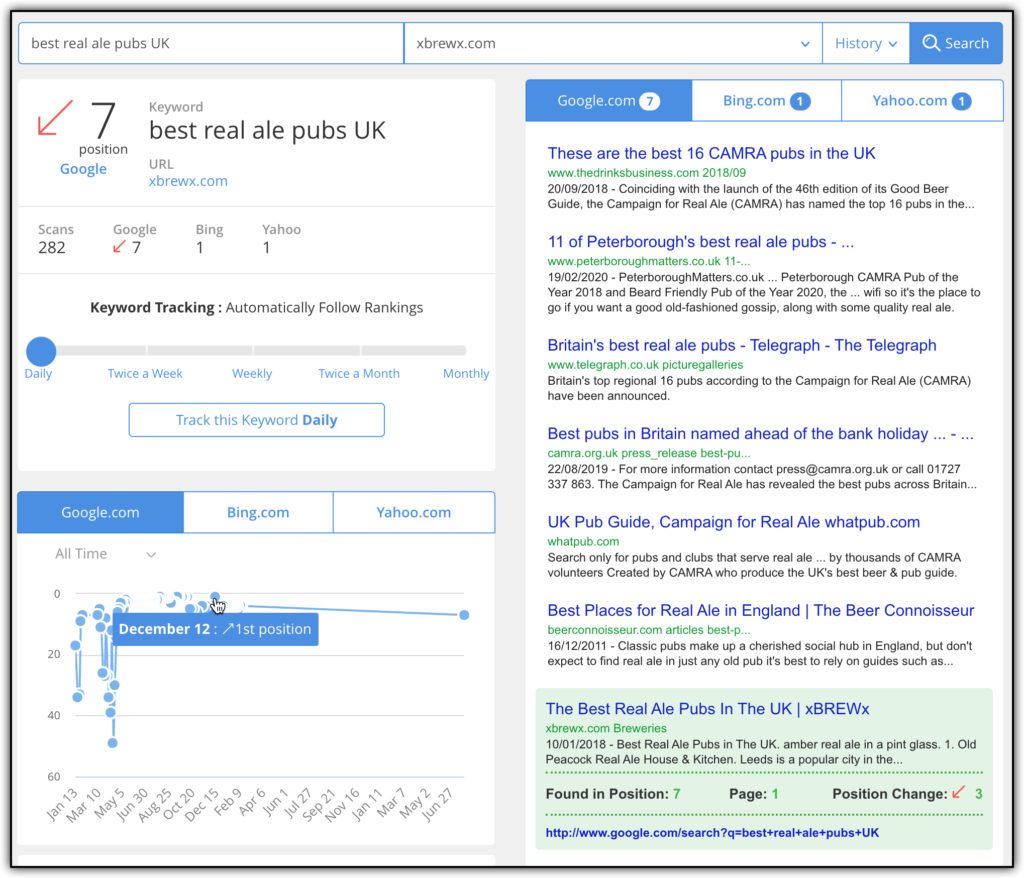 It's not a huge surprise that it ranked though, since there is very little search volume and very little competition. I designed the project that way, so that I wouldn't put an unknown writer from Fiverr up against too stiff of competition to set them up for failure.

Judging the content overall, I felt the writer could do some basic writing, but wouldn't be up for the job of writing anything complicated, and if they were to upload directly to WordPress and include formatting, then the price would increase from .04 per word to something above that.
Yes, Fiverr articles can rank, but consider this. Having a short term relationship with a writer means there's little chance to correct any issues in any meaningful way once the article is delivered. You can't teach a writer your specific business goals over the course of a single article delivery. They write their way, then you edit. That's pretty much the relationship there.
This is why I always work with writers long term now, for recurring projects. This way we have time to learn each other's styles, and work together as a team. It just doesn't make sense to be paying $0.05+ per article for a one-off gig when I could hire an excellent writer on UpWork or OnlineJobs.ph for the same price, and develop a relationship over time to improve the quality of the writing & delivery, grow my content base consistently over time, and get more value out of each article.
Finding The Perfect Writer
Keep in mind that you may not hit the jackpot on the first try. I've done a lot of outsourcing over the past 10 years, so I have a process down for checking writer's work, and trying to find good writers on the first time around. You may have to cycle through 3-4 writers before you find a good one.
Then, you have to ask yourself, why is an excellent writer selling their services for cheap on Fiverr when they could get paid more bidding on jobs through other websites, where clients have bigger budgets?
Investing In Content Is Like Investing In Anything Else. You Make Your Money When You Buy, Not When You Sell.
When you purchase an article, it's an investment. You are calculating that the money you spend (x) will in turn get you a higher return than you paid for it (x+1). This return could manifest itself directly in terms of affiliate sales or ad revenue, or it could have the indirect benefit of helping you gain authority and rank in search engines, raising the overall strength of your website in the future.
The mistake of buying articles from Fiverr is that you're gambling. You're making a bet that you'll be able to get some kind of diamond in the rough, and getting an excellent deal for a high quality article. Whether that's true or not is difficult to calculate beforehand.
However, if you hire on platforms where you can connect with writers on a personal level, then you have much more investment value in your corner.
You can do a longer interview process, vetting writers more thoroughly
You engage with a pool of freelancers with more professional & long term goals in mind
You can work with writers to make changes and tweak their writing products to your liking
Your writer will actually become an expert in the topic they write about the longer they stay on the project
There are many benefits to hiring long term. Technically, you could order repeat articles over and over again on Fiverr, but I think most gigs are aimed at making a quick turnaround of the product (in any category), and my impression of the place is that people are not looking for long term work unless you hit that "purchase gig" button each week. You might be able to find some great relationships on the platform, but why force yourself to do the heavy lifting to save five or ten dollars when you could get the real deal from the start.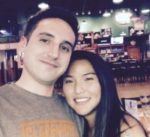 Nathaniell
What's up ladies and dudes! Great to finally meet you, and I hope you enjoyed this post. My name is Nathaniell and I'm the owner of One More Cup of Coffee. I started my first online business in 2010 promoting computer software and now I help newbies start their own businesses. Sign up for my #1 recommended training course and learn how to start your business for FREE!