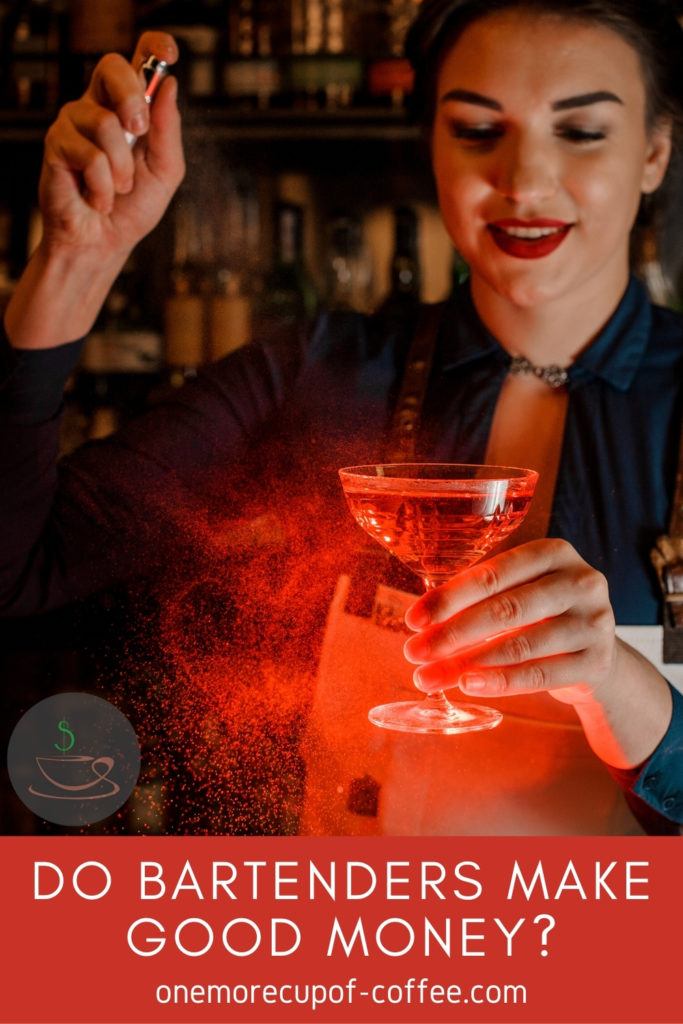 For many people, bars are the place to unwind after work. We relax with friends and coworkers, cheer on our favorite teams, and meet new people. It's a social place where we overcome loneliness and have fun. Watching other people can be especially entertaining, but have you ever found yourself fixated on the bartender?
If so, you might be picking up on the natural charisma that the best bartenders carry. If you're looking at them from the standpoint of the Myers-Briggs personality survey, many of them are ENFP personalities. They're extroverted, intuitive, and keyed into the emotions of others. Overall, bartenders tend to be warm, caring, perceptive personalities with the ability to make everyone in the room feel good.
Of course, talking isn't all they do. They mix and pour drinks, remember complicated orders, call rides for inebriated customers, stock the bar, take the money and make a change, and keep things clean. They're generally great at multi-tasking. In an alternate world, you might find these same creative, fun people thriving in jobs like archeology, insurance sales, actors, fitness trainers, massage therapists, sociologists, and writers.
For some bartenders, the job is just a stepping stone to another career, such as a way to make money while they put themselves through college. For others, it's a chance to meet new people, travel the world, help other people, and stand out in creative ways.
Do Bartenders Make Good Money?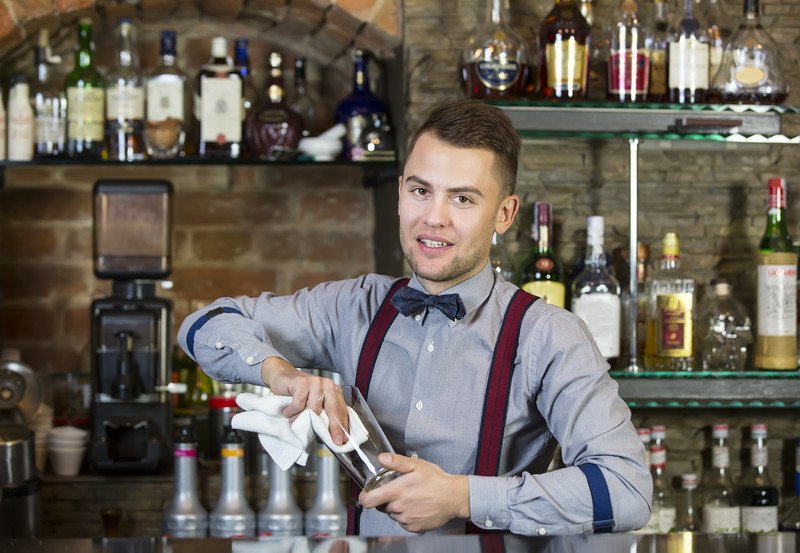 What's The Median Salary For Bartenders?
Bartenders make a median wage of $11.39 per hour or $23,680 per year. The range is wide, though. The top ten percent of bartenders in the United States make more than $22.18 per hour, while the lowest ten percent make less than $8.55 per hour.
There's some play in the wages based on how they're serving drinks, too. Bartenders who serve drinks with food make about $11.02 per hour, which is slightly less than bartenders who serve drinks from behind a bar. Bartenders serving in the travel accommodation industry can make around $12.12 per hour, and those serving in civic and social organizations tend to make around $10.08 per hour.
These wages don't take into account the fact that bartenders earn tips as well as an hourly wage. Good bartenders working in a highly social situation such as a casino or upscale, busy restaurants might make more money in tips than they do in hourly wages.
Of all the states, California has the highest employment level for bartenders. However, it's not the top-paying state. Bartenders in California earn an average of $32,040 per year. In Hawaii, bartenders earn an annual average of $58,830 per year, and bartenders in the District of Columbia earn an annual average of $48,290.
Contrast that with the wages of bartenders in Chicago, where they make an average of $25,440 per year, or Miami, where bartenders earn an average annual income of $23,560. Perhaps the lowest-paid area to work in rural northeastern Wisconsin, where bartenders make an average of $20,430 per year.
Bartender wages do tend to increase as bartenders get more experience. While the base pay is $11.55 per hour, bartenders who have more than ten years of experience average $13.29 per hour. Bartenders can also improve their salaries by becoming more outgoing, engaging with customers more, and finding other ways to bring in more tips. They might also consider moving to areas where bartenders are paid more, but this comes with the risk of a higher cost of living.
How Do Bartenders Make Money?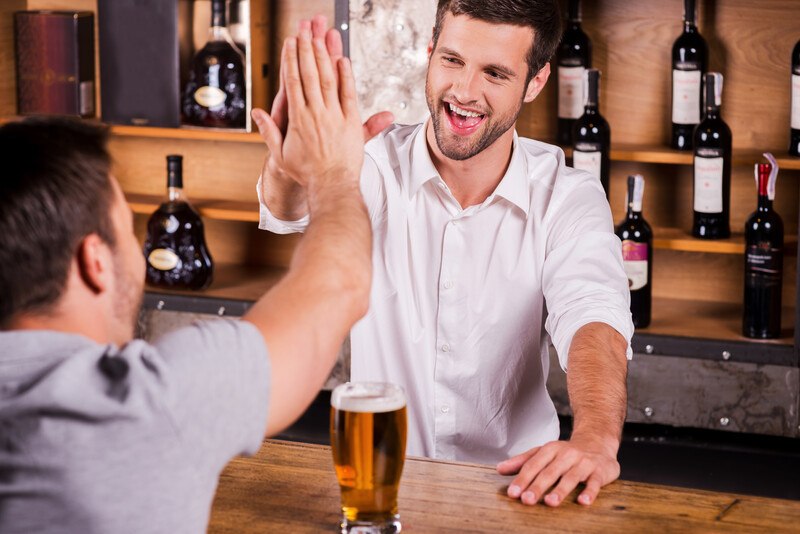 Bartenders are surprisingly busy people. It's no secret that they prepare drinks and other beverages for patrons and interact with customers. However, behind the scenes, they also mix ingredients that go into cocktail beverages, plan and present bar menus, restock bar inventory and supplies, and make sure that everything going on behind the counter is up to the code for food and health regulations.
Their interactions with customers can involve assessing customers' needs and preferences and making recommendations for them. They also take orders, serve the drinks, and serve snacks. While they're doing all the side work, they also need to stay focused on their guests. Customer service is one of their primary tasks because it's the bartender's job to make sure that customers are having a great experience.
A positive attitude is a plus, as is knowing a second language. The more bartenders are able to interact positively with patrons, the more money they can make through tips.
Some bartenders work part-time. Many of them work in the evenings, late nights, on weekends, and on holidays. They usually work indoors, and during busy times, they may be under a lot of pressure to attend to several people at once.
According to Shmoop, a typical workday for a bartender can begin around 4:30 PM, with setting up the bar and making sure everything is stocked. The first customers arrive at about 5:15 PM. Bartenders will see their regulars show up about this time, and if they're prepared, they already know what those customers want and have it waiting for them.
The bar is generally very busy by 6:30 PM, and it often stays that way until the early hours of the morning. Many bars close around 1:30 PM, but bartenders don't often leave until around 2:00 PM when their areas are cleaned up. Bartenders can work overtime and be paid for it, but many work less than 40 hours per week.
Do Bartenders Have Good Job Satisfaction?
According to U.S. News, bartenders rank #26 in the best social service jobs category. This survey investigated several areas. The salary got a 3.8 out of 10 rankings. The job market got a 6, stress level got a 2, and work-life balance came in at 4.
The most positive ranking was for future growth, which came in at a 9. This could be because there is a high turnover rate in bartending, and there's always a need to replace good bartenders who move on. Overall, the job outlook for bartending is expected to increase by 8% from 2018 to 2028, which is faster growth than most industries might experience. Overall, there could be more than 52,000 new bartending job openings that pop up during this time in the United States.
According to Owl Guru, 61% of surveyed bartenders had good job satisfaction, while 32% felt that their jobs were meaningful. 59% said they had telephone conversations every day as part of their job, 16% said they dealt with angry customers every day, and 65% said it's very important for bartenders to work as a team.
Job satisfaction can really vary depending on the personality of the bartender. Outgoing, friendly bartenders who enjoy crowds and being the center of attention could thrive in this job.
Pros
Bartending can be surprisingly creative, and many bartenders create recipes for their own specialty drinks
For people who like to be the center of attention, bartending can be a great way to connect with people, do some light entertaining, and try out a few jokes.
Bartending usually happens in the evenings or on weekends, which leaves the daytime most weekdays free for pursuing hobbies or education.
Cons
Bartenders may have to refuse service to and deal with patrons who become inebriated and angry.
Bartending jobs often don't end until the early morning.
When the bar is busy, there can be a lot of pressure to get several things done at once.
Bartenders may not make a lot in base pay, but if they're cheerful and quick on their feet, they can make a decent amount in tips. They can also enjoy the social aspects of the job and meet a wide range of interesting people.
What Are The First Steps To Becoming A Bartender?
Usually, formal education isn't required for bartenders, and they learn their job through short-term, on-the-job training. This training usually lasts for a week or two and is often provided by another, more experienced bartender. Topics covered in training can range from how to deal with unruly customers to how to set up the bar, basic customer service, and cocktail recipes.
Sometimes food handling training is necessary, too. Some states require a food handler's permit in order to serve food and drink. Bartenders can ask their trainer whether they need a food handler's permit and, if so, how to go about getting one.
Some states also require bartenders to complete a responsible-server course that helps bartenders understand state and local alcohol laws, how to manage conflicts, and how to serve drinks responsibly. Some states and localities also require the business owner, manager, or server to have a license in order to serve drinks. To get a license, a bartender must be the legal drinking age as well as understanding the alcohol laws.
Getting a state alcohol license is a good first step. People who are interested in becoming bartenders could also get started by becoming a barback, which is an assistant to a bartender. Barbacks usually do a lot of the heavy lifting, restocking inventory, cleaning, and other manual tasks. New bartenders or barbacks who want to become bartenders can seek a bartender mentor to teach them how to mix drinks and perform other basic bartending tasks.
Many employers will provide training materials such as videos and manuals to new bartenders, but bartenders can get started by attending a bartending school, too. Bartending schools provide about 40 hours of training that usually occur in the evenings for 2-3 weeks. There are both on-campus and online courses. On-campus courses range from $400-$800 each, while online courses generally cost $50-$200. One of the best online bartending schools, called BarSmarts, has a median cost of $100.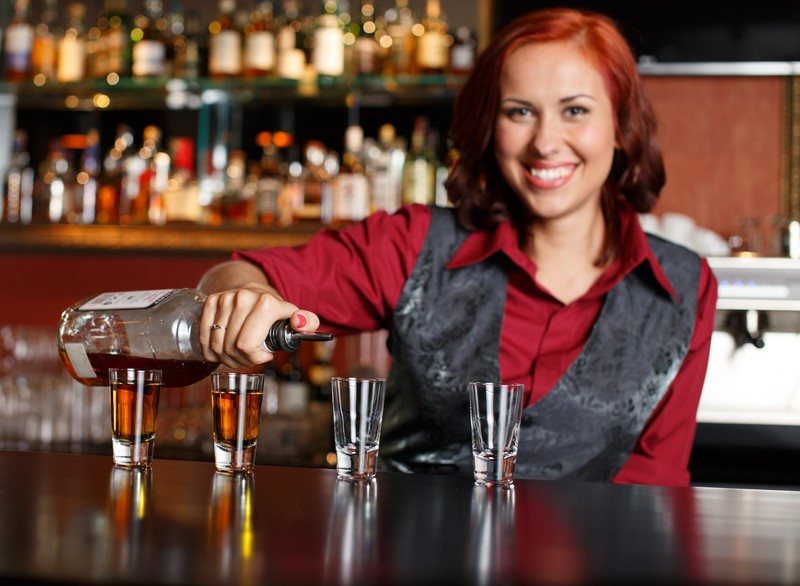 Do Bartenders Make Good Money?
Bartending can be a busy, fun, fast-paced job that challenges and uplifts people with outgoing, sensitive personalities. More than 60% of bartenders have good job satisfaction, and more than 30% see their jobs as helping other people.
But do bartenders make good money?
In spite of the relatively low base wage, the answer is a surprising yes. What good bartenders don't make through wages they can make up through tips. The median wage for bartenders is $23,680 per year, but with tips, they usually make $35,000-$45,000 per year. That's comparable to what an interpreter or a massage therapist makes, but with the added perks of a fun, social, fast-paced job.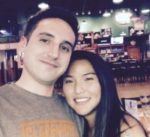 Nathaniell
What's up ladies and dudes! Great to finally meet you, and I hope you enjoyed this post. My name is Nathaniell and I'm the owner of One More Cup of Coffee. I started my first online business in 2010 promoting computer software and now I help newbies start their own businesses. Sign up for my #1 recommended training course and learn how to start your business for FREE!